WordPress Black Friday & Cyber Monday Deals for Agencies – 2023 Edition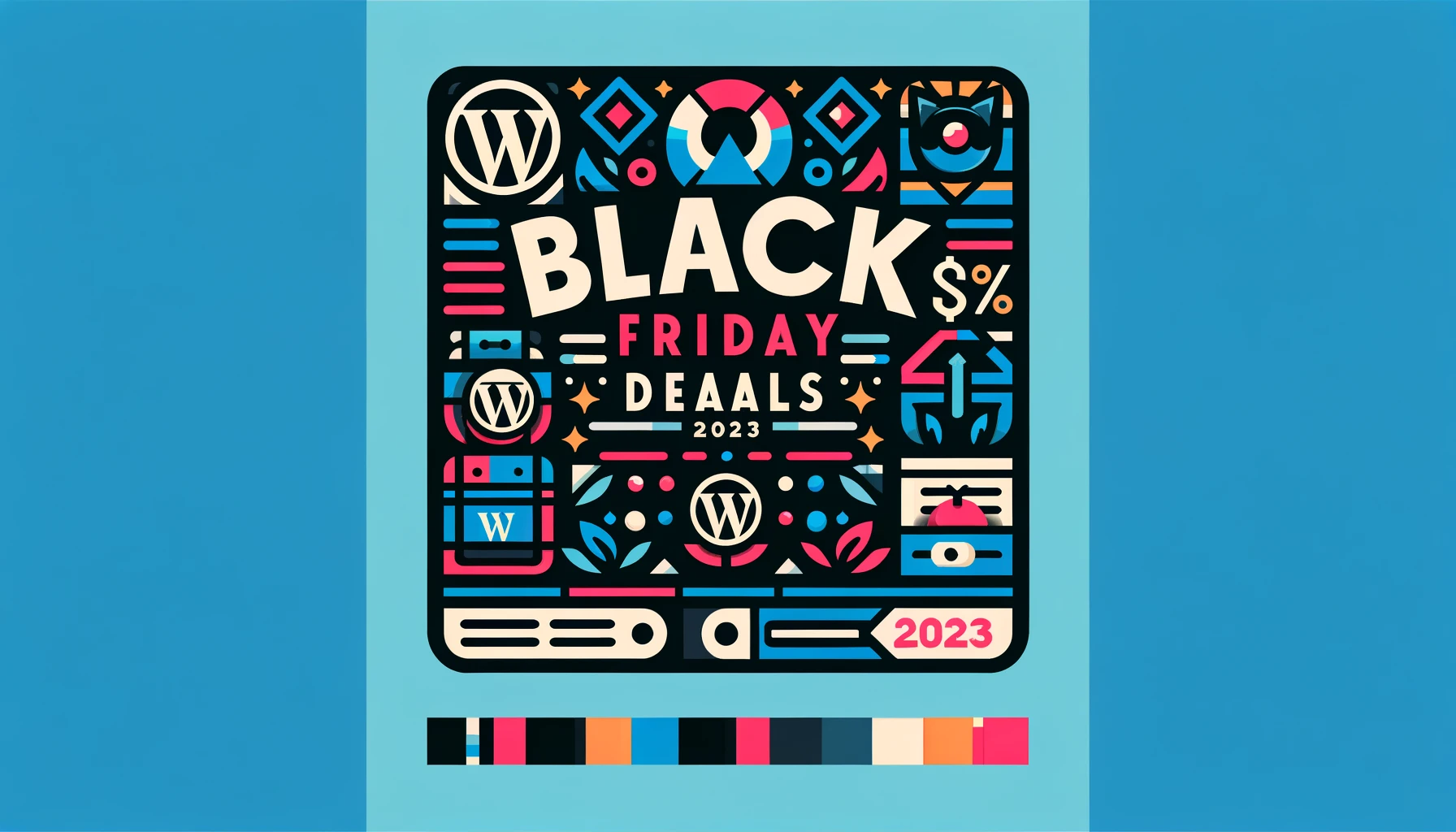 Are you looking for the best Black Friday and Cyber Monday deals on the WordPress products you love? You are in the right place!
This year, the Black Friday is scheduled for Friday, November 24th. During this "Black Friday", companies take advantage of it to offer discounts on their products. The coming days are thus an ideal opportunity to invest in premium WordPress plugins, themes, hosting, and tools to enhance your WordPress Agency.
To facilitate your decision-making process, we've compiled an extensive list of the best WordPress Black Friday and Cyber Monday deals for 2023 🔥.
Without further ado, Let's dive into the best offers Black Friday/Cyber Monday deals available this year.
This listing is a work in progress. If you want to add your deal, contact us at support@wp-umbrella.com
Featured Deals
1. WP Umbrella – 20% OFF During 6 Months

Receive a 20% discount on your WP Umbrella subscription for six months and save hundreds of dollars. Enhance your agency's efficiency and effectively communicate the value of your maintenance work to clients.
Duration: Nov 20th – Nov 28th, 2023.
Ready to boost your productivity, impress your clients and grow your WordPress agency?
Install WP Umbrella on your websites in a minute and discover a new way to manage multiple WordPress sites.
Get Started for free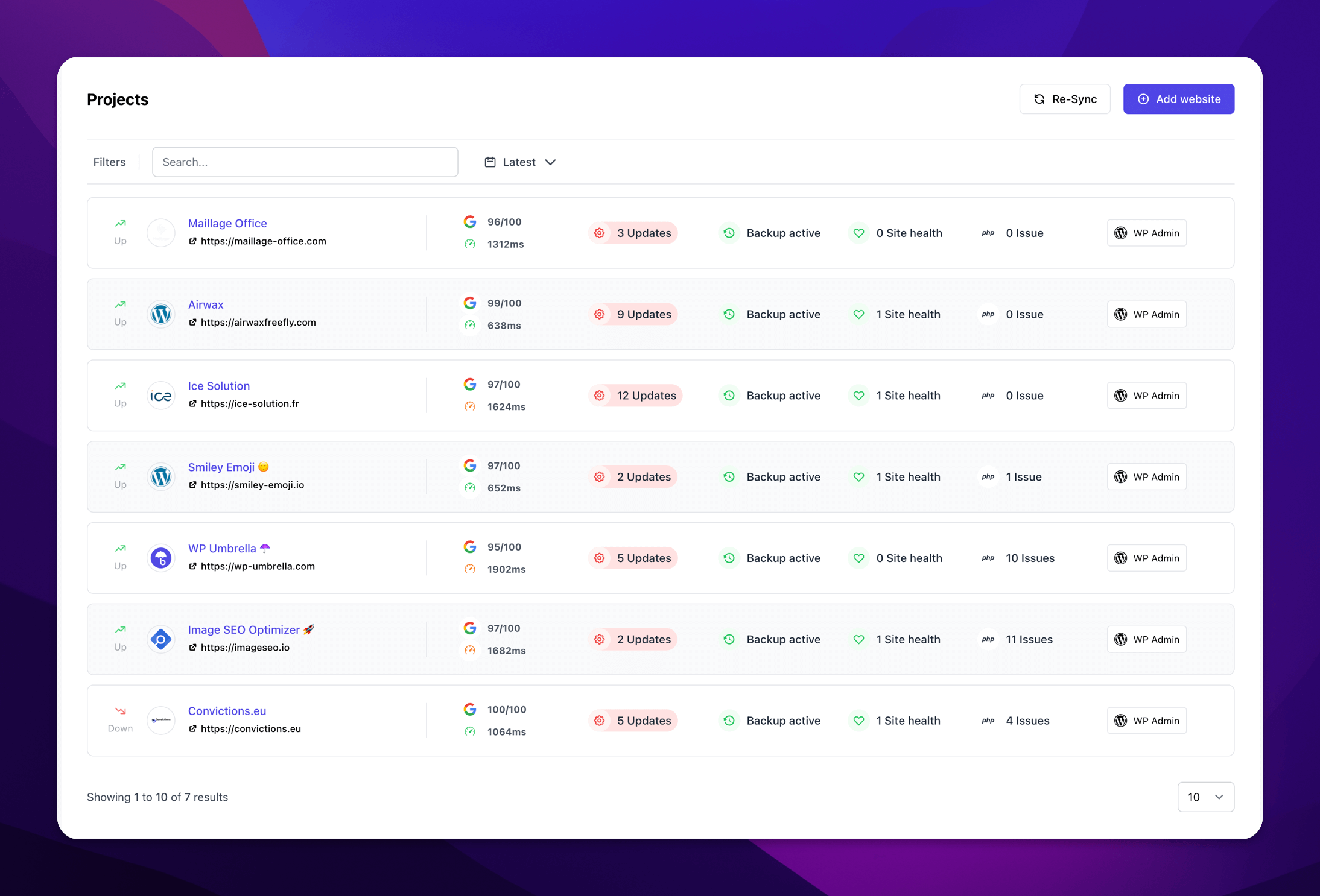 2. NitroPack: Get Up to 35% Off All NitroPack Plans

Upgrade your website performance with NitroPack and achieve lightning-fast load times. With this deal, you not only enhance your site speed but also get ready to meet Core Web Vitals.
Duration: Nov 1st – Nov 30th, 2023.
3. MelaPress: 40% off all new premium plan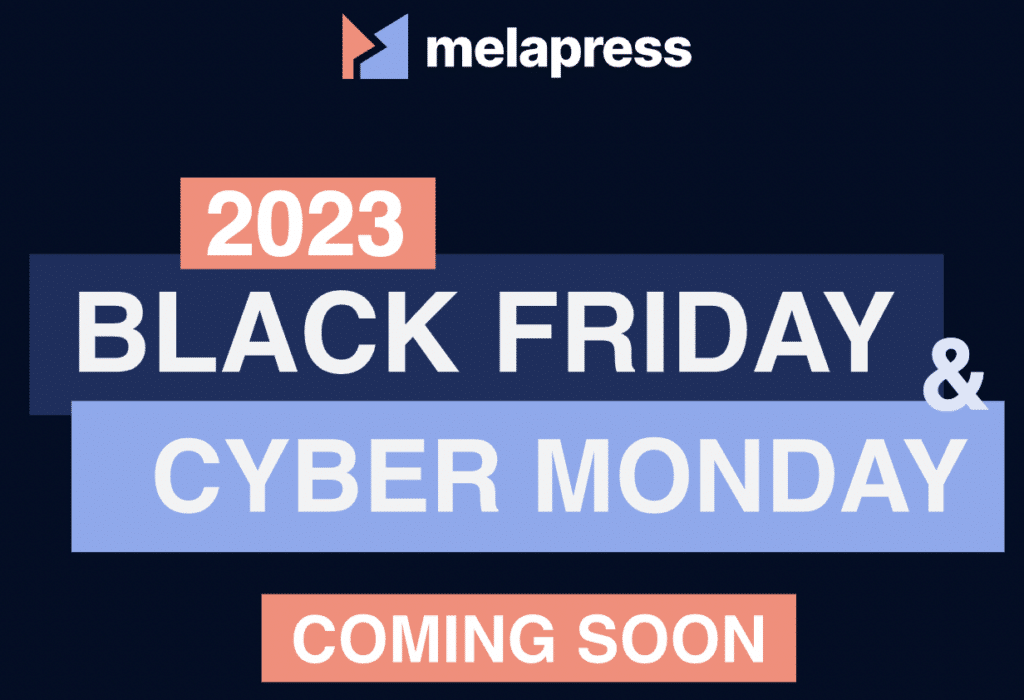 This year, Melapress is offering 40% off all new premium plan purchases with four different plugins to choose from:
WP Activity Log: Keep a log of user and system activity, including third-party plugin activity, manage user sessions, and much more.
Melapress Login Security: Set login policies for passwords, inactive users, login hours, limit login attempts, and much more.
CAPTCHA 4WP: Choose from different CAPTCHA providers with one-click 3rd party plugin support and much more.
WP 2FA: Fully configurable 2FA policies with extensive white labeling options, multiple 2FA authentication methods, and much more.
Duration: Offer valid from 22nd November – till 29th November 2023.
4. Cloudways: 40% Off For 4 Months + 40 Free Migrations

With Cloudways, enjoy simplified cloud hosting on platforms like DigitalOcean and AWS with 40% off for four months and up to 40 free migrations.
Duration: Nov 13th – Dec 1st, 2023.
5. Acymailing – 50% OFF On Every Plan

AcyMailing is the most complete emailing solution for WordPress and they offer 50% OFF on every plan for this BF campaign.
Duration: Nov 24th only.
6. Yoast: 30% OFF – All Yoast Plugins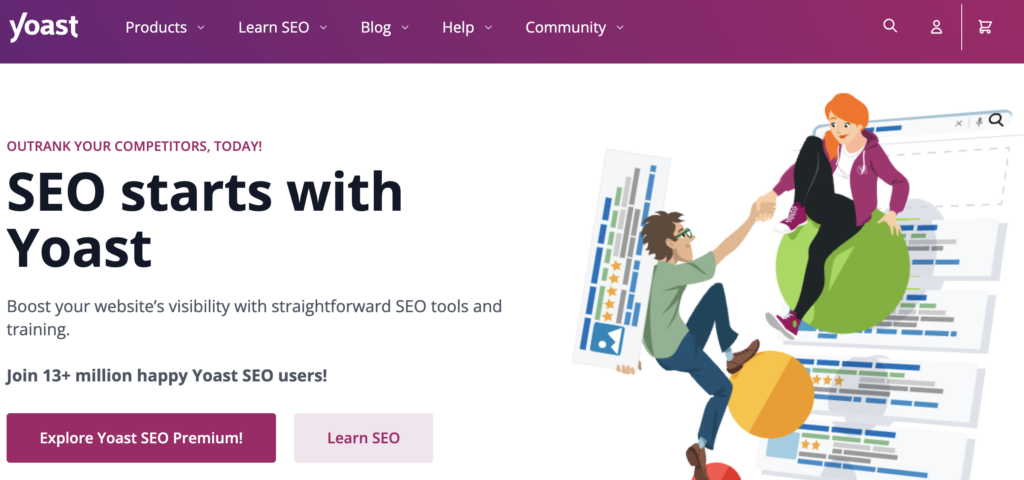 Optimize your SEO strategy with Yoast SEO Premium and enjoy a 30% discount on all their plugins, ensuring better rankings and content.
Duration: TBA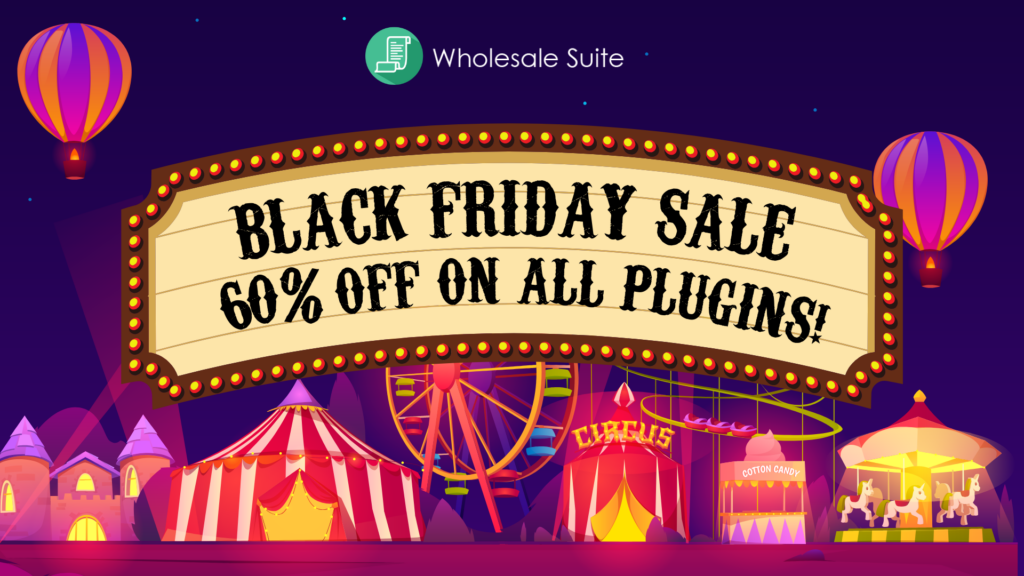 Wholesale Suite is the #1 rated wholesale plugin in WooCommerce. It helps reduce admin work, ditch the spreadsheets, and seamlessly bring your wholesale operation online.
Duration: Nov 13 – Dec 1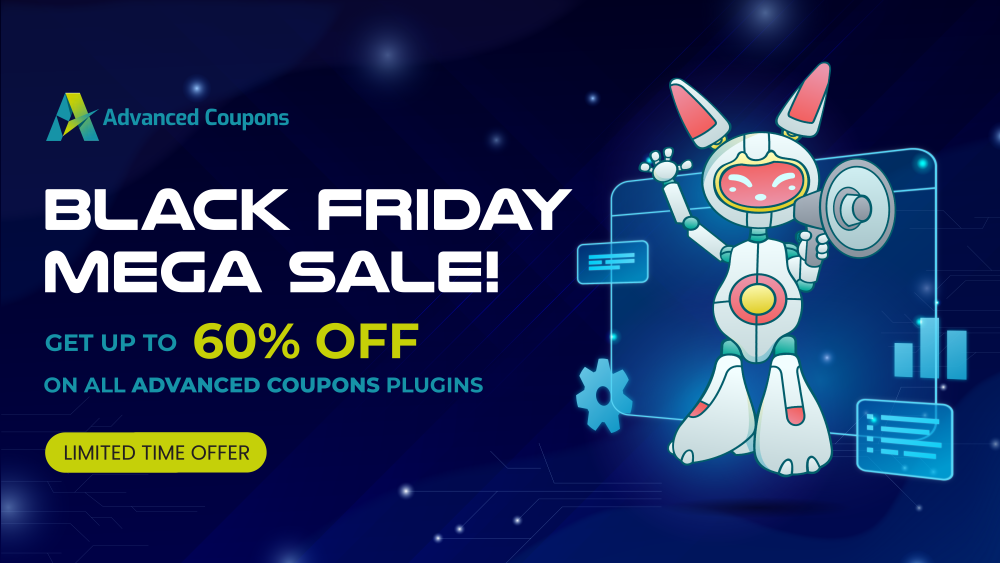 Advanced Coupons is the ultimate tool for extending coupons in WooCommerce. Run Buy One, Get One deals, store credits, gift cards, loyalty programs, + more to grow your store.
Duration: Nov 13 – Dec 1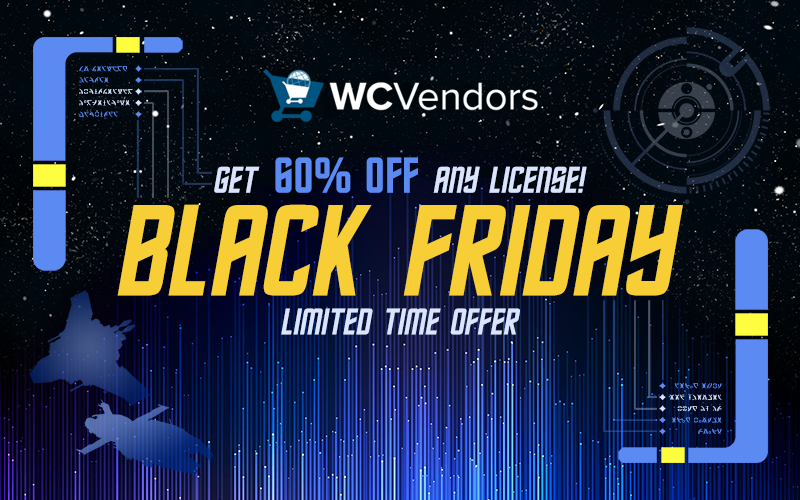 Plugin Description: WCVendors is the best WooCommerce multi-vendor plugin for swift, hassle-free multi-vendor marketplace setups like Amazon and Etsy.
Duration: Nov 13 – Dec 1
10. VisserLabs – 60% OFF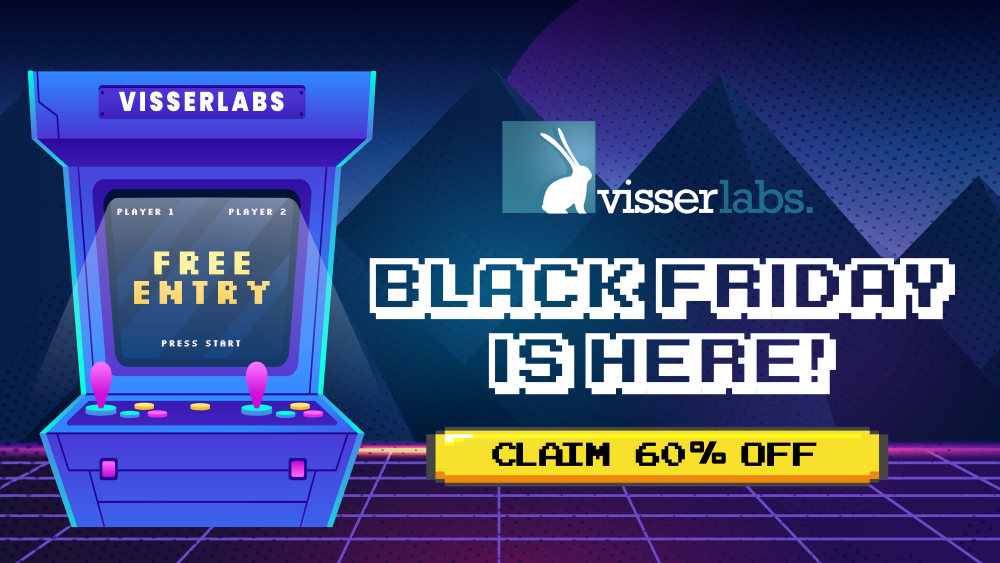 Plugin Description: VisserLabs is the ultimate WooCommerce export and import solution. It offers advanced export scheduling, smart filtering, robust attribute controls, & can handle the transfer of 10,000+ products!
Duration: Nov 13 – Dec 1
11. Code Snippets Pro – Up to 50% of Medium and Large plans

Code Snippets provides a clean and intuitive platform for managing all your website's code customizations. With its centralized dashboard, you can effortlessly add, edit, or create code snippets, ensuring that your website's every aspect is perfectly crafted. Get Code Snippets Pro with 50% off on our plans and customize your website to the last pixel.
Duration: Nov 6 – No 30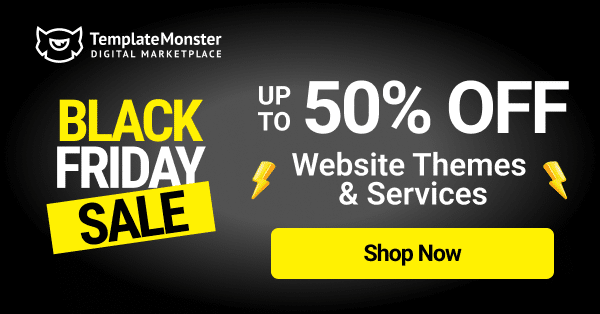 TemplateMonster is a renowned digital marketplace offering a wide range of premium and free products for all web projects and needs. This platform is a treasure trove for web designers and developers, as well as marketing experts and everyone interested in high-quality web design assets. And here's the good news: during November, you can avail up to 50% off on website templates and services. Take advantage of this fantastic opportunity to enhance your web projects at a fraction of the cost!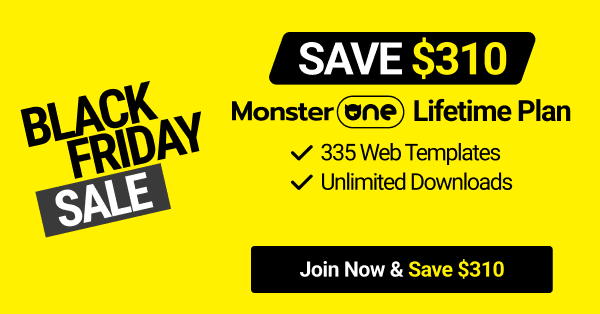 Discover the power of MonsterONE, the subscription service from TemplateMonster that gives you access to an extensive collection of resources. With MonsterONE, you only pay once and enjoy unlimited downloads. And this Black Friday, you can save a whopping $310 on the MonsterONE Lifetime Plan. Don't wait – grab this incredible offer and unlock endless creative possibilities throughout November. Grab an impressive discount on the MonsterONE subscription plan and benefit from unlimited downloads of digital assets suited for multiple creative purposes and business needs!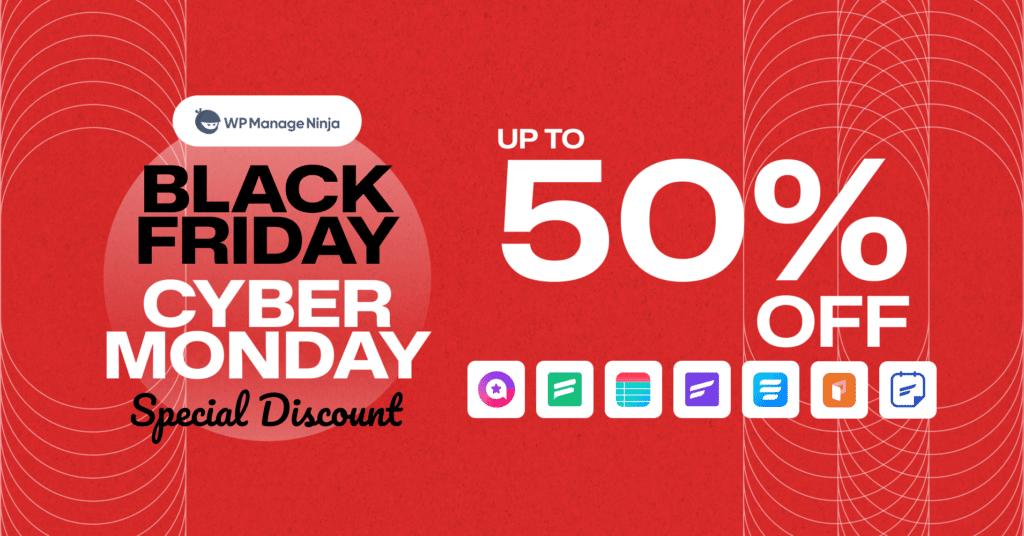 For the special Black Friday and Cyber Monday deal season, WPManageNinja is offering up to a 50% discount on all of its premium WordPress plugins. The deal includes their top-rated products:
Fluent Forms – The fastest form builder plugin.
FluentBooking- The ultimate solution for scheduling in WordPress.
FluentCRM – The complete email marketing automation plugin for WordPress.
Fluent Support – The best customer support plugin in WordPress.
Ninja Tables – The most popular WordPress table plugin.
WP Social Ninja – The best social reviews, feed, and chat plugin.
Paymattic – The perfect lightweight WordPress payment and donation plugin.
Duration: Nov 15th to December 02
Conclusion: Seize the Savings Before They're Gone!
And there you have it – our comprehensive list of the most sensational Black Friday and Cyber Monday deals for WordPress products and services this season. These discounts are your golden ticket to not just savings, but also to stepping up your digital presence.
Remember, these deals are not just about saving money; they're about investing in the future of your agency. With tools and services that promise to elevate your efficiency, security, and performance, you're setting up your business for success in the coming year.
Happy shopping!