WP Rocket Review: Is WP Rocket The Most Powerful Caching Plugin? A Review Based On 2022 Performance Data
The WP Umbrella Team

The best way to speed up your WordPress website is to install a caching plugin. Cutting just a few milliseconds off your loading times can have a significant impact on conversion rates and SEO rankings.
There are several way to reduce loading times, but the easiest and most efficient is to install WP Rocket.
What Is WP Rocket?
WP Rocket is a powerful caching plugin for WordPress. WordPress experts recognize it as one of the best caching tools on the market. We share this conclusion.
With its powerful set of features, it can be used by both experts and beginners. You don't have to know anything about development to use this cache plugin!
The founders of WP Rocket recently invested in WP Umbrella.
Loading times without WP Rocket
This was the loading time of my blog before the installation of WP Rocket.

Loading time with WP Rocket
I installed WP Rocket just after 11 am. I didn't do anything else but installing the plugin.

The loading times dropped approximatively from 800 ms to 80ms. This is tremendous and that's why WP Rocket is the best caching plugin.
You can reduce load times by 90% in just few clicks with WP Rocket.
When Do You Need a WordPress Caching Plugin?
The caching technology performs one simple task really well: making your website really fast.
Fast loading pages are critical to the success of any site because people don't like waiting around.
Researches demonstrated that 40% of people expect a website to load in two seconds or less, and will leave the site if it takes more than three seconds.
Thankfully, caching plugins help your website loading faster: so you basically always need one.
WP Rocket Review: Key Findings
Pros about WP Rocket
WP Rocket is powerful: we dramatically reduce our load times from 800ms to 80ms.
WP Rocket is SO easy to use: almost no configuration is required.
WP Rocket's support is just amazing: I opened a fake ticket and go my issue fake issue troubleshooted in less than 15 minutes.
WP Rocket's website offers a ton of documentation.
WP Rocket is the most powerful caching plugin: The performance has been enhanced in tons of other ways that other caching plugins do not offer.
WooCommerce friendly: WP Rocket is fully compatible with e-commerce plugins
Finally, WP Rocket also offers a 14-day money-back guarantee.
Cons about WP Rocket
Credit card required for trial
Honestly we did not find any real con about WP Rocket. It's not expensive for what it provides you with.
This being said, if you are short of money there are free alternatives to WP Rocket.
The most famous are Cache enabler and W3 Total cache, that also offers good results
Is WP Rocket Worth The Money?
By then, you have probably understood that purchasing a premium WordPress plugin to boost website speed is a worthy investment.
If you have 50$ to invest in plugins, WP Rocket is the one you should be putting your money on. Please find below what you are paying for when you buy WP Rocket.
WP Rocket's features
Page caching for blazing fast loading times

WordPress is loaded by your web server when a visitor visits your WordPress site. This involves processing PHP codes, sending files to your database, and finally assembling the webpage into a fully formed page. This procedure may take several seconds.
Using caching, you can directly send a static HTML document instead, which is much faster because you skip the PHP processing part.
When you install WP Rocket, you automatically enable page caching.
Make Your Files Lighter: Minify CSS and JS files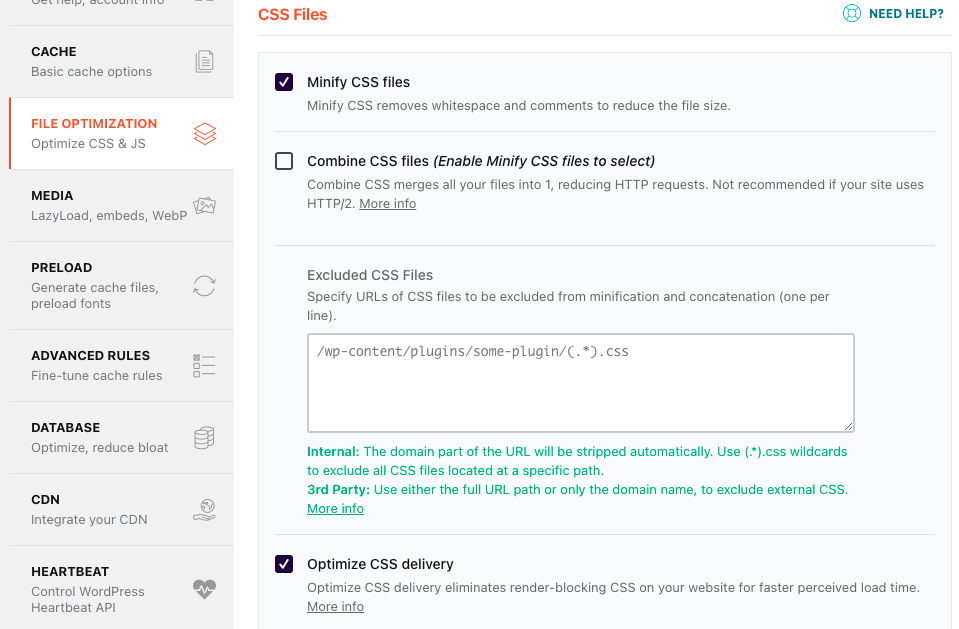 Minification can reduce the file size by removing unnecessary code portions.
And Smaller files mean faster websites.
You just have to tick 2 boxes to reduce your website size with WP Rocket – and you can roll it back instantly if it breaks your design.
Lazy load your media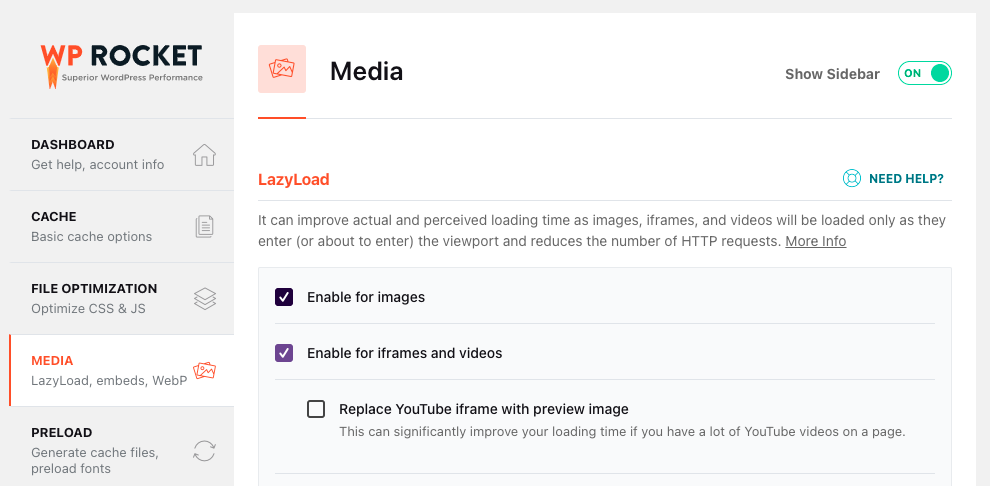 Images take the most time to load and slow page load. This is why images need to be optimized. But even after compressing your images, they can still be a big chunk of your total website file size.
WP Rocket only loads an image if the user scrolls down to it.
Preloading and Links Preloading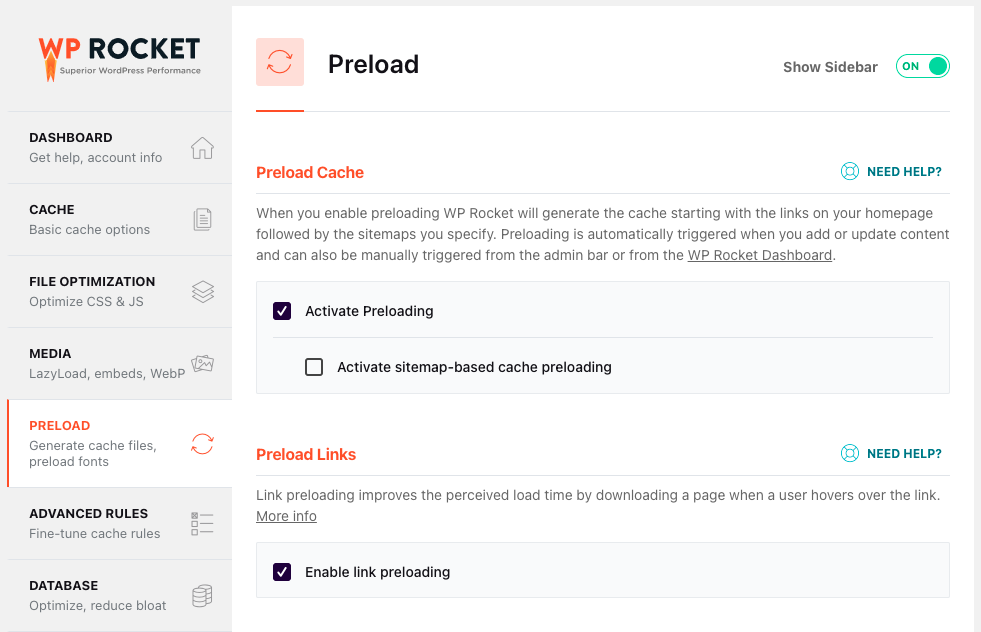 Preloading is another great feature of WP Rocket. It's complementary to page caching.
Every time you edit your webpages, the plugin automatically preloads the cache for a better user experience.
WP Rocket also preloads links! Whenever a user hovers over, or touches, a link for 100ms or more, the HTML of that page will be downloaded in the background, allowing the user to get the page almost instantly when he clicks on it.
WordPress Database Optimization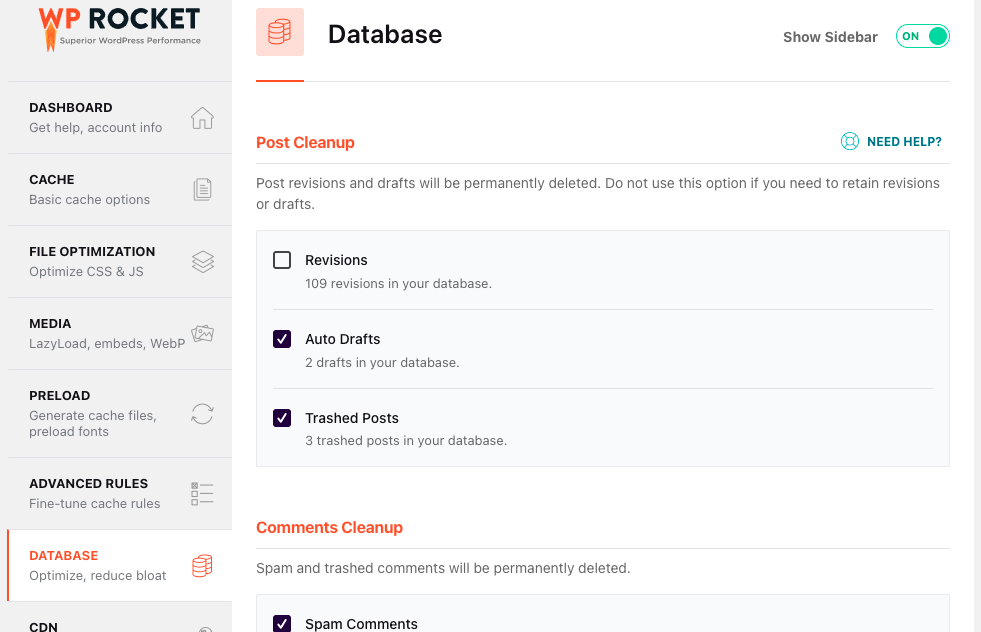 The WP Rocket plugin comes with a dedicated option to optimize your database.
You can clean up comments and posts, or schedule automatic cleanups in a few clicks.
Always make a copy of your database before triggering a cleanup!
Other (and less relevant) features
GZIP Compression
Sitemap preloading
Google Fonts optimization
DNS Prefetching
Mobile Detection
Integrates with Google Analytics, Facebook Pixel, Varnish and Cloudflare
WP Rocket Pricing
WP Rocket has three pricing options based on a yearly pricing.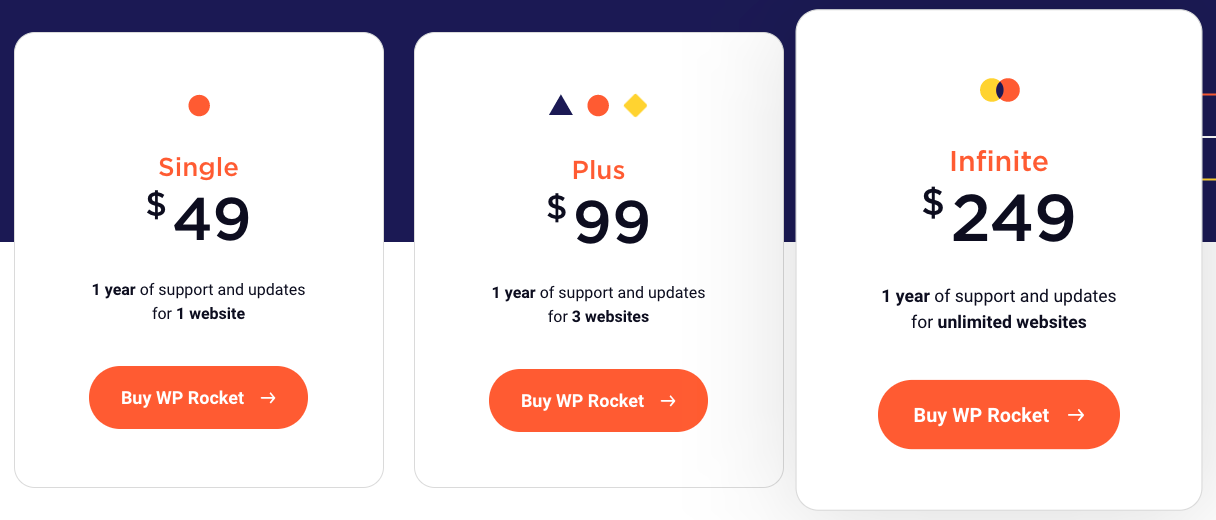 Support and plugin updates are available as long as your license remains active.
When the license expires, WP Rocket will continue working, but plugin updates won't be available.
In addition to this, they offer two-week money-back guarantees.
Premium Cache Plugins Pricing Comparaison
| Plugin | Pricing |
| --- | --- |
| WP Rocket | $49,99 |
| W3 Total Cache | $99 |
| WP Fastest Cache | $49,99 |
| Hummingbird | $49 |
| Comet Cache | $39 |
| WP-Optimize | $30 |
WP Rocket Alternatives
Not fully satisfied with WP Umbrella? I've also compiled a list of free & premium alternative of this plugin.
Free Alternatives to WP Rocket
Premium Alternatives to WP Rocket
WP Rocket is in our opinion the best premium caching plugin, but feel free to check the competition!
Final Thoughts: WP Rocket Is The Best Caching Plugin?
In 2021 installing a caching plugin is mandatory: load times are way too important to be neglected.
There are several good caching plugins for WordPress, some of them are even free.
However, none of them are as easy to use and powerful as WP Rocket.
So yes, WP Rocket is the best caching plugin for WordPress.