It has been a month since our last update and the release of WP Umbrella 1.6. Meanwhile most of you were enjoying their well-deserved summer break we have kept up the good work.
And without further ado, here is what's new about WP Umbrella:
A New Plugin With More Data To Help You Improving Your Website Security & Performance
We have totally tweaked WP Umbrella's plugin. From that: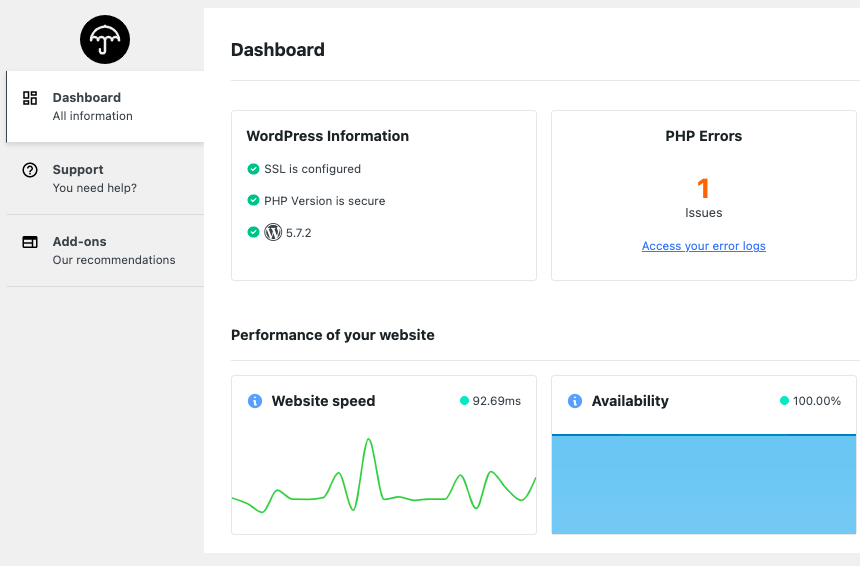 To that:
We have added many information about how you can improve your website or troubleshoot emerging issues. This plugin update aims ta easing the life of people using WP Umbrella on a single site.
You can still have a detail access of your uptime and performance data directly in the plugin, as well as the historic of your last downtime by clicking on " Display the chart"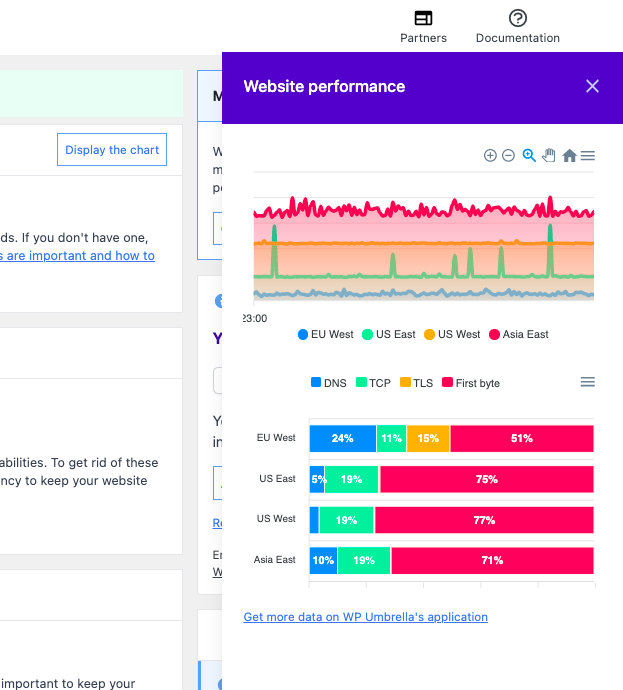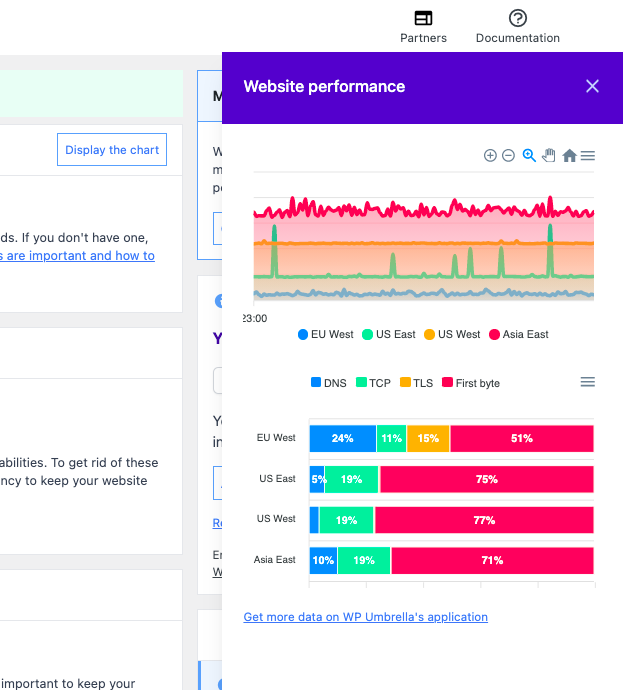 Send Professional Client Report To Your Clients
The client report is a perfect way to build trust with your clients and show them the good maintenance work you did. We have totally refurbish the client report feature based on what you told us. This includes, among other things:
Export in PDF
Plugins and theme
Uptime rate
Average load times
White label
Data certification
And some the possibility to add custom messages
An image is worth a thousand words so here is a sample of WP Umbrella's new client report.
Please keep in mind that we also have an external API that you can connect to get all these data if you edit your own client report with another application.
Shoot us a message at support@wp-umbrella.com if you want us to add any information!
White Label WP Umbrella (Plugin + Client Report)
You might not always want your clients to know what you are using to manage their websites and there is no harm in that. That's why we have created a White Label feature to hide our plugin.
You were actually SO many to ask for that!
You can now hide WP Umbrella plugin by adding this line of code in your functions.php file:
add_filter('wp_umbrella_is_white_label', '__return_true');
Here is the full documentation to hide WP Umbrella's plugin from WordPress and to edit a white label client report.
WP Umbrella Affiliates Program Is Open
Again, you were so many to ask for the opening of our affiliates program so you could refer your own clients.
It's now live and open! You'll get 20% on any sales including recurring ones. One affiliates program is carried out by FirstPromoter and You'll be paid by PayPal.
Please let us if you need any promotional material at support@wp-umbrella.com
Database Migration in Europe
Last but not least, we migrated our user data base in Europe (Ireland on and updated our terms and privacy policy to be as compliant as possible with the GDPR regulation.
So guys, how do you feel about these updates ? Please let us know at support@wp-umbrella.com