Edit in Bulk: The Best WooCommerce Plugins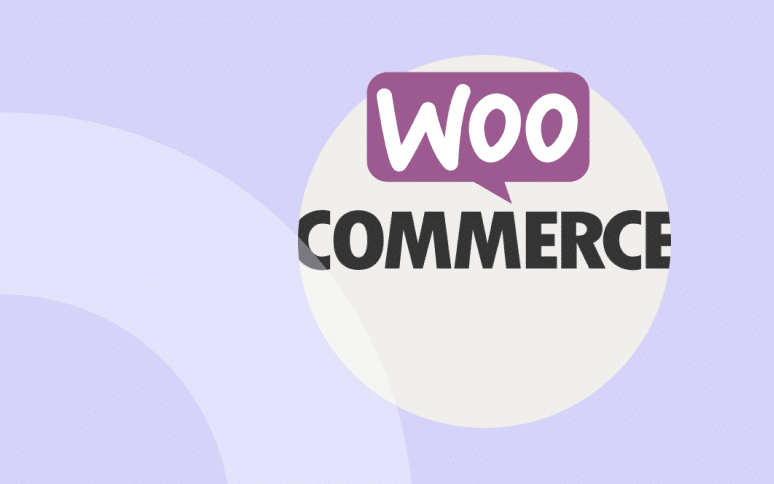 Managing a large product catalog can be a demanding task. With each listing requiring continuous monitoring, maintenance, and regular updates, the chore of when each item must be individually edited can become lengthy.
If you're faced with the daunting task of individually editing each product, you may find yourself longing for a more streamlined, efficient approach.
Fortunately, WooCommerce offers built-in functionality to bulk edit products. However, its bulk editing capabilities have some limitations. This is where the role of a plugin becomes inevitably crucial.
The right plugin will not just overcome the limitations of WooCommerce's default bulk editing feature but also provide extended functionalities, aiding in honing your store management further.
In this comprehensive article, we'll guide you through some of the best plugins for bulk editing products in WooCommerce. As a bonus, we'll also uncover an invaluable tool that store owners can leverage for more refined and efficient WooCommerce site management.
Understanding the need for bulk editing in WooCommerce
WooCommerce, a powerful eCommerce platform built for WordPress, is a renowned name in the digital marketplace. It has earned its reputation due to its tremendous flexibility, user-friendly interface, and rove of tools for customization, optimization, and increased selling efficiency.
Among these tools, the ability to edit products in bulk is a standout feature for managing larger product catalogs.
Bulk editing is a simple yet powerful process. Instead of the tedious task of delving into the details of each individual product to update parameters like price, stock, status, etc., you have the ability to modify these parameters for multiple products simultaneously. This functionality is fundamental for effectively managing your WooCommerce store.
Benefits of bulk editing in WooCommerce
Saves time and effort: Imagine applying identical updates to all your products at once instead of manually adjusting each one. The difference in time and effort is substantial, making your product management operations exponentially more efficient. Not only does it save time, but it also frees up precious staff time.
Reduced human errors: When updates are applied individually, the probability of errors, such as inputting incorrect information, can increase. In contrast, with bulk editing, you make an adjustment once for multiple items. This process significantly reduces the risk, providing a safer and more predictable way to edit product information.
However, bulk editing is just one part of an efficient store management strategy.
Another essential component is utilizing solutions that offer bulk updates and automated workflow simplification for other aspects of your business. WP Umbrella comes into play here, specifically providing value for those managing multiple WordPress sites. 
By offering a unified dashboard that allows batch updates across all sites, WP Umbrella streamlines processes similar to WooCommerce's bulk edit feature. We'll delve deeper into some of WP Umbrella's key benefits later.
The process of bulk editing in WooCommerce
While it may serve as a cost-effective solution for those managing a small product catalog or just starting out, WooCommerce's default bulk editing feature's limitations can become apparent when dealing with complex editing requirements or larger inventories, creating the need for a robust, feature-rich plugin.
How to edit multiple products without a plugin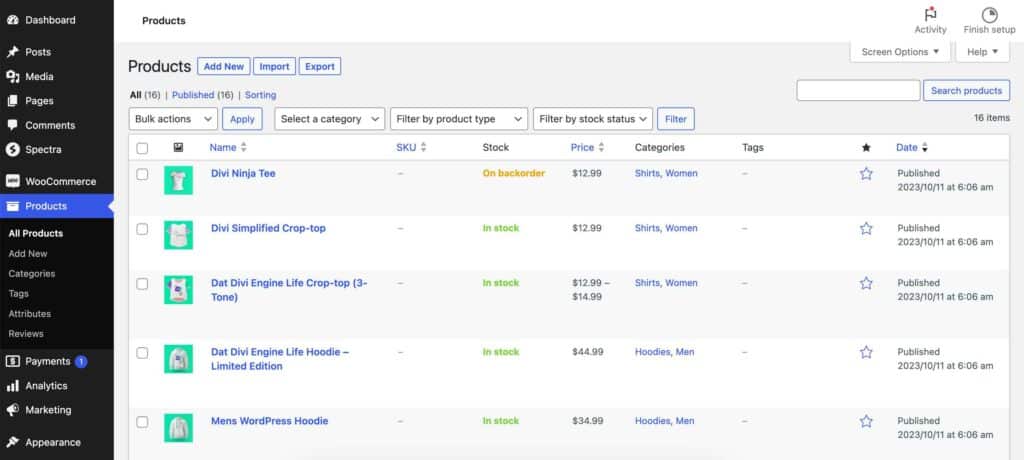 From the WordPress admin dashboard, navigate to Products > All Products.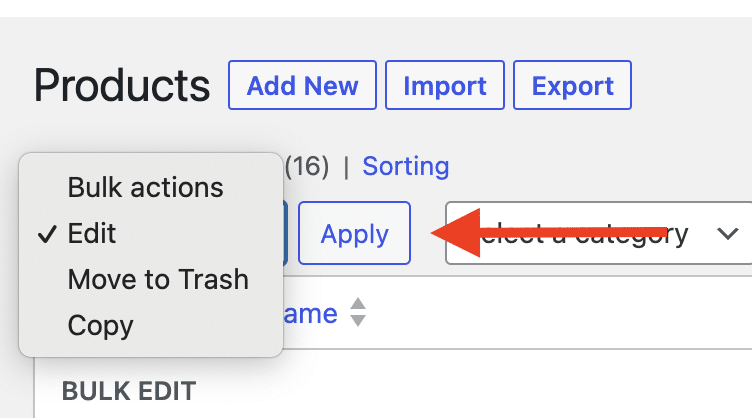 Select two or more products from the list, then go to the Bulk Actions dropdown menu at the top or bottom of the list and select Edit.

Click Apply to open the bulk editing screen.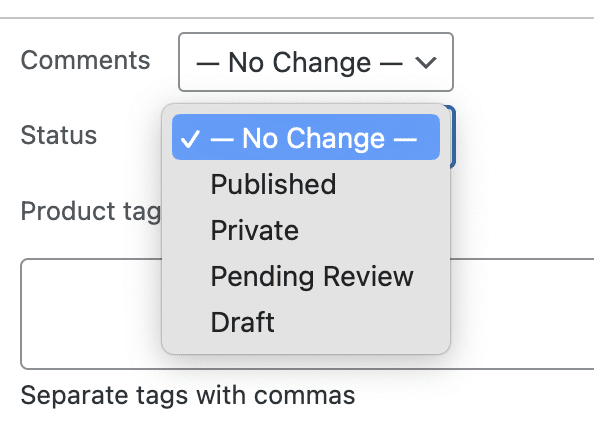 From here, you can make a wide range of changes to your selected products in bulk, including:

Assigning or removing product categories or tags.
Adjusting the price by changing all prices to a set figure or increasing/decreasing all prices by a given amount.
Adjusting stock quantities by the same parameters.
Changing product shipping classes.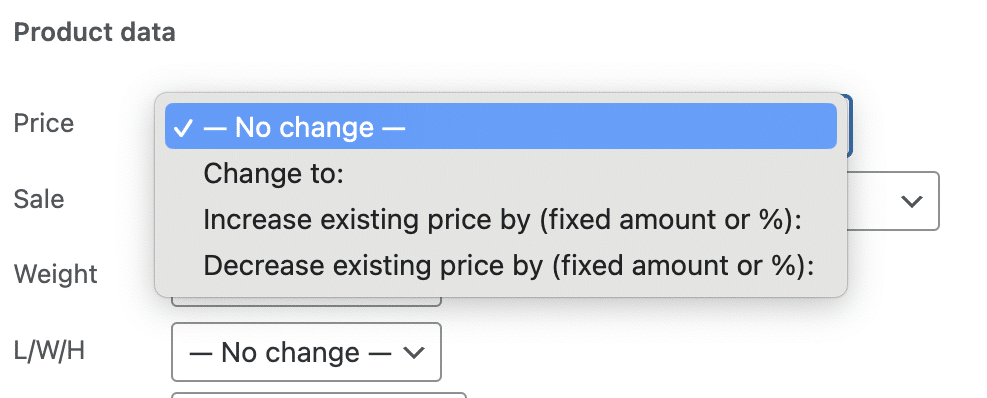 This is just a snapshot of some of the alterations that can be made. To explore all the options for bulk editing in WooCommerce and fully understand how to maximize these capabilities, check out this comprehensive guide.
Limitations of default WooCommerce bulk editing
Does not support variable products: The standard bulk editing feature is primarily suited for simple products, leaving retailers dealing with variable or grouped products somewhat disadvantaged. If your store manages variable products featuring multiple attributes, various pricing structures, or distinctive stock-keeping units (SKUs), a more advanced plugin will be required for efficient bulk editing.
Manual product selection process: Product selection for bulk editing remains manual within WooCommerce's default settings. For smaller retailers, this process seems manageable, but for larger stores boasting expansive product catalogs, manual product selection can prove burdensome, despite leveraging WooCommerce's inherent filtering options.
Restricted number of editable product fields: With WooCommerce's standard bulk editing feature, you're restricted in terms of which product fields you can edit in bulk. For certain data points or fields, you might find yourself needing to individually edit each product, an arduous task that defeats the purpose of bulk editing.
To optimize your eCommerce operations and unlock a more efficient product management solution, overcoming these limitations is essential. Fortunately, a variety of WooCommerce bulk editor plugins are available to address these challenges.
Essential features to look for in a WooCommerce bulk editor plugin
Deciding between WooCommerce bulk editor plugins can be challenging. Distinguishing between the essential and bonus features of a plugin can help you make an informed decision.
Essential features
Bulk editing capabilities
Advanced plugins can handle not only basic product edits but also more complex tasks, such as bulk modifying variable, grouped, and custom product types. With these advanced plugins, the task of updating large or complicated product lists becomes more manageable and efficient.
User-friendly interface
When it comes to usability, simplicity and intuitiveness are key. The plugin should offer a clean, easy-to-navigate interface to hasten the process of bulk editing. This feature helps reduce the learning curve, allowing for quick, efficient edits.
Compatibility
Ensuring the plugin remains compatible with the latest version of WooCommerce and synchronizes well with popular WooCommerce plugins and themes is vital. Regularly updated plugins that maintain compatibility are more reliable, helping ensure your online store's smooth operation.
Quality support
Exceptional customer support is crucial, particularly when complexities arise. Whether it's through responsive email support, comprehensive documentation, or active forums, having a readily available assistance tool is something you should expect.
Competitive pricing
Value for money doesn't always mean picking the cheapest option. Evaluate the features that the plugin provides and consider the pricing structure. Consider if the plugin is a one-time purchase or a subscription-based service, and if there are premium versions with additional features at a reasonable price. Some plugins may also offer a free trial, allowing you to assess whether the solution suits your needs before investing.
Bonus features
Filter and search functionality
An effective bulk editor plugin should make it easy and effortless for you to identify the specific items you wish to edit. Plugins that provide rigorous filter and search features can categorize and locate the specific products that need editing, saving valuable time.
Support for custom fields
The ability to edit custom fields in bulk is crucial for WooCommerce store owners who need to modify custom data specific to their product offerings. Instead of manually updating each entry, plugins with this feature let you change custom field data in one go.
Undo/history functionality
Mistakes happen. A good plugin will provide an 'undo' feature or a history log, letting you quickly reverse changes if required. This feature not only assures peace of mind but also saves time that could otherwise be wasted rectifying errors.
Ultimately, the choice of WooCommerce bulk editor plugin should align with your unique requirements and intended use case for your eCommerce store. Carefully consider each of these features in terms of how they can specifically advance your workflow efficiency and improve your overall eCommerce store management experience.
Top recommended WooCommerce bulk editor plugins
Now that we know the benefits and features to look for in a WooCommerce bulk editor plugin, let's explore some of the best ones currently available. These plugins were selected based on their ease of use, features, support, and pricing.
1. WP Sheet Editor
WP Sheet Editor – the spreadsheet-style editing tool tailored for WordPress. A powerful solution that transforms your WordPress dashboard into a live spreadsheet interface, enabling seamless bulk edits without the hassle. Say goodbye to the tedious one-by-one edits, never-ending operations, and complex import issues.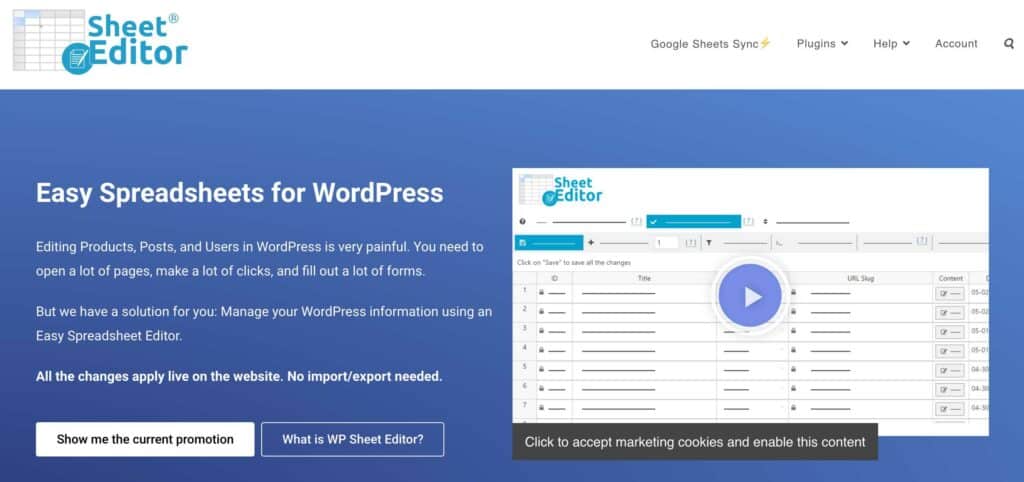 Key features
Real-time spreadsheet editor: View and modify WooCommerce products in a familiar spreadsheet format.
Extensive field view: Display every product field in the spreadsheet, ensuring you never miss a detail.
Formulas for bulk edits: Apply formulas to make concurrent changes across hundreds of products effortlessly.
Bulk image management: Upload and manage product images and galleries in bulk, streamlining the visualization process.
Advanced product search: Use any field as a search parameter to locate and manage your products swiftly.
2. Admin Columns
Admin Columns simplifies the editing process by allowing you to handle everything directly from your WordPress admin area. Boasting an integration optimized for WooCommerce, this plugin lets you manage, edit, and view products directly from the "All products" view. As your product range expands, Admin Columns ensures your workflow remains uncomplicated, organized, and agile.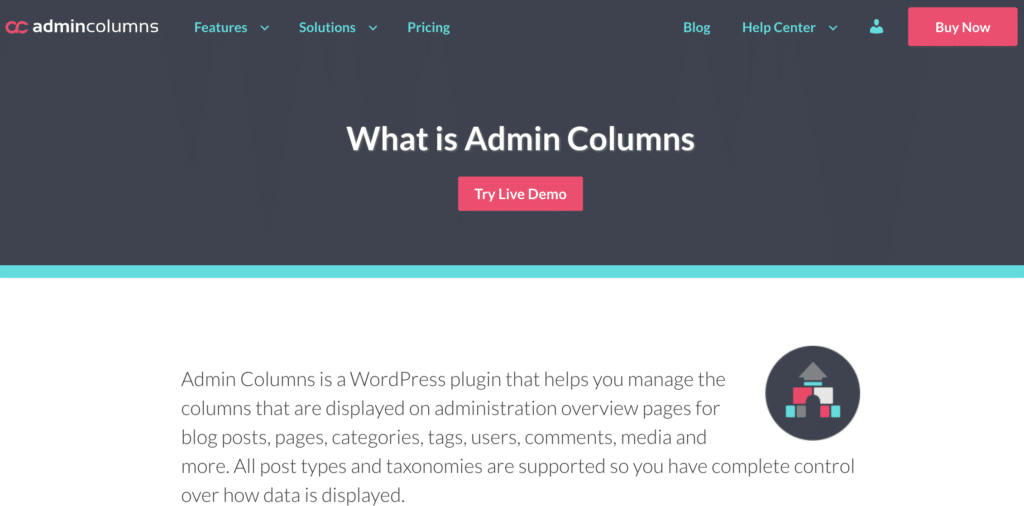 Key features
Direct inline edit: Update content directly from the product overview without opening each individual product page.
Bulk update tools: Select products and attributes in need of changes and update them in one go, especially useful when paired with the filtering tool.
Pricing wizard: Adjust product prices swiftly, whether increasing, decreasing, or setting new values, either as a fixed value or a percentage.
Sale wizard: Prepare for sales efficiently with tools to set sale prices, schedule sales, and even end active sales with a single click.
Customizable dashboard: Display essential product attributes and information on your overview. Customize visibility by hiding unused or irrelevant details, offering a clutter-free workspace tailored to your needs.
3. Bulk Edit Products, Prices, and Attributes by ELEX
Managing a vast number of products can be a tedious task, especially when frequent updates are required. Enter Bulk Edit Products, Prices, and Attributes by ELEX, a comprehensive tool that allows WooCommerce store owners to handle extensive edits swiftly and efficiently. Catering to simple, variable, and external products, this plugin promises to ease the hassle of large-scale product adjustments.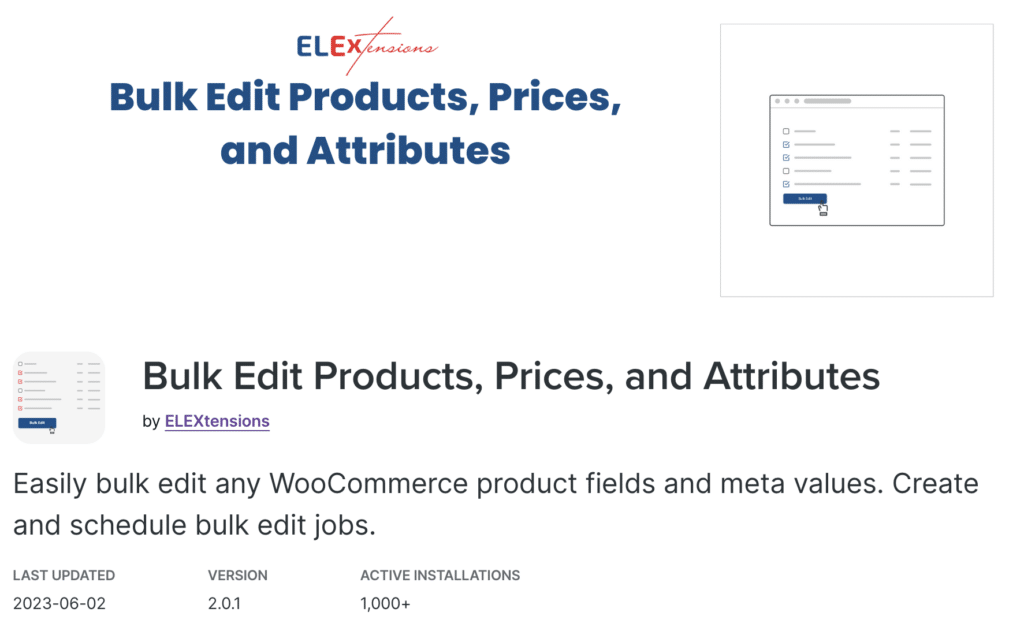 Key features
Bulk price adjustments: Seamlessly adjust regular and sale prices for groups of products, complete with the capability to set time-bound offers or discounts.
Manage product categories in bulk: Create, modify, or switch product categories across numerous products with a single action.
Attributes management: Effortlessly edit global product attributes and custom product attributes across multiple products simultaneously.
One-click variation creation: Generate variations for multiple variable products based on a combination of global and custom attributes.
Extensive field editing: Modify essential product fields like SKU, stock levels, prices, and dimensions for numerous products at once, coupled with powerful filtering and preview options.
4. WooCommerce Advanced Bulk Edit
WooCommerce Advanced Bulk Edit is another great choice. This robust plugin ensures store owners have maximum control over their products, offering various filtering and bulk editing capabilities suitable for both small-scale and large-scale WooCommerce stores.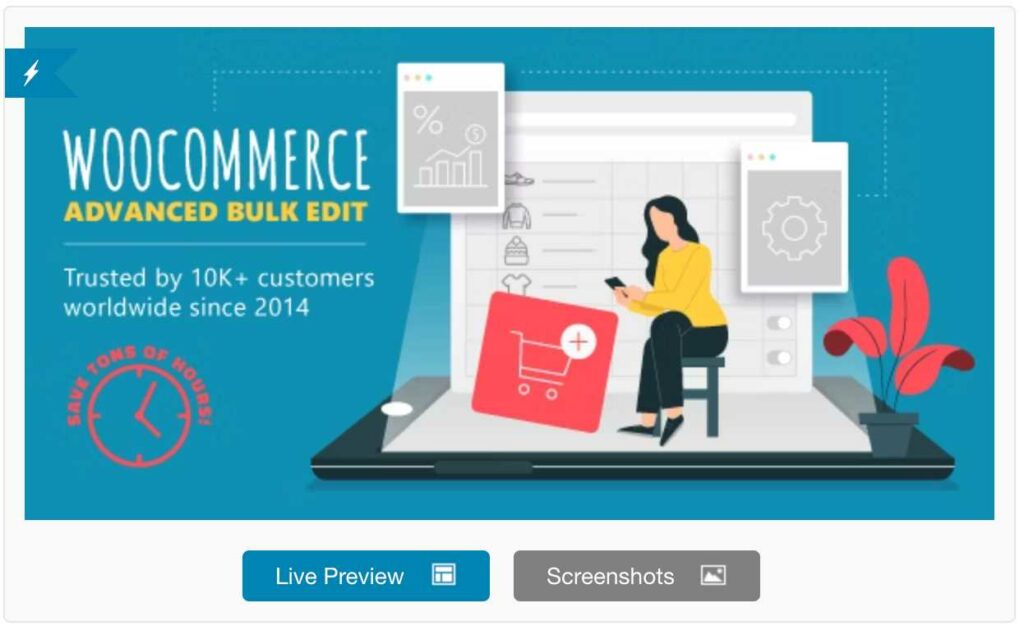 Key features
Versatile product filtering: Search products based on numerous parameters like title, price, SKU, dimensions, and more.
Comprehensive bulk editing: Perform operations like text append/prepend, price adjustments, and copy field values across multiple products.
Customizable field views: Decide which product fields to display or hide, tailor-made for your convenience.
Variations management: Efficiently create products and their variations, along with powerful selection tools.
Support for custom fields: Easily integrate and manage custom meta fields and taxonomies, ensuring seamless compatibility with third-party plugins.
5. WooCommerce Bulk Variations by Barn2
WooCommerce Bulk Variations by Barn2 is an all-rounder tool for store owners dealing with a multitude of product variations. Designed to streamline the process of variation management, it presents a structured approach to listing, editing, and displaying variations, ensuring customers have an optimized shopping experience.
Key features
Bulk variations editing: Conveniently filter and apply bulk actions specifically to selected product variations.
Optimized display for variations: Showcase all details of a product's variations in an organized table, enhancing the customer's buying journey.
Global and specific integration: Enable the variations grid globally or for specific products, or even utilize a shortcode for bespoke placements.
Adaptable layout choices: Customize the display by selecting rows, columns, and details like images, prices, and descriptions for each variation.
Universal theme compatibility: Designed to seamlessly integrate with any WooCommerce theme, ensuring consistent visuals across devices.
WP Umbrella: A valuable addition
While WooCommerce store owners have a plethora of plugins for various functions, like bulk editing products, there's often a gap when it comes to the seamless management of multiple sites.
This is where WP Umbrella strides in.
While it doesn't replace bulk product editing plugins, it complements them, offering a suite of features that provide store owners with unparalleled ease of use and efficiency.
Unifying multi-site management: Have you ever felt overwhelmed juggling between multiple WordPress sites? WP Umbrella's Single Dashboard allows you to connect and manage all your WordPress sites under a unified interface. You can quickly glance at summaries, identify issues, and even log into each of them with just a single click. It's about centralization and simplicity, ensuring that you never miss a beat with any of your sites.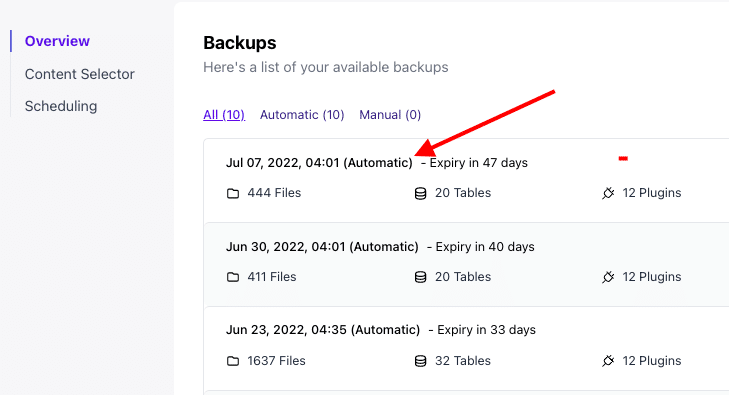 Bulk actions with efficiency: Whether it's plugin updates, theme enhancements, or WordPress core shifts, WP Umbrella combines all necessary updates neatly into one list. With just a click, you can deploy these updates across your sites, ensuring consistency, security, and modernity without repetitive manual updating.
Guarding your digital empire: A WooCommerce store's backbone is its data, and any loss can be catastrophic. With WP Umbrella's Automated Backups, you get a robust safety net. Regular backups are stored securely on European servers, not only offering reliability but also ensuring GDPR compliance. It's about peace of mind, knowing that your and your client's digital assets are safe and sound.
Transparent reporting: WP Umbrella's Automated Maintenance Reports are designed with clarity and comprehension in mind. Schedule reports that highlight the work you've done, helping clients understand and appreciate the maintenance efforts you've undertaken. It's not just about keeping them informed but also about reinforcing the value you bring to the table.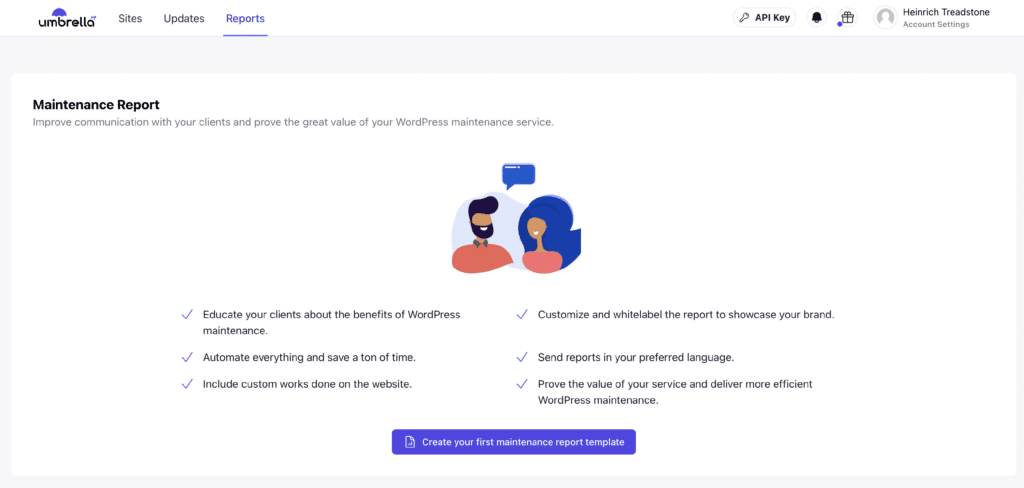 Stay ahead with comprehensive monitoring: From uptime rates to site performance and even PHP errors – everything is under surveillance with WP Umbrella. If something goes amiss, you're the first to know, allowing for timely interventions.