How to Manage Multiple WordPress Sites Effortlessly (10 Tools for 2023)
The WP Umbrella Team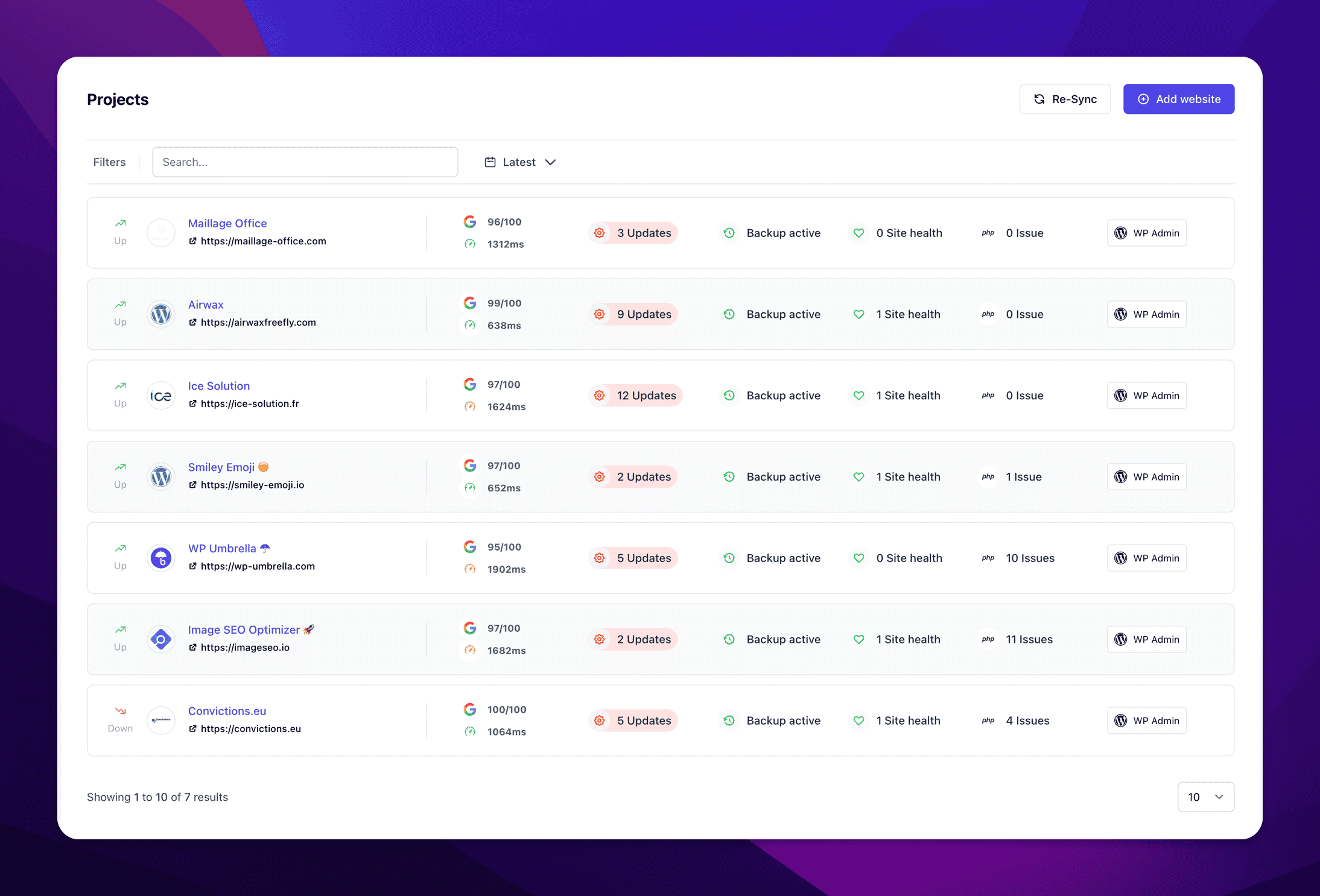 Are you trying to manage multiple WordPress sites from a single dashboard? Are you looking for an easy solution?
Without the right WordPress management tools, managing multiple websites takes a lot of time: updates, backups, monitoring, reporting, etc.
You need to perform daily, weekly, and monthly maintenance tasks.
That's why it's common for agencies to control multiple websites with the help of a management plugin or tool. Such tools save a ton of time and can help you prove your work's value to your clients.
In this article, I'll share with you the best tools to manage multiple WordPress sites like a pro and with a minimum of effort.
TL;DR
There are at least a dozen of tasks that a good WordPress management tool must do. This includes automatic daily backups, bulk updates, uptime & performance monitoring, and security monitoring.
We have compared the 11 best plugins/tools to maintain multiple WordPress websites: WP Umbrella, ManageWP, MainWP, iTheme Security, InfiniteWP, WP Blazer, CMS Commander, WP Remote, Jetpack, and TheHub.
The best tool to manage multiple WordPress websites effortlessly is WP Umbrella
.
Manage Dozens of WordPress Sites Effortlessly
with WP Umbrella
Try for free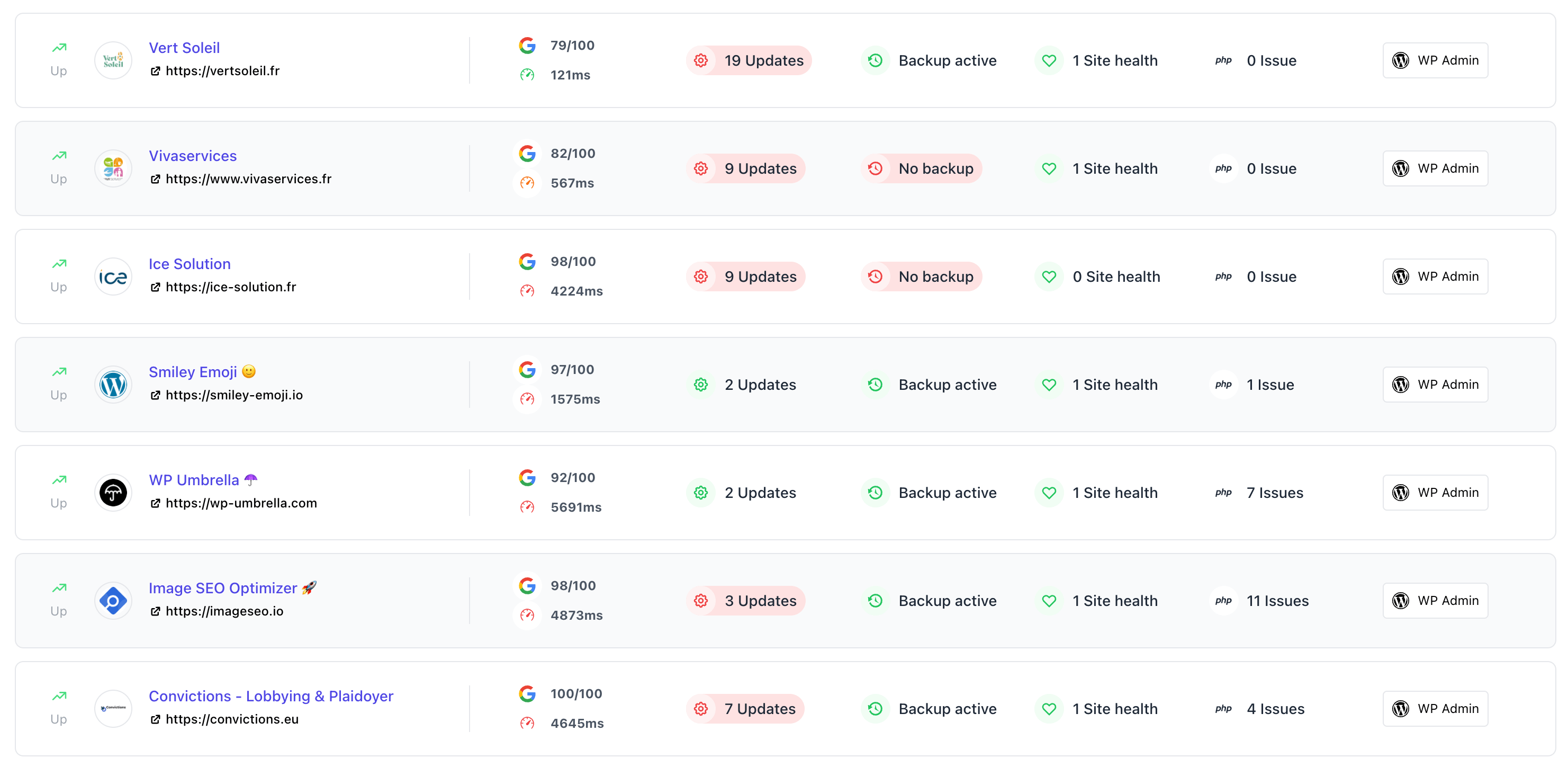 Why Should You Use a WordPress Management Tool?
There has been a lot of talk about WordPress multisite since its launch. WordPress multisite allows you to control multiple WordPress sites from one dashboard and administer them easily if they share similar functionalities.
Despite this, WordPress Multisite does have some limitations when it comes to managing many sites for a variety of clients who use different environments (server configuration, plugins, etc).
The right WordPress management tool will help you automate your workflow on multiple websites and run them all in just a few clicks via a single dashboard.
Most of them also include features that will help you to prove the value of your work to your clients so they can better understand why they are paying for a WordPress maintenance package.
The Benefits Of A Single Dashboard
Despite the ease and simplicity of WordPress as a CMS, managing multiple WordPress admin panels can become increasingly complicated and time-consuming.
With multiple sites, you must manually update plugins and themes, and keep track of core updates and many other critical things.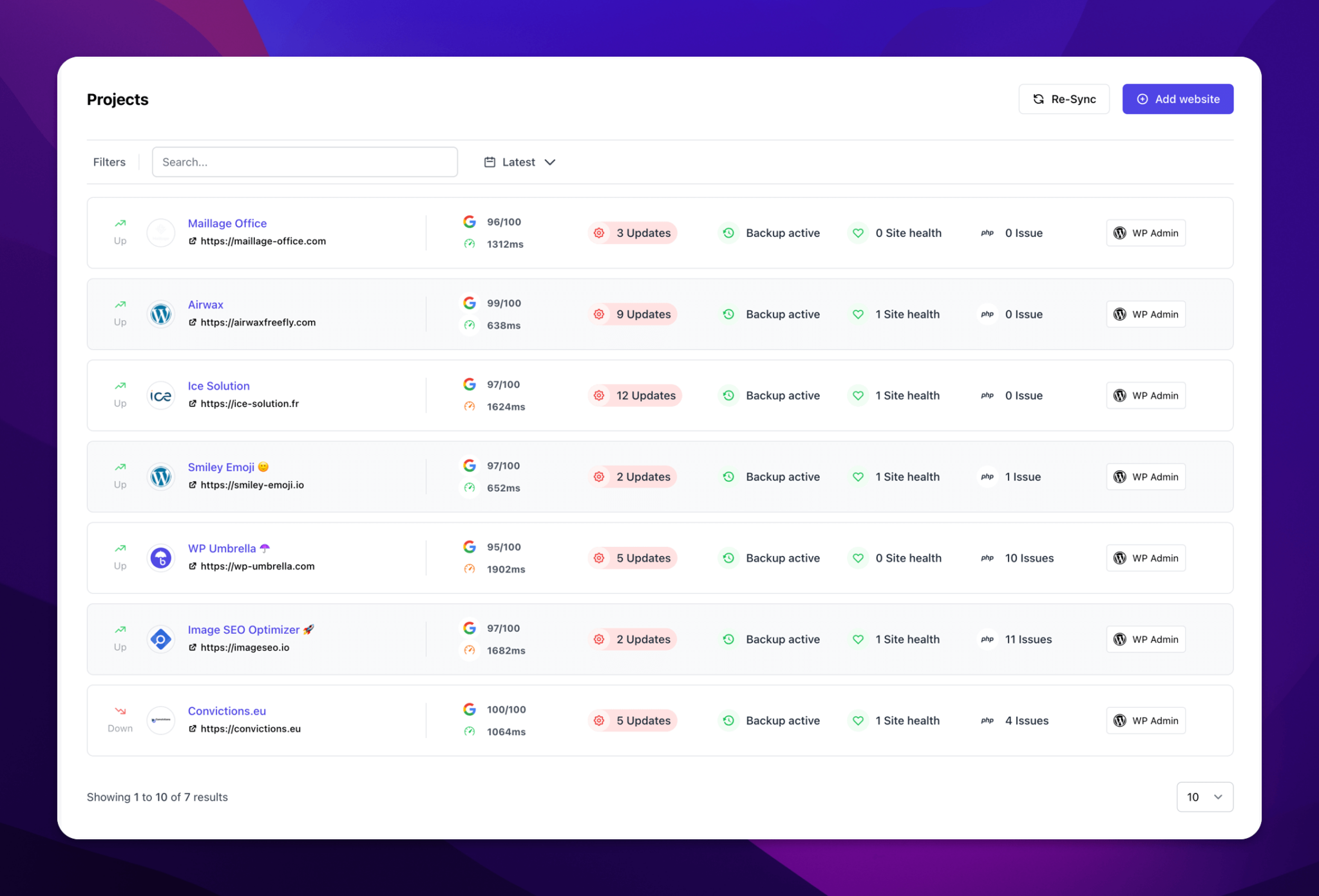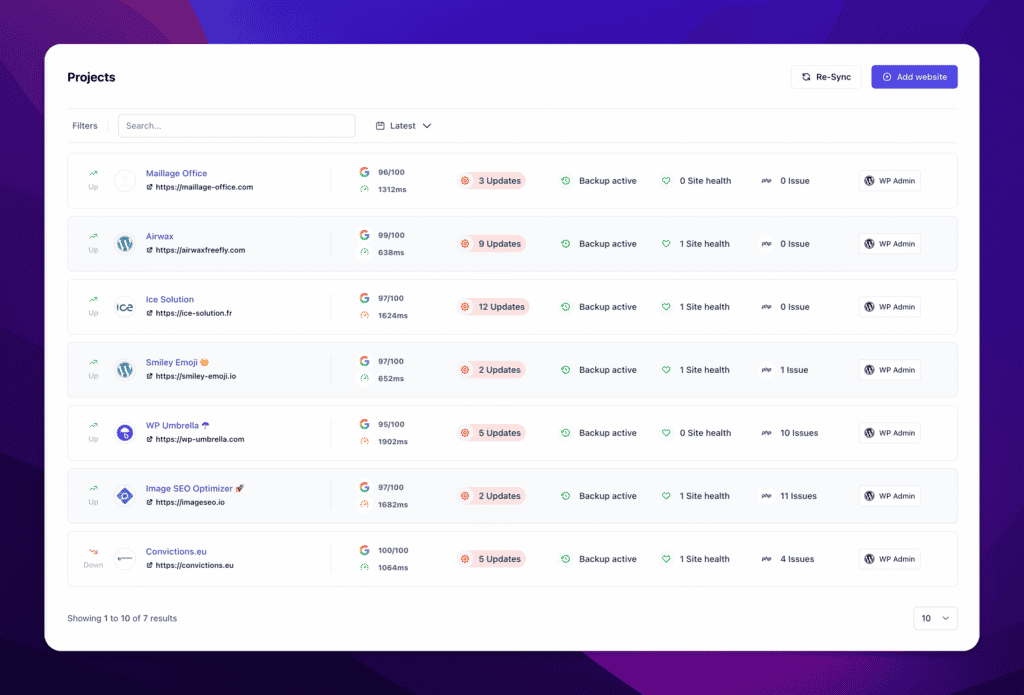 Making WordPress maintenance on several websites requires a single-interface solution where you can access a comprehensive overview of what is going on and act accordingly. This is the only way to manage multiple WordPress sites efficiently.
How to Manage Multiple WordPress Sites Like A Pro (11 Tasks You Must Always Do)
When you first thought about managing client websites, you were excited about the potential revenue growth. It probably didn't take you long to realize how big this whole thing could become without the right tools.
Here is what you should always do when you are trying to maintain and manage several WordPress websites for your clients:
Make hourly, daily, weekly or monthly backups of your websites. It's best to have at least 2 or 3 different sources of backup in case your data center burns.
Update WordPress core
Update themes and plugins
Delete useless plugins and themes
Monitor uptime & performance
Monitor SSL certificate
Check WordPress error logs
Harden your website security and run security scans
Optimize loading times with a cache plugin and a plugin to compress your images
Optimize pages for Technical SEO
Send reports about the previous tasks to prove the value of your work and improve the communication with your clients.
On top of that, you can also add punctual website edits, custom development, web hosting, domain management, and much more.
As soon as you get more than 5 websites, you will need a tool.
10 Best WordPress Management tools to Manage Multiple WordPress Sites Easily
We have reviewed and compared the top ten WordPress management tools that you can use to supervise multiple WordPress sites from a single dashboard:
WP Umbrella
ManageWP
iTheme Sync
MainWP
InfiniteWP
The Hub by WPMUDEV
WP Remote
CMS Commander
WP Blazer
JetPack
| WordPress Management Tool | Monthly price by site | G2 Score | Trustpilot Score | TLDR |
| --- | --- | --- | --- | --- |
| WP Umbrella | $1.99 – pay as you go all features included | 4.9/5 | 5/5 | WP Umbrella is a new WordPress management tool that offers a refreshing user experience and clear pricing. WP Umbrella is reliable and provide you with all the features that agencies and freelancers need to manage multiple WordPress sites. |
| ManageWP | Up to $8.2 with must-have ad-ons | 4.4/5 | 3.6/5 | ManageWP is the most popular WordPress management plugin. The tool has almost not been updated since it was acquired by GoDaddy in 2016. ManageWP offers a comprehensive set of features. |
| iTheme Sync | $6.99/month for 5 websites | not listed | 2.4/5 | iTheme Sync Pro is a part of a broader family including iTheme Security and BackupBuddy. While iTheme Security is a great security plugin, iTheme Sync Pro is clearly not up to the competition. |
| MainWP | $29/month unlimited website | 4.6/5 | 4.3/5 | MainWP is a good tool if you like open source self-hosting solutions. However, if you are looking for productivity and peace of mind, there are better alternatives like WP Umbrella. |
| InfiniteWP | $1.2/month by website | 4.2/5 | 3.8/5 | InfiniteWP provides you with all the features you need to control multiple WordPress websites. However, the dashboard is not handy and this plugin has had many security issues in the past. |
| WP Remote | $49/month for 5 websites | 4.6/5 | Not listed | WP Remote is the most expensive WordPress management tool. It's a comprehensive solution that will help you to govern many WordPress sites from a single dashboard but you should watch your billing! |
| CMS Commander | $8/mont for 5 websites | 4.2/5 | Not listed | CMS Commander is an old WordPress management tool optimized for PBN (private blogs network) and black hat SEO, but there are better alternatives if you are selling WordPress care plans to your clients. |
| The Hub WPMU DEV | Free | 4.8/5 | The hub is not listed on Trustpilot. | The Hub by WPMU DEV is a great tool if you decide to host your websites on the hub. If you have a different hosting provider, most of the features are not as reliable as they should be. Plugin updates often fail for example. |
| Jetpack | $24.99/month by website billed yearly. | 4.3/5 | 3/5 | Jetpack is made by Automattic, the company behind WordPress. However, this doesn't mean that Jetpack is outstanding: the plugin might slow down your website and lack of features. |
| WP Blazer | $49.97/month for 25 websites | 4.3/5 | 3.9/5 | WP Blazer is a new tool to for bloggers and agencies willing to maintain up to 25 websites. Features are less reliable on WP Blazer than other tools like WP Umbrella, MainWP, ManageWP or WP Remote. |
Let's take a closer look at each tool!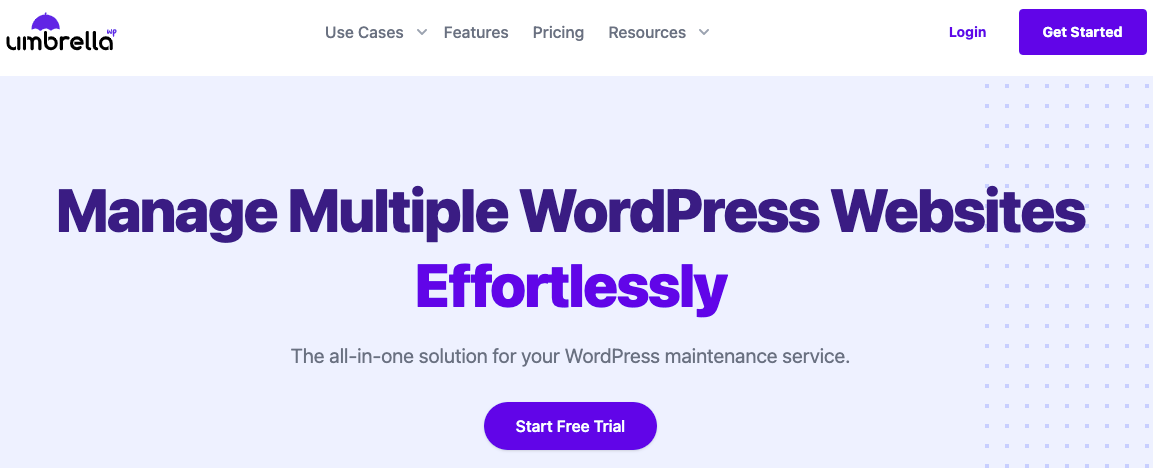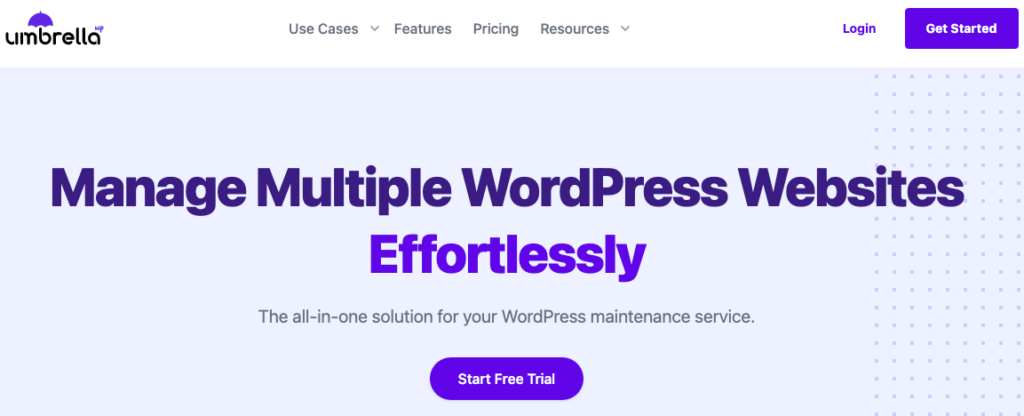 WP Umbrella is a newcomer in the world of WordPress management tools. It was created in 2020 with the ambition to become the best alternative to ManageWP.
WP Umbrella provides all the must-have features you need to manage dozens of websites from a single dashboard: automatic backup, update management, uptime monitoring, automated maintenance reports, 1-click access to wp-admin, etc.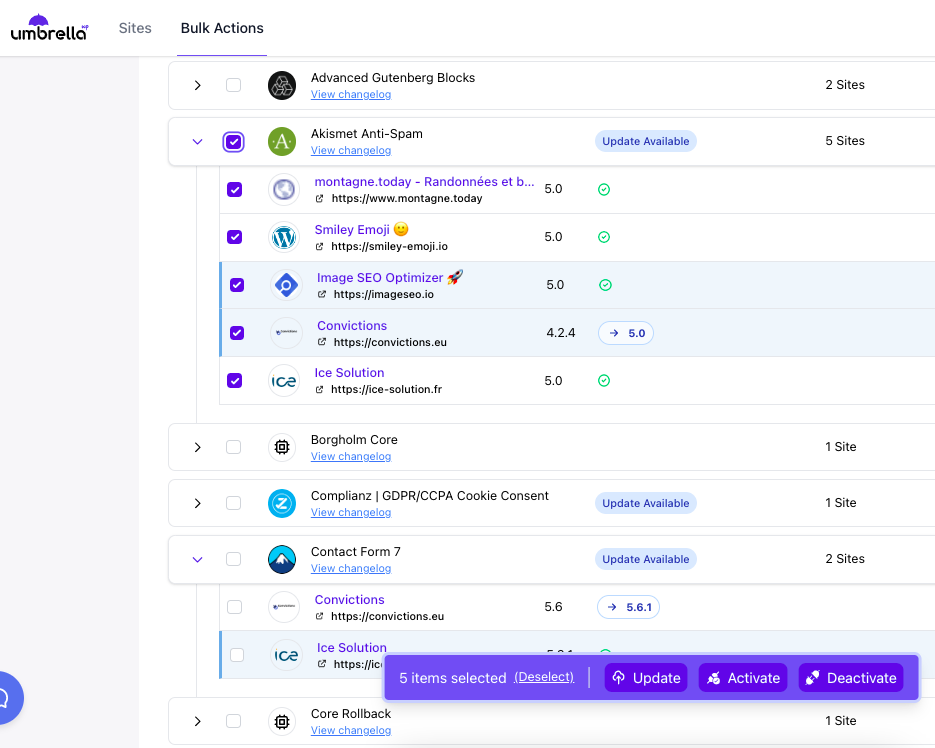 This management software for WordPress has been designed to help WordPress agencies and freelancers with their WordPress maintenance business.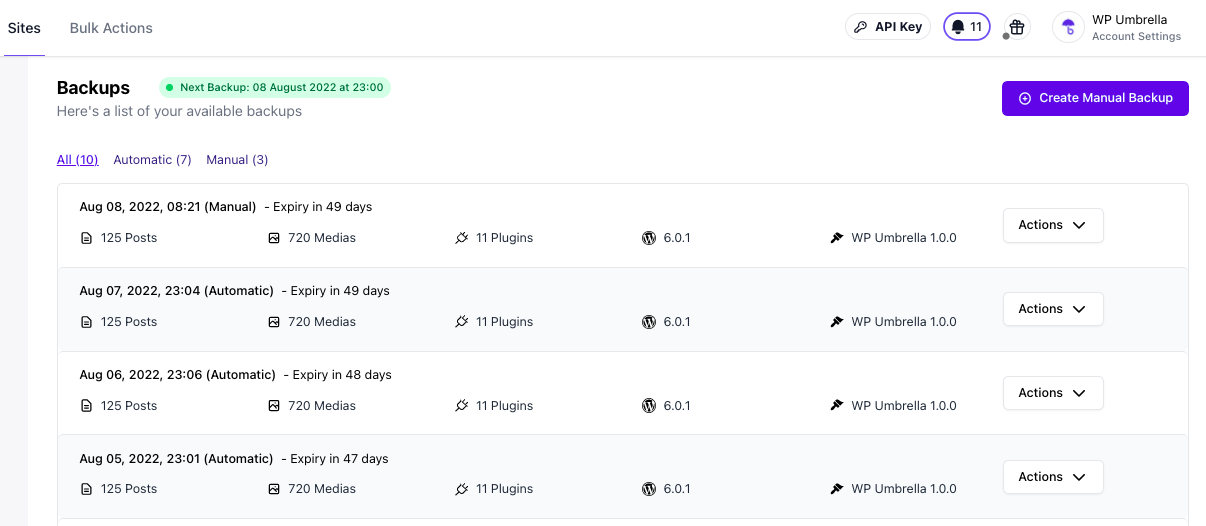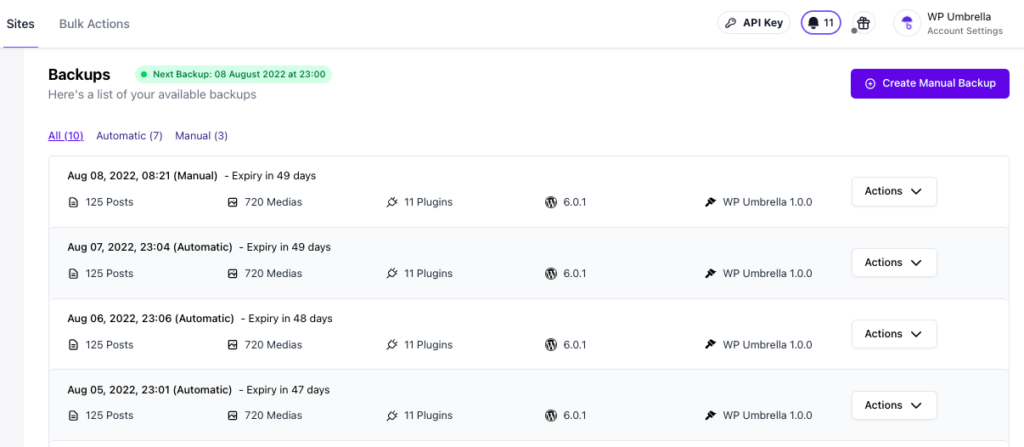 WP Umbrella offers clear pricing (only $1.99/site by month pay as you go) and an amazing user experience. This plugin is light, easy to use, and offers some unique features such as PHP error monitoring.
This helps you to troubleshoot PHP errors and identify conflicting plugins to make your site safer and improve its performance.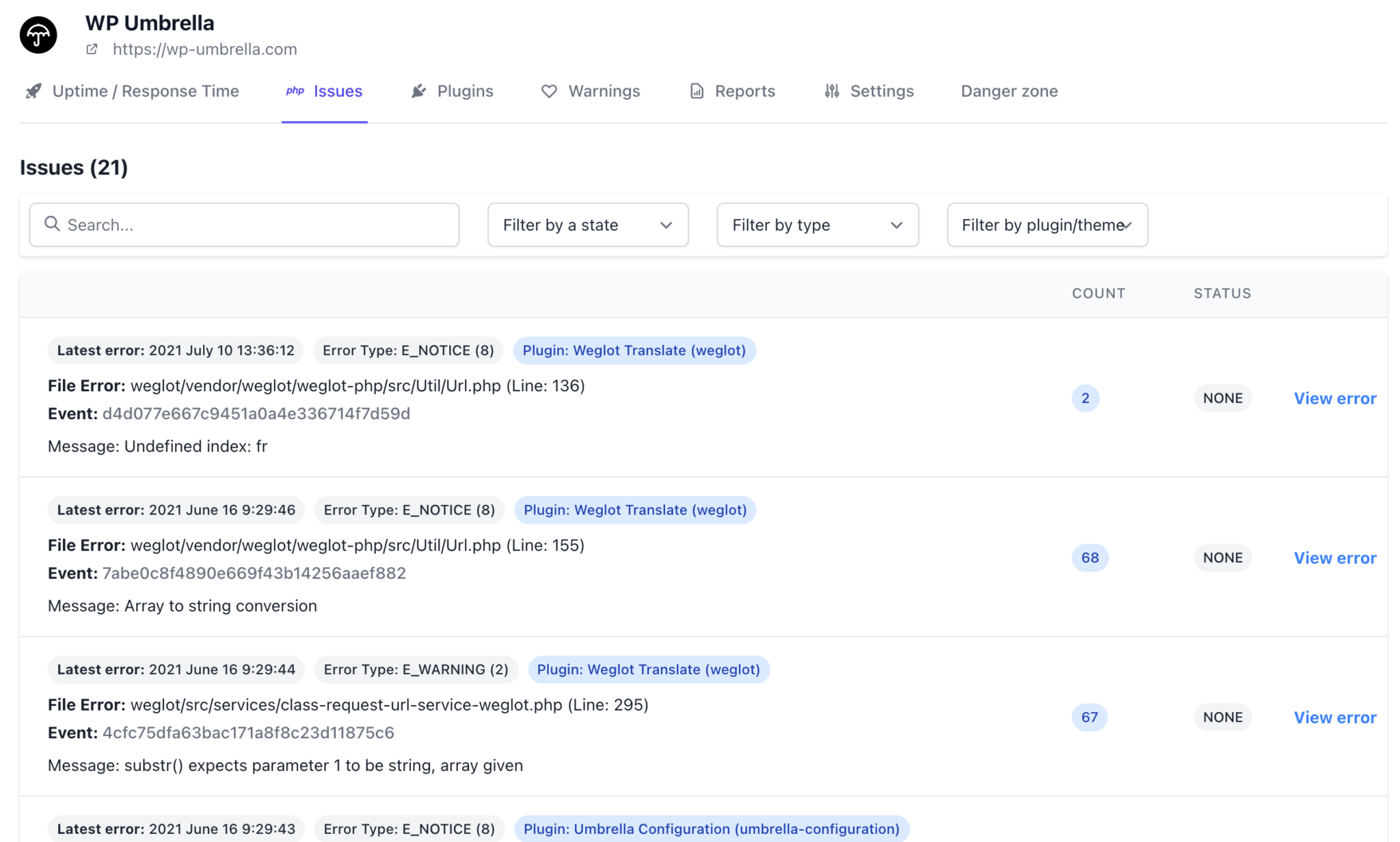 Finally, the WP Umbrella plugin can be fully rebranded and you can use it to edit beautiful maintenance reports and send them automatically to your clients with a custom sending domain.
It's also the easiest to install.
WP Umbrella's core features
WP Umbrella has been created to help agencies and freelancers with their maintenance business and probably offers the best dashboard to manage all your websites from a single place and save a ton of time.
Reliable hourly, daily, weekly, and monthly backups stored in European data centers for 50 days for complete peace of mind.
Beautiful automated maintenance reports with Google analytics integration so you can prove the value of your work to your clients.
WP Umbrella's pricing & details
WP Umbrella costs $1.99/ per month by website. All features are included. There is just one add-on to activate the hourly backup that costs $2.49/month. All the other backup frequencies (half-daily, daily, weekly, and monthly, are included in the initial plan).
WP Umbrella has pay-as-you-go pricing. This means that you will only pay for the websites that you add to the dashboard. The cost by website will always be the same.
What People say about WP Umbrella on G2?
WP Umbrella is rated 4.9/5 on G2, and people like this tool.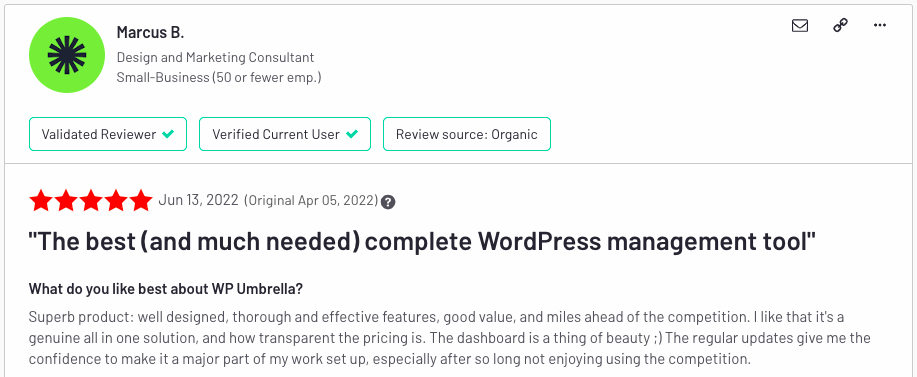 " Superb product: well designed, thorough and effective features, good value, and miles ahead of the competition. I like that it's a genuine all-in-one solution, and how transparent the pricing is. The dashboard is a thing of beauty ;) The regular updates give me the confidence to make it a major part of my work setup, especially after so long not enjoying using the competition. "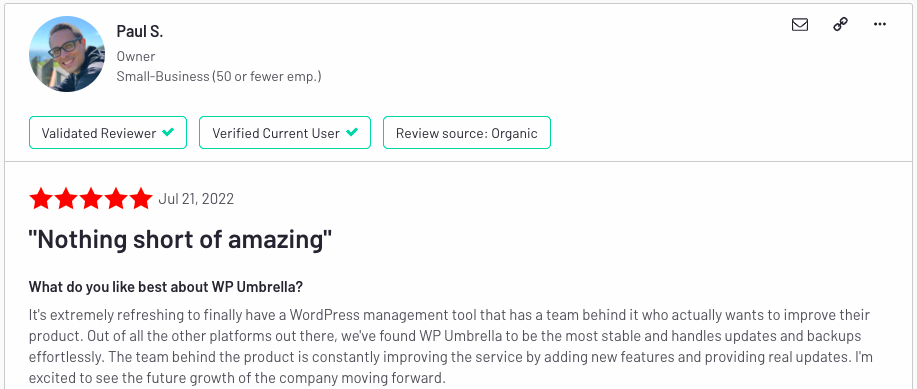 " It's extremely refreshing to finally have a WordPress management tool that has a team behind it who actually wants to improve their product. Out of all the other platforms out there, we've found WP Umbrella to be the most stable and handles updates and backups effortlessly. The team behind the product is constantly improving the service by adding new features and providing real updates. I'm excited to see the future growth of the company moving forward. "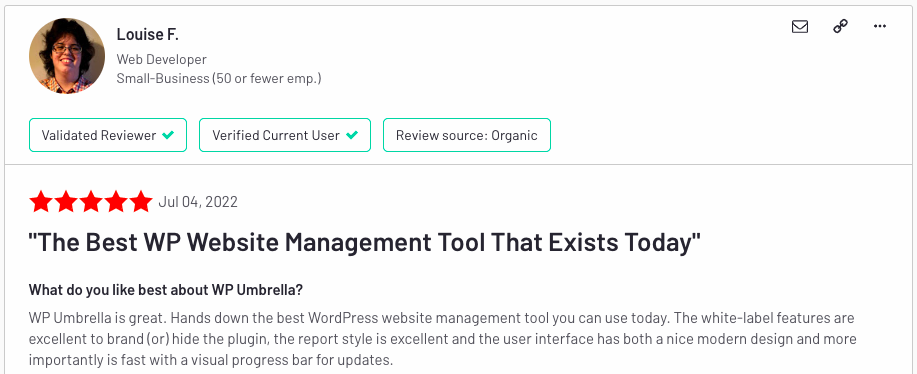 " WP Umbrella is great. Hands down the best WordPress website management tool you can use today. The white-label features are excellent to brand (or) hide the plugin, the report style is excellent and the user interface has both a nice modern design and more importantly is fast with a visual progress bar for updates. "
Pros About WP Umbrella
The best dashboard to manage multiple sites effortlessly

The

most comprehensive monitoring solution available for WordPress (uptime, Google PageSpeed, response time, PHP errors, etc.)

So easy to set up and use

Clear pricing
Support with the greatest of care
Dynamic product (new features and improvements are released every two weeks)
Not owned by GoDaddy
Cons About WP Umbrella
No free plan, only a 14 days trial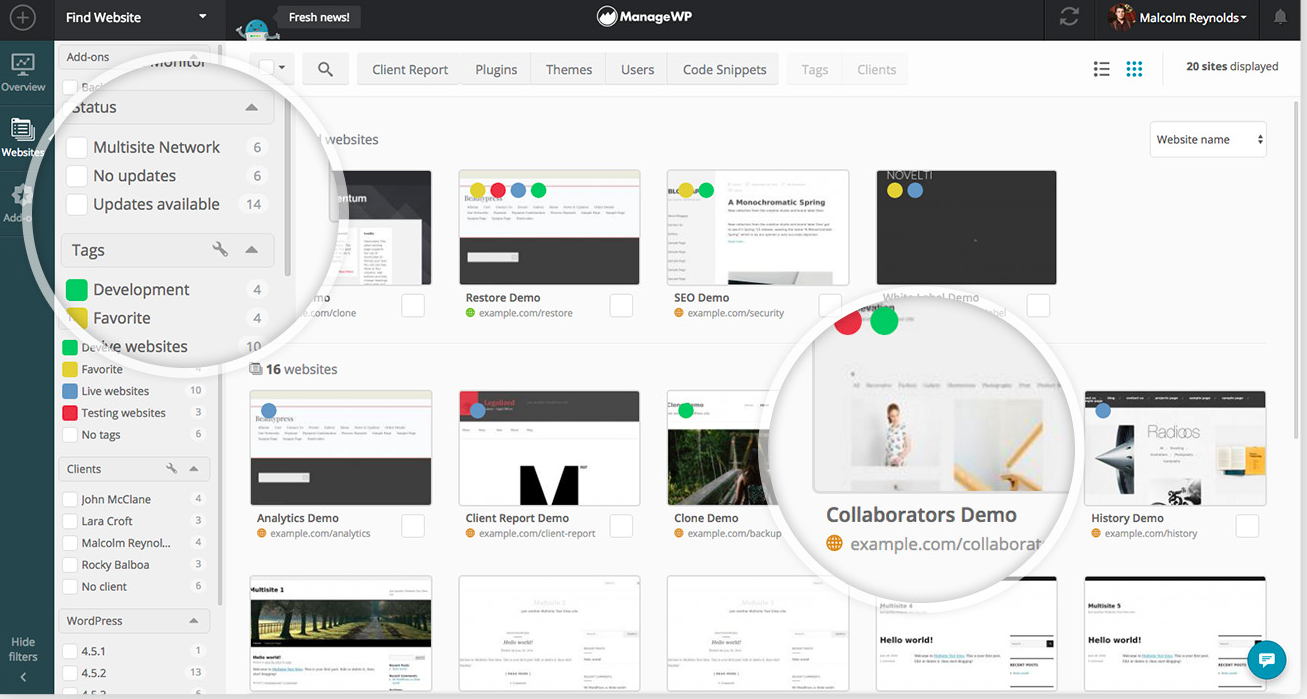 ManageWP is the most popular service out there. It was bought in 2016 by GoDaddy.
Its single dashboard allows webmasters to fully manage all their websites and makes updating, backing up, and carrying out security scans.
ManageWP's dashboard can be accessed from the ManageWP website, and all your websites can be linked through the Worker plugin.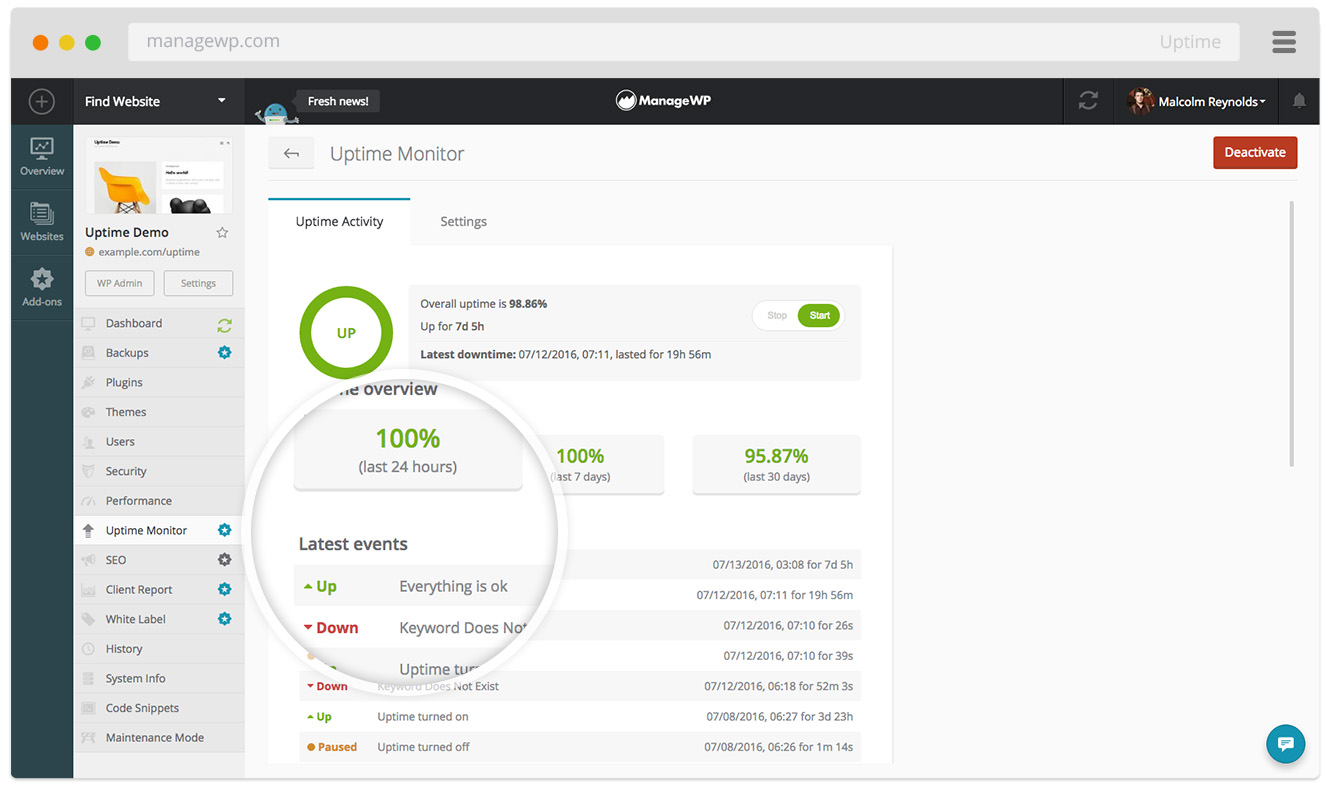 Some of ManageWP's core functionality is free for unlimited sites. They do, however, offer many monthly subscription features. For example, free automated backups and security scans are included but real-time backups and automated security scans need to be purchased as an add-on.
This can quickly make ManageWP pricing unnecessarily complex.
Besides this issue with pricing, ManageWP is clearly overwhelming and if you are looking for peace of mind, it's probably not a good fit for you.
ManageWP's Core Features
The plugin allows you to update your sites, check them for security, and clean spam.
It provides a free cloud backup service, you'll get a monthly scheduled backup. In addition to the free version, the paid version provides some more powerful features related to backups, such as hourly backup and cloning, but it's expensive.
Many premium add-ons are available, like uptime monitoring SEO ranking, white-label, advanced client reports, and so on. This negatively impacts the user experience since you never know how much you are going to pay at the end of the month.
Database to register information about your clients and automate the content of your maintenance reports.
ManageWP pricing and details
ManageWP is supposed to be free on unlimited websites. However, if you want to activate the cool features (backups, uptime monitoring, white label, security, client reports, etc) you have to pay.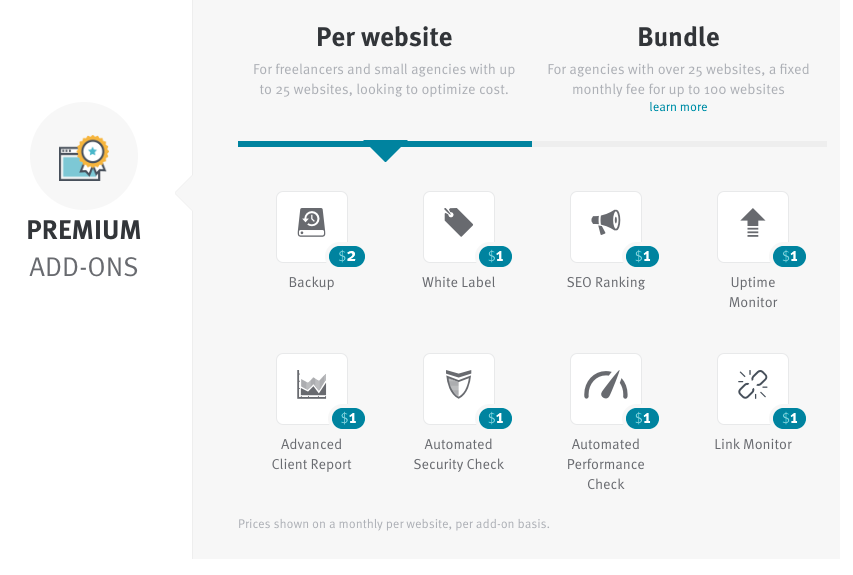 The cost for one website, with all add-ons included, is $9/month. On top of this, there is also an extra add-on for hourly backup at +$2.80.
What People Do Say About ManageWP?
The plugin is only rated 4.4 on G2. If the old reviews are good, the most recent ones are negative.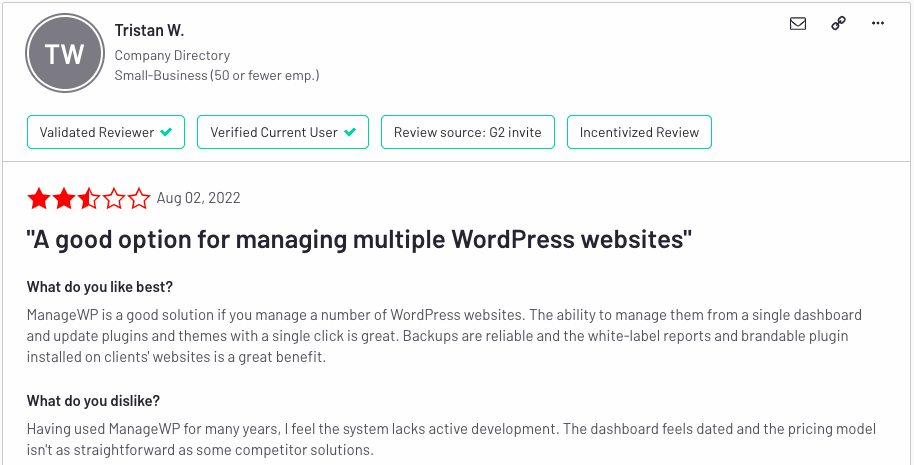 " Having used ManageWP for many years, I feel the system lacks active development. The dashboard feels dated and the pricing model isn't as straightforward as some competitor solutions. "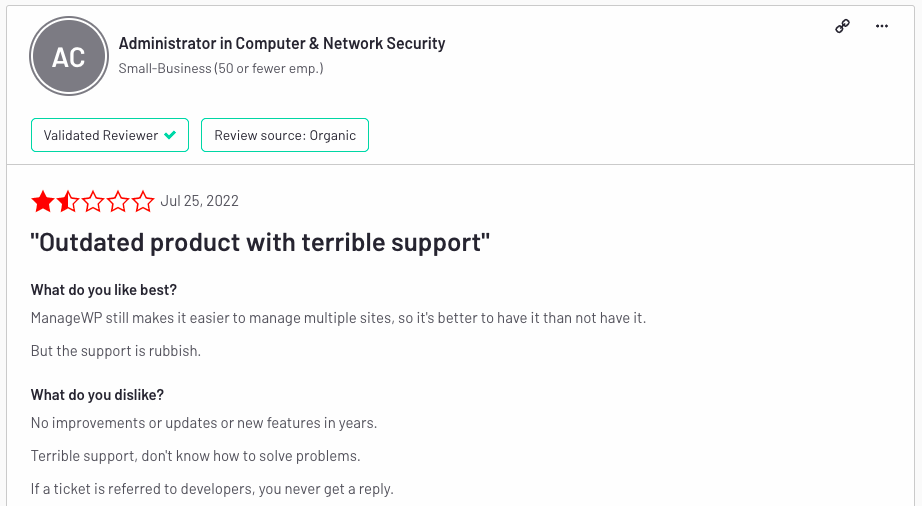 " ManageWP still makes it easier to manage multiple sites, so it's better to have it than not have it. But the support is rubbish. No improvements or updates or new features in years. "
Pros About ManageWP
The most comprehensive set of features.
Freemium features include monthly backup

Very well-established solution
Cons About ManageWP
Unclear pricing (Supposed to be Free on unlimited websites, but costs more than 8$/month with add-ons).
Unnecessarily complex to use, slow, and has not been updated for ages.
Owned by GoDaddy. You don't know where the data is going.
Has almost not been updated since it was acquired by Go Daddy back in 2016
3. iThemes Sync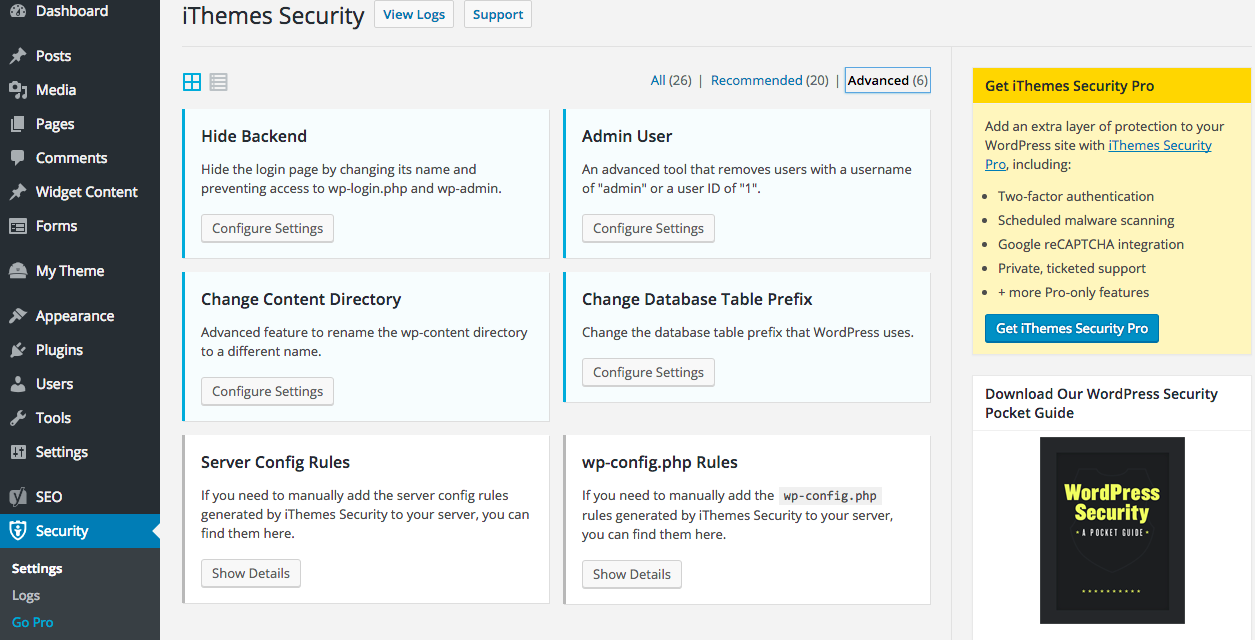 iThemes Sync is another WordPress manager. The plugin was formerly named Better WP Security. It has a very limited free version.
With the free version, you can manage updates from a single dashboard. Themes and plugins can also be installed from WordPress.org or manually, by uploading them.
The paid plans are where the real power lies. You'll get access to uptime monitoring, client reports, user management, security, etc.
The site's management is simplified by an easy-to-use interface.
iTheme Sync Core Features
The Sync dashboard allows you to see how many updates are available, run individual updates, and view plugin changelogs.
Your WordPress sites can be monitored for uptime, downtime, and overall performance with Sync Pro
BackupBuddy integrates with Sync to provide remote backups
The Sync plugin can be hidden or shown on each WordPress site you manage.
iTheme Sync Pro Pricing & Details
iTheme Sync is a premium plugin, with a 30-day free trial. The pricing is based on bundles of websites (5, 10, 25, 50, and 100 sites).
The 5 websites package costs $6.99/month. To manage 100 websites with iTheme Sync you will have to pay 69.99$/month.
What People Do Say About iTheme Sync?
iTheme Sync is not listed on G2 and has almost no reviews at all on other services. iTheme Sync is rated 2.4/5 on Trustpilot and the reviews are negative.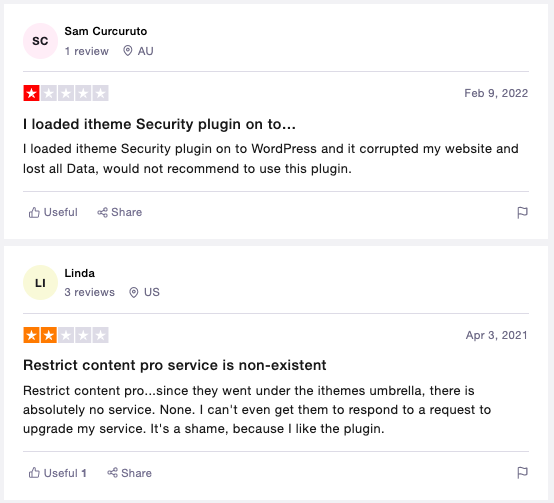 Pros About iTheme Sync
Bulk Install Themes and Plugins From WordPress.org or Zip Upload

Show/Hide Sync From the WP Dashboard

Client Dashboard
Cons About iTheme Sync
Complex to use and sometimes heavy.
Very hard to cancel its subscription.
You must get all the iTheme suite to make something out of it.
Awful reviews on Trustpilot
4. MainWP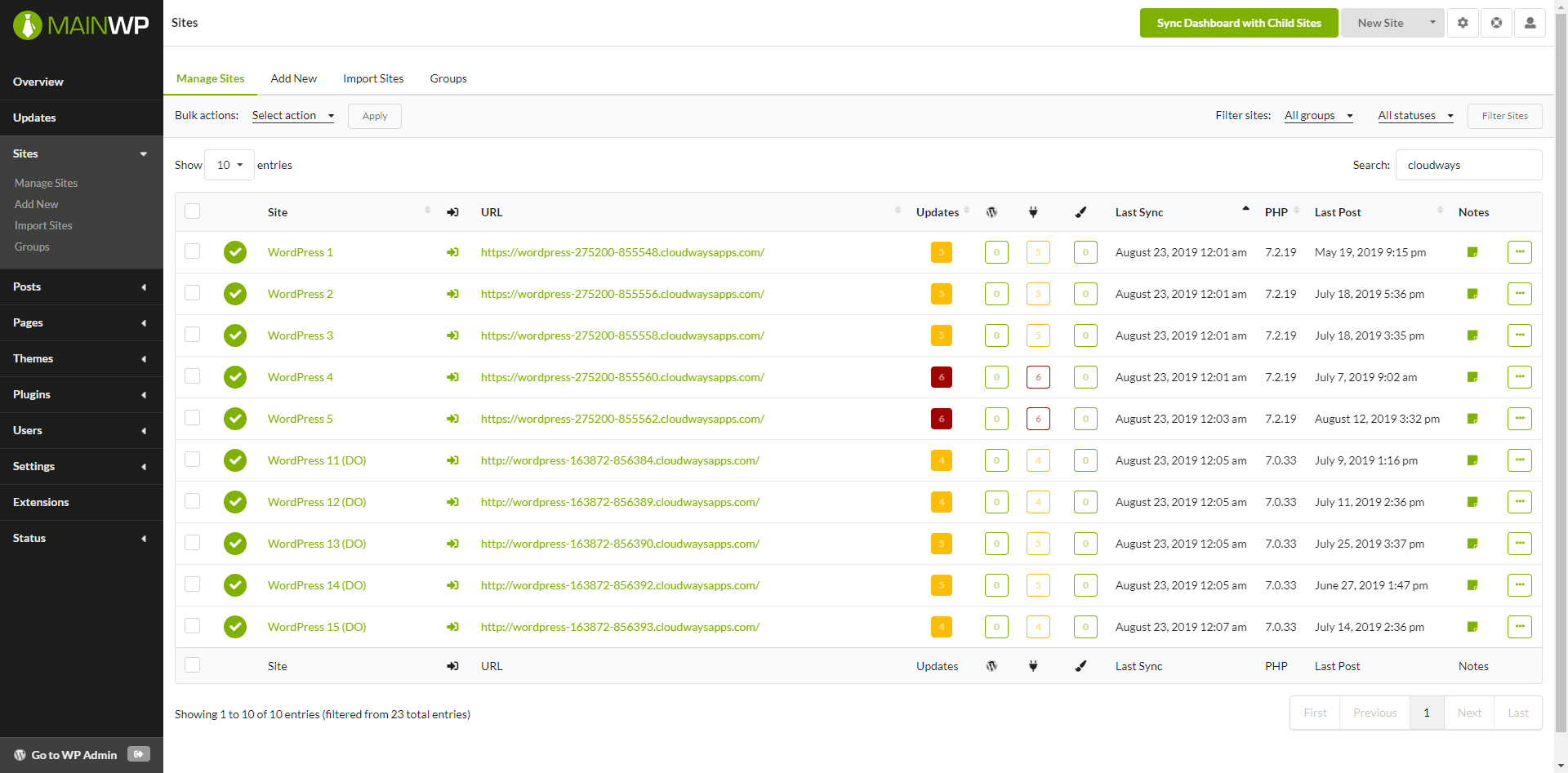 MainWP is another WordPress management solution. You have to set up a central hub on your main website and connect your other sites with the plugin MainWP Child. You can then manage your other websites, perform pending updates, monitor your uptime, create backups, and perform security scans from the central hub.
Additionally, MainWP allows you to configure .htaccess files, monitor SSL certificates, check error logs, manage users, tweak your site's .htaccess files, plus perform dozens of other tasks.
Unlike InfiniteWP or CMS Commander, MainWP is a standalone solution. It is possible to download a free version but you won't be able to select just the extensions you need: the whole package must be purchased. Setting up MainWP took the longest of all the plugins in this list. You also have to maintain it.
MainWP provides some flexibility but requires a ton of time to set it up correctly. In my opinion, MainWP is like Linux for desktops. It works and it's a lot of fun, but nowadays there are better alternatives that will make your life easier.
MainWP Core Features
MainWP is an open-source solution and you can build your own dashboard and select only the add-on that you want.
MainWP is GDPR friendly, but you should pay attention to what you actually connect to it.
Themes and plugins can be updated automatically. If a new update becomes available, MainWP will notify you via email, and then it automatically updates the next day.
You will be notified when abandoned plugins and themes (updated a long time ago) are detected. As a result, you will have a more secure website.
MainWP Pricing & Details
MainWP has a free version for unlimited websites, but you will need a premium subscription to enable every add-on.
MainWP costs $29/month and there is a lifetime deal at $600.
The price of the premium version of MainWP is misleading because it doesn't include the price that you will pay to use other applications. MainWP is mostly a connector.
What People Do Say About MainWP
MainWP is rated 4.6/5 on G2 and 4.3/5 on Trustpilot.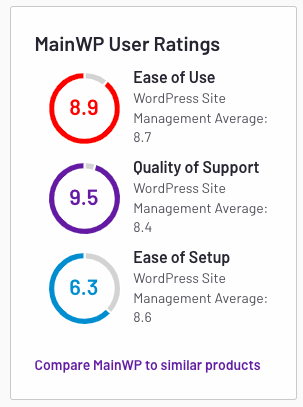 MainWP's users are happy about the product but underline the lack of ease to use and set up.
Pros
Open source self-hosted solution
Fully customizable
Attractive pricing
Compliance with GDPR
Cons
Open source self-hosted solution
Complexe to set up and use
Requires to purchase the plugins you wish to connect with
Requires custom development
5. InfiniteWP
Designed for agencies, developers, and freelancers, InfiniteWP provides site management functionalities.
Several options are available for free. However, this free version is only capable of updating WordPress themes, plugins, and core files. On-demand site backups are also available, but you'll need to purchase an add-on to store them remotely.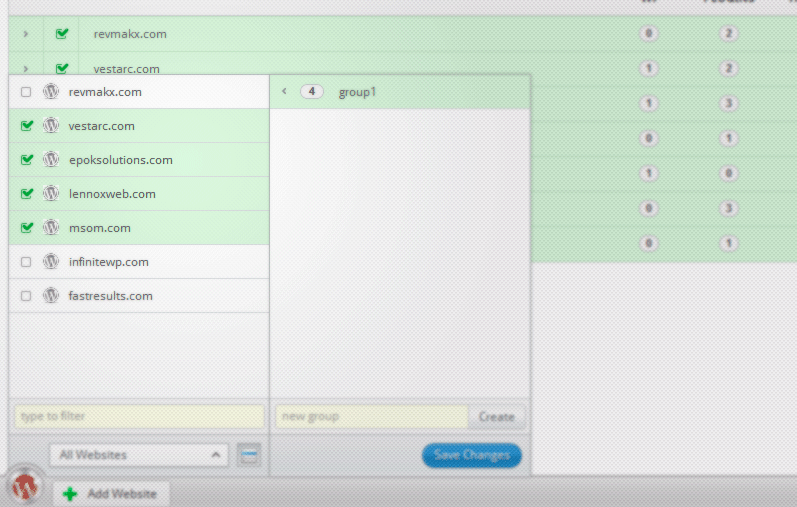 With InfiniteWP's premium plan, you get paid features like: uptime monitoring, client reports, managing comments, publishing posts and pages, two-factor authentication, broken link checker, etc.
You can also white label the plugin so your clients will see your logo instead of that of InfiniteWP.
InfiniteWP Core Features
Plugins, themes and the core of WordPress can be updated easily with one click.
Users can be created and managed easily across multiple sites.
You can also use the malware scanner to protect your site against hackers and attackers.
Reports can be created and sent to clients easily so they can understand why they are paying for wp maintenance.
InfiniteWP Pricing & Details
InfiniteWP is a premium plugin. All plans offer the same kind of features. If you want to enable the multi-user capability, you will have to get the Enterprise plan which costs $647/year.
InfiniteWP pricing starts at $147/year for 10 websites.
What Do People Say About InfiniteWP
InfiniteWP is rated 4.2 on G2, but there are only 10 reviews. There are only 2 reviews on Trustpilot (3.8/5).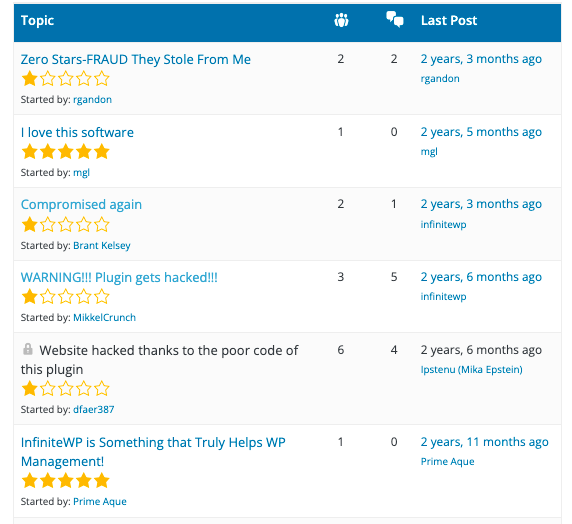 InfiniteWP is rated 4.3/5 on WordPress.org.
Pros About InfiniteWP
GDPR compliance
Core features are free
Maintenance reports are nice
Cons About InfiniteWP
Had serious security issues in the past and people keep complaining about it
Old-fashion dashboard
Lack of real user testimonials
6. WP Remote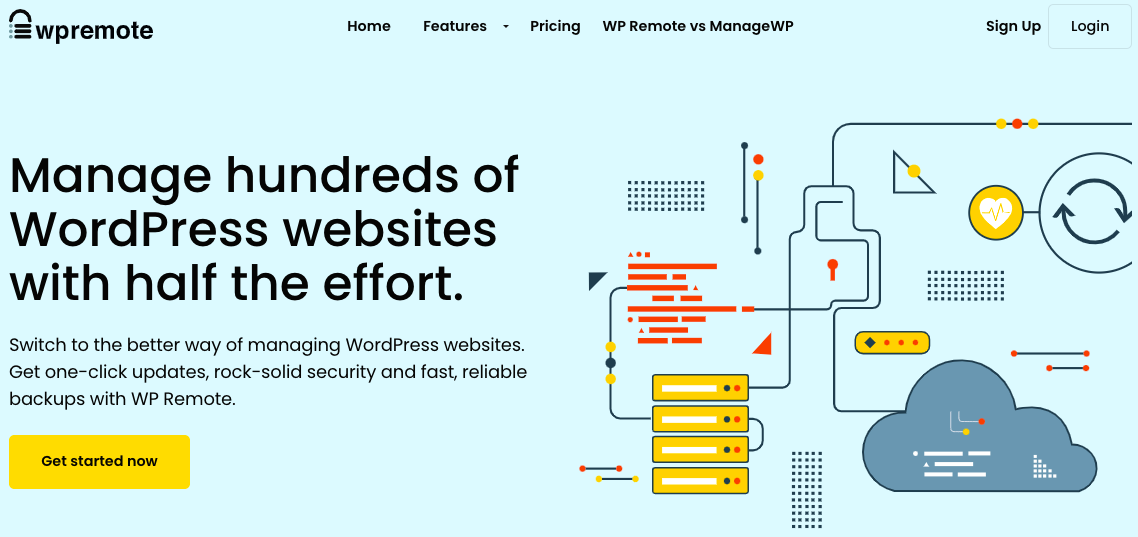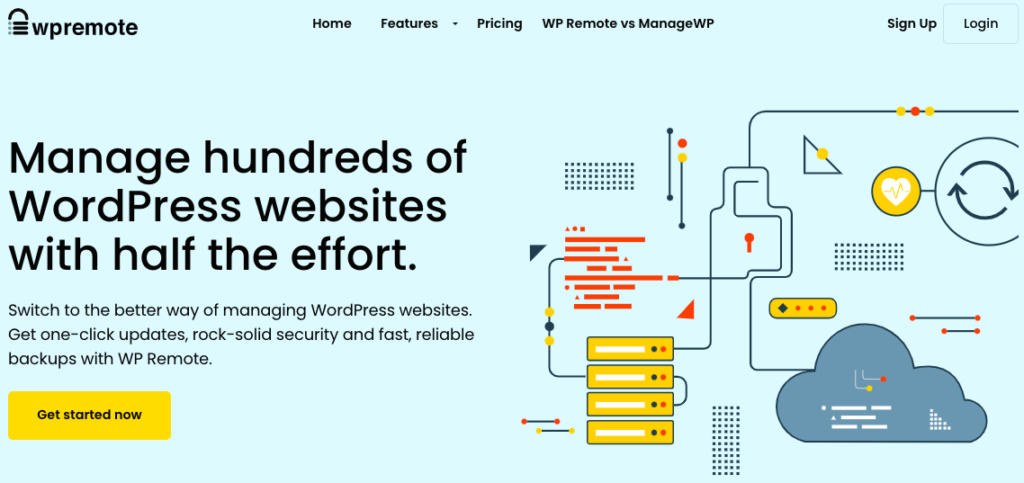 WP Remote offers a variety of features to help you deal with all your WordPress sites from a single dashboard.
WP Remote is another fully-fledged tool to manage multiple WordPress sites. It provides automatic backups, daily malware scans, uptime and performance monitoring, two-factor authentication (2FA) for your sites, and more.
WP Remote Core Features
You can manage all your updates (plugins, theme and core) in a few clicks.
WP Remote offers offsite and on-demand backup services for all your sites.
WP Remote's premium security features include malware scanning, login protection, an advanced firewall, and one-click malware.
WP Remote Pricing & Details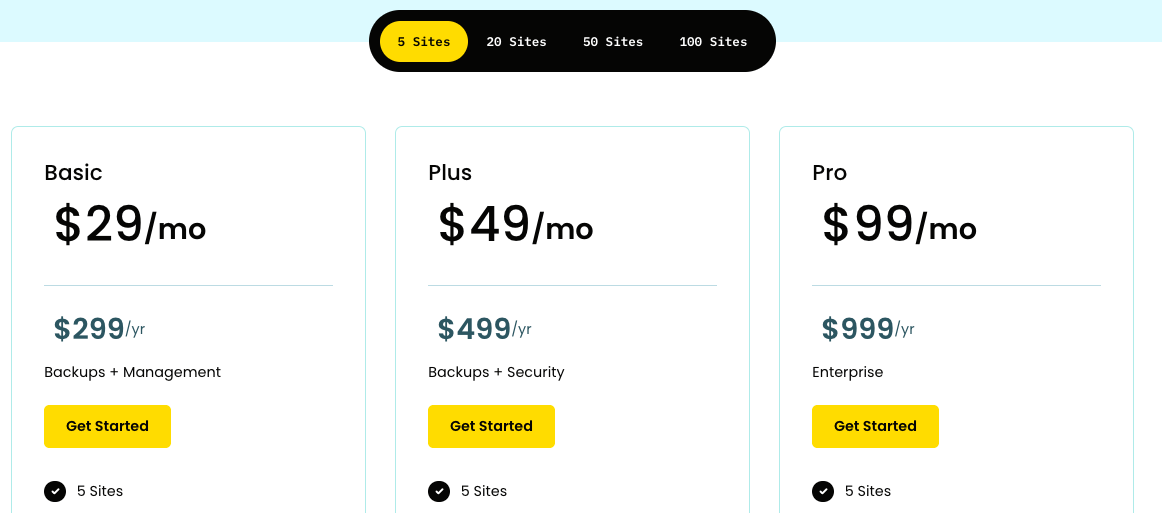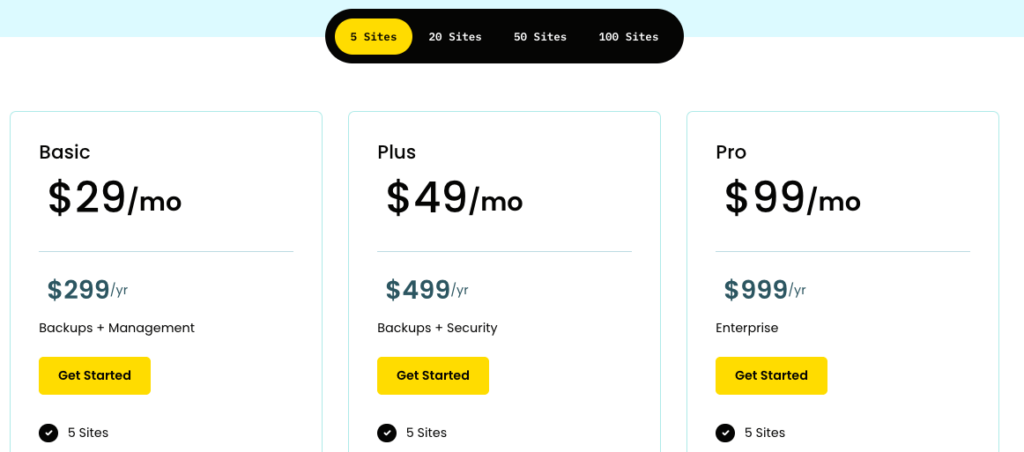 WP Remote pricing is based on the number of websites that you want to add, but also on the features that you need.
You have 3 plans (Basic, Plus and Pro).
If you want the white label option and the security feature, you need to get at least the plan Plus, which starts at $49/month for 5 websites (9$/month by websites).
You can also add an add-on if you want to make hourly backs/scans of your websites ($50/website per month) or if you want to get an extra staging website ($10/month).
What People Do Say About WP Remote
WP Remote is rated 4.6/5 on G2, but only has 8 reviews. WP Remote is not listed on Trustpilot and is rated 4.3 on WordPress.org, but the reviews are old.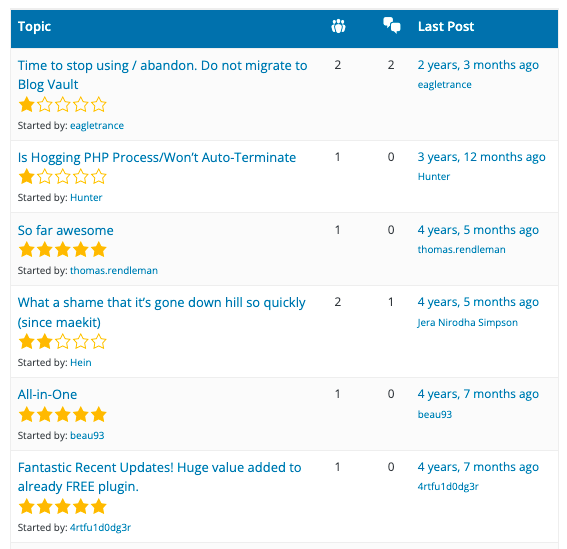 Pros About WP Remote
Comprehensive set of features including security monitoring.
Possibility to get extra staging sites for development or testing.
Cons About WP Remote
Expensive all-in-one solution
Plugin updates often fail & the uptime monitoring is not always accurate.
Complex pricing
7. CMS Commander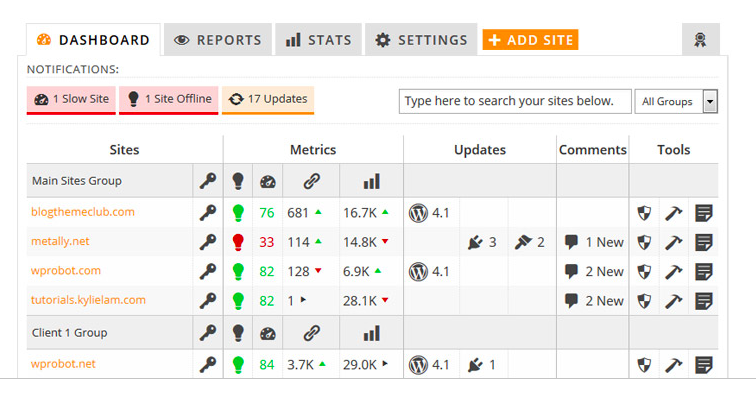 CMS Commander is another easy-to-use management tool designed to help WordPress developers with site management tasks. It helps you manage, monitor, and back up multiple websites.
Additionally, you will have access to essential marketing tools that will help you optimize your content and better monetize your website.
CMS Commander Core Features
Manage updates easily

Since the platform is integrated with many popular affiliate networks, you can easily monetize your blogs.

CMS Commander offers several security features such as 2FA or malware scanning.
CMS Commander allows you to manage WordPress users and content easily.
CMS Commander Pricing & Details
CMS Commander pricing is based on the number of websites you need to manage. It starts at $8/month for a package of 5 websites.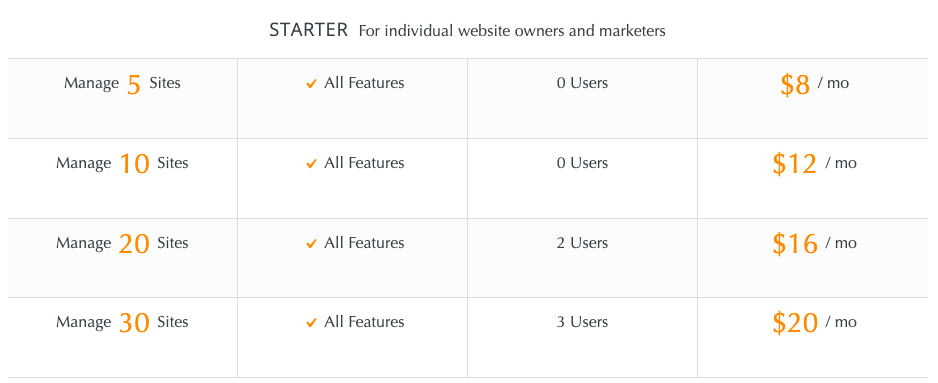 Packages of 100 or 200 websites are also available.
What People Do Say About CMS Commander
CMS Commander is rated 4.2/5 on G2. It is not listed on Trustpilot. Overall, this plugin lacks reviews.
Pros About CMS Commander
Good for PBN (private blog networks)
Comprehensive functionalities including content management
Cons About CMS Commander
The dashboard looks like it was built 20 years ago
Many other WordPress management tools will do a better job when it comes to WordPress maintenance
No automated maintenance reports for your clients
8. The Hub WPMUDEV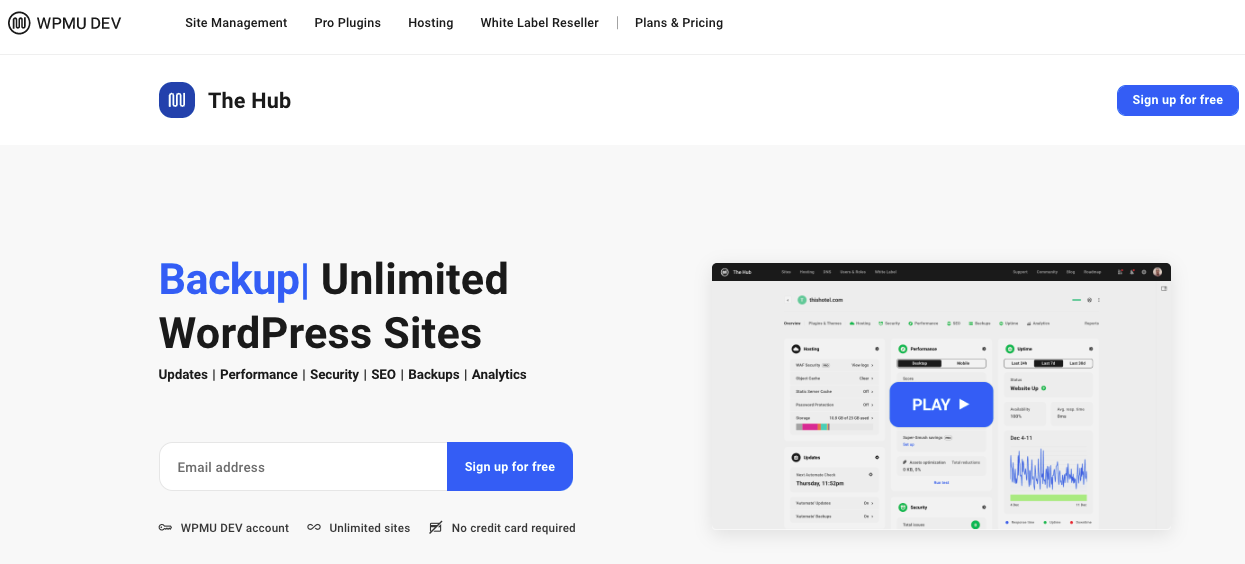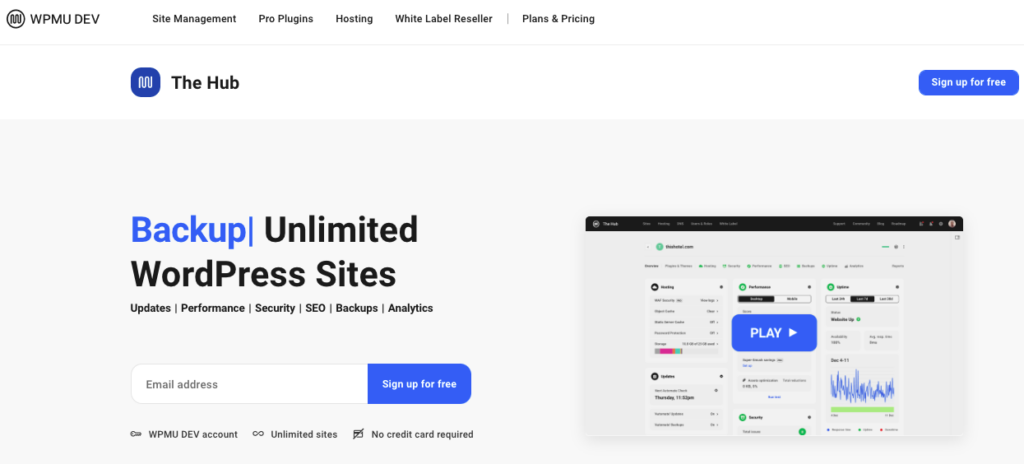 The Hub by WPMUDEV lets you manage, optimize, and update unlimited websites in one location. It was created by the people behind Smush Pro and Hummingbird Pro, two other great plugins.
By using The Hub, you can see at a glance what needs to be done on your sites. Monitoring site uptime and performance, checking backups, and updating plugins and themes can be done easily without having to visit your websites.
The Hub Core Features
The Hub allows you to manage, label, and organize all your sites
Depending on your needs, you can ignore selected updates or turn on automatic updates.
Test site performance, check response time, and gain insight into areas of improvement.
Automatic, incremental backups can be scheduled to suit your preferences and restored whenever you need them.
The Hub Pricing & Details
The Hub by WPMUDEV is free. The only purpose of this plugin is the upsell hosting plans and premium plugins. There also is a $5/month add-on if you want to make hourly backups.
What People Do Say About The Hub
The Hub is rated 4.7 on G2 and 4.8 on Trustpilot. Overall, people seem happy about it, even though some highlight that it's more complicated than necessary.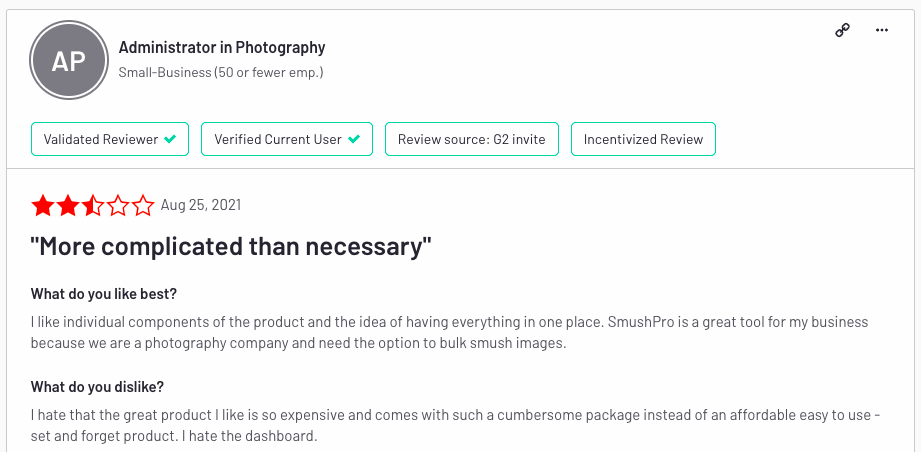 I've to admit that this review of the hub scared me a bit tough.
Pros About The Hub
Free on unlimited websites with many characteristics.
Integrate with Smush, Hummingbird, and other plugins.
Cons About The Hub
If you do not use their hosting plans, the plugin/theme updates often fail, and the update monitoring feature is not reliable.
They are constantly trying to upsell other plugins and hosting plans.
9. Jetpack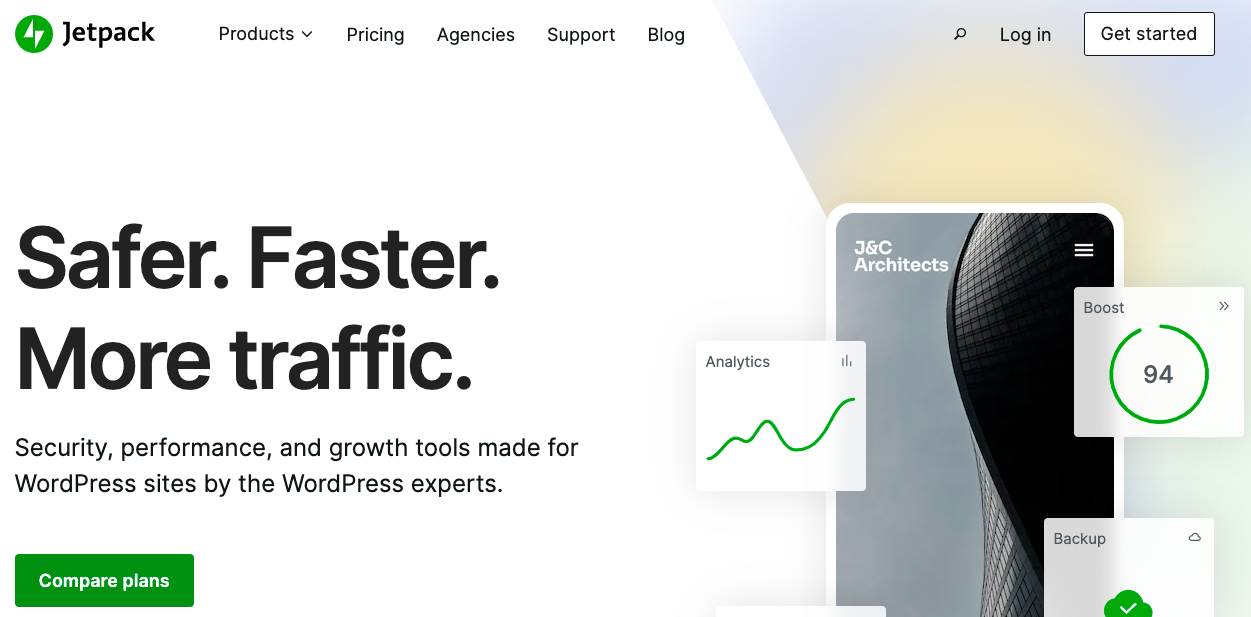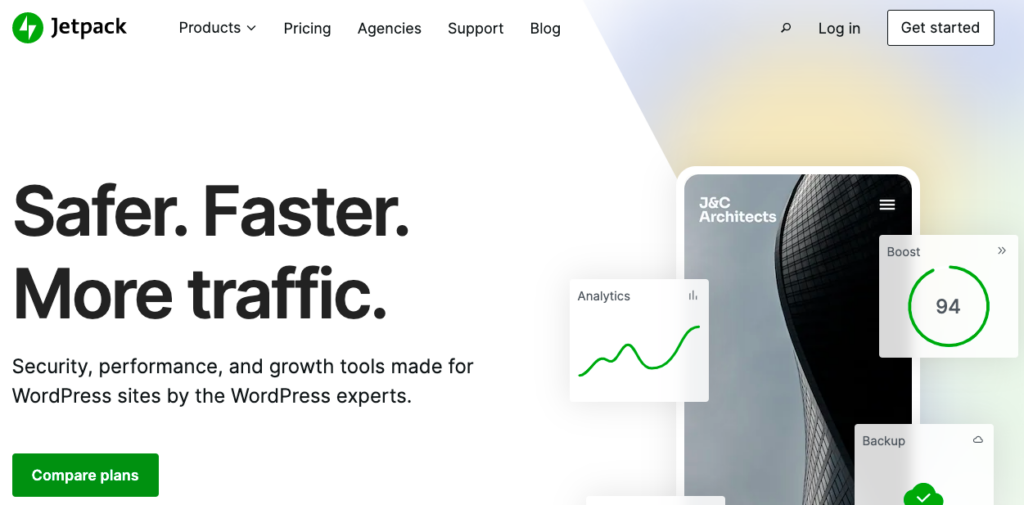 Jetpack offers several WordPress site management features in one package. Using Jetpack requires a WordPress.com account.
The free version lets you keep track of plugins and core updates across all your websites. There is also downtime monitoring, and basic brute force attack protection included.
In order to get more stuff, you will need to upgrade to their paid plans. A variety of features are available, such as automated backups with Jetpack, malware scanning, security fixes, and activity logs.
Jetpack Core Features
The free version of Jetpack includes Brute force attack protection, site stats, CDN, downtime, and downtime monitoring.
You can get backups, real-time aware scanning, comment, and form spam protection with the premium extension.
Jetpack Pricing & Details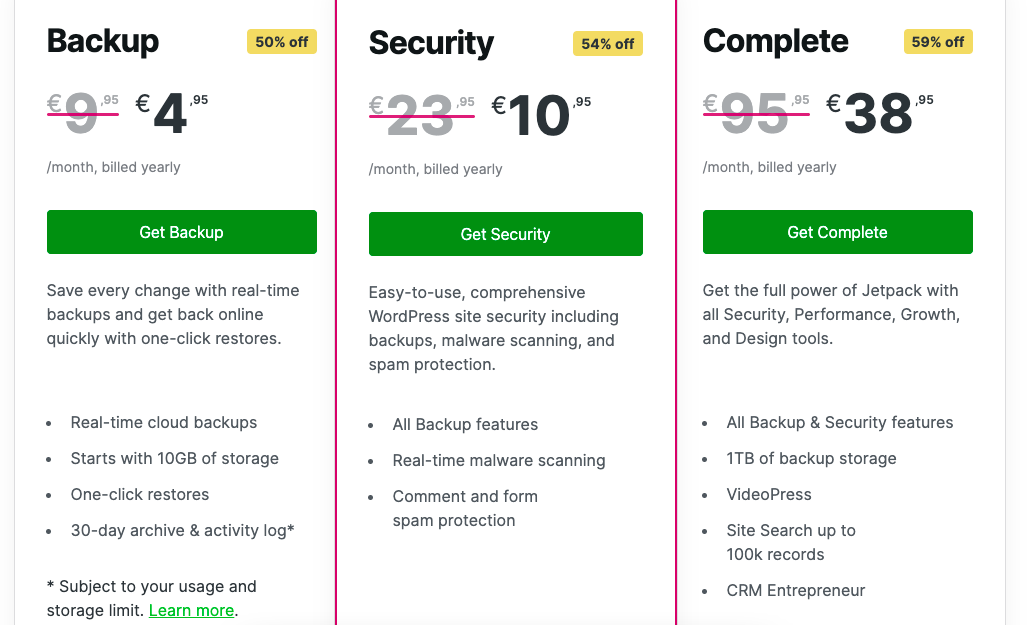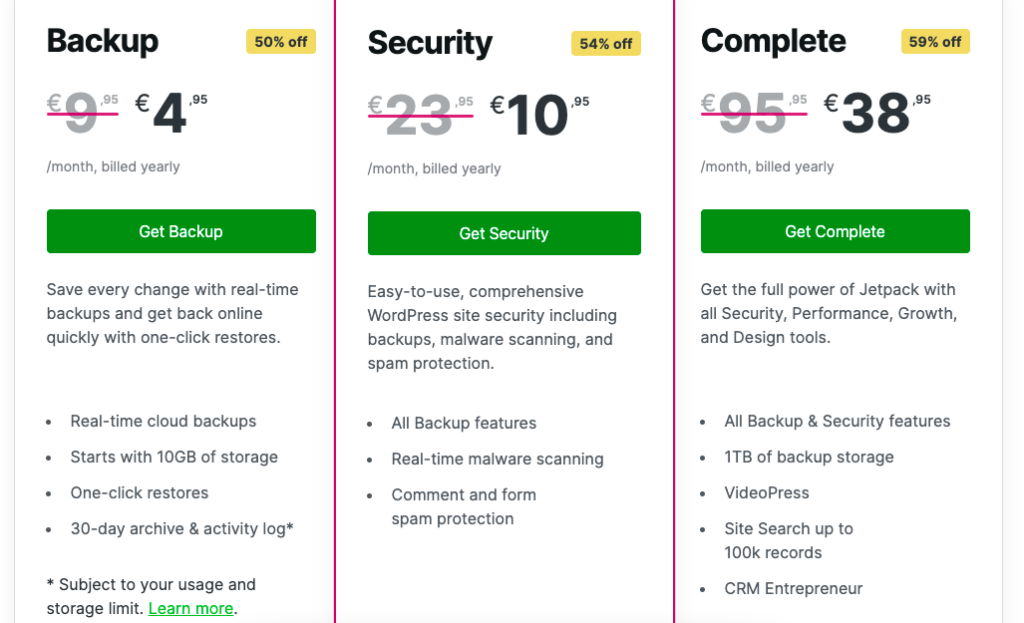 You can upgrade Jetpack to the premium version for $24.99/month which is billed yearly. You can enjoy 50% OFF for your first year. If you just want the backup add-on, it costs $9.99/month by website.
What People Do Say About Jetpack
Jetpack is rated 4.3/5 on G2, 3.9/5 on WordPress and 3/5 on Trustpilot.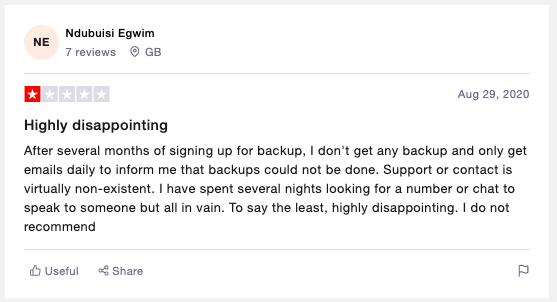 People mostly complain about poor customer service, the impact of Jetpack on loading times, and conflicts with other plugins.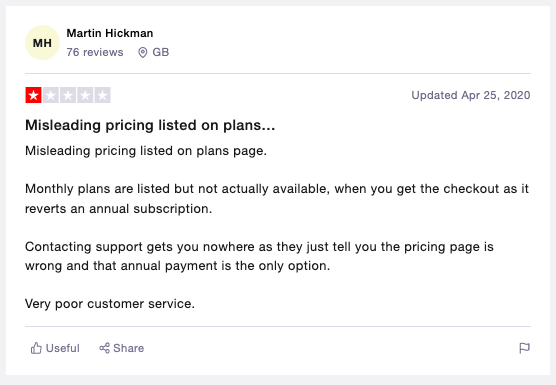 Pros About Jetpack
Excellent anti-spam & brute force attack protection
The plugin is made by Automattic
Frequent improvements and updates to keep the plugin secured.
Cons About Jetpack
Poor customer service

Might slow down your website
No automated maintenance reports
10. WP Blazer


WP Blazer is a new plugin that provides full WordPress management from a single easy dashboard. It allows you to do all the classic things that you need to do to maintain WordPress sites.
WP Blazer Core Features
Easily update all your sites with bulk updates and 1 click logins.
Your site's uptime will be monitored 24/7 so you can quickly identify and resolve any issues before they impact your business.
Auto-share all your posts to social media to quickly optimize and drive more traffic to your sites.
WP Blazer Pricing & Details
WP Blazer is a premium application. There are 3 packages on WP Blazer: one restricted for 3 websites with fewer features at $9.97/month, one for 5 websites at $24.97/month, and one for 25 websites at $49.97/month that includes all features.
What People Say About WP Blazer
WP Blazer is rated 4.3/5 on G2 and 3.9 on Trustpilot, but the plugin lack reviews and is not listed on the official plugin directory of WordPress.
Pros About WP Blazer
Designed to help bloggers
Ideal for remote content management
Cons About WP Blazer
Not designed to boost the productivity of agencies and freelancers
Not listed on WordPress.org
No automated maintenance reports
Less reliable than other management software
Final Thoughts
Managing several WordPress sites might be time-consuming. Fortunately, several WordPress management tools can empower you to easily manage multiple WordPress sites from a single dashboard.
This will boost your productivity, give your peace of mind and help you to prove the value of your work to your clients.
The plugins and applications mentioned in the article will help you to:
Be alerted in case of issues on all of your websites;
Manage all your sites without logging into each separately.
Harden your WordPress sites security
Keep your websites healthy and your customers happy!
Use one of these tools to make sure that all your sites are working properly and save time, regardless if you are a WordPress developer or an agency.
Frequently asked questions
What is the best tool to manage multiple WordPress sites

WP Umbrella is the best WordPress management tool and will cover everything you need when it comes to multiple websites and clients management for $1.99/month by website.

Which is the best way to update WordPress plugins and themes?

The first thing to do is to read the plugin or theme changelog and see how it will impact your websites and database. Make a backup of your website before the update, clear the cache after it and make sure it has not broken your website.

Can I manage multiple WordPress sites without a plugin?

It's possible to manage multiple WordPress sites without any plugins. However, using an all-in-one solution will save you a ton of time and help you prove your work's value to your clients.

What is the best backup frequency?

Hourly backups are recommended on WooCommerce websites. Daily or weekly backups are recommended on websites that are not regularly updated.

Do WordPress plugins and themes always need to be up to date?

No. You don't have to keep up to date with all your plugins and themes. However, it's often safer to use the last version available. Unless it's a major security fix, we advise you to wait 24-48 hours before updating a plugin to its new version.

What happens if I don't maintain WordPress sites?

When you fail to perform recurring maintenance on your website, your website will slow down, stop converting leads or sales, become infected with malware, or even stop working completely.