WordPress Website Maintenance Checklist: 27+ Must Do Task In 2022
The WP Umbrella Team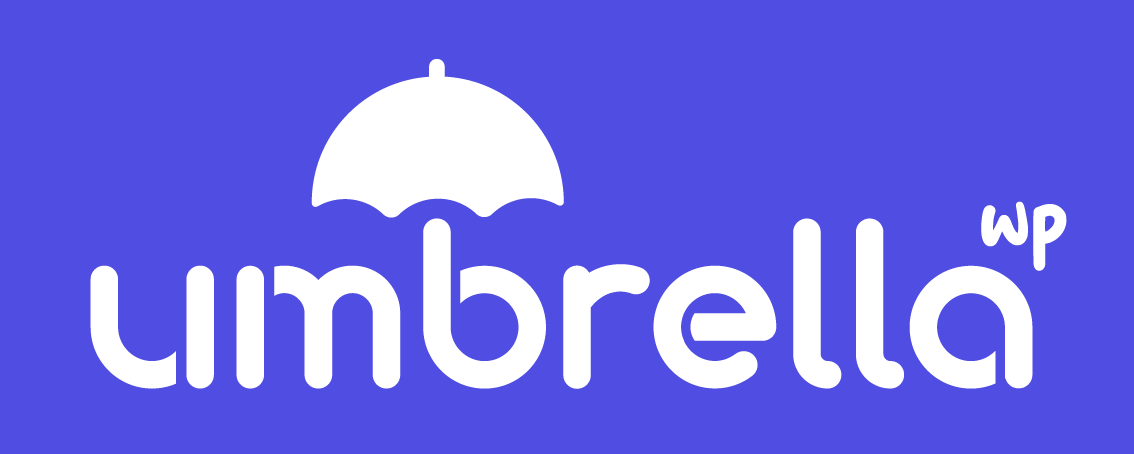 Are you trying to figure out what to include in your WordPress website maintenance checklist?
Any website owner, regardless of their experience level, needs to focus on WordPress maintenance.
WordPress websites cannot simply be built and left to sit; you have to be proactive about maintaining your website(s).
It is for this very reason that you need a WordPress maintenance checklist to ensure your WordPress website is running smoothly. If you don't maintain your website, it will become slow and insecure.
So let's get started!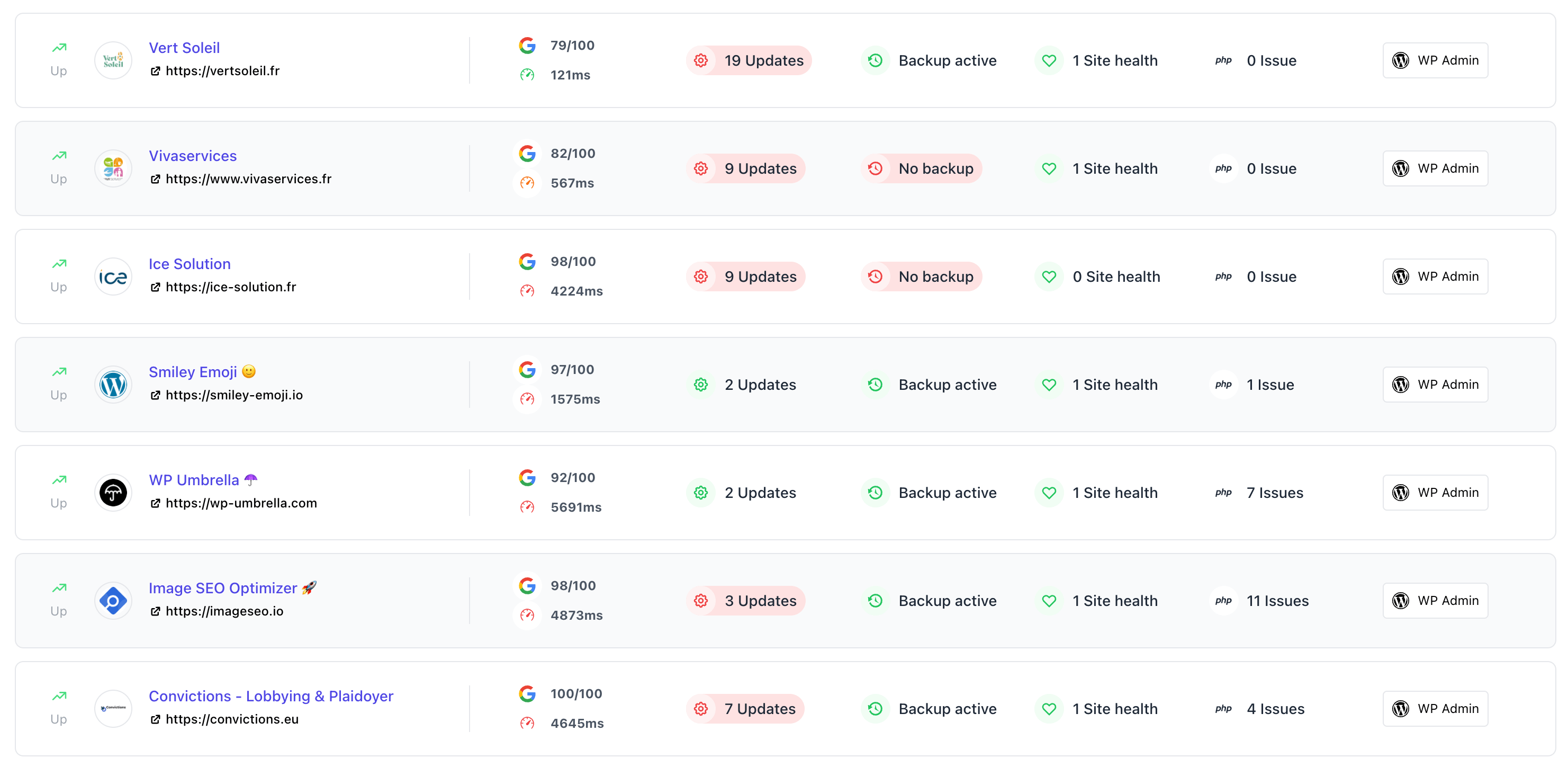 Why is WordPress Website Maintenance Important?
WordPress is made up of several components. Among these are WordPress hosting, WordPress software, plugins, and themes.
Additionally, you can add your content with images and text. These factors together make a website that visitors and customers enjoy.
It is essential to keep all of these elements updated frequently and to ensure they are all working together properly.
Your site is more vulnerable to hacks and attacks if you're using outdated themes, plugins, or even older PHP versions.
Ignoring WordPress maintenance can lead to many unpleasant consequences:
Increased loading time
Security issues
Reduced user experience
Drop in search engine rankings
Furthermore, regular WordPress maintenance is crucial if you don't want your website to look chaotic. Your website will have improved performance and functionality as well as protection from hacking.
WordPress Maintenance Frequency: daily? weekly? monthly tasks?

How often should you perform the maintenance tasks listed in this post? You should update your theme, plugins, and WordPress core as soon as they appear in your dashboard.
In terms of backing up your site, it depends on how often it is updated. You should back up your site every time you add new content. When you blog weekly, set your backups to run every week after you publish a new post.
You should run performance tests periodically. They don't have to be done every month or anything like that. Just make sure that you are using a reliable uptime monitoring system and keep an eye on the performance of your site from time to time.
The WordPress Site Maintenance Checklist for 2022
Monitor your uptime
Make regular backups of your WordPress site
Perform malware scans
Update WordPress, plugins and themes
Update your widgets
Empty your WordPress cache
Check and delete spam comments
Remove broken links
Replace broken images
Remove unused themes and plugins
Check your Google PageSpeed score
Test for browser and device compatibility
Fix 404 errors
Fix PHP errors
Test your contact forms

Change all your WordPress credentials

Check and remove inactive WordPress users
Check images' alternative texts
Check premium licenses expiry date
Review WordPress security logs
Optimize your WordPress database
Check your site's feeds
Clean up your media library
Perform a Thorough Content and SEO Audit
Disavow toxic links
Review about us page and copyright
Send a maintenance report to your client
Daily Maintenance Tasks
These are maintenance tasks that you need to do every day. Hopefully, they can be fully automated with the right plugins and tools.
1. Check Your Uptime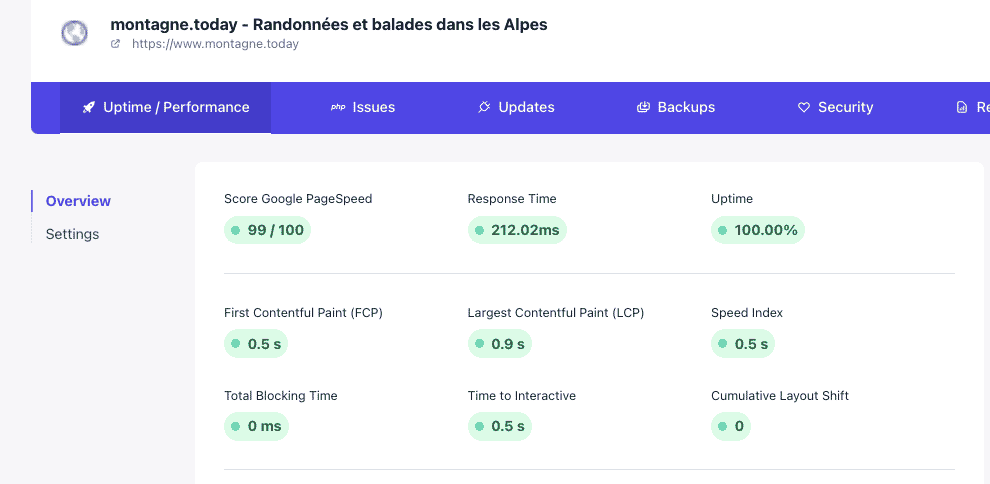 It is important to ensure your website is always accessible to your customers. User experience and SEO ranking are negatively affected by an unresponsive site. Your website server uptime can be monitored so that you can track outages and act before your clients discover them.
It is not practical to just keep refreshing the page of your website to check if it's working. There are some excellent tools that you can use to automate uptime monitoring, like WP Umbrella or Hyperping.
These services will automatically alert you by email or slack when your wordpress site is down.
2. Backup Your Website


It's highly recommended to keep offsite backups of your website. Several plugins are available for backing up your website automatically with WordPress. You can use WP Umbrella to make automatic backups stored in the cloud. You can use plugins like BackUpWordPress or Updraftplus.
3. Malware Scan
Look for any infected files or malware on your WordPress site. Although WordPress provides a robust security framework, there is still a high risk of your site falling victim to attacks. Most WordPress security plugins offer malware scans and so does WP Umbrella.
Weekly Maintenance Tasks
As important as the daily maintenance tasks, these weekly maintenance tasks are necessary if you want to keep your sites healthy.
4. Update WordPress, Plugins and Themes
It is a good idea to update all WordPress files regularly once updates are released.
Plugin and theme updates require a lot of attention since updating something can break your website (and that's why it might be a good idea to hire a professional to deal with your website maintenance).
That's the reason why we have developed a safe update technology: when you trigger an update in WP Umbrella's application, we monitor the process and rollback automatically the plugin to its previous version if the update breaks your website.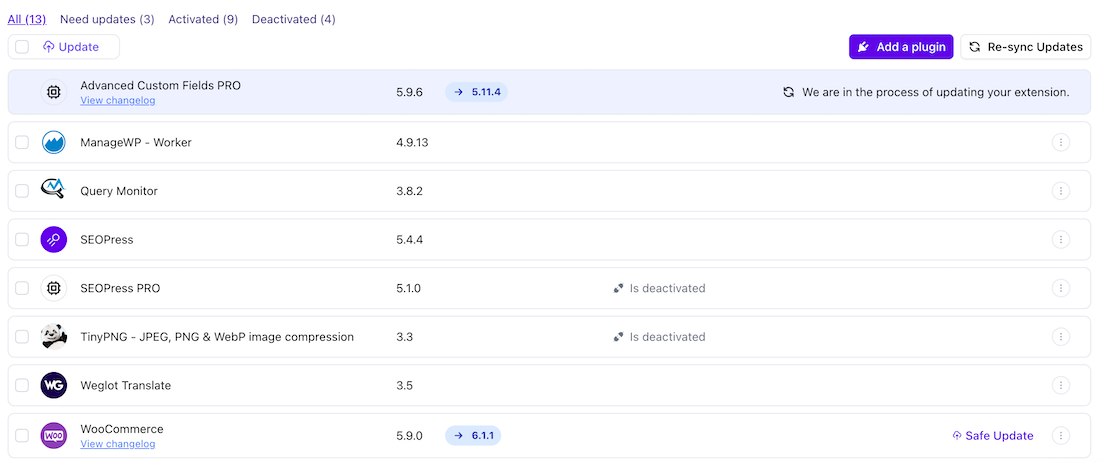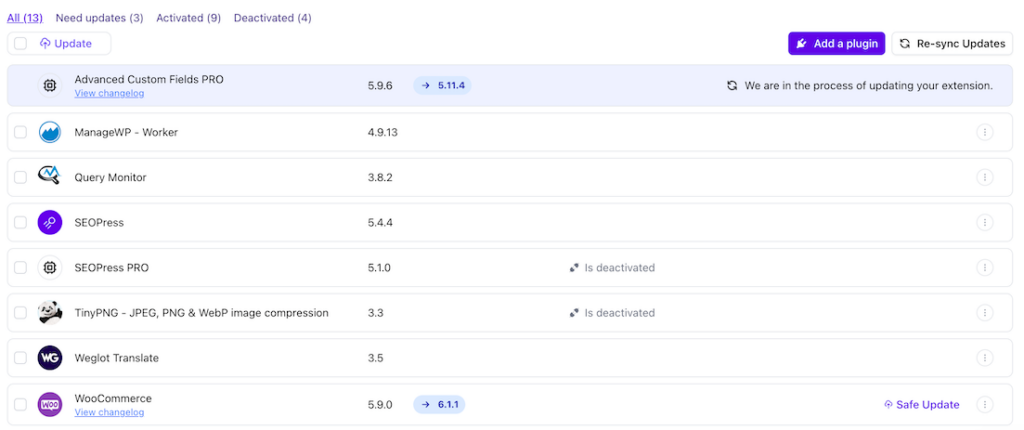 5. Update Your Widgets
It's something people often forget. Maintaining your widgets can help your website function smoothly, just like updating your plugins and theme.
6. Empty your cache

The easiest way to make your WordPress site faster for your visitors is to cache it.
By caching your site content, you create static versions of it. Cacheable static pages increase your site's performance since they load quickly in browsers.
WordPress relies on MySQL databases to fetch and render site content, which slows your site down. If you use a caching plugin, your visitors will be served a static version of your posts and pages instead.
Caching your website is important, but you must periodically clear the cache.
Monthly Maintenance tasks
7. Comment Moderation
Akismet is widely used to combat comment spam on WordPress websites. The plugin prevents spam comments from showing up in the moderation queue.
Occasionally, Akismet may end up marking legitimate comments as spam. From time to time, you should take a quick look at the spam comments to ensure that no real comments have been mistakenly marked as spam.
When you are finished, you can safely delete all spam comments from your website.
8. Remove broken links
It is likely that as your website grows, some of the external websites that you linked to in your older articles will no longer exist. A few may have moved, while others may simply have disappeared.
There is also an issue with broken internal links. There is a possibility that you might accidentally include broken images, poorly formatted links, or misspell your own links. You may end up frustrating your visitors and reducing their engagement with your site.
Checking your website for broken links is an essential part of WordPress maintenance. You can use the famous broken link checker plugin to do so!
9. Replace broken images
In terms of user experience, having a broken link to an external site is bad. Broken links to your own site's media content are bad because they reflect poorly on you, not someone else!
It is very common to see images disappear from websites, with broken links replacing good, working ones (URL architecture changes, page or post is moved, WordPress settings changes, etc.).
Make sure to fix them from time to time!
10. Remove unused themes and plugins

Security threats posed by unwanted themes and plugins can compromise the integrity of your WordPress website, and are among the most common causes of website hacks.
In addition to site crashes, and security breaches, too many unnecessary plugins can slow down your website's performance.
You will see plenty of benefits from evaluating them and keeping only the essential ones.
11.
Check your Google PageSpeed score

The performance of your site is affected by several factors, including hosting, the theme and plugins you're using, image sizes, and more.
To find out how your site is doing and where it can be improved, you can run some tests. Your site's performance can be measured with Google PageSpeed Insights, showing you where it can be improved.
You can also use a tool like WP Umbrella to monitor all your websites' performance from a single dashboard.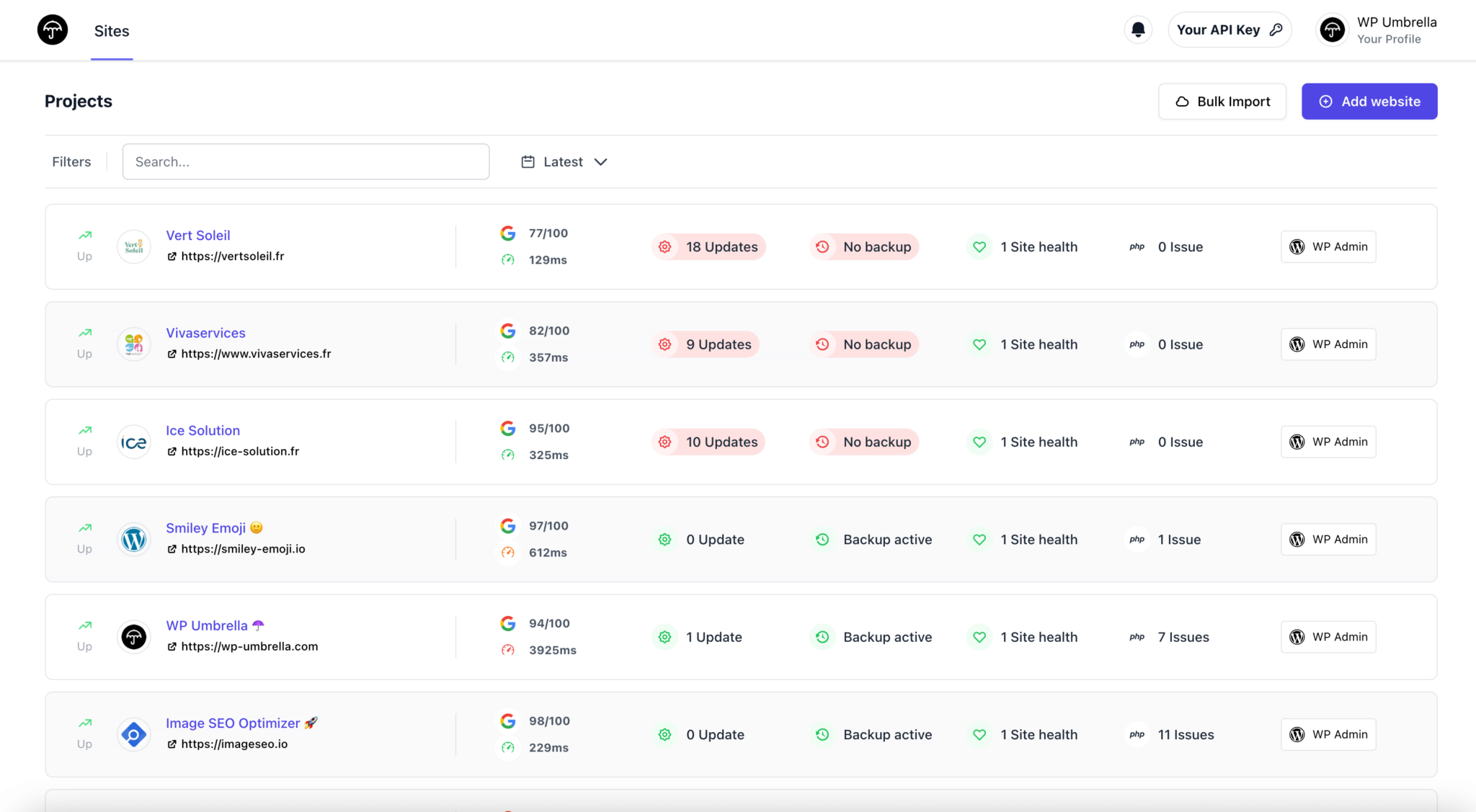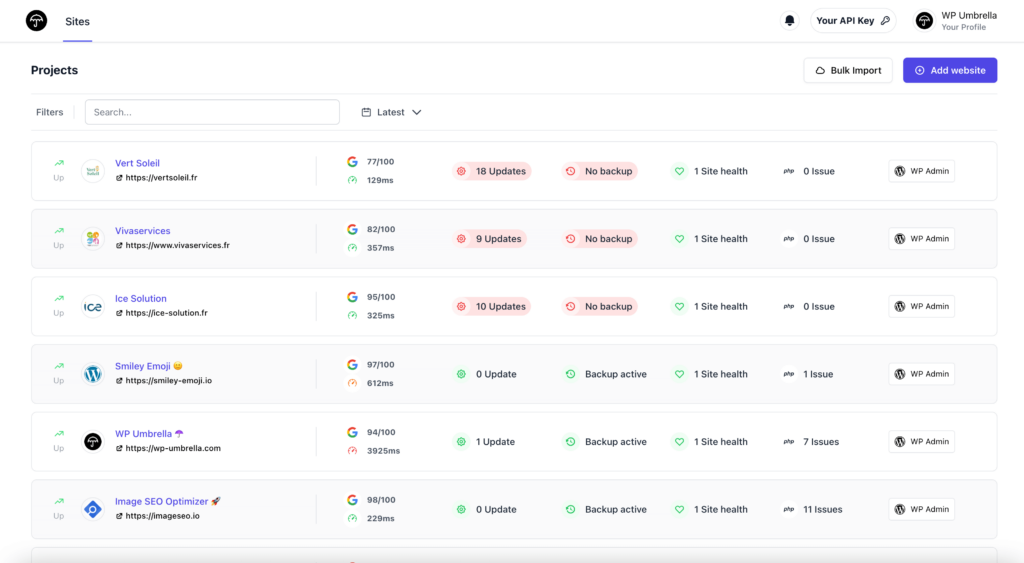 A slow loading time can indicate more complex issues with your websites so it's important to check it from time to time.
12. Test for browser and device compatibility
To ensure your website is compatible with multiple devices and browsers, you should check its compatibility with each one separately. It should be obvious by now, but make sure your website runs flawlessly!
You can use Chrome's device mode to do it. The Device Mode is a group of tools in Chrome DevTools for simulating mobile devices.
It's important to conduct visual inspections of your website from time to time.
13.
Fix 404 errors
If a visitor requests a page on your website that does not exist, WordPress will show them a 404 error page.
It's normal for 404 errors to occur when a user mistypes an address. Unfortunately, 404 errors caused by a page no longer being available create a negative user experience for users.
Your users shouldn't be left hanging by 404 errors. Make sure you track and redirect these errors. Google Search Console allows you to easily find the 404 errors on your site.
Log in to the Google Search Console. Click on Coverage on the left sidebar and check the Error tab at the top left of the page.
Then, list all 404 error URLs on your site, and then you can set up redirects on your WordPress site and correct wrong URLs.
14.
Fix PHP errors
Did you know that poorly code plugins and themes can conflict with WordPress and generate a lot of PHP errors?
These errors are often minor, but they can also provide valuable information to hackers and slow down your site.
You can find these errors by enabling the WordPress debug mode (do not forget to turn it off afterward).
If you are not comfortable with WordPress debug mode, WP Umbrella embeds PHP monitoring features that will save you a ton of time!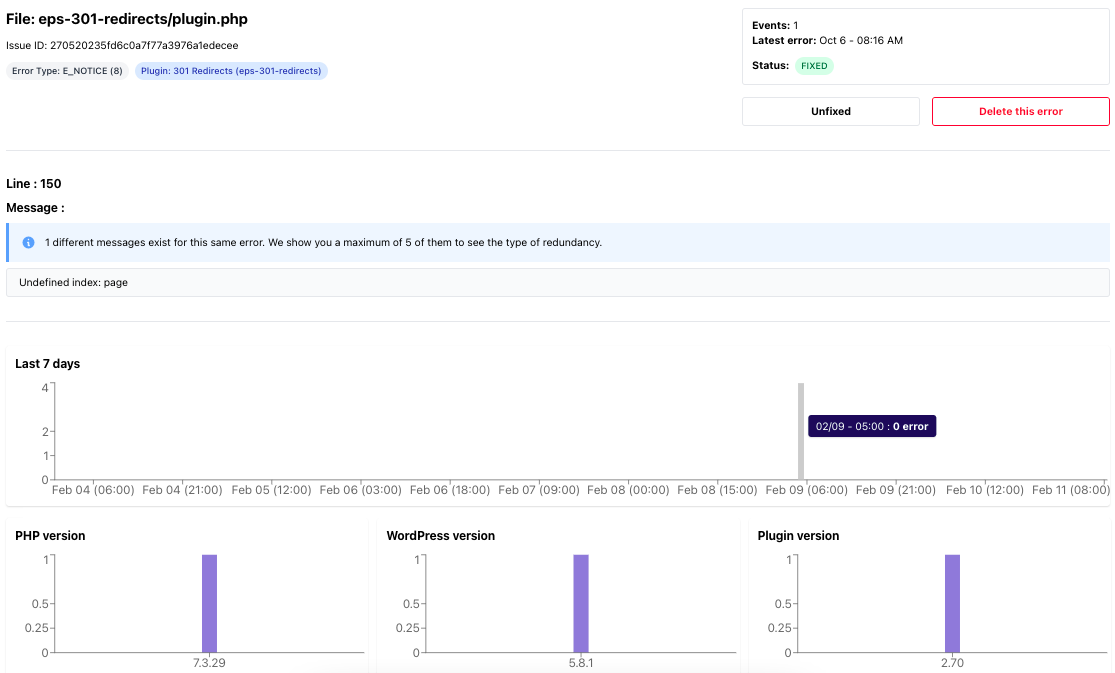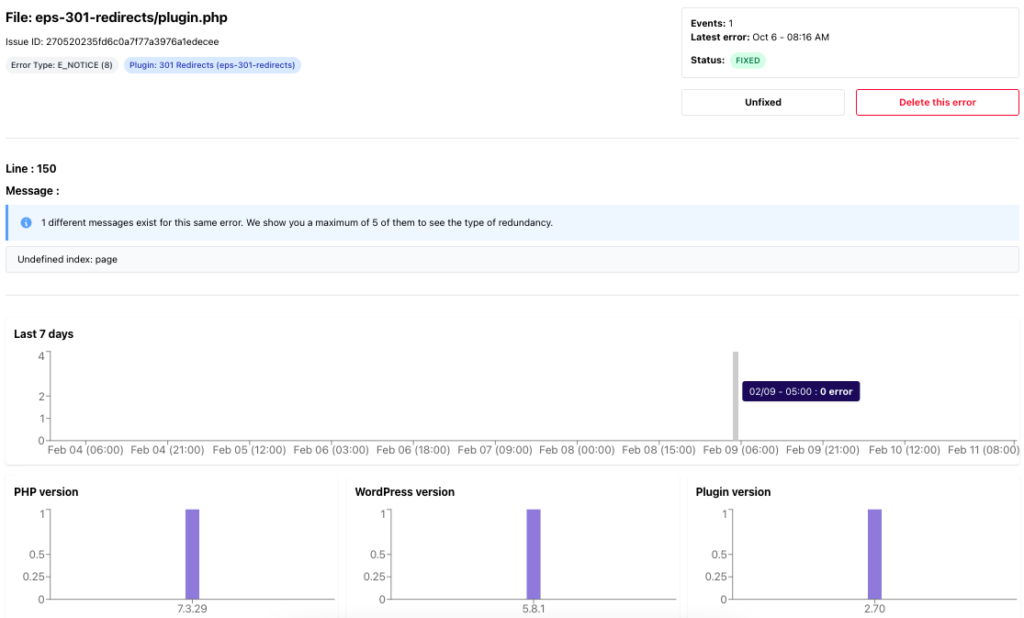 15. Test your contact forms
With WordPress form builders like WPForms, it is easy to create professional-looking forms for your website.
These forms can, however, suddenly cease to send emails due to a misconfiguration of your WordPress hosting server or your email provider.
Check from time to time that all forms on your website work properly.
Quarterly Maintenance tasks
16. Change all your WordPress credentials
All your online accounts should have strong, unique passwords. That goes for your WordPress website, your FTP accounts, and your database.
In spite of this, even the strongest passwords can be compromised without you knowing about it.
For that reason, WordPress security experts recommend changing your WordPress password regularly.
17. Remove Unnecessary WordPress admin
Make sure your WordPress account does not contain any unnecessary admins. Make sure only the admins who need access to your site do.
You can also remove all inactive users.
18. Check image alternative texts
Alternative texts in WordPress is a description you can add to images on web pages to assist blind and visually impaired people using a screen reader.
You need to make sure that your images have alt texts since it also impacts SEO.
If you have too many missing alternative texts, a good solution could be to use a plugin like Image SEO Optimizer to automatically fill out your missing alternative texts.
19. Check premium licenses expiry date
If you use premium plugins or themes with a yearly subscription, you need to keep an eye on your premium license's expiry date. This also applies to your web host.
20. Review WordPress security logs
It can be helpful to keep an activity log of significant changes that occur on your site.
Having an activity log of all significant changes, including the date, time, and users involved, helps to deal with unexpected events.
This type of log can help you track down successful hacking attempts even if you're the only one who uses your site.
A good plugin for this is WP Security Audit Log. It can be downloaded for free from the WordPress plugin directory.
21. Optimize your WordPress database
The WordPress CMS is a database-driven platform, so all content on your site is stored in a MySQL database.
The database of your website may accumulate a lot of unnecessary data over time. The information could come from plugins you once used, draft posts, spam comments, etc.
By optimizing your MySQL database, you can get rid of this unwanted data and improve database performance.
To optimize the database, you can use plugins such as WP-DBManager, WP-Optimize, and WP Clean Up. Additionally, you can optimize using phpMyAdmin in cPanel.
This is the easiest way to update and optimize your WordPress database.
22. Check your site's feeds
When you add new content or update your site, RSS feeds automatically update subscribers. It's vital to monitor these feeds to prevent traffic loss.
Even though RSS feeds are a bit dated, many users still use them. That's why you shouldn't ignore them. In addition, many apps alert users to new blog posts via RSS feeds.
So checking from time to time that they are working doesn't hurt.
23. Clean up your media Library
It's likely you have a large collection of images on your site if your site has been online for a while.
There's a good chance you aren't using all of these images, and they are taking up space on your hosting server.
So it's best to regularly clean up your media library. You should also use this opportunity to make sure that your images are compressed and fully optimized with plugins like Imagify or Smush.
24. Send maintenance reports to your clients
If you are a WordPress development agency or a freelancer you should include sending a monthly maintenance report to your client.
This will help you to prove the value of your work and strengthen your relationship with them.
Yearly Maintenance Tasks
These tasks are less critical than the others, but they still deserve to be included in this WordPress maintenance checklist.
25. Audit your content and optimize it for SEO


The next thing you should include in your regular maintenance tasks is a comprehensive in-depth review of your content. To do this, you will need to use the Google Search Console and Google Analytics data.
With Google Analytics, you can see who is visiting your site and what they're doing. By analyzing this data, you can find content on your website where you have high traffic, but low conversion rates.
Using Google Search Console, you can see which search terms your site appears for on the Results page. By updating those articles, you can easily rank higher for those keywords.
It's also important to update your posts at least once a year. Update the publication date and try to improve your content. This will have a positive impact on your SEO rankings.
26. Disavow toxic links
Backlinks from toxic sites can weaken your website's search engine optimization. This will lead to fewer organic visitors.
Backlinks can be toxic either organically or as a result of previous less-than-white-hat linking efforts.
If you don't know how to disavow toxic links, you can find more information in Google Guidelines.
27. Review about us page and copyright
Maintaining your website's copyright information is equally as important as keeping your website updated. This encourages trust from your audience.
You can do it automatically with this PHP function.
<?php echo date("Y"); ?>
Frequently Asked Questions about WordPress maintenance tasks
How often should I maintain WordPress website?
WordPress websites require a lot of care. Some tasks need to be accomplished every day (uptime monitoring, backup, etc), while others, like database optimization, might be done less frequently.
How long it takes to maintain WordPress sites?
On average, maintaining a WordPress site takes about 1h per week, but this can change if custom development is needed.
Is WordPress maintenance necessary?
Yes, yes, and yes! If you don't maintain WordPress sites, they will become slower, rank poorly, and eventually break.
What are the best tools to maintain WordPress sites?
You can easily maintain multiple WordPress sites with the right tools: WP Umbrella, WP Rocket, Imagify, and the Broken link checker plugin.
Can I automate WordPress maintenance?
With the appropriate tools, you can automate most of the tasks listed in this article.
Do I need WordPress maintenance package if I have a managed WordPress hosting?
Managed WordPress hosting providers are usually faster. They will also help you to manage your website with some unique features. This being said, it doesn't cover everything and you will still need to do maintenance operations on your own.
What is WordPress maintenance mode?
You can display maintenance mode instead of a broken site to your visitors during maintenance. You can enable WordPress maintenance mode with WP Maintenance Mode Plugin or SeedProd Plugin.
Automating WordPress Maintenance Tasks
This checklist provides a great place to start when developing your maintenance plan as we tried to find an optimal frequency for most websites.
Make this checklist yours and feel free to adjust the frequency for your website. For example, don't need to make a daily backup of your website if it's a purely static one.
On the other hand, maintaining a WooCommerce website might require more work and an increased frequency.
This shouldn't be overwhelming, since you can automate most of your WordPress maintenance tasks with WP Umbrella.
We hope this checklist will help you to maintain your WordPress sites efficiently.