The Ultimate Guide to Legal Compliance for Agencies & Freelancers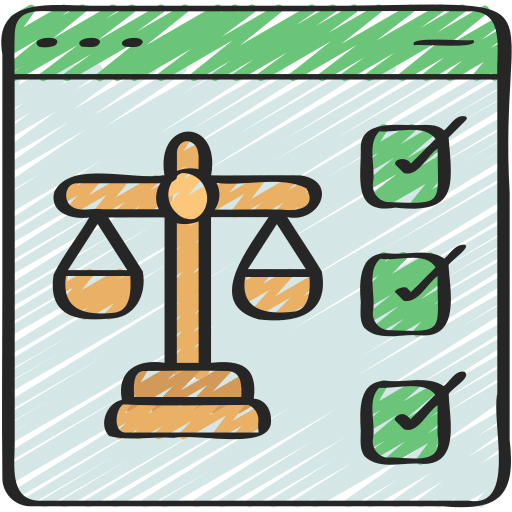 Privacy policies, cookie consents, and disclaimers are just a few of the many legal requirements that websites must comply with.
Whenever you build a website, there are certain rules and regulations that must be followed in order to ensure that the website is legally compliant and that any potential legal issues are mitigated for your clients.
Whether you are a web designer or a web developer, it's helpful to have as much knowledge of the legal requirements of the websites you build as you can.
Throughout this article, we'll go over all the different components agency owners and freelancers need to be aware of when creating a website.
In addition, we'll share tools and plugins to make legal compliance easier for you.
Let's get started!
Ready to boost your productivity, impress your clients and grow your WordPress agency?
Install WP Umbrella on your websites in a minute and discover a new way to manage multiple WordPress sites.
Get Started for free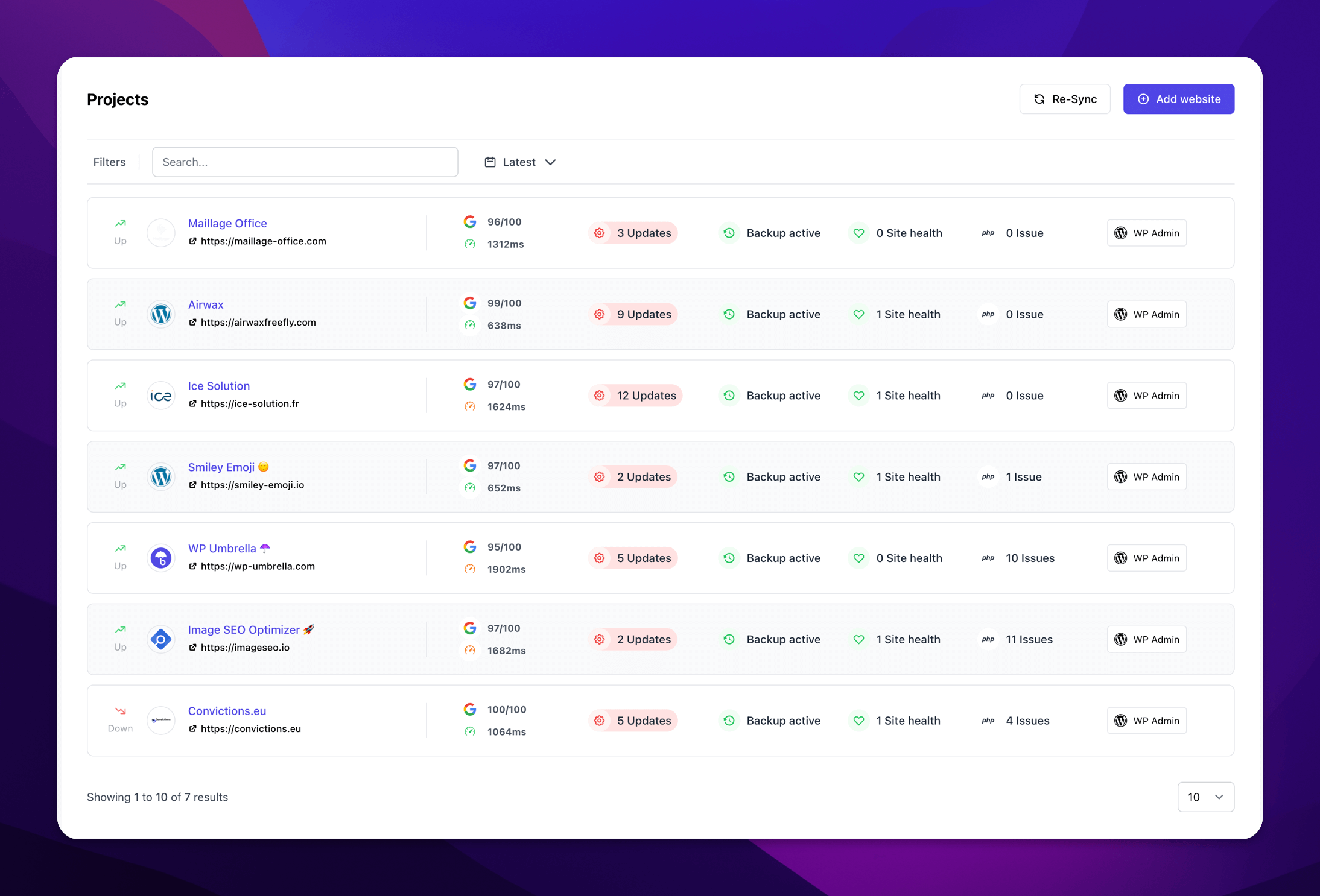 Why Agencies and Freelancers Need to Know Website Legal Requirements?
When you're building websites for your clients, it may seem burdensome to know their legal requirements, but it's a very crucial aspect of running a business.
Your client and you might both face legal repercussions if you make a mistake with the legal requirements.
Being able to clearly and effectively communicate to your client that you understand the legal requirements of the website you are proposing to build will allow you to differentiate itself from its competitors.
Most likely, there will be other WordPress development agencies under consideration when you submit your website proposal.
Posing yourself as someone who can assist in ensuring the website complies with legal requirements has the potential to increase your chances of wining the tender!
The Website Requirements Checklist (9 Tasks)
1. Make Sure To Respect Copyright Law
Website content is inherently protected by copyright, regardless of whether the owner registered it or not.
You may need to apply for specific licenses to use the content you are going to publish on your website.
You should also ensure that the content that your client provides you for their website does not violate the copyright of another website.
The client may have copied or downloaded images from Google Image Search, as well as web copy from another website and it's your duty to prevent the publication of such content.
A DMCA request could be sent to remove infringing content from a website, which would remove it from the search results and possibly from the server on which they were hosted.
2. Communicate Your Privacy Policy
Any website should have a privacy policy, because it is a legal requirement. These policies clearly define how visitors' data will be used. A privacy policy is not only required legally, but it also helps establish trust with your visitors.
You can use a WordPress plugin like WP Legal Pages to automatically add a Privacy Policy pages to your WordPress site.
If you don't want to use a plugin, here are the main points you'll need to make sure to mention in your WordPress privacy policy page:
What information your site collects from visitors (names, email addresses, etc).
How does your site collect data (such as contact or opt-in forms, etc).
You should explain why the data is collected and what the data is used for generally.
Where and how long the data is stored.
Who the data is shared with.
What procedures are in place to keep the data safe.
How visitors can access and delete their data.
3. Add Cookie Consent Notices
You must also include a cookie policy and consent notice on your website. A website has to provide a user with the option to opt in or opt out of cookie use according to GDPR.
This policy can be found at the top, bottom, or in a pop up window on your website, and it must state the following:
Tell your visitors that your site stores cookies;
Give a brief explanation of why cookies are used on your site;
Link to your privacy policy to explain how the data gathered from cookies is used;
Make sure your users know what they're agreeing to;
It is important to provide users with an option to opt in, opt out.
Make sure your site doesn't pre-check the cookie acceptance box if it uses one, as that would be against GDPR.
If this is overwhelming, you can also use the CookieYes GDPR Cookie Consent & Compliance Notice plugin will assist you in making your website GDPR (RGPD, DSVGO) compliant.
4. Create a Terms & Conditions page
Although the Terms & Conditions page is undoubtedly the least happy page on the entire website, it still holds some importance. Adding it to your website is a good idea even if it isn't required by law in some countries.
If you have been sued by a customer, this page will limit your liability. It also helps to secure your right to utilize the content you posted on your website.
Your Terms and Conditions agreement doesn't need to be long. It all depends on what your business requires.
Nonetheless, every Terms and Conditions agreement should include at least the following clauses:
An introduction with the effective date;
Jurisdiction and governing law;
Link to your privacy policy page;
Contact information;
Limitation of liability and disclaimer of warranties;
Code of conduct;
User restrictions;
Account termination information;
It might also be appropriate to include provisions regarding:
Exchanges and returns
Cancelation policy
Delivery and shipping details
Etc.
You can also use TermsFeed generator for Terms and condition policy.
5. Don't Joke with HTTPS And SSL Certificate
You should use HTTPS (Hypertext Transfer Protocol Secure) when creating an e-commerce site. HTTPS is a secure version of HTTP, which is the protocol used by websites to communicate with web browsers.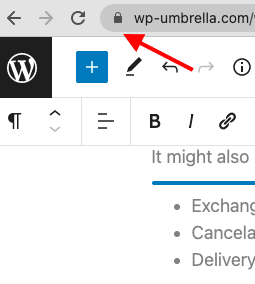 The non-use of HTTPS by an e-commerce website can expose the credit card information of any customers attempting to purchase on the website, potentially exposing the customer to identity theft and possibly landing your client in court.
Additionally, ensure that your payment gateway is reliable to avoid future headaches.
6. Always Include Disclaimers
In some cases, websites knowingly compel someone to believe something that may end up causing them great loss.
Disclaimers and terms and conditions overlap to some extent. Disclaimers can be included in terms and conditions and should be explicit in disclaiming any sort of legal liability the site owner might incur from the use of the site. Accordingly, disclaimers will differ depending on the type of site.
Disclaimers can, among others:
Make sure users cannot use your original content without your permission;
Disavow responsibility for actions users take based on the site's content;
Make it clear that the site owner's opinions are solely his or her own;
Clarify that the content of the site is for informational purposes only and does not constitute professional advice;
7. Focus On WordPress Compliance With GDPR
The General Data Protection Regulation (GDPR) is a piece of European Union law that you are most likely familiar with.
In essence, GDPR is designed to protect users' personal information and hold businesses to a higher standard when it comes to collecting, storing, and using that data.
Among the personal data are: name, email address, IP address, and basically any kind of user information that is not purely agnostic, etc.
There are 200 pages in the GDPR regulation, but there are six key pillars you need to keep in mind:
The processing of data must be lawful, fair, and transparent. Consent must be given and cannot be assumed.
Data must only be collected for a specific, express, and legitimate purpose, and used only for that purpose.
The collection of personal data must be adequate, relevant, and limited to what is necessary.
Personal data must be accurate and kept up to date.
It is recommended that personal data is kept as short as possible.
Security of personal data should be ensured during processing.
Those in charge of processing of personal data should demonstrate compliance with these principles.
8. Make Your Website Is Accessible To All Users
Making your website accessible to everyone means following good web accessibility practices. It's true that many sites ignore accessibility, but it's quite important if you're trying to be fair and in compliance with regulations such as the ADA.
The Americans with Disabilities Act (ADA) prohibits discrimination on the basis of disability in the United States.
It also emphasizes the importance of making websites accessible to all.
In other words, the content of your website must be accessible to people with disabilities, including those with hearing or vision impairments.
ADA compliance is mandatory for websites belonging to businesses with at least 15 employees that are open for more than 20 weeks a year.
Here is what you can do to make your WordPress sites ADA Compliant:
Make sure you understand the WCAG, W3C, and WAI guidelines.
Ensure your code is accessible by using a WordPress accessibility-ready theme.
Detect and correct major issues by using a WordPress accessibility plugin.
You should always write code that is accessible to visitors and screen readers.
Use fonts and colors that do not hinder your content's discoverability or readability.
Organize, write, and properly document your content.
Check your WordPress site regularly for accessibility.
Fill out missing alternative texts.
9. Be Aware of The Specific Regulations Of The Niche You Are Working In
Some sectors have specific regulations regarding communication. In Europe, this is the case for alcohol, tobacco and medicines, for example.
Therefore, if you work for a client operating in a sensible regulatory environment, you need to be aware of the specific rules that may apply.
Final Thoughts
When building a website, there are many ways you can go wrong and get the client into trouble.
Should this happen, you may be sued and that's why legal requirements must be taken seriously.
You can either make use of tools like a WordPress privacy policy plugin, or you can hire a lawyer to do the job for you.
Regardless, make sure you are protecting yourself and your business against legal pitfalls. That's what matters the most.
Legal Disclaimer / Disclosure
Please note that we are not lawyers. None of the information on this website should be considered legal advice. Websites have a dynamic nature, so no plugin or platform is able to provide 100% legal compliance. You should consult a specialist internet law attorney whenever in doubt to make sure you are in compliance with all applicable laws in your jurisdiction and for your use case.