Kinsta Review 2023: The Ultimate Guide to Kinsta's WordPress Hosting Performance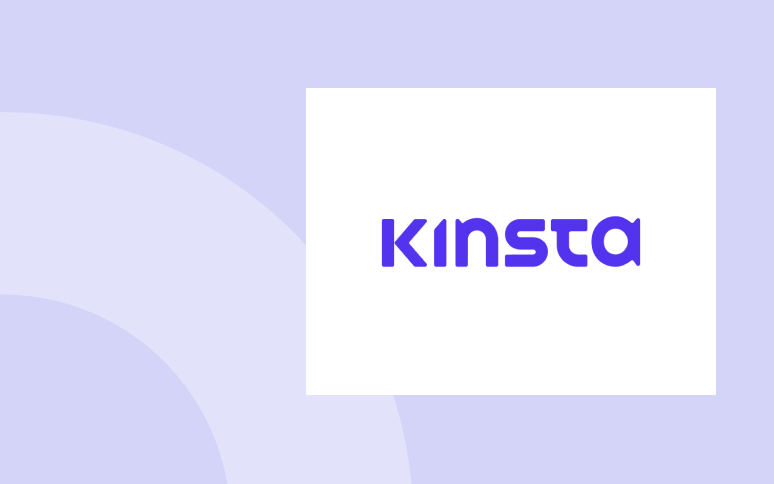 In this review, we're taking a look at a WordPress hosting service with a stellar reputation – Kinsta.
During the last 12 months, our team monitored many WordPress hosting providers, examining performance, speed, uptime, and support responsiveness.
We now have the data to confidently say that Kinsta is one the fastest web host for WordPress. So confident, in fact, that we moved all our websites there.
Want to know why? Dive into this comprehensive, data-driven Kinsta review to find out!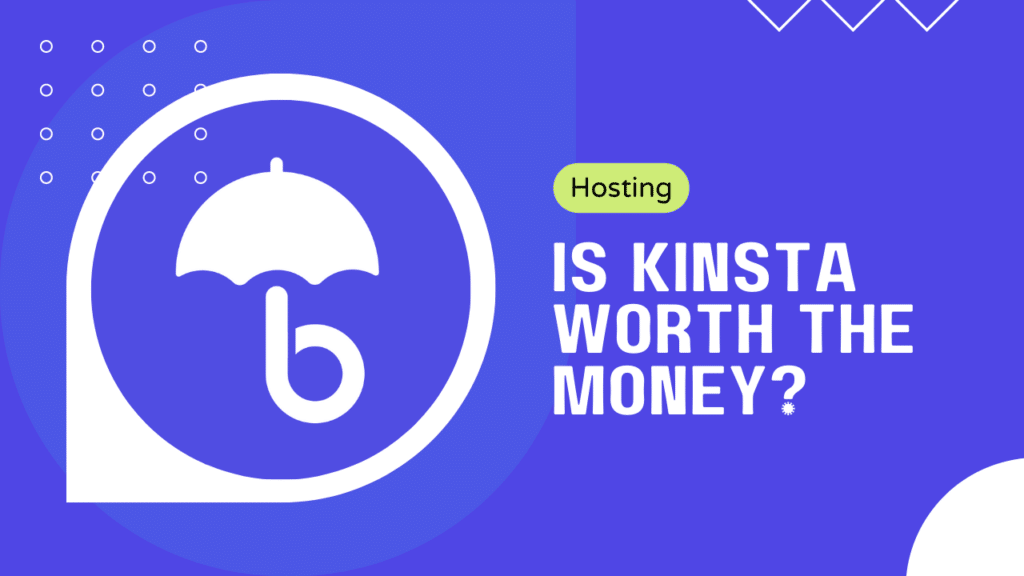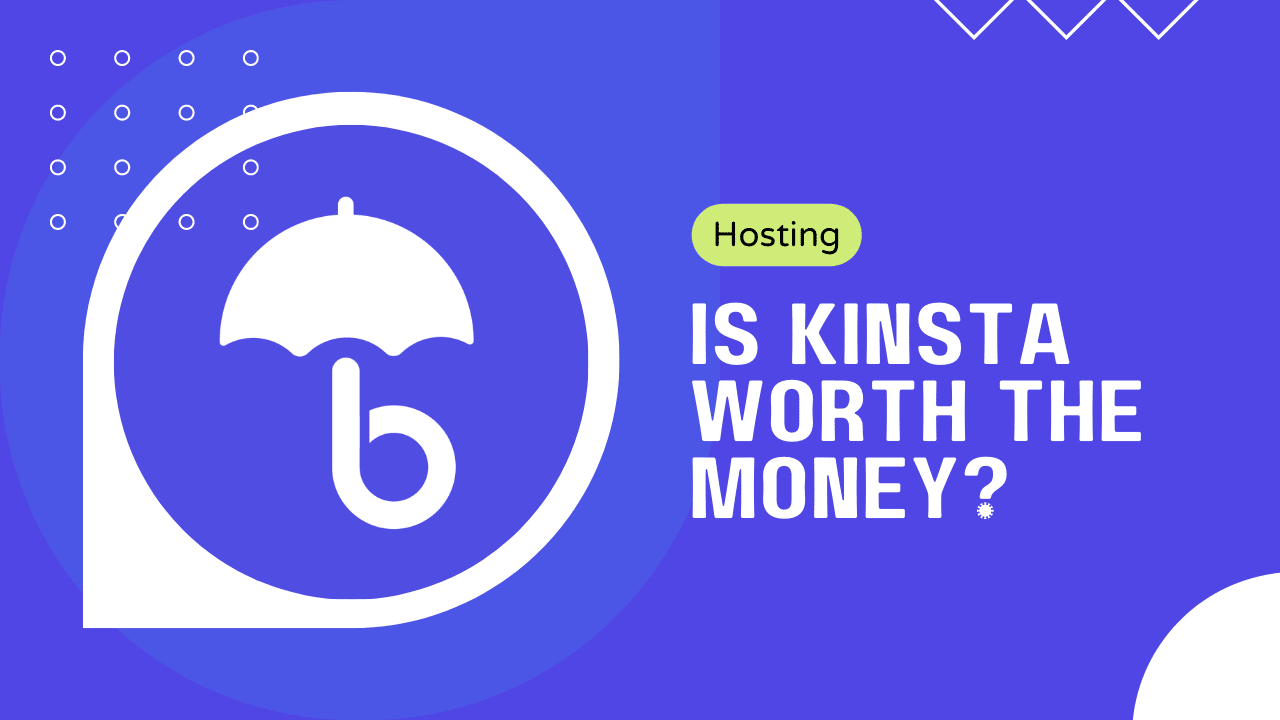 TL;DR
Our extensive Kinsta review demonstrates that this WordPress hosting provider is a leader in the field. Its performance, backed by Google Cloud Platform and specialized WordPress support, makes it a top choice for those looking for high speed and reliability.
Is Kinsta worth the money? We have been monitoring Kinsta speed during months and the short answer is a resounding yes.
Tips
Kinsta and WP Umbrella are fully compatible and offer great synergies if you are an agency managing multiple WordPress websites.
Kinsta's Review Summary
Spoiler alert: with a general latency under 100ms, a real 99,999% uptime rate, and high-quality support, Kinsta is our firm favorite WordPress hosting provider.
Pros about Kinsta
Kinsta speed is unreal; it's one of the fastest managed WordPress hosting according to our tests.
The uptime rate is really about 99,99%
Daily backups and enhanced security
Kinsta WordPress and Kinsta WooCommerce hosting is fully managed, making migrations a breeze.
Easy way to write 301 redirections
Staging environment
Optimized for WooCommerce hosting
24/7 Tech support is awesome
Beautiful dashboard & ease of use
30 days money-back guarantee and no fixed-term contract
Cons kinsta
This web host is not cheap, but you get what you pay for.
Kinsta doesn't offer phone support, but phone support is so old-fashioned, right?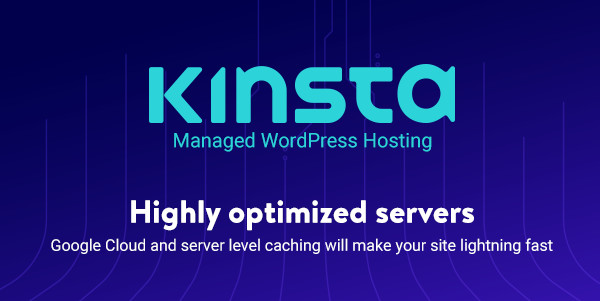 Uptime
99,99%
Average ping in the USA
Under 400ms
Average ping in Europe
Under 200ms
Support reactivity
Under 2 minutes 24/7
Key features
– Speed obsessive architecture: Next generation infrastructure with Nginx, LXD containers, PHP 8.0, MariaDB
– High security network: DDoS detection, Hardware firewalls, Uptime monitoring, SSL
– Google Cloud Platform: minimize distance and hops, resulting in fast and secure transport of your data
– Free site migrations
– Free CDN
– Free SSL certificate & SSH access
– Daily backup and uptime monitoring
– Expert WordPress support
– Simplified site management with Kinsta's dashboard
– 24 global server locations
– Staging areas
– Developer-friendly: WP-CLI, SSH, and Git are fully supported
Ease of use
Exceptional
Pricing
30$/mo to 400$/me
Special Discount
2 months free if you get a yearly subscription
Customers
Not disclosed
Kinsta Headquarters
Los Angeles, California, United States
Date of creation
2013
Presentation And Key Findings
What is Kinsta?
Kinsta is a managed WordPress hosting. They have partnered with the world's fastest network and platform (Google Cloud), and the most seasoned WordPress developers in the sector to provide an HQ hosting service for WordPress websites.
Kinsta was the first WordPress managed hosting provider to utilize Google's Cloud Platform exclusively and offers 24 data centers worldwide. At Kinsta, they are obsessed with performance.
All of their support engineers develop WordPress themes and plugins as well as contribute to the core. This contributes to the greatness of their support.
Kinsta's headquarters are based in Los Angeles, USA.
The Benefits of Managed WordPress Hosting
It's the support that makes managed WordPress hosting the best. A managed WordPress hosting provider usually only works with WordPress, so they are best at troubleshooting WordPress issues.
In addition, managed WordPress hosting providers typically have environments that are fine-tuned to properly run WordPress websites.
A Technical Rundown on Kinsta's Servers
Kinsta server architecture is all about speed. They use Nginx, LXD containers, PHP 8.0, and MariaDB to ensure top-notch performance. Their high-security network features DDoS detection and hardware firewalls, while Google Cloud Platform minimizes data transport time. Kinsta hosting also offers free site migrations, a free CDN, and SSL certificates.
Ready to boost your productivity, impress your clients and grow your WordPress agency?
Install WP Umbrella on your websites in a minute and discover a new way to manage multiple WordPress sites.
Get Started for free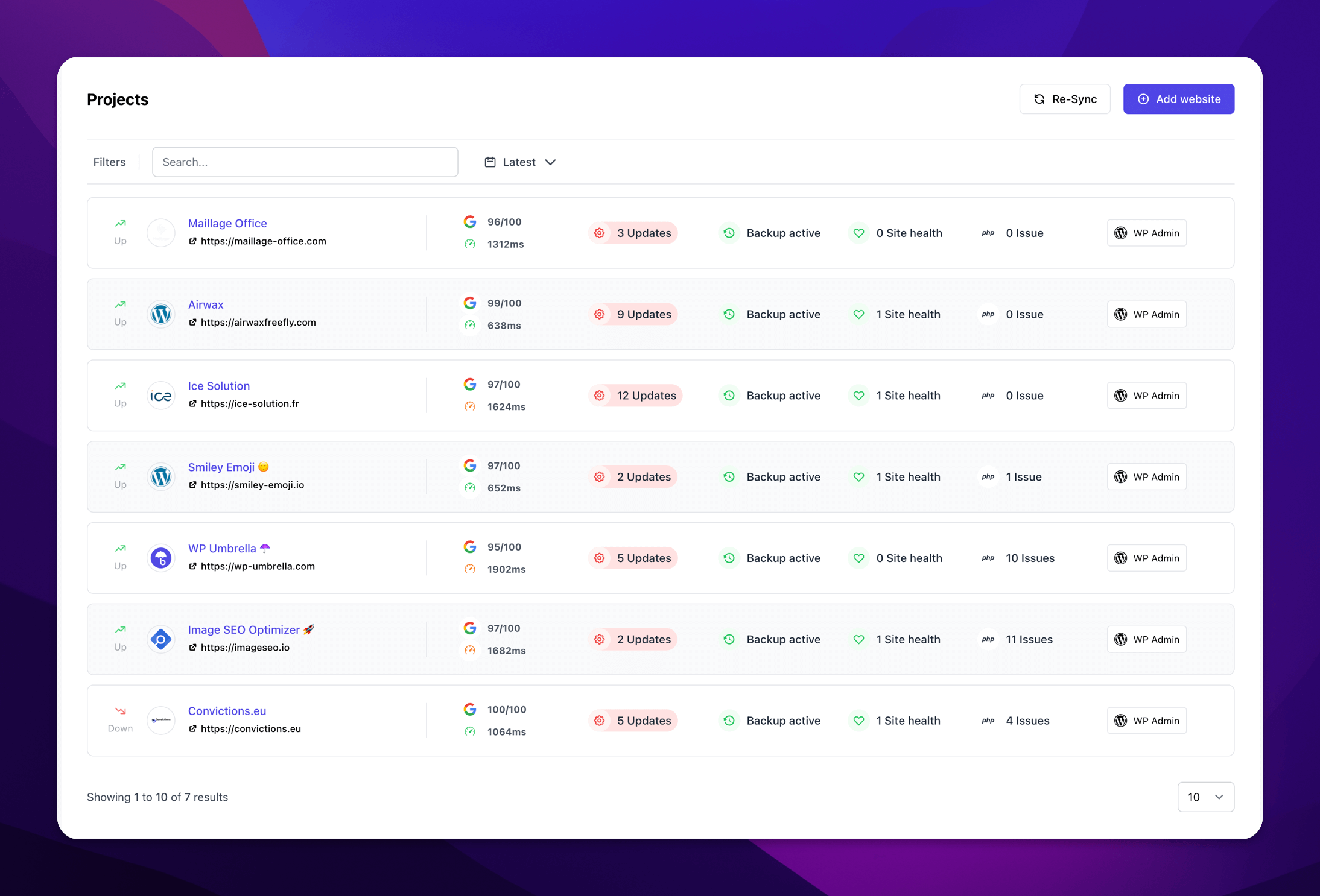 In-Depth Analysis of Kinsta's Performance
Review Methodology
To obtain this data, we have monitored 20 websites hosted by Kinsta in January and February 2022.
Ten of them were located in Europe (France and Belgium) and 10 others were located in the USA.
The uptime monitoring frequency was every minute. So we wouldn't miss any downtime. This also gives us an accurate understanding of Kinsta's performance worldwide.
Let's check out the results!
Kinsta Uptime
This is no surprise. On every website that we monitored in January, the uptime rate of Kinsta was 100%.


Well actually, this was a surprise, we thought that we would have encountered some maintenance operations but we didn't.
The bottom line of this is: that any good web hosting provider should have à 99,99% uptime rate and so does Kinsta.
Less than 99,99% is not acceptable in 2022.
If you want to monitor your WordPress website uptime and performance, you can install WP Umbrella.
Kinsta Server Speed in the USA
The average loading in the USA of the 10 websites we monitored was 135ms. Kinsta is the fastest web host in the USA according to our data.


The average load times in the USA (Washington, Portland, San Francisco, Cleveland) of the 10 websites was slightly under 400ms, with some disparities based on the geographic situation of our monitors.


Kinsta Performance in Europe
The average loading in Europe (Belgium and France) of the 10 websites we monitored was about 190ms.




Is Kinsta support great?
The majority of hosts claim to have amazing support, but many fail to live up to the hype. With Kinsta, you get the best of the best.
The support team is on hand 24/7 right from the admin area. They're the friendly, reactive, and helpful WordPress experts.

Sharing my personal experience with Kinsta's support
Each time I've had to deal with people working at Kinsta, they were really helpful, nice, and reactive.
They helped us to smoothly migrate our websites from O2Switch (= a famous french web host).
In the early days of WP Umbrella, Kinsta's firewall was blocking our monitors, so we couldn't ping websites hosted by Kinsta.
We opened a ticket, and they fixed this issue within a day. Not all the managed WordPress hosting providers are that comprehensive.
Note that Kinsta doesn't offer phone support.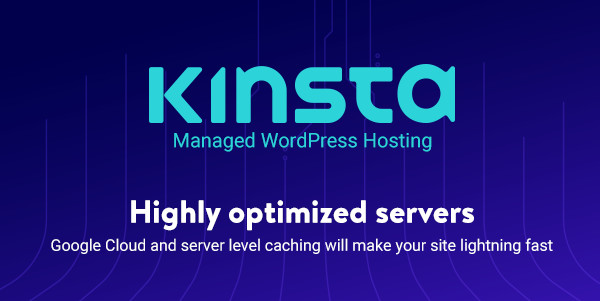 What do people say about Kinsta?
Kinsta reviews on Trustpilot
On Trustpilot, Kinsta has 357 reviews, with an average rating of 4.7. Which is amazing.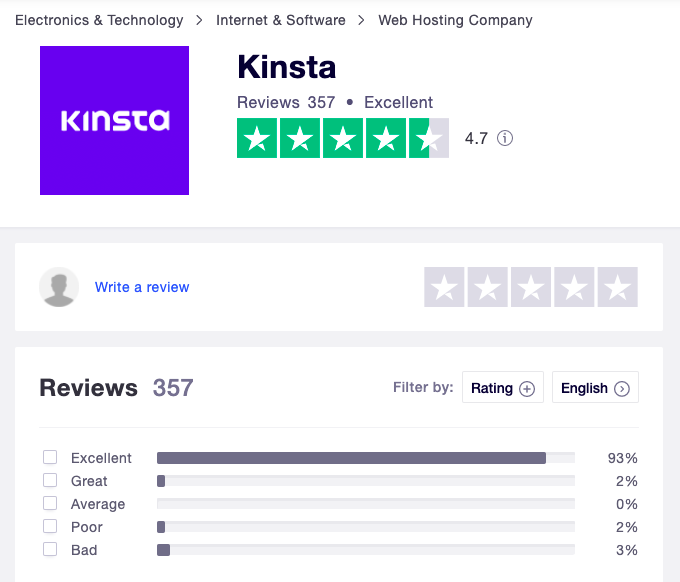 The very rare bad reviews look written in bad faith by the competition.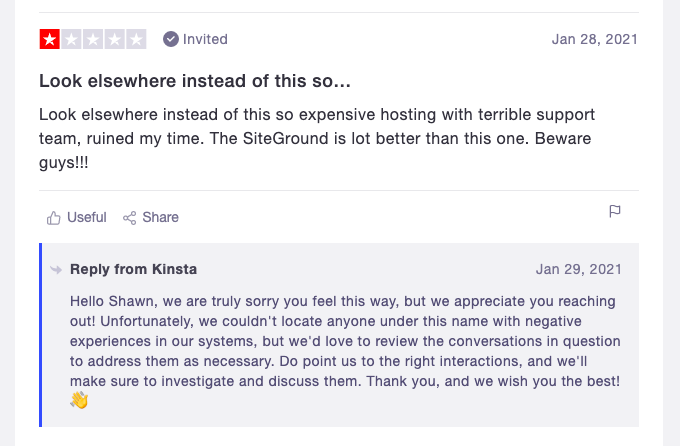 In comparison, WP Engine (another great web host for WordPress) "only" has 4.4/5 on Trustpilot.

Kinsta reviews on G2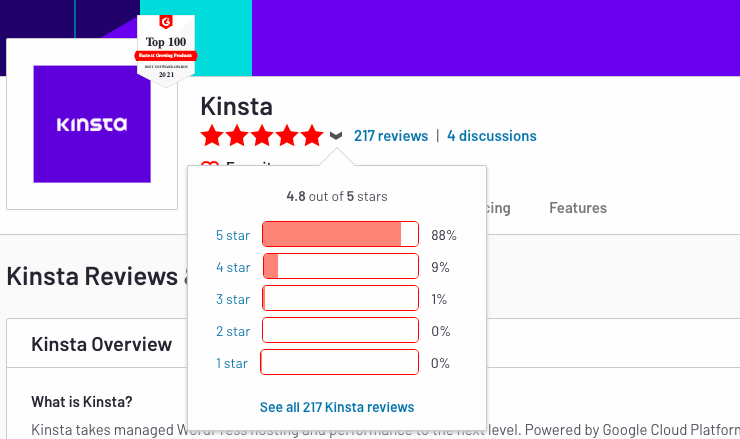 On G2, Kinsta also has excellent customer reviews (4.8/5).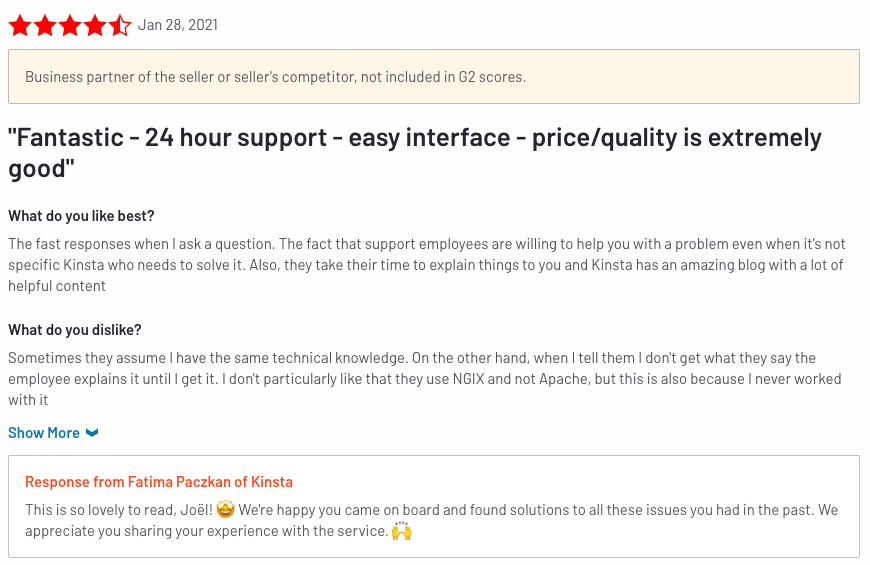 Kinsta's Features
1. Incredible ease of use
At Kinsta, everything is easy. I've tried several web hosts (OVH, WP Engine, O2S, GreenGeeks, etc), and I've never seen a service that easy to use.
The dashboard is clear and appealing. Keep reading, you'll understand why I'm crazy about my.kinsta !
2. Plugins Management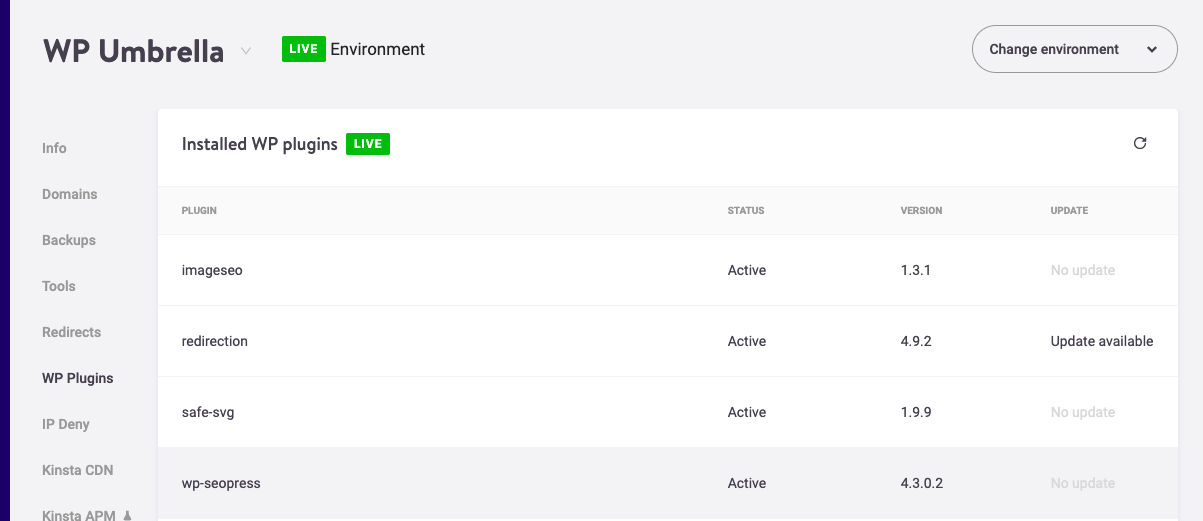 When you manage several websites, plugin updates can quickly become a nightmare.
Kinsta dashboard provides you with all the information you need to safely manage, update and maintain many WordPress websites from a single place.
This is a huge time-saver for WordPress agencies.
3. Premium Migration and Peace of Mind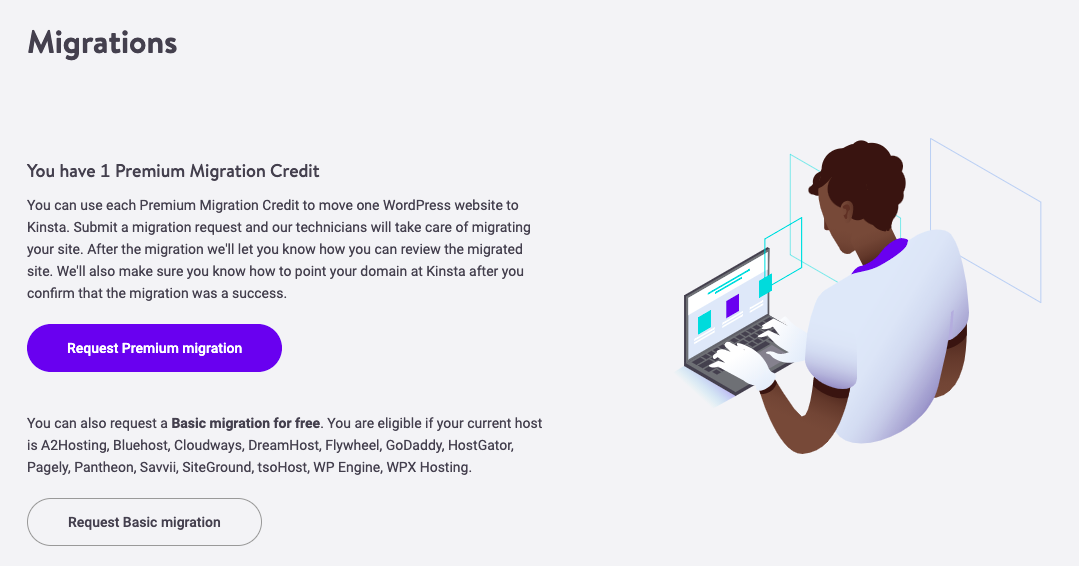 The process of changing your web host can be daunting and stressful, but it doesn't need to be.
Many people are faced with the need to switch hosts because their existing provider has become problematic, and they have had enough.
However, your migration to a better host is often put off for fear of damaging your website(s).
To get around this problem, Kinsta handles the migration of your website for you.
Maybe Kinsta is not that expensive after all!
4. URL Redirection Tool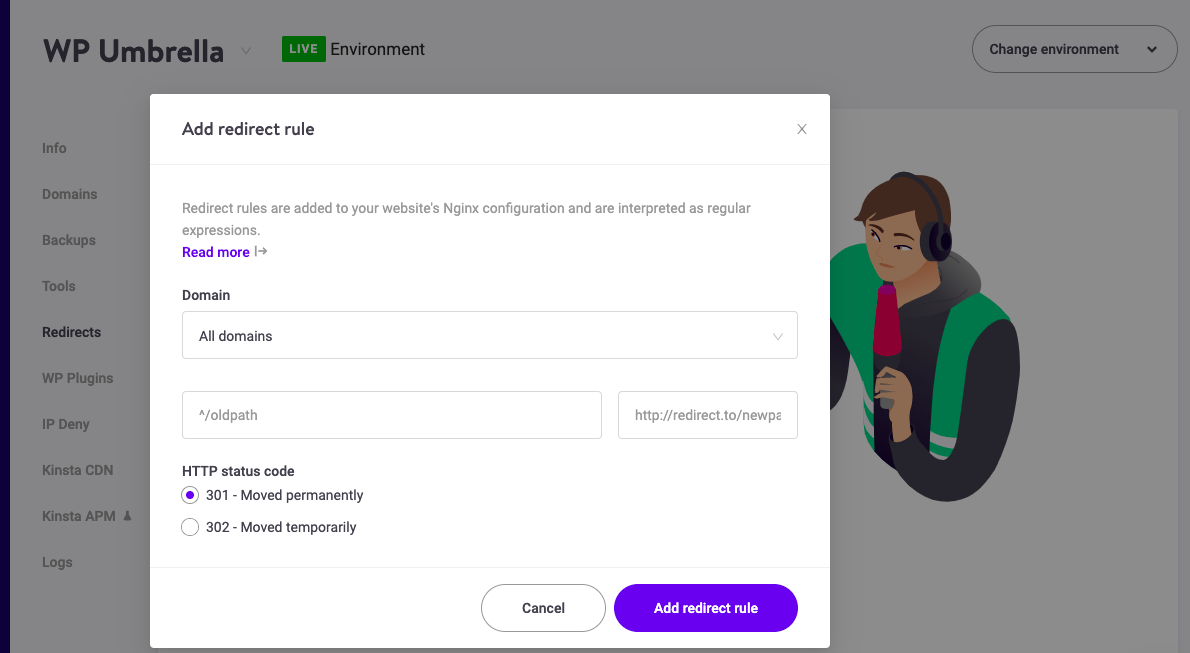 The purpose of a redirect is to send both users and search engines to a different URL than the one they originally requested.
Redirections are essential to SEO, mostly if you decide to change the structure of your website.
Properly implementing a redirect for SEO is time-consuming (sorry, I'm obsessed with time and performance).
Well, this was before Kinsta. with My.Kinsta, you can manage all your 301 and 302 redirections from a single dashboard.
If you are an SEO guy you will like it!
5. Blocking IP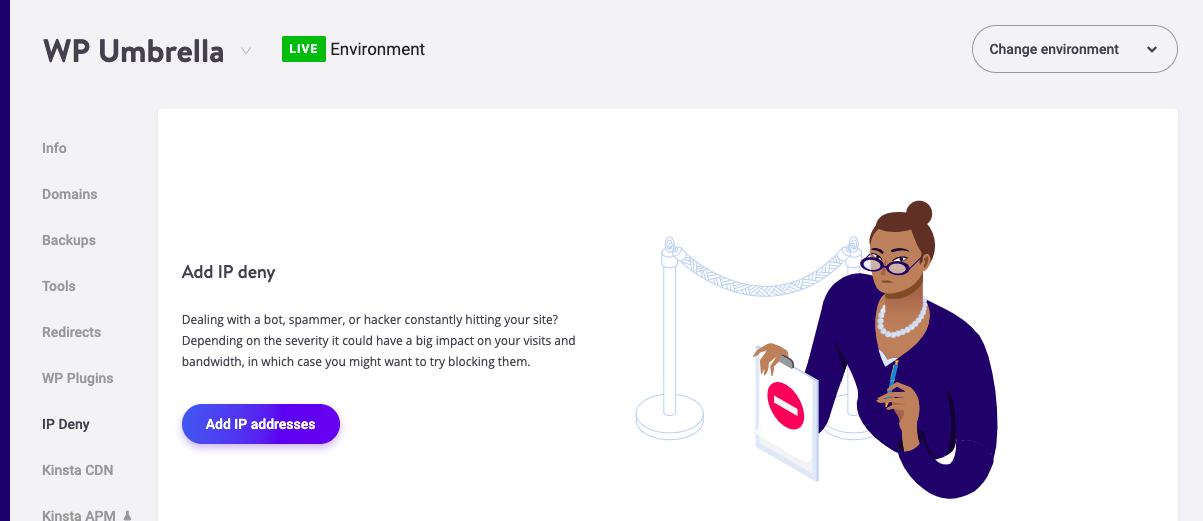 Are you struggling with bots, spammers, or hackers constantly attacking your WordPress website?
Kinsta offers you the possibility to instantly block a list of IP addresses to increase your website security.
This IP deny tool couldn't be easier to use.
6. One of The Most Powerful Cache System For WordPress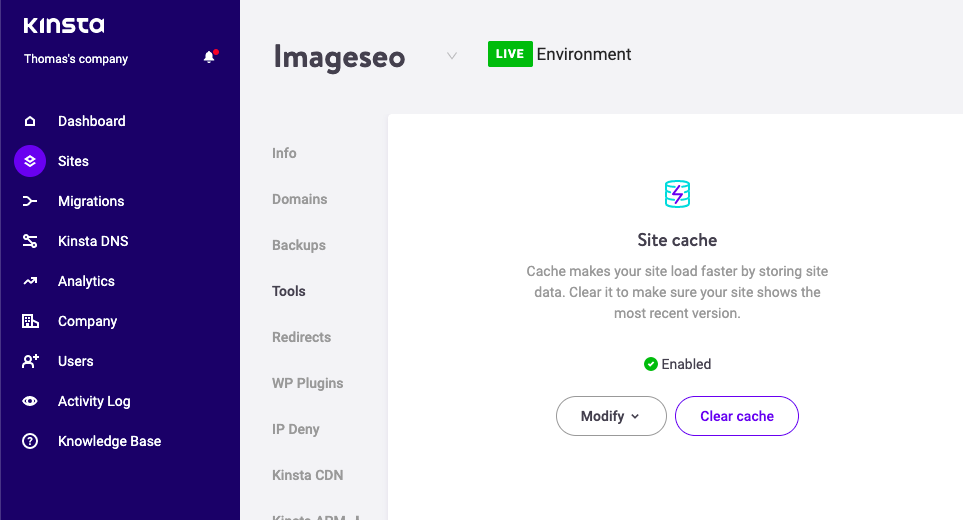 The process of caching is a technique by which copies of files are stored in a temporary storage location to make them more accessible more rapidly.
Caching is one of the best methods for improving your website's performance: it makes websites super fast, which leads to better SEO scores and higher user satisfaction.
And guess what? Kinsta has one of the most powerful caching systems available on the market.
They have directly implemented 4 types of cache (bytecode cache, object cache, page cache and CDN cache) at the software or server level.
We have compared Kinsta cache and WP Rocket and the results are similar. You can slightly increase your website performance if you combine both.
But honestly, Kinsta cache is really powerful and already implemented in your WordPress admin panel so why bother?
7. Daily Backup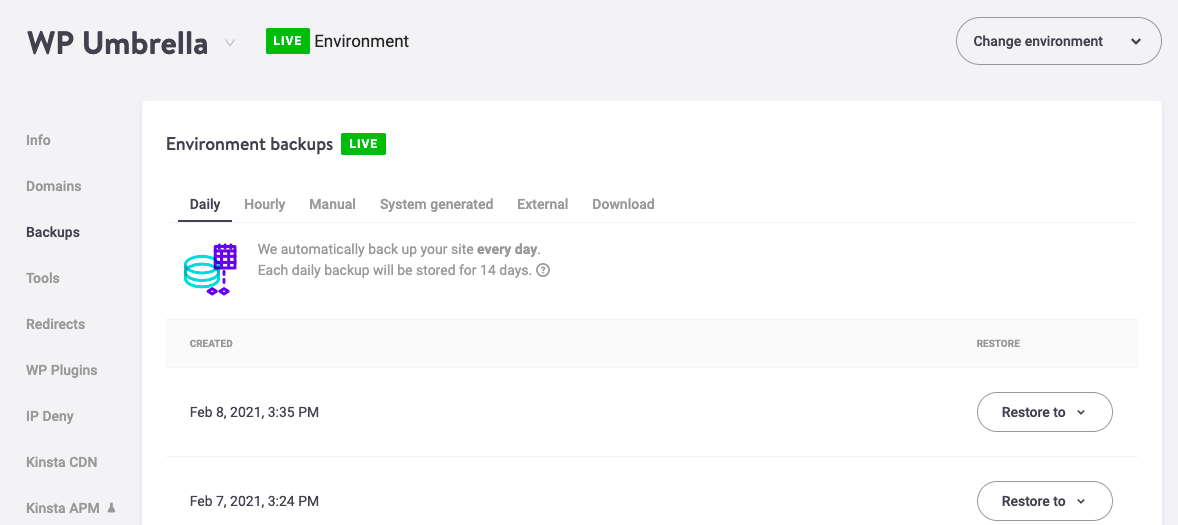 You can choose to have your WordPress sites backed up daily automatically by Kinsta.
All of these backups, as well as your manual backups, are available from the MyKinsta dashboard as restore points.
This is a very handy and easy website restoration process if your site is being hacked.
Is Kinsta Worth The Money?
Yes, yes, and yes.
The real question is: are you ready to invest this money in your website?
A shared hosting plan is best for a blog starting out, as it usually costs $10/month. Kinsta is $30/month, which is quite pricey.
However, for WordPress or WooCommerce sites built for performance and 100% uptime, Kinsta's pricing is really worth it.
Besides, even if 30$/month might look expensive, you can reduce from this amount the yearly cost of a caching plugin (about 50$), a backup plugin (about 50$), and of an uptime monitoring solution (about 50$).
So in the end, Kinsta is not expensive if you are serious about your business.
Alternatives to Kinsta
When it comes to alternatives to Kinsta for managed WordPress hosting, several options stand out. Cloudways offers a great balance of performance and affordability, allowing you to choose from multiple cloud providers like AWS and DigitalOcean. They're a solid choice for those who want more control over their server environment.
Rocket.net, on the other hand, focuses on delivering blazing-fast speeds specifically for WordPress websites, along with built-in security features.
It's an excellent pick for those who want a hassle-free, all-in-one solution. One.com is another worthy mention, especially for smaller businesses or personal sites. They offer a range of budget-friendly plans and still manage to pack in a lot of features like email hosting and website builders.
So, depending on your needs—be it flexibility, speed, or cost—there's likely an alternative to Kinsta that fits the bill.
My personal experience with Kinsta
I'll share with you my personal experience with Kinsta.
I run a small blog about lobbying hosted by OVH (a trash french hosting provider, where the uptime is about 95% and the load times are really high).
But it suits my need because I don't really care about it.
The truth is that Kinsta is not the best option for small sites with little traffic.
In my opinion, you should choose Kinsta if:
Your site has a nice steady growth month after month and you want to take it to the next level.
You run a popular website that always gets good traffic, and you hate surprises regarding outages, failures, and other fun stuff.
You run a WooCommerce store, where performance is of vital importance.
You are a marketing agency and want to provide the best to your customers.
You need a web hosting that can handle sudden spikes in traffic.
For example, because I'm serious about WP Umbrella & ImageSEO, I've decided to host them on Kinsta.
That's what should guide your choice to move or not to move to Kinsta: are you serious about your online business or not?
Frequently Asked Questions About Kinsta
How fast is Kinsta?
Our tests showed that Kinsta's server speed is top-notch. For U.S.-based sites, the average load time was around 135ms. In Europe, the average speed clocked in at about 190ms.
Is Kinsta good for WooCommerce?
Kinsta offers specialized plans optimized for WooCommerce websites. They prioritize faster load times and a secure environment, which are crucial for online shops.
Does Kinsta offer phone support?
No, they don't offer phone support. However, their 24/7 online support channels are extremely responsive and knowledgeable.
Where are Kinsta's servers located?
Kinsta has a global server presence with 24 locations. This allows you to host your website closer to your target audience for improved speed and performance.
Is Kinsta compatible with WP Umbrella
Kinsta and WP Umbrella are fully compatible. You don't need to do anything to make the most out of both services.
Conclusion: Is Kinsta The Best Managed WordPress Hosting Provider?
Kinsta is without a doubt the fastest and most powerful WordPress host.
It's slightly more expensive than other WordPress managed hosting providers like Flywheel (15$/month) or Siteground (6$/month) but you will get much more with Kinsta.
I've been using Kinsta for the past 2 years and I've not encountered any issues or things that I'm not satisfied with.
That's my honest opinion about Kinsta. How do you feel about it? If you have an experience to share about it, please, feel free to let me know and I'll be happy to publish it in the review.
If you are looking for an alternative to Kinsta, check our WordPress hosting review hub!