Stromonic Managed WordPress Hosting Review: Is It Worth The Investment?
The WP Umbrella Team
Stromonic is a new Managed WordPress Hosting provider. Their WordPress-focused dedicated hosting service is what sets them apart from numerous WordPress hosting setups. I've been waiting to share this review since tried this great hosting platform.
The Managed WordPress hosting is their expertise and the features and eases to use are excellent. Page loading speed and prompt customer support are also included in the package!
In my opinion, if you're seeking reliable and fast Managed WordPress hosting to host and run your website, Stromonic and their team are worth considering. Do not miss my performance and management testing results below in this article.
Without further ado, let me take you to a depth walk-through of everything they have to offer.
What Is Stromonic And Who Is Behind?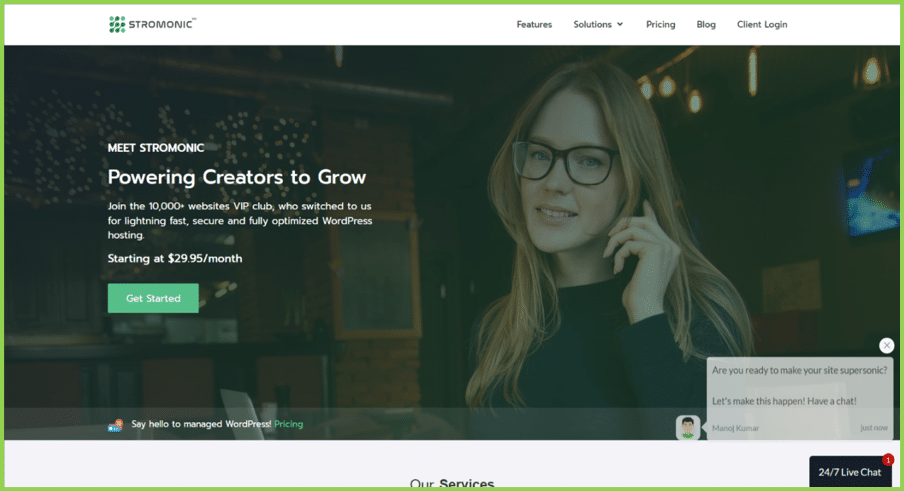 Stromonic was founded by Natan Ray in 2017 to offer a fast-loading WordPress website and secure infrastructure. Ever since the company has made huge recognition in the market with the dedicated improvements and enhanced customer experience. They are now offering a competitive hosting provider with high-end performance and features.
It's the features, working standards, and customer support that makes Stromonic an excellent alternative to host WordPress sites. The basic managed WordPress hosting plan starts as low as $29.95/month. However, there are plenty of other extended plans as well catering to the need of small or large-scale website hosting requirements.
In addition, the efficient hosting environment, infrastructure, and easy optimization seem to be the major perks of choosing Stromonic.
Stromonic Hosting Features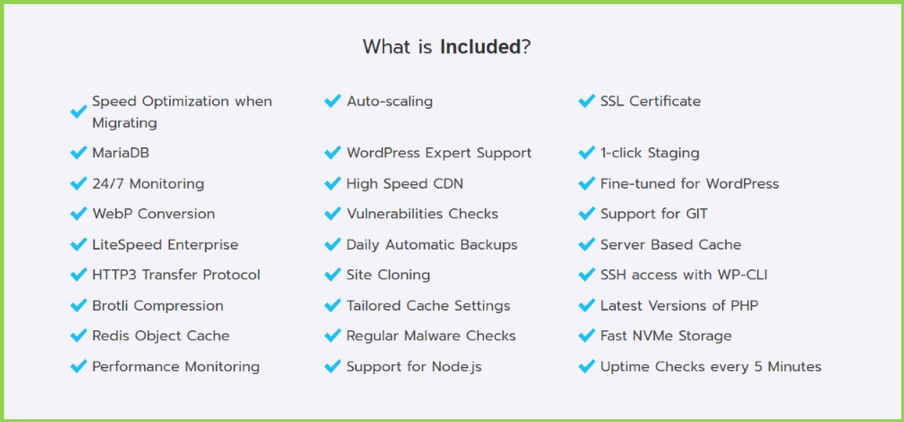 Stromonic tends to bring loads of benefits with exclusive features. Just like WP Umbrella, the company tends to launch new updates and bring enhancements quite often.
It allows them to offer customer-centric features and advantages. Take their Stromonic Cloud for reference. While all other major hosting providers are relying on the Google cloud's shared resources, Stromonic brings its cloud to allow its clients the flexibility and scalability of wide usage of resources.
Stromonic Cloud
As an alternative to the public cloud, Stromonic WordPress hosting comes with its own cloud for easy and reliable optimizations. This advanced feature of hosting is quite uncommon and tends to boost the website speed by 3-5 times. In addition, the in-house cloud brings a diverse range of resources and channels to expand your website capabilities.
Stromonic CDN
Stromonic CDN (Content Delivery Network) isn't going to put your website in bad condition. Unlike shared CDN, they are claiming to deliver boosted performance standards with exclusive Stromonic CDN.
Free SSL Encryption
Stromonic allows free-of-cost SSL installation to the WordPress website with a single tap. The easy-to-use dashboard allows seamless integration of SSL security to the website.
Real-Time Malware Scans
Stromonic doesn't fail to maintain security with managed WordPress hosting. The frequent malware and virus scanning can save your website from any potential threats or hacking attempts. In case of any such problems, the support team is anyways available to provide reliable assistance.
Regular Backups
It's always good to have several backup solutions. With daily, monthly, or yearly website backups, Stromonic hosting ensures data security and is an excellent addition to WP Umbrella automatic backup feature.
Hassle-Free Migration
If your website is on any other WordPress hosting, like Kinsta or Rocket.net, the technical process for Stromonic migration is simple. The process can be carried out with no downtime or functionality error.

Stromonic focuses on both technical as well customer-centric features in managed WordPress hosting. The above-mentioned list is just a glimpse and you can browse the complete list from here.
Managed WordPress Dashboard Walk-through
The Managed WordPress Dashboard design of Stromonic seems highly creative and beautiful. It has very simple navigation that makes WordPress website hosting fun. The uncluttered sections and settings choices allow you to do almost anything with a few clicks.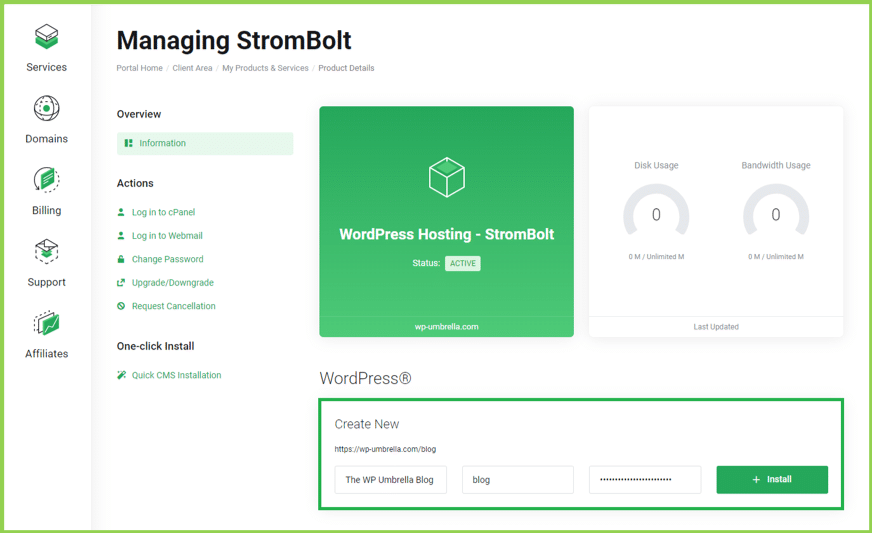 To manage your Stromonic hosting account, the company has designed its custom dashboard panel.
The Managed StromBolt allows seamless navigation and maximum tasks via the single-screen interface itself. The client dashboard allows new WordPress website creation, emails set up, file manager, one-click installation, cPanel access, domains, subdomains, and managing backups.
Overall, Stromonic provides an intuitive and impeccable custom dashboard for website & account management.
You're even allowed to check the resource usage like how much disk and bandwidth usage you're consuming.
There is also an option to check the website analytics too.
Quick Email Creation
You get the option to create a custom email for your website domain with a single-click interface. No need to hassle with the complex email creation process anymore. Just enter the email details and password to get your business email ready.
Quick Management Shortcuts
The seamlessly managed WordPress hosting dashboard even offers quick shortcuts for easy management. As per the below screenshots, there are plenty of options available. Even a client with a non-technical background can run the WordPress website management like a piece of cake.
One-Click WordPress Installation
Quick WordPress Installation from the client dashboard is completely seamless and efficient for even newbie users. All you need to do is to enter the title, path, and password to create a new WordPress website. The process is completely straightforward requiring a few clicks.
The WordPress Manager dashboard comes with simple login and easy to use interface. You can get easy themes or plugin management with cloning, staging, and automated WordPress update.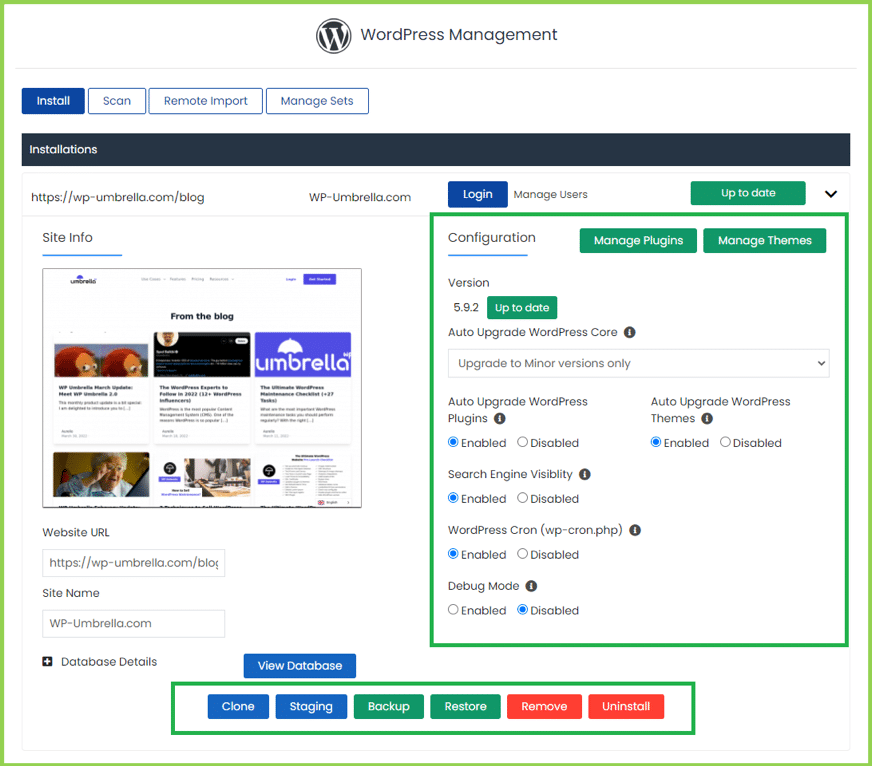 Hassle-free Cpanel Access
The cPanel dashboard of Stromonic hosting comes loaded with various in-depth configuration and management options. Although there are a lot of things to do with Stromonic cPanel, some prominent ones are mentioned below:
Website visitor analysis from cPanel

Changing PHP Version, Creating NodeJs & Python Apps from cPanel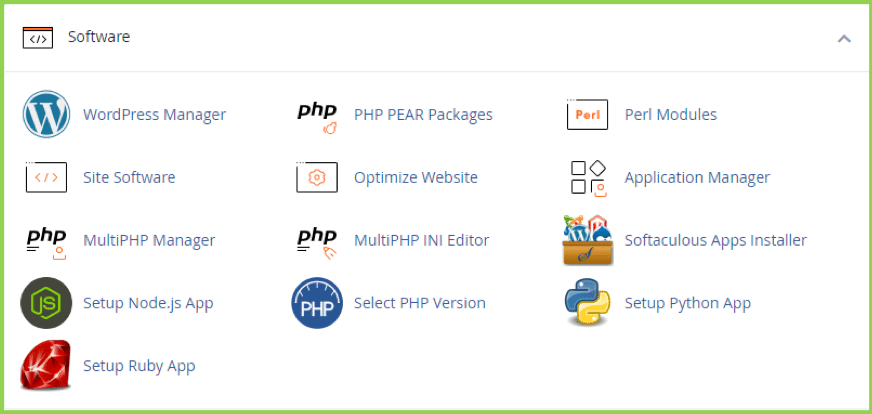 Managing Backups from cPanel

Stromonic Web Hosting Performance
High-grade performance is one of the major factors outshining it among managed WordPress hosting providers. Considering the proud claims regarding the faster loading and better uptime, we thought to practically examine the same.
GT Metrix Testing Report
As per our testing of Stromonic managed WordPress hosting on GT Metrix, the results are quite impressive for website functioning.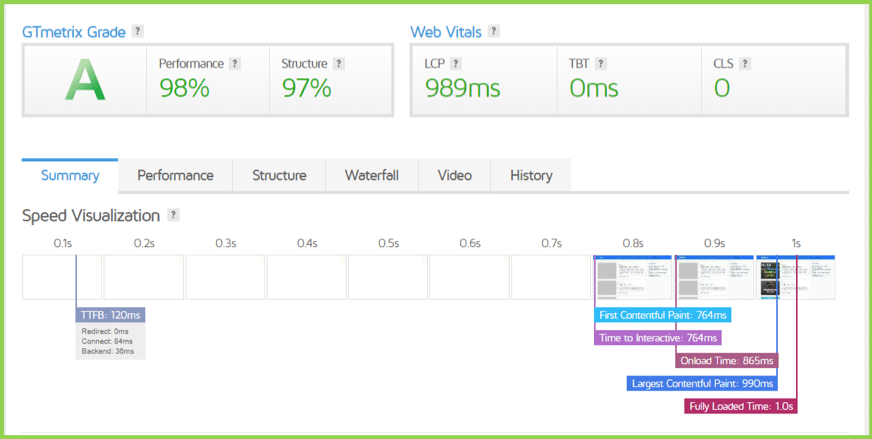 The performance report is depicting that Stromonic is the fastest hosting solution. The tests were done in a general environment without any special configuration. The load time is quite faster in almost any situation.
Uptime Test Results
Stromonic managed WordPress hosting provider offers 99.99% uptime. We have been monitoring the website uptime with WP Umbrella for about a month with a 2 minutes monitoring frequency, and we did not record any downtime.
The screenshot is real-time proof of Stromonic hosting uptime value. The results are depicting 100% of the uptime for consistent hours, weeks, and months time duration.
Stromonic – Pros & Cons
One thing is for sure there is a lot to explore and enjoy about Stromonic.
The support team is always there if you ever experience any issues with the website. The fast and easy communication channel is one of their superpower that can be highly beneficial for any website owner.
Another I like with Stromonic is the performance.
There is no problem with cloud storage or potential server load. Stromonic uses its own Stromonic Cloud to run its infrastructure and delivers excellent performance with handpicked resources, drives, and channels.
That being said, Stromonic doesn't seem to have any major downside for Managed WordPress hosting.
The pricing might sound to you a bit high in the beginning, but that's completely efficient as per the features and other hosting providers in the market.
Stromonic Hosting Price
Check out the complete pricing structure of Stromonic Managed WordPress Hosting from here: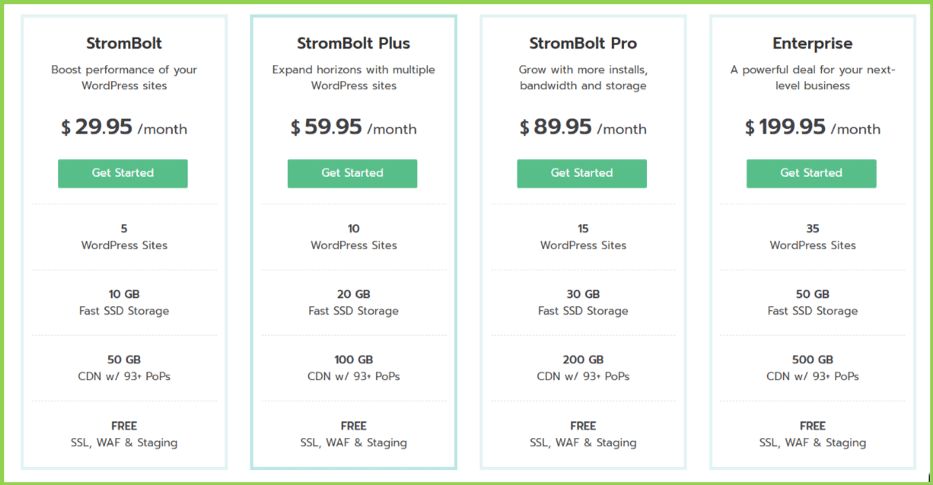 Stromonic prices don't bring any surprises at all. It has a lot of exclusive benefits to offer at cost-effective prices. While the hosting platform allows both monthly and yearly plans, the majority of features are common in all four plans:
Free domain
Multi-code support
Managed security
Regular backup
99.99% uptime
DDoS protection
One-click setup
Transmail service
Pre-installed GIT
Here is a quick overview of the Stromonic Managed WordPress Hosting pricing structure:
StromBolt
From $29.95/month
5 WordPress Sites
10 GB fast SSD Space
Best for a single WordPress website
Free SSL & Stromonic CDN
No end limits for servers or visitors
StromBolt Plus
From $59.95/month
10 WordPress Sites
20 GB fast SSD storage
Suitable for multiple WordPress websites
Free SSL & Stromonic CDN
No end limits for servers or visitors
StromBolt Pro
From $89.95/per month
15 WordPress Sites
30 GB fast SSD storage
High bandwidth and storage capability
Free SSL & Stromonic CDN
No end limits for servers or visitors
Enterprise Plan
From $199.95/month
35 WordPress Sites
50 GB fast SSD storage
The perfect package for high-end business websites
Free SSL & Stromonic CDN
No end limits for servers or visitors
Stromonic Customer Reviews
Stromonic has been able to receive numerous positive and happy feedback from past clients. The renowned web hosting reviewer Host Advice has also offered a 5-star review of hosting services.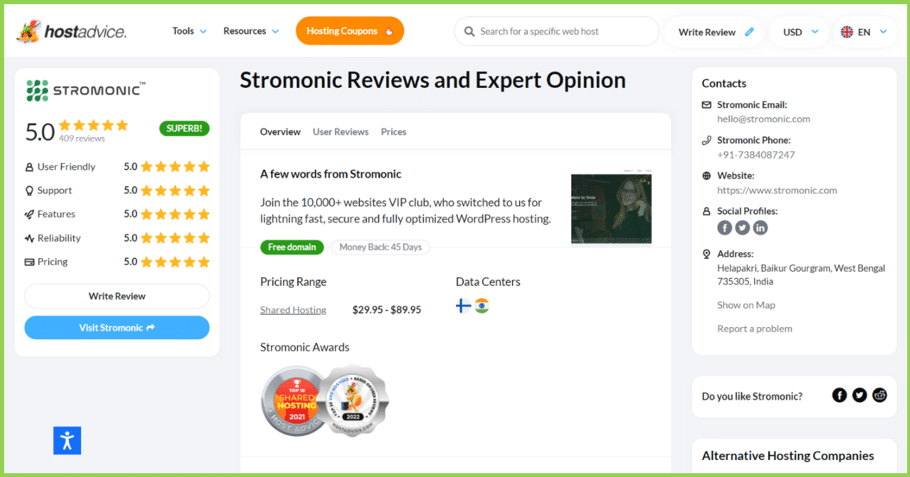 See what some other clients have to say about the Stromonic hosting on Trustpilot: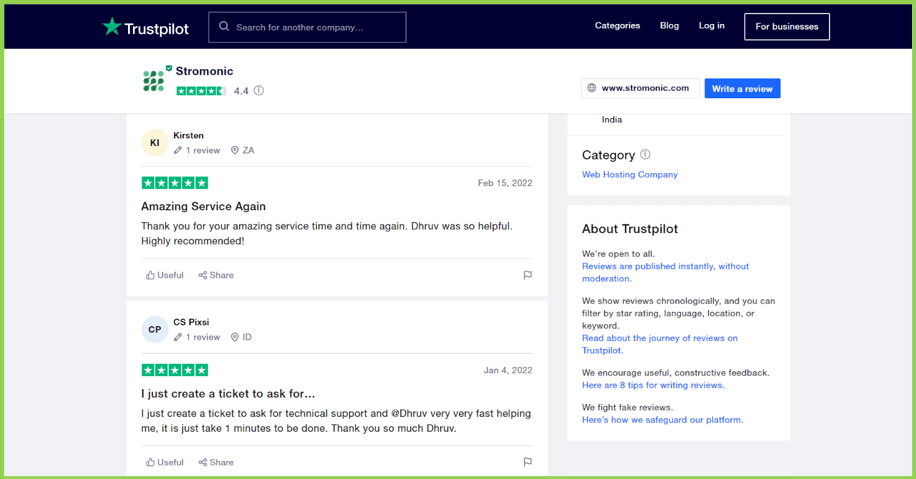 Frequently Asked Questions About Stromonic
Is Stromonic pricing justified?
Yes, it seems so that Stromonic pricing justifies the number of benefits and advanced features that are quite rare in the industry.
How come Stromonic hosting offers uptime and faster loading?
There are some additional reasons behind the better hosting performance other than usually advanced technologies. Their in-house cloud platform and CDN also contribute to high-end WordPress hosting performance.
How easy is it to manage Stromonic WordPress hosting dashboard?
The Stromonic dashboard is highly intuitive and loaded with easy navigation. You get one-click installation and set up for every basic function related to running a website.
What is Stromonic CDN?
The Stromonic CDN is distributed among various servers geographically. The global server can ensure a better website experience for worldwide users.
Does Stromonic offer website migration?
Tes, if you have a website running on some other WordPress website hosting, there is an easy option to switch it to the Stromonic. Get in touch with their support team and seek reliable assistance for website migration.
Stromonic Review Conclusion – Who should go for it?
Let's conclude the overall review of Stromonic managed WordPress hosting service. To be precise you're getting everything for what you're investing. The WordPress hosting can handle anything put to the same. After all, everything comes with the backing of Stromonic Cloud.
To get started with Stromonic, you won't need any specific knowledge, and is easier. No need to worry about the technical factors as the support team is always ready to help you out.