One.com Review: A Comprehensive Look at Their Managed WordPress Hosting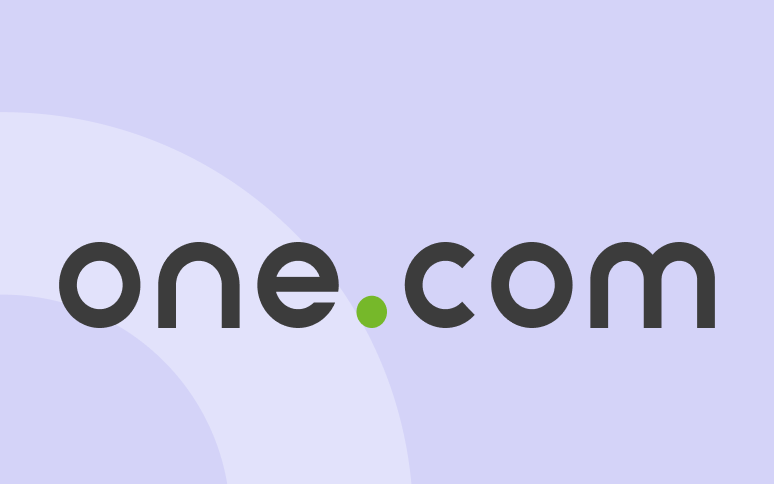 If you've been on the hunt for information about one.com, you've come to the right place! With a particular focus on their new managed WordPress add-on, we've done extensive testing to give you an unbiased review of one.com.
We have conducted our performance uptime tests on their new managed WordPress add-on.
TL;DR
Our testing left us pleasantly surprised with one.com. With pricing that's more than fair and a ton of useful features, it's a reliable and easy-to-use hosting solution. The managed WordPress add-on is even free for the first year with any hosting plan starting from €2.99. While it's not the fastest option out there, its performance is solid enough for most needs.
A Brief History: One.com's Journey
To be honest, we didn't know much about one.com before they acquired WP Media, the company behind WP Rocket and Imagify.
We first encountered the one.com team at WordCamp Europe in 2022 and quickly realized their intent to become significant players in the WordPress community. This ambition sets them alongside other famous managed hosting providers like GoDaddy, WP Engine, and BlueHost.
But is One.com a good fit for you? Let's find out:
One.com Review Summary
Pros about one.com
Excellent price/performance ratio.
Ideal for beginners.
Tons of features included.
Support is prompt and multilingual.
One.com control panel is super easy to use.
Integrated discounts with WP Rocket.
Domain included.
Ready to boost your productivity, impress your clients and grow your WordPress agency?
Install WP Umbrella on your websites in a minute and discover a new way to manage multiple WordPress sites.
Get Started for free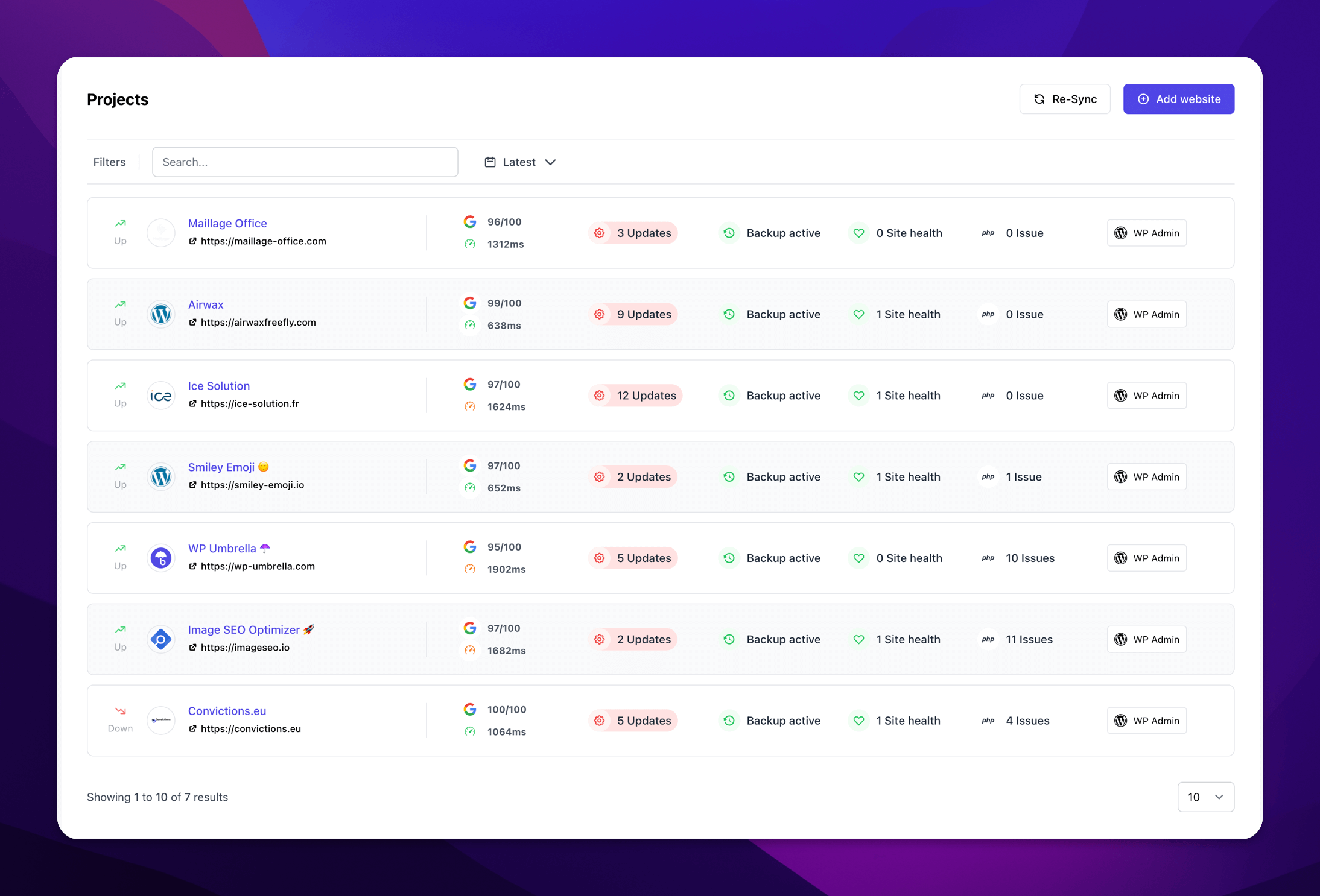 One.com by the Numbers
| | |
| --- | --- |
| Uptime rate over 3 months | 100% |
| Average Google PageSpeed on optimized websites | 99/100 |
| Average Response Time | about 200ms |
| Support Reactivity | less than 5 minutes |
| Key Features | Performance monitoring, CDN, caching, maintenance mode, advance login protection, spam protection, daily backup, vulnerability monitoring |
| Ease of Use | Extremely easy to use |
| Pricing | Starting at $2,99 to $8,99 |
| Number of customers | 1 500 000+ |
| Headquarters | Copenhagen, Hovedstaden, Denmark |
| Date of creation | 2002 |
What is one.com WordPress Hosting?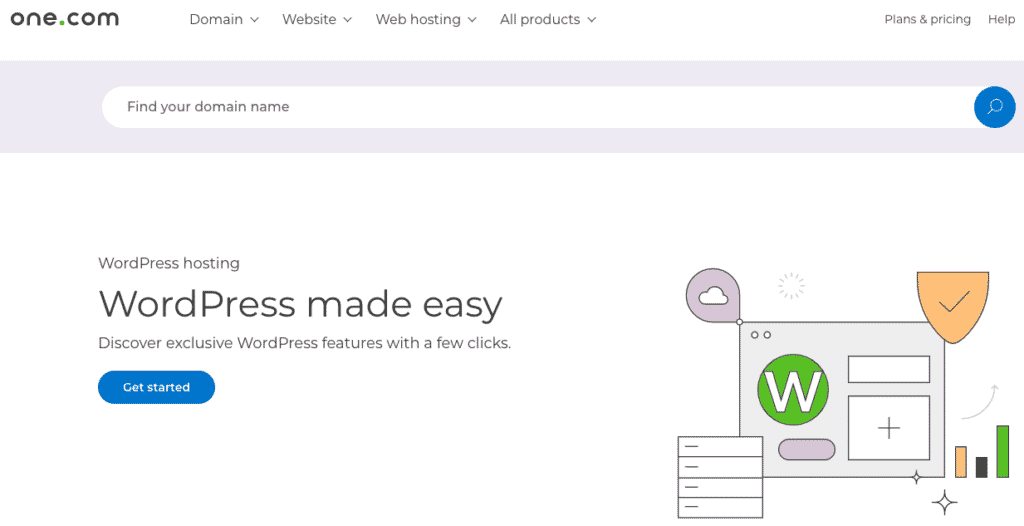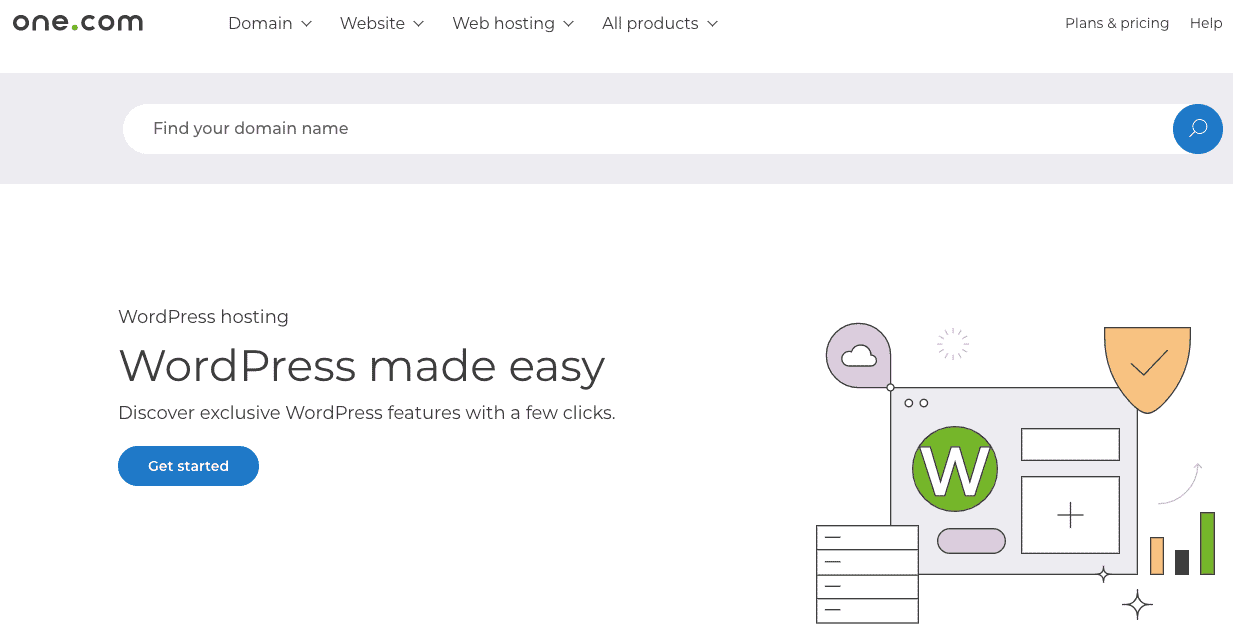 One.com was founded in 2002 by Jacob Jensen in Denmark. It has since grown into one of Europe's leading web hosts with over 1,500,000 websites hosted in 149 countries.
The company has offices in Sweden, Denmark, Germany, India, Dubai, France, Italy, Netherlands, Philippines, Spain, United Kingdom, and the United States.
Definitely impressive.
In August 2021, they launched a Managed WordPress add-on that gives you access to additional plugins, optimized security, enhanced performance as well as priority support.
The Benefits of Managed WordPress Add-on
With the Managed WordPress Add-on of one.com, you can focus on what you love instead of worrying about WordPress maintenance. It is a good feeling to know that your website is secure and performing as fast as it should. Priority support for WordPress is also included in the add-on whenever you need it.
Performance of one.com WordPress Hosting (Based on 2022 Data)
We have been monitoring one.com uptime and performance for the last 30 days. The uptime rate of One.com was 100% and the average loading time in Europe was 212ms.
One.com Real Uptime Rate
One.com is definitely a reliable WordPress-managed hosting provider with a 100% uptime rate.

One.com Performance Review
We used the Twenty Twenty-Two WordPress theme to conduct this test, with the default settings of one.com.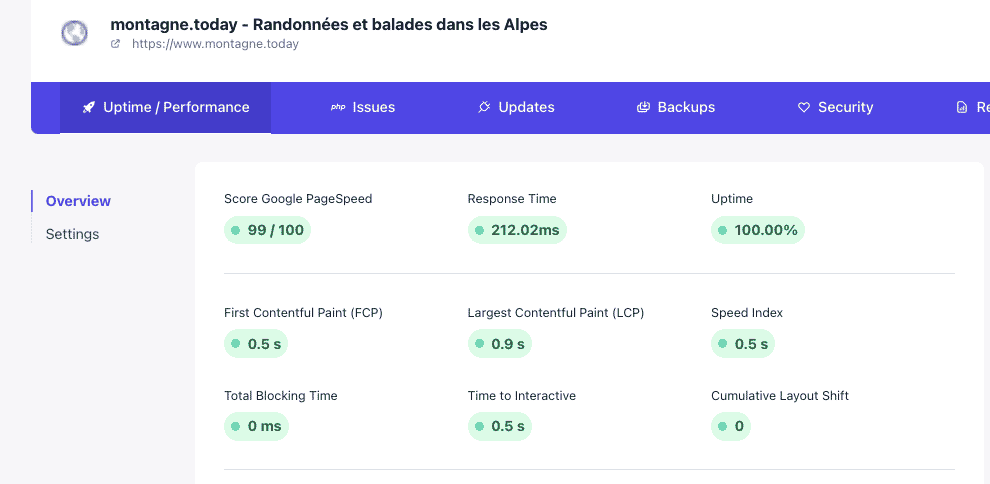 The results are pretty good. The website has a 99/100 PageSpeed score and an average response time of 212,02ms.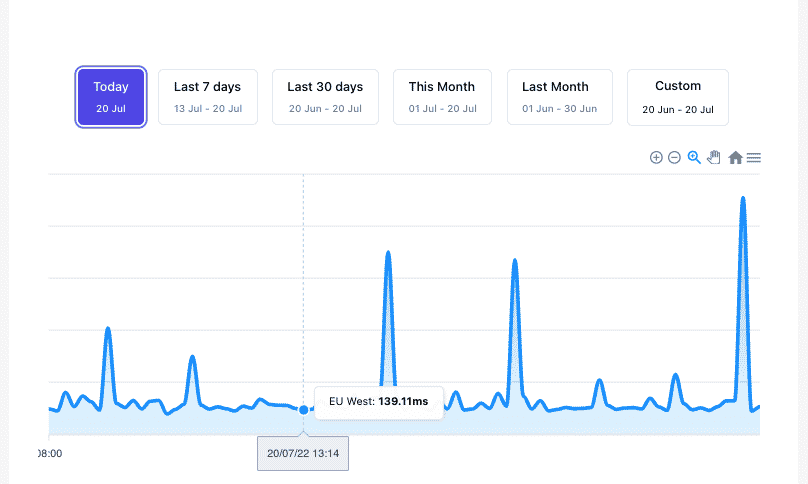 One.com's Plan & Features
From $3,99 to $9,99/month
Pricing is certainly a big draw since hosting for less than $3,99 per month is hard to beat. Considering the offerings themselves, One.com offers all the essentials, and much more.
The higher plans allow for more installations than the lower plans. With the larger plans, other add-ons are bundled in for all connected domains as well, which makes them particularly interesting for agencies and others managing multiple sites. When used to the fullest extent, the Guru plan offers 10 sites for €0.899 each, including premium add-ons like Marketgoo SEO, SiteLock Find malware scan and backup with 1 click-restoration included.
One.com also offers a staging environment in every plan which is very useful to make sure that changes and updates don't break your website.
What is included for free in one.com's plan?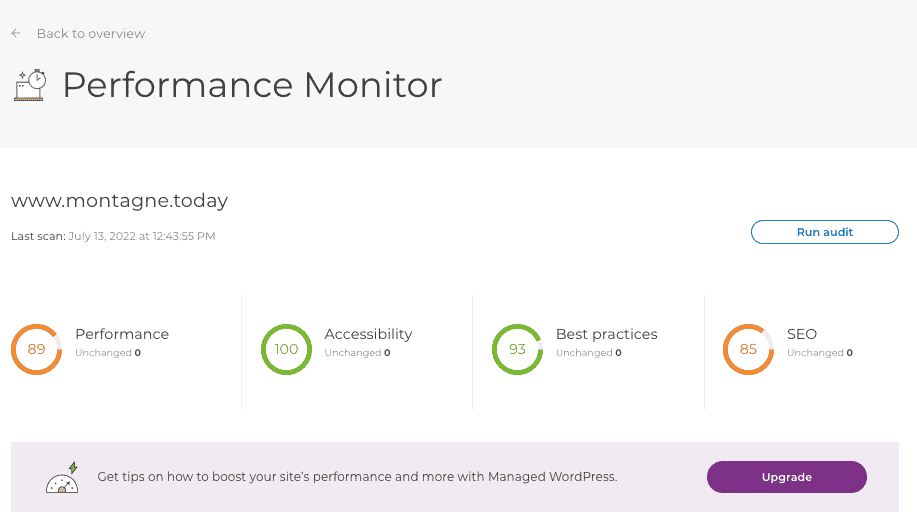 The number of features included in One.com's plans is impressive.
Performance monitoring: so you can make sure that your website is in good shape and loading fast. The performance monitor retrieves its data from Google Lighthouse straight to your control panel.
CDN: You can speed up your website with the content delivery network (CDN) if you have a lot of visitors worldwide.
Performance cache: you can make your website faster with Performance Cache by saving a cached copy of it. You can also enable WP Rocket with a significant and exclusive discount.
Maintenance mode: You can make your website private when editing it. Maintenance Mode tells the visitors that your website is not available, and is customizable with optional countdowns and email signup, so you don't miss out on any leads.
Advanced login protection: You can prevent hackers from exploiting your WordPress login by logging in securely via the one.com control panel.
Advanced Error Page: Display useful information if there is a problem on your site.
Spam Protection: Protect your website from spambots commenting or registering on it.
Vulnerability Monitor: Get notified when we detect any insecure plugin, theme, or WordPress version; and act before your website gets compromised.
Zoom on the Update Manager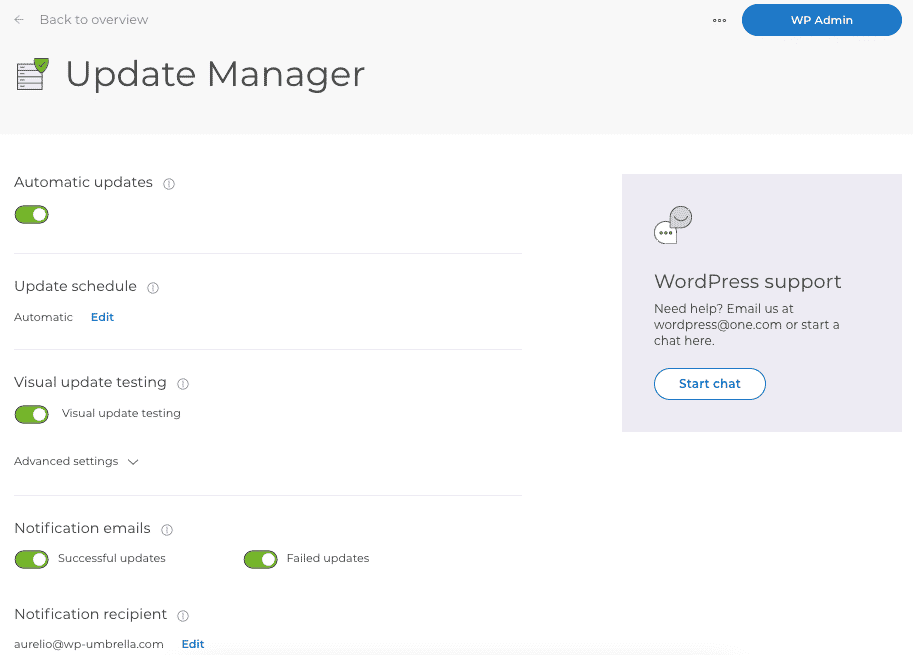 A clever update manager is also included. It has a visual update tester staging each update before it's allowed to run. Only updates that don't cause changes in your site's appearance are implemented. This is a time-saving feature that will protect your site from code-breaking updates.
What premium add-ons are available?
You can add plenty on add-on to your websites, but you will have to pay.
Here are the add-ons available:
Backup & restoration for € 1.99 /month (free with Guru)
SiteLock for €2,39/month (free with Guru and Expert)
Uberall for €112.99/month
Ubivox from € € 8.99/month
Premium email for €0.99 /month
Sanebox for € 4.99/month
What Does The One.com Control Panel Look Like
One.com's dashboard is very straightforward and you can access all features from it.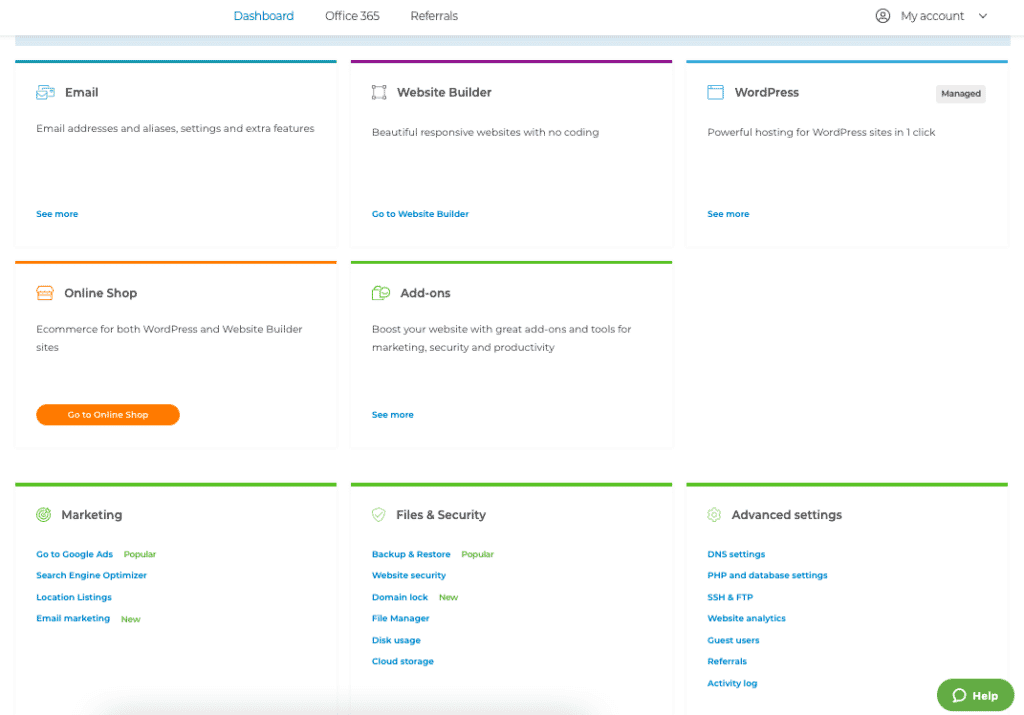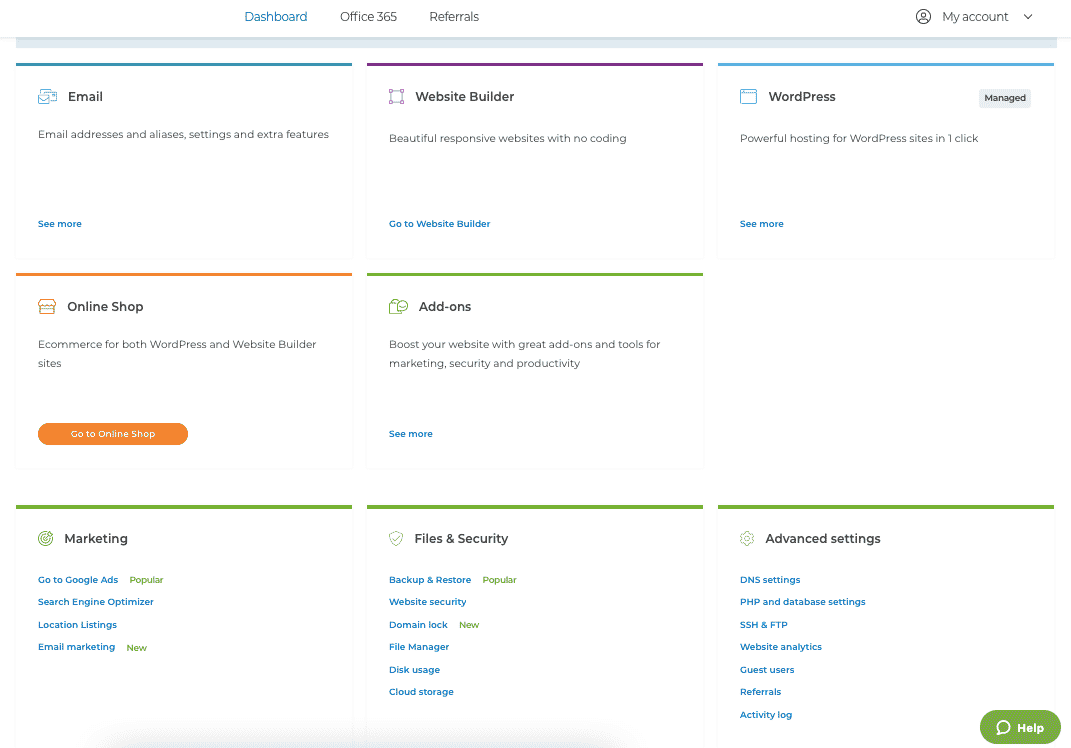 The navigation is smooth and you can easily modify the environment and settings in just a few clicks.
You can also access most of the information directly from your website. One.com's dashboard is not overkill, but it perfectly does the job!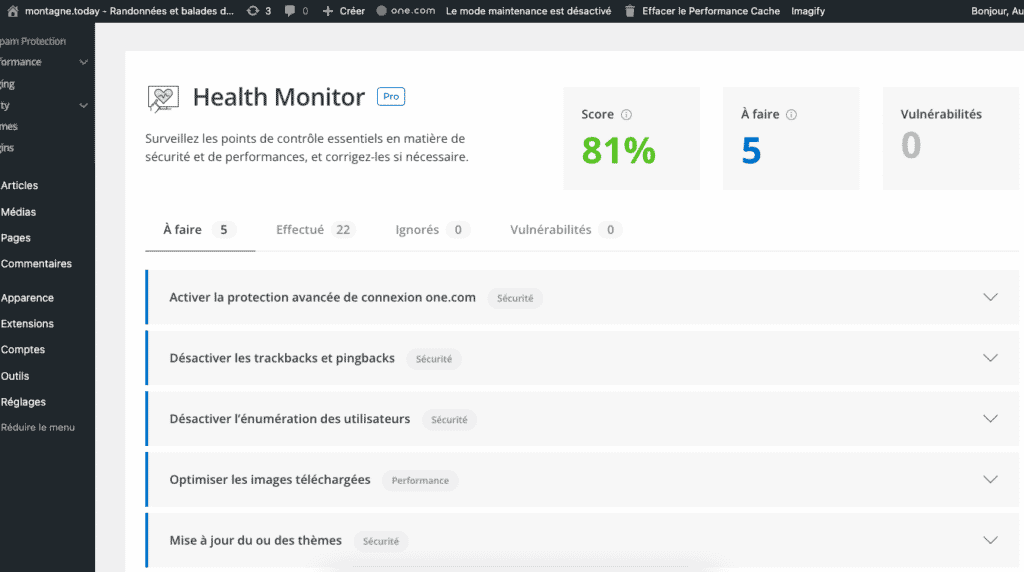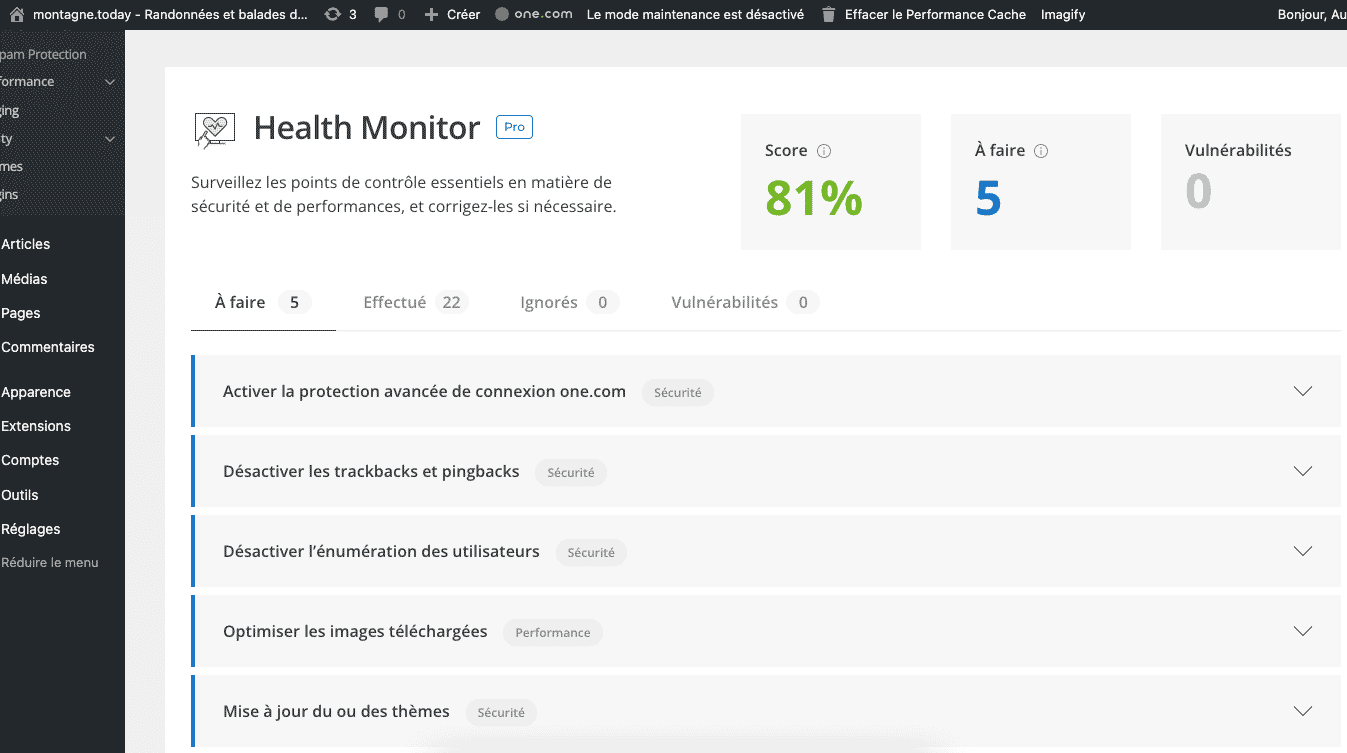 Is one.com Support Good?
The support is available in several languages and starts with a chatbot. Eventually, you get a real person if you are not able to troubleshoot the issue yourself.
I've opened three tickets. I got a real human to talk to within less than two minutes every time. That was really impressive. They always find the solution to my T1 /T2 questions and were kind.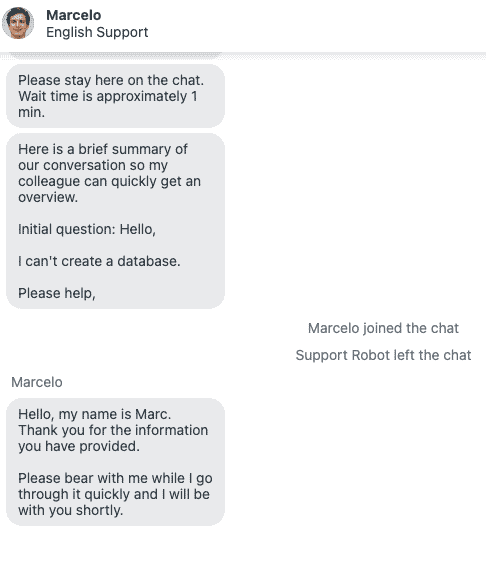 What People Are Saying About one.com
One.com is rated 4.3/5 on G2 and all the reviews are positive. People are saying that one.com is a good hosting provider and nobody regrets the investment.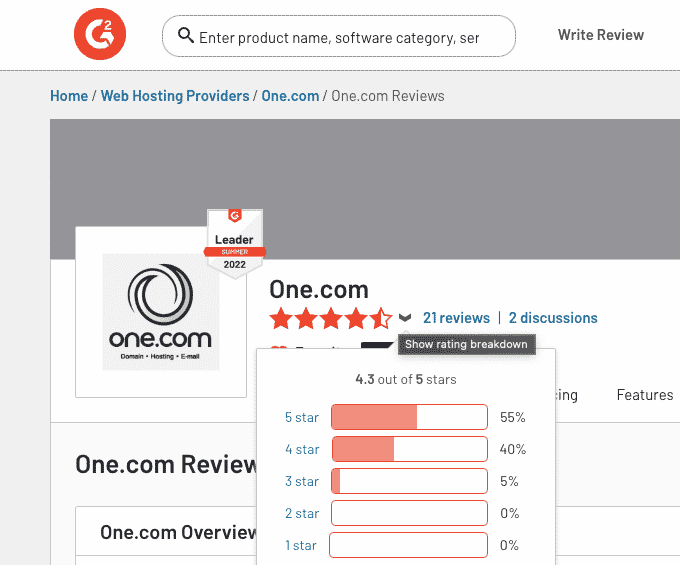 On Trustpilot, one.com is rated 4.1/5 which is good as well. Most of the people are happy with one.com even though some complain about the marketing strategy of the company.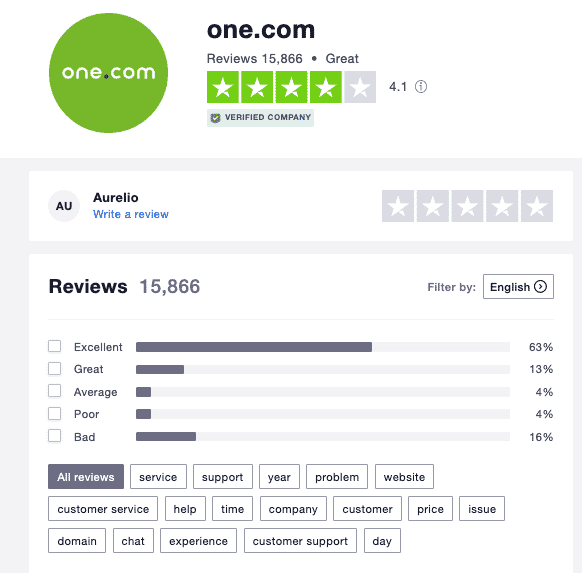 One.com Alternatives
While one.com offers a solid package for WordPress hosting, it's always good to consider alternatives to make sure you're getting the best fit for your needs.
If performance is your top priority, Kinsta could be a good pick, although at a higher price point. Their service is powered by Google Cloud Platform, ensuring speed and stability.
Another excellent option is Cloudways, a cloud-based managed hosting provider that allows you to choose your cloud infrastructure from a list of options, like DigitalOcean or AWS. Cloudways is popular for its flexibility and customizable features.
Then there's also Rocket.net, a managed WordPress host that promises 'website speed that's out of this world.' Their platform is built on the Cloudflare enterprise network, and they provide features like built-in CDN, WAF security, and instant page caching.
Each of these alternatives has its own unique set of features and pricing, giving you a spectrum of options outside of one.com which is a very good hosting provider managed by reliable people.
Should You Host on One.com?
Overall, one.com is a good managed WordPress hosting provider. It's reliable (100% uptime rate over 30 days), fast loading, and not expensive for what you get. The support is kind and they answer promptly.
Obviously, other managed WordPress hosting providers like Kinsta or Rocket.net offer slightly better performance but their pricing is 10 times more expensive ($35/month for Kinsta vs $2.99 for one.com).
I'd say that one.com is an excellent choice for most websites, and if you need this tiny performance competitive edge, then you need to pay for it!