Trying to manage multiple WordPress sites? Are you looking for an easy solution? The process of monitoring and managing multiple websites and keeping them updated takes a lot of time.
Indeed, to keep your WordPress sites running smoothly, you need to perform daily, weekly and monthly maintenance tasks.
Hopefully, there are several WordPress management tools that make managing multiple WordPress sites a breeze.
Making the most of these WordPress management solutions will save you a lot of time and ensure that your WordPress installs are well-performing, and your plugins up-to-date.
In this article, I'll share with you my WordPress maintenance checklist and the best tools available to manage multiple WordPress sites like a pro and with a minimum of effort.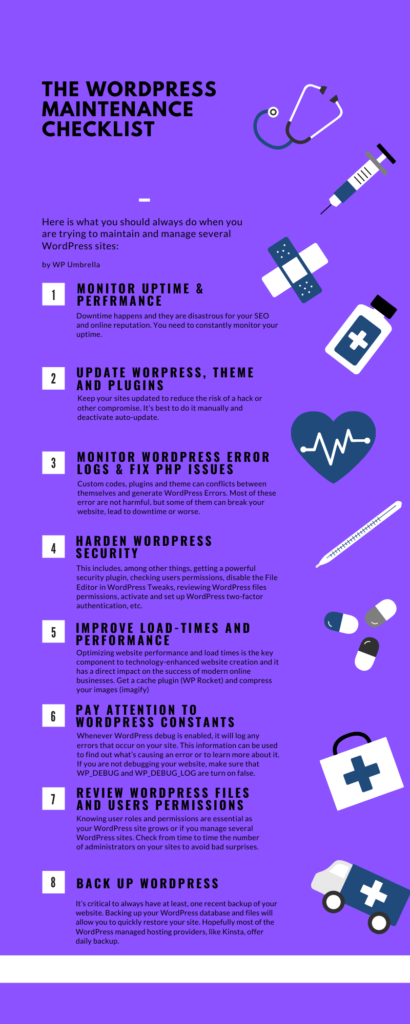 How to Maintain Multiple WordPress Sites? (14 Tasks)
Maintaining multiple WordPress sites is not hard. However, it takes a lot of time if you are not using the best WordPress management tools.
Here is what you should always do when you are trying to maintain and manage several WordPress websites:
Monitoring WordPress uptime;
Make Daily backups;
Monitor your websites performance;
Enable notifications in case of performance/downtime issue;
Regularly update your theme and plugins;
Deactivate and remove unused plugins and themes;
Update WordPress core to latest version;
Get a SSL certificate;
Monitor WordPress error logs;
Harden your sites security with a security plugin;

Disable the File Editor in WordPress Tweaks

;
Make sure that WP_DEBUG, WP_DEBUG_DISPLAY and WP_DEBUG_LOG are 'FALSE';
Review WordPress files and users permissions;
Install a cache plugin and compress your images.
1. Monitoring Your WordPress Sites Uptime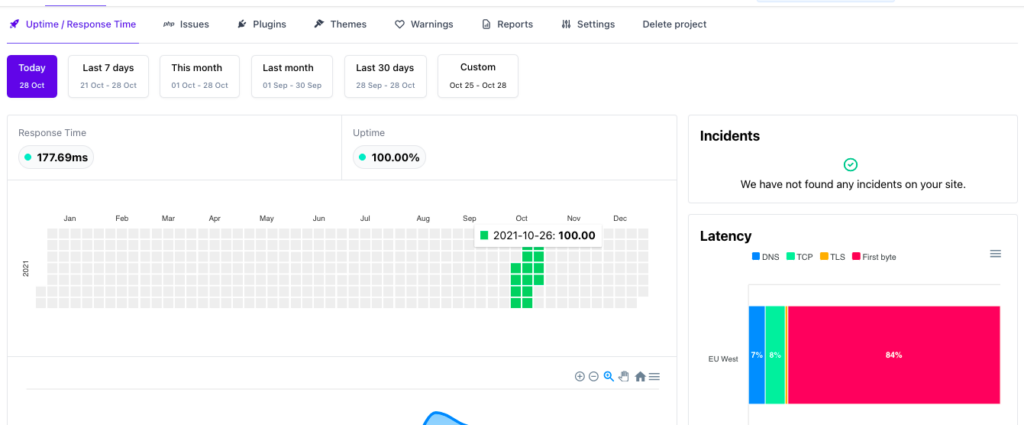 If you are a Freelancer or a WordPress development agency, there is nothing worse than a customer who noticed its website is down before you do.
Downtime happens and they are disastrous for your SEO and online reputation. That's why need to constantly monitor your uptime.
Your should also make sure to have a reliable alerting system (email, slack or SMS) for downtime, because the sooner you are aware of it, the quicker you can troubleshoot them.
If you are managing hundreds of WordPress sites, email or SMS notification can quickly become overwhelming.
That's why we recommend to use a dedicated slack channel to centralize all your uptime/downtime notification.
2. Enable Automatic Backups on All Your sites

It's critical to always have at least, one recent backup of your website. You risk losing all your documents if your database gets corrupted or erased.
There are many possible reasons for this, and not all of them are within your control. Backing up your WordPress database and files will allow you to quickly restore your site.
Most of the WordPress managed hosting providers, like Kinsta, offer daily backup. However, my personal advice on this is to have more than one backup solution in place for your WordPress websites.
So if one is corrupted – and this happens more often than you think – you will have another alternative.
That's the reason why you should always get an additional automatic backup solution (WP Umbrella does that too).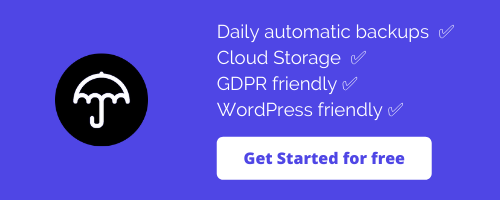 3. Keep an Eye on your Websites Performance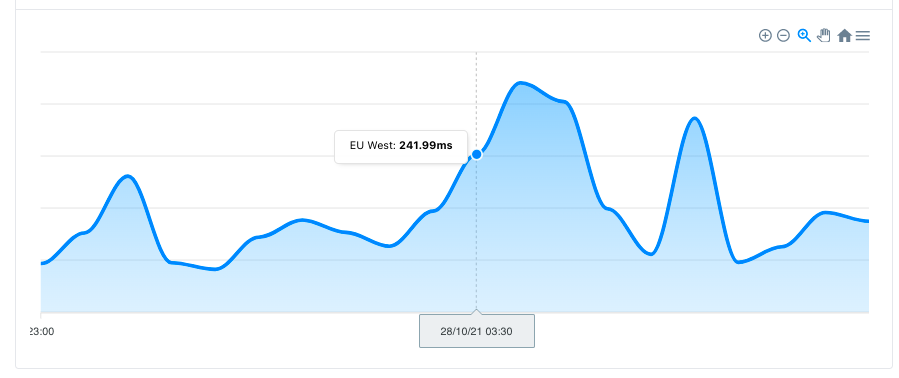 In its simplest form, web performance monitoring is about gathering information to improve the performance of your website. The results ultimately lead to increased user satisfaction. Consequently, it improves retention rates while reducing bounce rates.
Your websites need to load fast for both SEO and User Experience. Slow loading websites will rank poorly and won't please your visitors.
If you are a professional you need to deliver fast-loading and mobile-friendly WordPress sites to your clients.
Once your websites are live, it's important to keep monitoring the performance. A pitfall in loading times might be a sign to an even more serious issue (hosting provider not reliable, security breach, etc).
4. Keep Your Plugins And Theme Up to date
Updates to WordPress core, plugins, and themes often increase security by patching vulnerabilities and strengthening against attacks.
Keep your sites updated to reduce the risk of a hack or other compromise.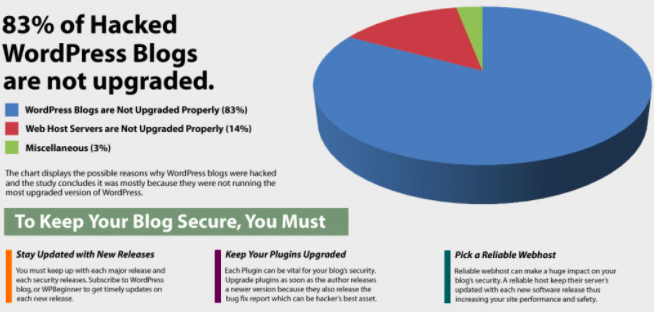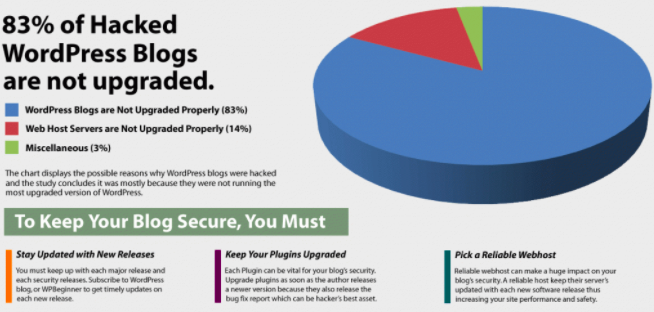 So you need to regularly update your current theme and plugins to latest versions.
I advise you to disable auto-updates for major plugins like WooCommerce, or cache plugins. Also, make sure to check that your premium plugins have valid licenses.
Keeping multiple WordPress up to date is very time-consuming. That's why our WordPress management services embed a bulk update feature which includes a safe update technology with automatic rollback.
This is an excellent way to manage your plugins and themes updates without worrying to break a website.
5. Deactivate and Remove Unused Plugins and Themes
You should remove old themes and plugins primarily for security reasons. The risk of malicious individuals discovering exploits utilizing those unused themes and plugins is significant.
The removal of unused plugins and themes has a variety of other benefits, including a reduction in complexity and confusion when others work on your site, a reduction in backup size, as well as a slight performance improvement.
6. Update WordPress Core
A worldwide community of developers maintains WordPress. They regularly fix bugs, add new features, and hunt down security flaws. Once these changes are implemented, WordPress releases a new version.
You should update your WordPress sites regularly to ensure that it has the latest security patches, new features, and the best performance.
7. SSL Certificate monitoring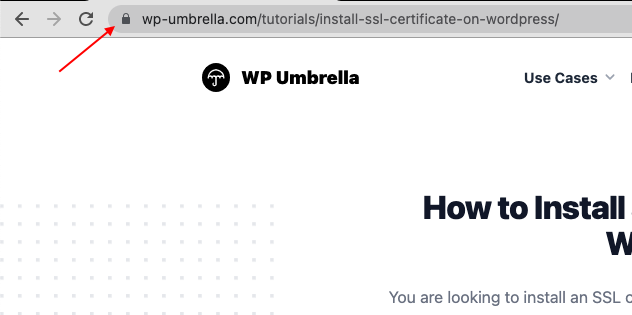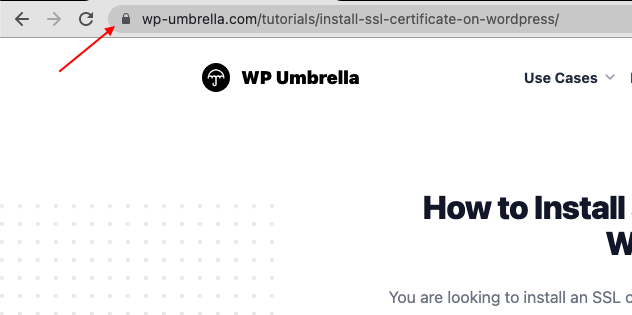 A valid SSL certificate has quickly become the standard method of securing websites.
Moreover, most web browsers will warn you if you attempt to visit a website whose address begins with HTTP rather than HTTPS.
If you manage multiple WordPress sites, you need to keeps an eye on your SSL certificate to make sure it is not expired and is operating normally.
8. Monitor WordPress Error Logs
Custom codes, plugins and theme can conflict between themselves and generate WordPress Errors. Most of these errors are not harmful, but some of them can break your website, lead to downtime or worse.
That's why a good WordPress management strategy should also include the monitoring of WordPress error logs.
If the error is related to a plugin or a theme that you did not develop, knowing where this error is coming from, will also speed up the support.
9. Harden WordPress Security
Hardening your WordPress websites security should be at the core of your multisite management strategy.
This includes, among other things, getting a powerful security plugin, checking users permissions, disable the File Editor in WordPress Tweaks, reviewing WordPress files permissions, activate and set up WordPress two-factor authentication, etc.
It's also important to make sure that you use a recent PHP version and have a SSL certificate on your WordPress sites.
10. Disable WordPress File Editor on all Your Sites
The issue with WordPress file editor is that it allows users to run PHP code on your site. Yet, every time a user is allowed to run their own code, there is a security risk.
In the event that a WordPress admin account is compromised, the WordPress file editor can become the gateway to a full-scale attack.
If you manage multiple WordPress sites, you can easily forget to disable the file editor on one of them.
Make sure you do by adding this piece of code in your wp-config.php file:
define( 'DISALLOW_FILE_EDIT', true );
11. Pay Attention to WordPress Constants
The core of WordPress comes with a special debugging system that simplifies the debugging process throughout plugins, themes, and the core itself.
Whenever WordPress debug mode is enabled, it will log any errors that occur on your site. The information here can be used to find out what's causing an error or to learn more about it.
If you are not debugging your website, make sure that WP_DEBUG and WP_DEBUG_LOG are turn on false.
12. Review WordPress Files and Users Permissions
In WordPress, there is a system for managing user roles that defines what users can and cannot do on your site.
Knowing these user roles and permissions are essential as your WordPress site grows or if you manage several WordPress sites.
I'd advise to check from time to time the number of administrators on the websites you are managing.
You could have some unpleasant surprises.
13. Improve Load-Times And Performance
Optimizing website performance and load times is the key component to technology-enhanced website creation and it has a direct impact on the success of modern online businesses.
Indeed, in many research papers and benchmarks, optimizing your site's speed has been shown to be the most lucrative and affordable investment available!
Without entering into much detail, you can significantly speed up your websites with two very simple actions:
Installing a cache plugin like WP Rocket, W3 Total or. Hyper Cache
Compressing and adapting your images for the web with a plugin like ShortPixel, Smush or Imagify.
Managing Multiple WordPress Sites From a Single Dashboard
Performing WordPress these maintenance operations on several websites requires a single-interface solution where you can access a comprehensive overview of what is going on your multiple websites.
This is the only way to manage multiple WordPress sites efficiently.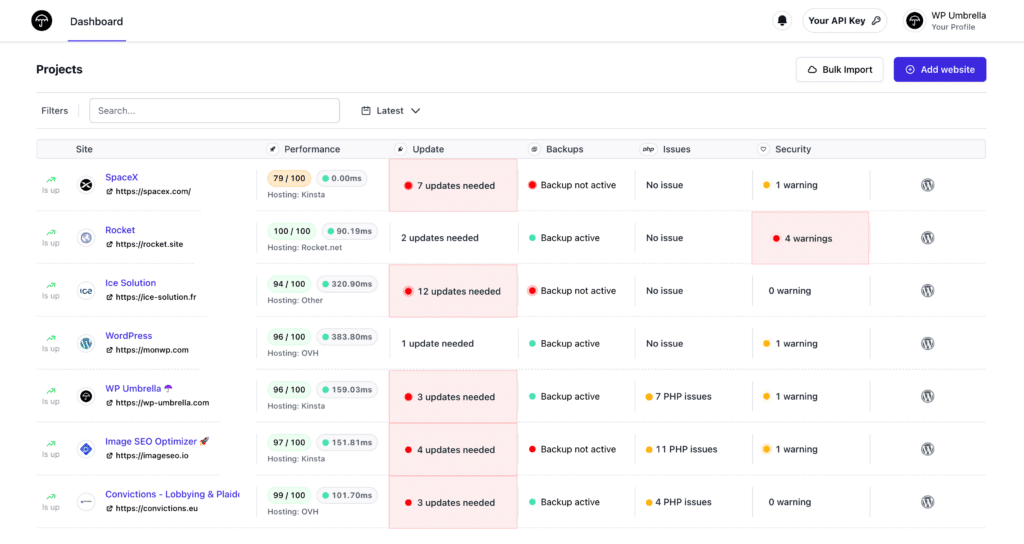 The best things with such solutions (like WP Umbrella) are that they also allow you to manage all your websites effortlessly.
So the question isn't "Should I use a tool to manage multiple sites?" but "Which is the best WordPress management tool?
Hopefully, there are many amazing WordPress management solutions and tools available on the internet.
The Best Tools to Manage Multiple WordPress Sites
Managing multiple WordPress websites can be challenging. Despite the ease and simplicity of managing WordPress as a CMS, managing multiple admin panels can become increasingly complicated and time-consuming.
With multiple sites, you must manually update plugins and themes, and keep track of core updates and many other critical things.
The WordPress community offers a number of services to help you deal with this particular challenge easily and spend less time managing the whole process.
Here are the 5 best solutions we have compared:
WP Umbrella
ManageWP
iThem Sync
MainWP
InfiniteWP
Let's take a closer look at each tool!
1. WP Umbrella – The Easiest Way To Manage Multiples WordPress Sites
WP Umbrella is a new comer in the world of multiple WordPress sites management tools.
The plugin was first released a a year ago and provides all the must-have features you need to manage several sites from a single dashboard: from uptime monitoring to one-click updates, automatic daily backup and maintenance reports.

This management software for WordPress has been designed in order to help WordPress agency owners and freelancers with their WordPress maintenance business.

WP Umbrella offers a clear pricing (only $1.49/site by month pay as you go) and amazing user experience. This plugin is light, easy to use, and offers some unique feature such as the PHP error monitoring.
This helps you to troubleshoot PHP errors and identify conflicting plugins to make your site more safe and improve its performance.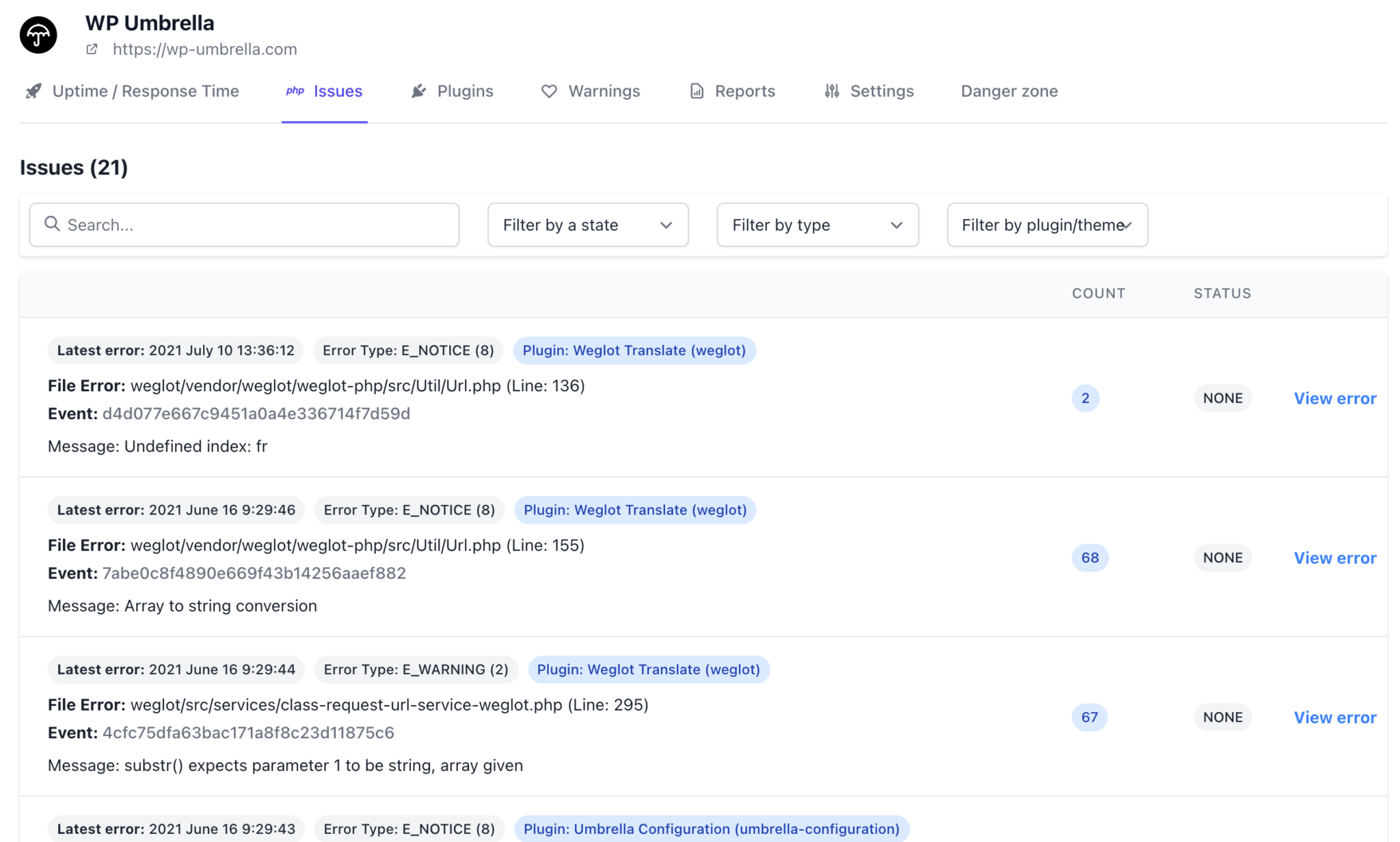 Finally, WP Umbrella is fully white-label and you can use it to edit beautiful maintenance report.
Core features
Single dashboard to manage all your websites
Automatic daily backup
Uptime monitoring (1-10 minutes)
Performance monitoring from all over the world
Plugin and theme management with safe update technology
Maintenance report

PHP errors monitoring

Security warnings
Reliable alerting system (Slack/email)
External API
Premium support
White labeling
Pro about WP Umbrella
Con about WP Umbrella
2. ManageWP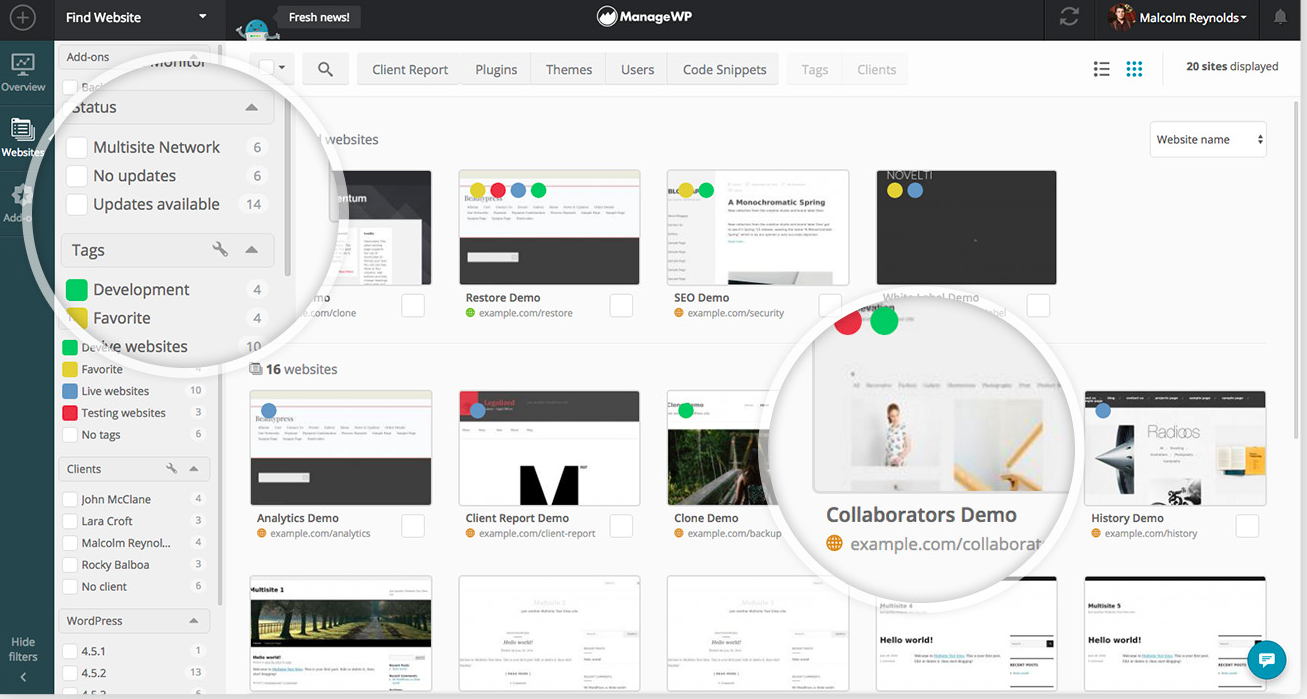 ManageWP is the most popular services out there for managing multiple websites. It was bought in 2016 by GoDaddy.
Its single dashboard allows webmasters to fully manage all their websites and makes updating, backing up, and carrying out security scans.
ManageWP's dashboard can be accessed from the ManageWP website, and all your websites can be linked through the Worker plugin.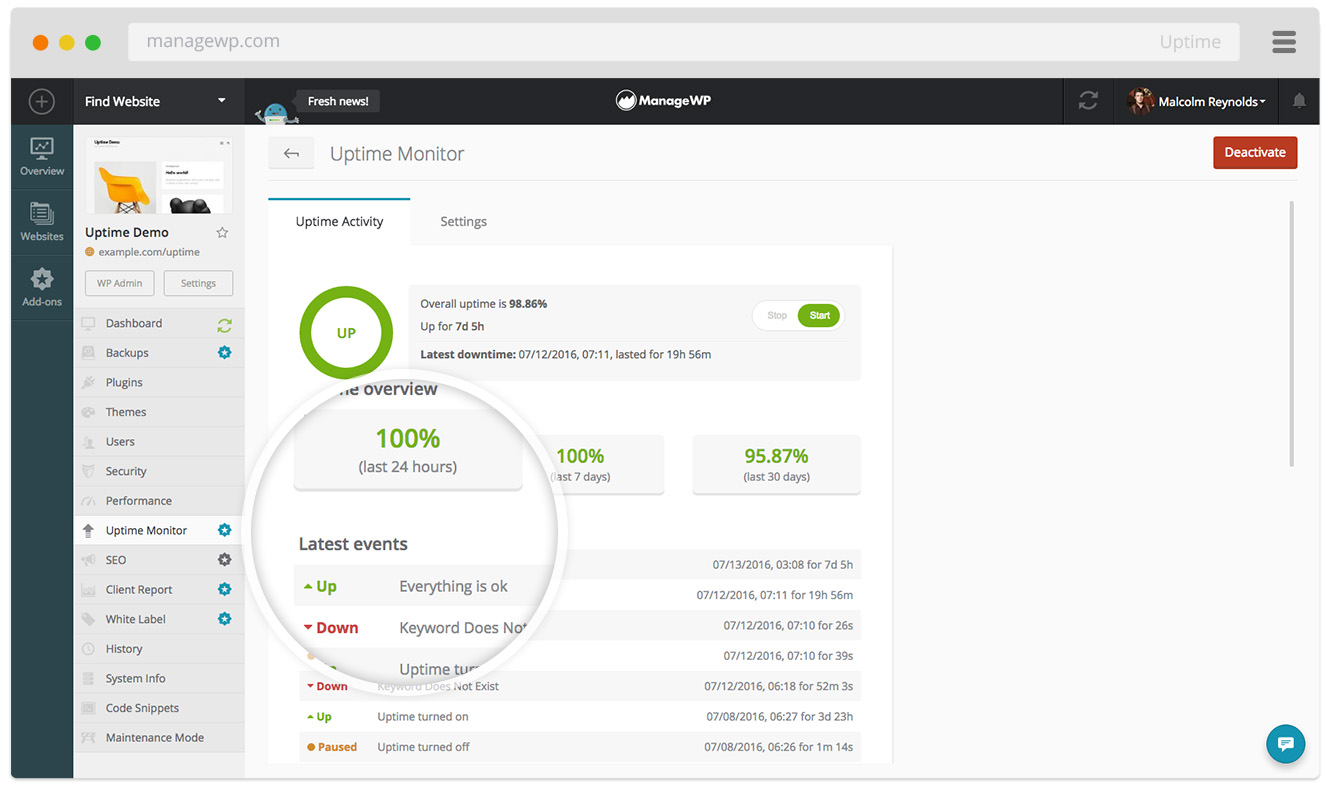 Some of ManageWP's core functionality is free for unlimited sites. They do, however, offer a number of monthly subscription features. For example, free automated backups and security scans are included but real-time back ups and automated security scans need to be purchased as an add-on.
This can quickly make ManageWP pricing unnecessarily complex.
Beside this issue with pricing, ManageWP is clearly overwhelming and if you are looking for peace of mind, it's probably not a good fit for you.
Core features
Manage updates, plugins & themes
Monthly backup
1-Click Login
Performance checks
Security checks
Collaborate with Team & Clients
Google Analytics integration
Manage Comments remotely
Client Report
Pro about Manage WP
Con about Manage WP
Unclear pricing.
Integration with GoDaddy
Complex to use and sometime heavy.
Lack of reactivity from support.
3. iThemes Security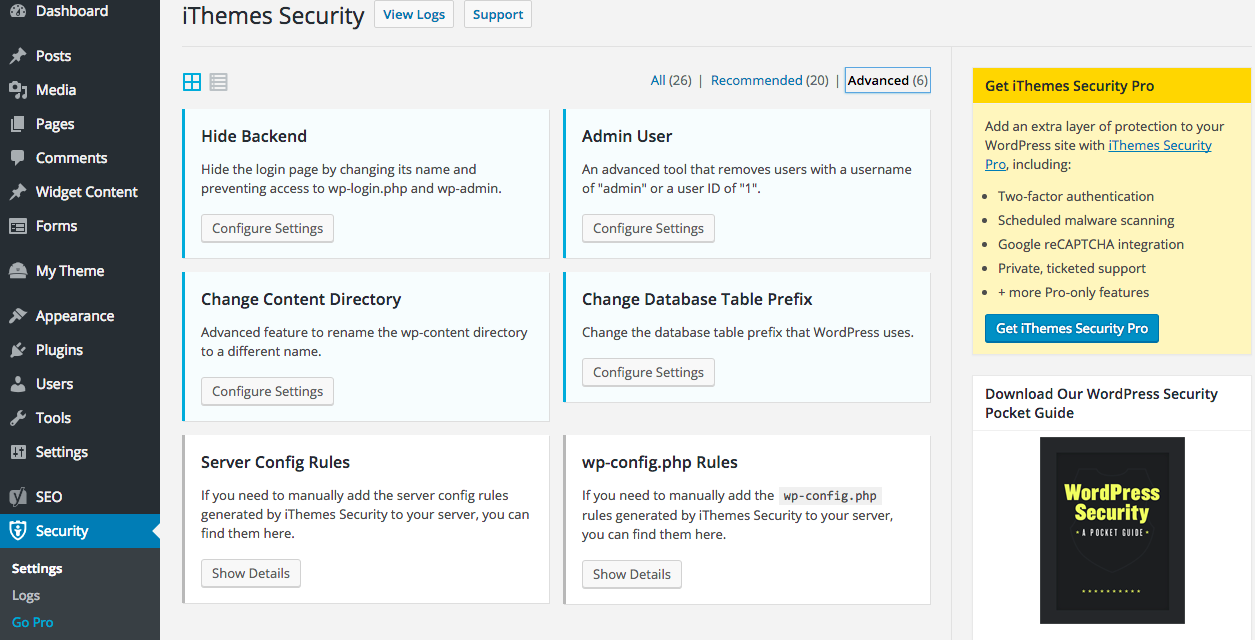 iThemes Sync is another WordPress manager. The plugin was formerly named Better WP Security. It has a very limited free version.
With the free version, you can manage WordPress updates from a single dashboard. Themes and plugins can also be installed from WordPress.org or manually, by uploading them.
The paid plans are where the real power lies. You'll get access to uptime monitoring, client reports, user management, security, integration and much more.
The site's management is simplified by an easy-to-use interface.
iTheme Sync Core features
One-click WordPress updates
WordPress Uptime Monitoring
Google Analytics integration
WordPress Theme and Plugin Manager
Remote WordPress backups
Customizable dashboard
Pro about iTheme Sync
Con about Manage WP
Complex to use and sometime heavy.
Almost no free version.
Very hard to cancel its subscription.
4. MainWP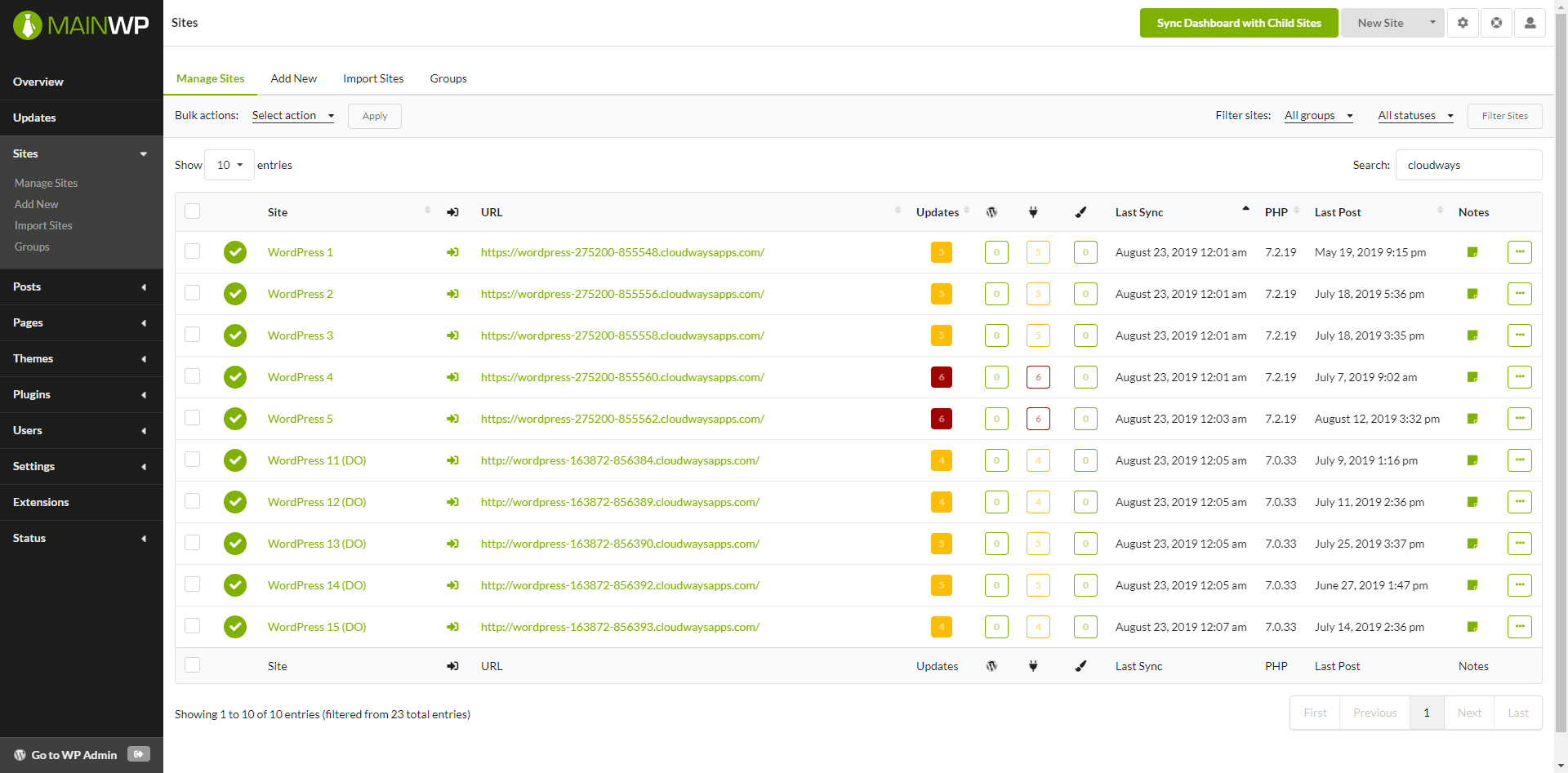 This tool allows you to manage multiple WordPress websites through an open-source interface. This is possible by setting up a central hub on a website. You can then manage your other websites, perform pending updates, monitor your uptime, create backups, and perform security scans from the central hub.
Additionally, MainWP allow you to configure .htaccess files, monitor SSL certificates, check error logs, manage users, tweak your site's .htaccess files, plus perform dozens of other tasks.
Unlike InfiniteWP and ManageWP, MainWP is a standalone solution. It is possible to download a free version but you won't be able to select just the extensions you need: the whole package must be purchased. Setting up MainWP took the longest of all the plugins in this list.
MainWP provides some flexibility, but requires a ton of time to set it up correctly.
MainWP core features
Uptime Monitoring
Plugins and theme easy update
Posts and themes management
Backups
Article Uploader
File Uploader
Google Analytics integration
Page Speed checker
Pro about MainWP
Users can customize MainWP because it is an open source project
Con about MainWP
5. InfiniteWP
Designed for agencies, developers, and freelancers, InfiniteWP provides site management functionalities.
You can manage several websites for free. However, this free version is only capable of updating WordPress themes, plugins, and core files. On-demand site backups are also available, but you'll need to purchase an add-on to store them remotely.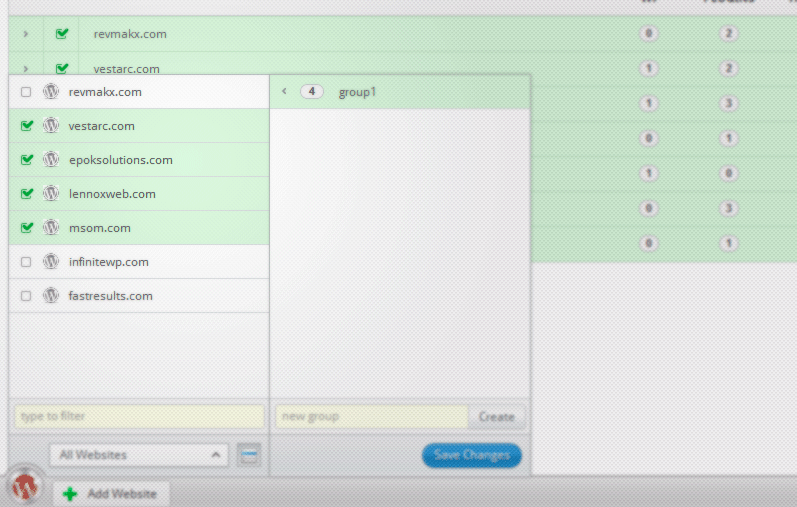 With InfiniteWP's premium plan, you get paid features like: uptime monitoring, client reports, managing comments, publishing posts and pages, two-factor authentication, broken link checker, etc.
You can also white label the plugin so your clients will see your logo instead of that of InfiniteWP.
InfiniteWP core features
Bulk update plugins & themes
Install new plugins & themes
On-demand backups
Edit site details
Maintenance mode
Activity logs
Website cloning
Google Analytics integration
Manage comments
Multiple sites publication
Two-Factor authentication
Pro about InfiniteWP
Not really much, you should consider a better alterntive.
Con about InfiniteWP
In the past, this plugin has had security issues and people keep complaining about it.
It is very expensive to purchase all of the premium add-ons.
Frequently Ask Questions About Multiple WordPress Sites Management
In this section, i've gathered questions related to WordPress multiple sites management that my help you.
Which is the best way to update WordPress plugins?
The best way to update WordPress plugins is to use WP Umbrella safe update technology. When you trigger an update, WP Umbrella monitors the process (errors, glitches, success). If the update fails or trigger errors, it automatically rollbacks the plugin to its previous previous version. If everything is fine, the update is deployed.
Can I manage multiple WordPress sites without a plugin?
It's possible to manage multiple WordPress sites without any plugins. However, using a all-in-one solution will boost your productivity.
How to schedule regular backups?
You can schedule regular (daily, weekly, monthly) backups on your WordPress sites with WU Umbrella.
Do WordPress plugins always need to be updated?
No. You don't have to keep up to date all your plugins and themes. However, it's often safer to use the last version available.
What is the best tool to manage multiple WordPress sites?
The best tool to manage multiple WordPress sites is WP Umbrella. It has all the features you need to manage dozens of websites effortlessly with a clear pricing: $1.49/month by websites all features included.
Why do WordPress sites need backups?
You can prevent a lot of headaches by backing up your WordPress site. You can roll back the saved version if, for example, you encounter an error that breaks your site. Automatic backups can save you hours of troubleshooting.
What happens if I don't maintain WordPress sites?
When you fail to perform recurring maintenance on your website, your website will slow down, stop converting leads or sales, become infected with malware, or even stop working completely.
Why Should I send maintenance report to my clients?
Yes. Full stop.
What plugins do I need to manage multiple WordPress sites?
It's possible to manage hundreds of websites with less than 5 plugins. You only need a WordPress management tool like WP Umbrella, a cache plugins like WP Rocket and something to compress your images like Smush.
How to manage all my WordPress sites from a single location?
To manage all your WordPress sites from a single location, you need a third-party solution like WP Umbrella.
How to bulk update my plugins across multiple websites?
You can bulk update all your plugins and themes across multiple websites with a WordPress management solution like WP Umbrella.
Can I host multiple WordPress sites on shared hosting?
It is possible to host multiple WordPress sites on a shared hosting account. There are, however, few companies that offer shared hosting plans with multiple websites. Before choosing any web hosting service, check first and keep in mind that it's probably not ideal for performance to host multiple websites on a shared hosting.
Are there any interference for managing multiple WordPress sites?
No. The correct set of tools and plugins can make managing multiple WordPress sites a breeze.
Managing Multiples WordPress Sites: Final Thoughts & Ultimate Tips
Managing several WordPress sites might be time-consuming. Fortunately, several WordPress management tools can empower you to easily manage multiple WordPress sites from a single dashboard.
This will boost your productivity and give your peace of mind.
The plugins and applications mentioned in the article will help you to:
Be alerted in case of issues on all of your websites;
Manage all your sites without logging into each separately.
Harden your WordPress sites security
Keep your websites healthy and your customers happy!
Use one of these tools to make sure that all your sites are working properly and save time, regardless if you are a WordPress developer, or an agency.
If you like this guide, you might also be interested by our article about the Best Dev Tools for WordPress (And Must-Have Dev Tools)!