BSA Web Uses WP Umbrella to Manage 100+ Websites
Welcome to an inside look at BSA Web, the dynamic web agency from Saint-Ouen l'Aumône, France, that's been making waves since 2019. Founded by Brandon Asmussen, a visionary in the digital space, BSA Web is more than just a team of six; it's a hub of innovation and passion for WordPress. In this article, we'll take you through the story of BSA Web: from their humble beginnings to their impressive portfolio of over a hundred managed websites, and their strategic use of WP Umbrella, a tool that's reshaping the way they work. Join us as we uncover the secrets behind their success and what makes them a standout in the world of web development.
Company Snapshot
Name: BSA Web
Established: 2019
Location: Saint-Ouen l'Aumône, France
Team Size: 6 employees (with plans to expand)
Websites Created: Over a hundred
Websites Managed: Over a hundred
BSA Web journey began with a vision to create an agency that's not just another corporate entity but one that's approachable, adaptable, transparent, and above all, efficient. They are driven by their passion for WordPress, aiming to assemble a team that shares this enthusiasm. Their mission? To deliver top-notch, tailor-made services to their clients, utilizing the latest and greatest in WordPress, with a special focus on the Gutenberg editor.
What's your role in the company?
As the founder, I wear multiple hats. My responsibilities range from steering the team and managing our day-to-day operations to client consultation, staying ahead of tech trends, and providing specialized WordPress consulting and auditing services.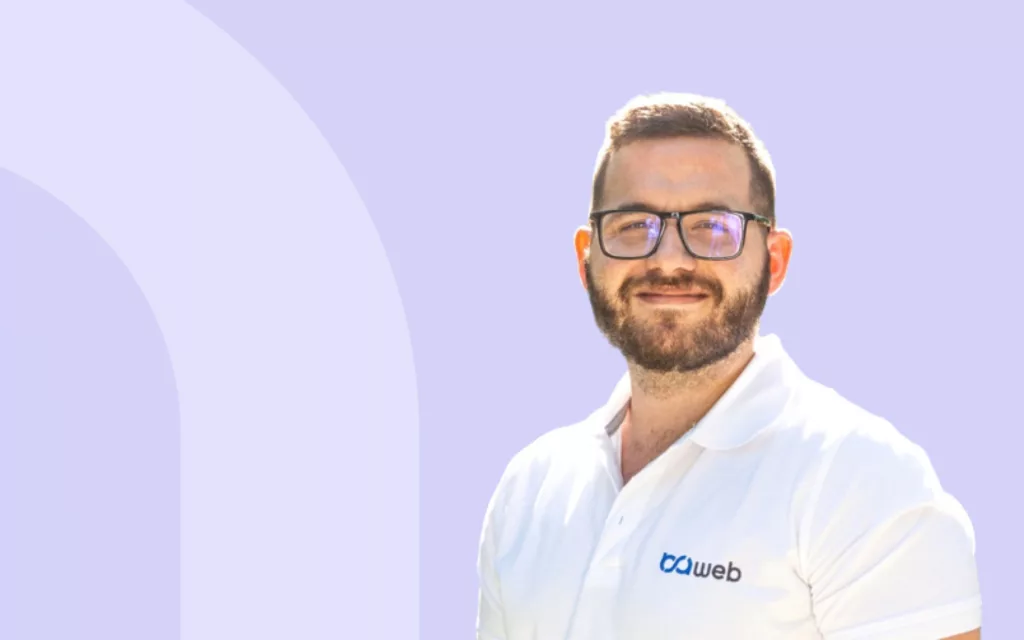 We're leveraging every feature WP Umbrella offers. Its update deployment system is straightforward yet powerful, its automatic backups are a lifesaver, and the maintenance reports keep our clients in the loop

Brandon Asmussen, CEO @ BSA Web
Why did you start using WP Umbrella? What support challenges were you trying to overcome?
We were on the hunt for a comprehensive tool to streamline the maintenance of our client's websites – a portfolio of about a hundred sites. Despite trying various tools, none hit the mark until we discovered WP Umbrella. This tool effortlessly handles diverse technical setups, a godsend for managing some of our more secure or rigidly hosted sites. It's been a game-changer, especially in areas where ManageWP fell short, like WordPress core updates, extensions, and backups. Now, we have one reliable that tool does it all.
What are the benefits of having WP Umbrella as your WordPress management tool?
WP Umbrella meets our functionality expectations, allowing us to consolidate the management of all our sites into a single tool and thereby improve our maintenance processes and information sharing within the team. We particularly appreciate WP Umbrella for the possibility of performing mass actions on different client sites as well as the backup options and the automated reports.
Why did you leave ManageWP for WP Umbrella? Has WP Umbrella allowed you to leave other tools (like backup plugin, monitoring solutions, etc)?
We encountered difficulties in setting up ManageWP for some very secure client sites and/or those with specific technical configurations. WP Umbrella has always been able to overcome these complexities and to implement easily on all our client sites.
WP Umbrella's seamless integration across all our client sites, coupled with its exceptional customer support, has given us the confidence to move forward without looking back.
Ready to boost your productivity, impress your clients and grow your WordPress agency?
Install WP Umbrella on your websites in a minute and discover a new way to manage multiple WordPress sites.
Get Started for free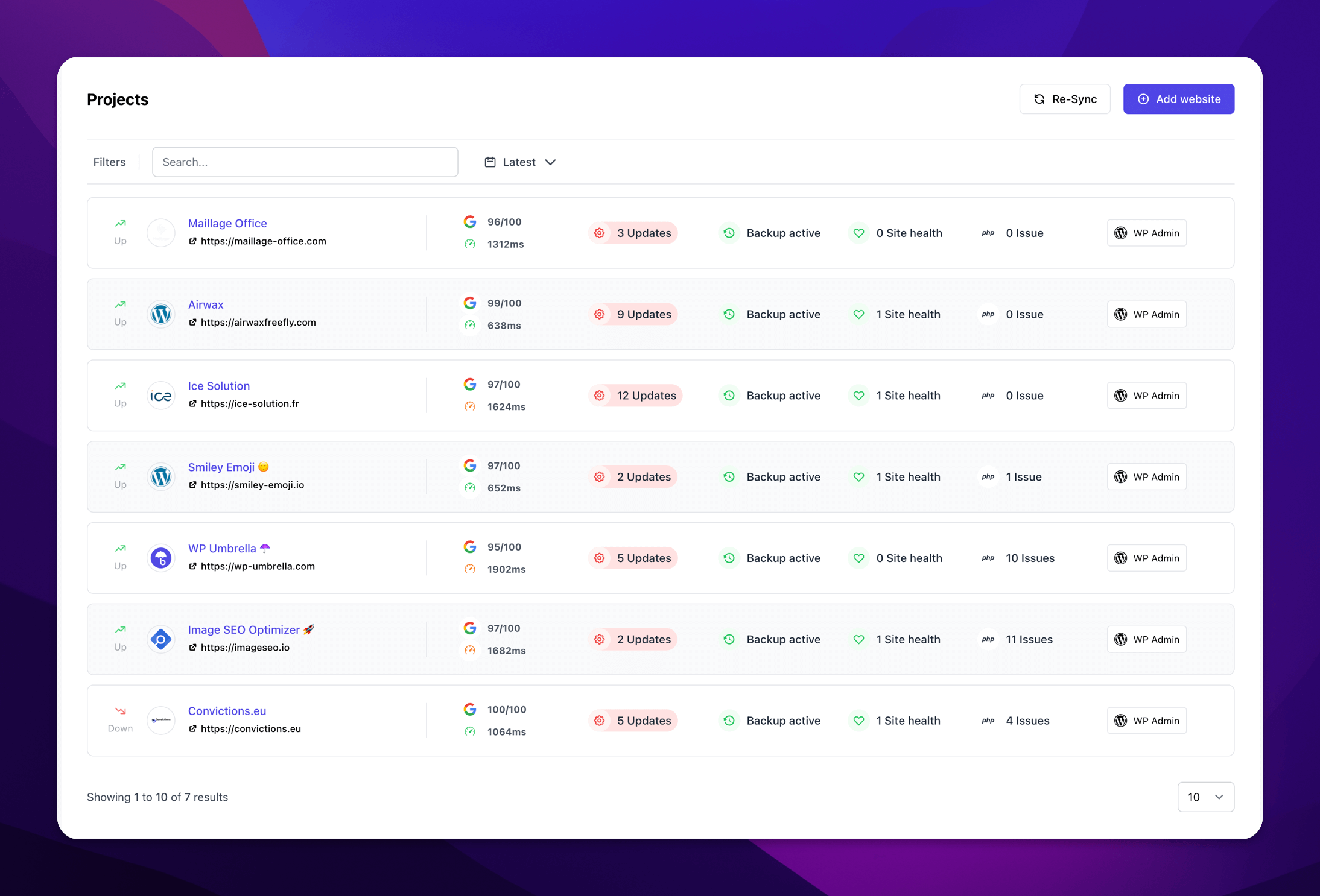 What features of WP Umbrella are you using? How does it help your agency?
We're leveraging every feature WP Umbrella offers. Its update deployment system is straightforward yet powerful, its automatic backups are a lifesaver, and the maintenance reports keep our clients in the loop. The speed and ease of data recovery and backups have been a major plus.
What results have you seen since you implemented WP Umbrella? Any hard metrics you can share about productivity or clients communication benefits?
While we haven't quantified the productivity gains, it's undeniable that WP Umbrella saves us a significant amount of time each week.
How does WP Umbrella fit into the rest of your WordPress stack? What tools or plugins do you also use?
Our sites are built on Gutenberg and WooCommerce for e-commerce. Our go-to plugins include ACF, WP Rocket, Imagify, SecuPress, Block Visibility, and now WP Umbrella, along with Slack integrations. These tools form the backbone of our technical infrastructure. We also occasionally develop custom plugins to meet unique client needs.
We like the fact than we can clear the cache of WP Rocket across multiple websites directly from WP Umbrella!
What do you think is the biggest benefit of WP Umbrella?
For an agency like ours, and particularly in my role as CEO, the biggest win with WP Umbrella is peace of mind. Knowing our clients' sites are under constant watch and that we can react swiftly in emergencies is invaluable.
Are there any opportunities you're excited to unlock with WP Umbrella in the future?
We're excited to enhance the automatic reports we send to our clients, aiming for more customization. We're looking forward to exploring more of what WP Umbrella has to offer in this regard.
What advice would you give to others considering using WP Umbrella?
Give WP Umbrella a try by running it alongside your current maintenance tools. You're likely to be impressed. And remember, if you're ever in a bind or have questions, Aurelio and his team are there to assist and guide you through a full migration once you're ready to commit. 🙂