From $7k to $15k MRR in Six Months: WP Umbrella's Mid-Year Review
The WP Umbrella Team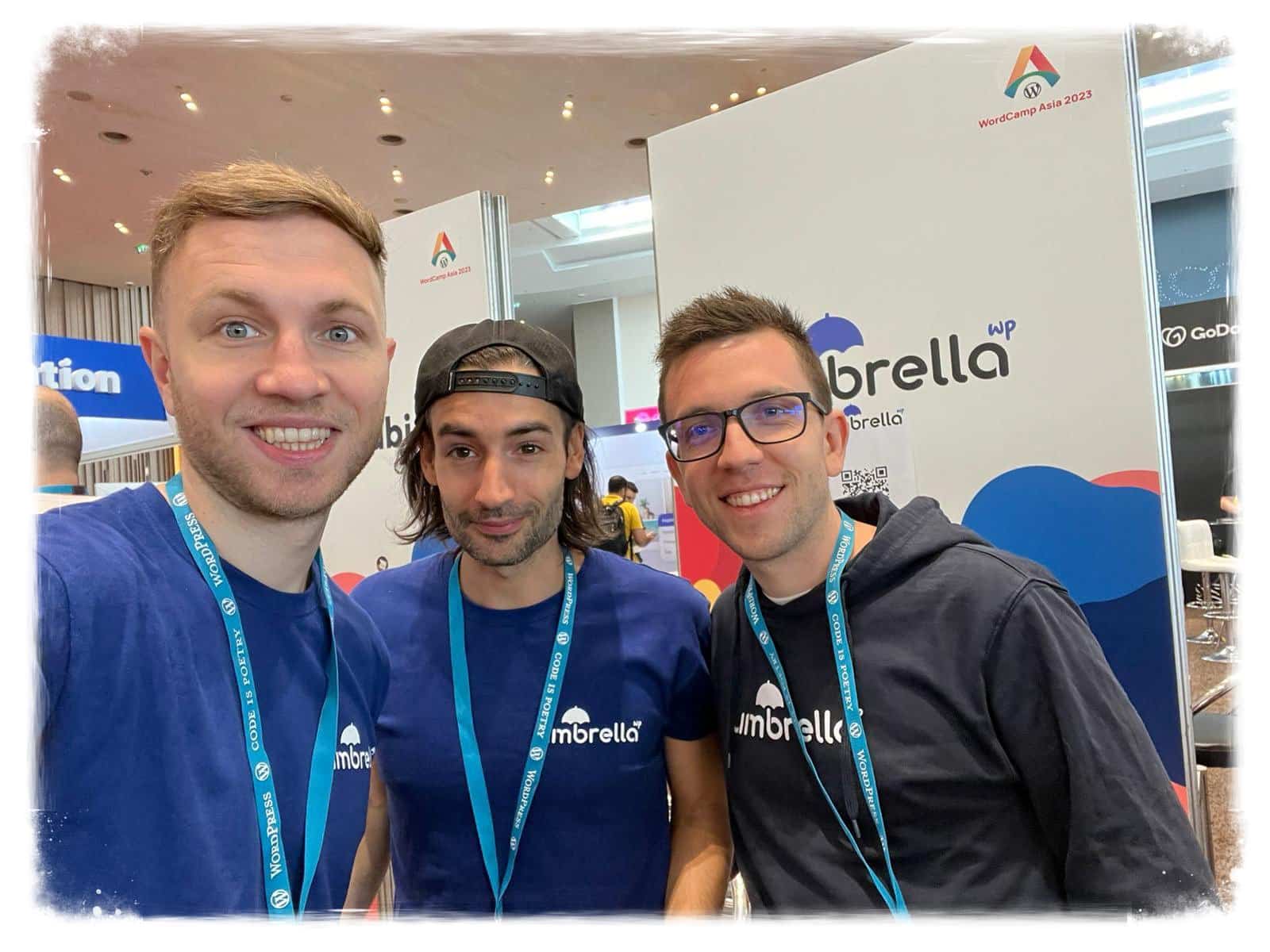 The journey of entrepreneurship is often a winding road, filled with incredible highs and lows. For us at WP Umbrella, it has been nothing short of an amazing ride so far.
Just six months ago, we celebrated an increase in our Monthly Recurring Revenue (MRR) from $649 to $7000, brimming with optimism and enthusiasm for the trajectory ahead.
Fast forward to today, and we're thrilled to share with you another significant milestone – our MRR has doubled to a staggering $15,000, positioning us to achieve an Annual Recurring Revenue (ARR) of $300K by the year's end.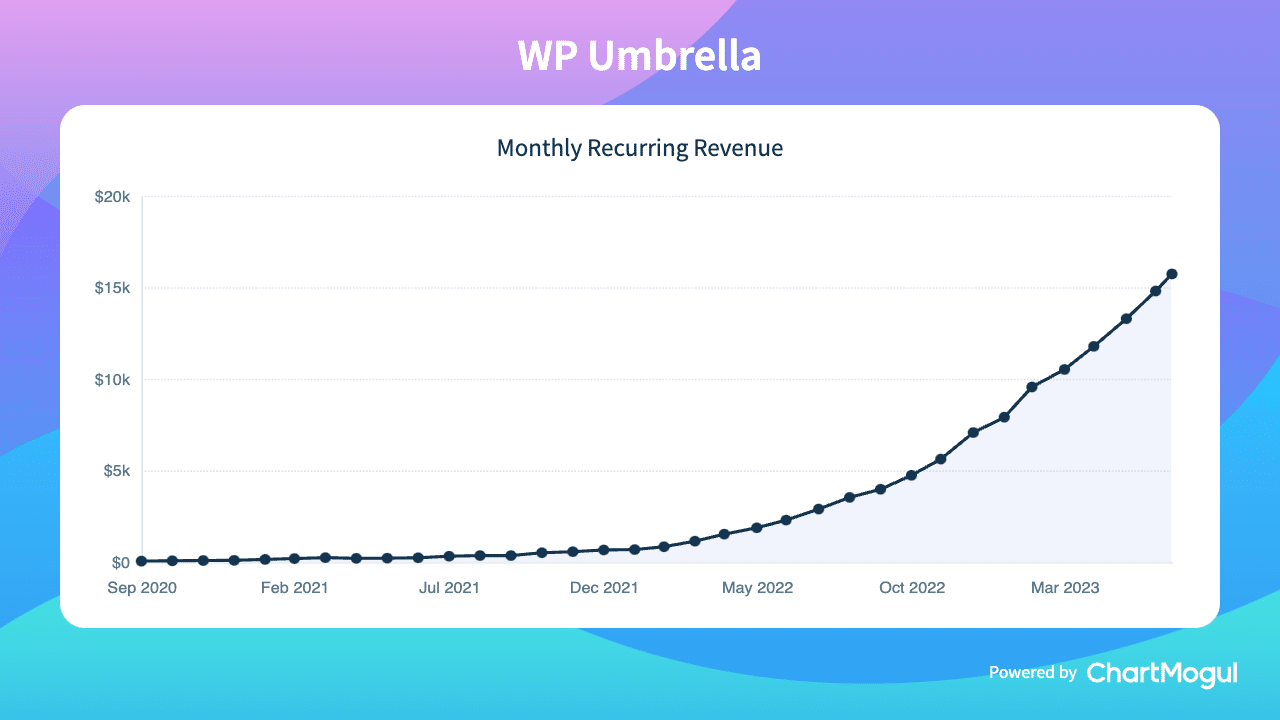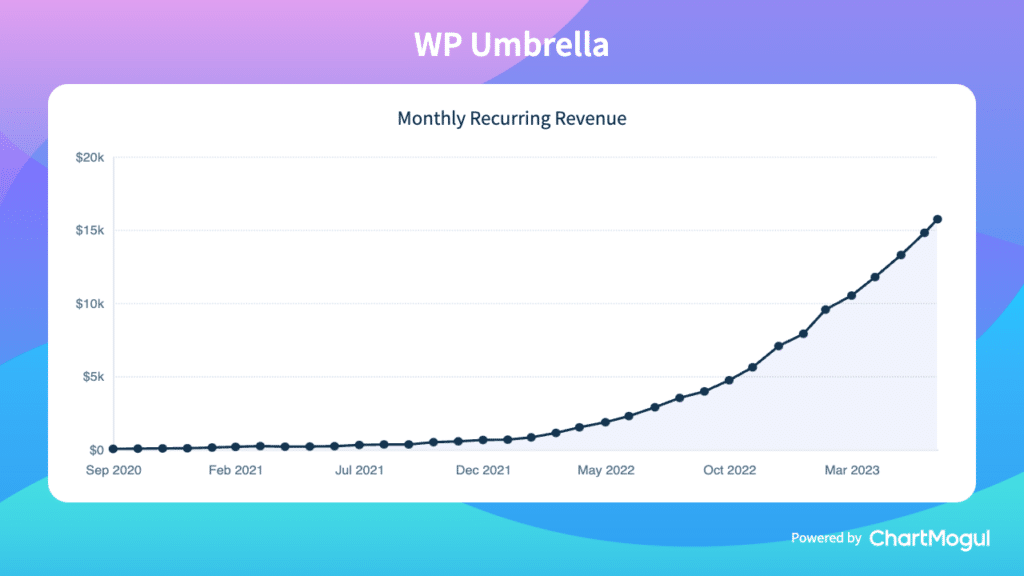 As we navigated our journey, we faced numerous challenges that helped shape our strategies and imparted priceless lessons in the past six months.
Let's delve into some of the obstacles we've overcome, the solutions we've put in place, and the values that have become an integral part of our company's ethos.
The Importance of Product Stability
Among the lessons we've learned in our journey, the importance of product stability stands out. As the CEO of WP Umbrella, I don't claim to have a crystal ball predicting the future of WordPress or the industry. Nor do I aspire to upend the established norms of how agencies operate with their clients.
However, I have two unwavering convictions when it comes to product development and the future of WP Umbrella:
Existing users' satisfaction is more valuable than attracting new users.
Reliability will always outlast innovation.
That's why we have solidified all our existing features and spent nights ensuring that we possess one of the most reliable backup features on the market. We have also invested considerable effort into refining our update processes. Both aspects now function flawlessly, regardless of the environment, which is consistently the most challenging issue to address with WordPress websites.
It's "easy" to create an all-in-one solution that works locally. However, it's more challenging to build something that can scale across thousands of websites with hundreds of plugins on shared hosting plans.
We've made incredible progress in this area and now offer one of the most reliable solutions on the market. We were aided in this journey by several hosting providers, such as Cloudways, O2Switch, and Kinsta, as well as security experts like Julio Pottier (CEO of SecuPress) and Calkin Alkan (CEO of Snicco).
Of course, we never ceased to innovate; it's what we love doing most. However, we've become consumed with improving reliability and combating churn, which we've successfully reduced to under 4%.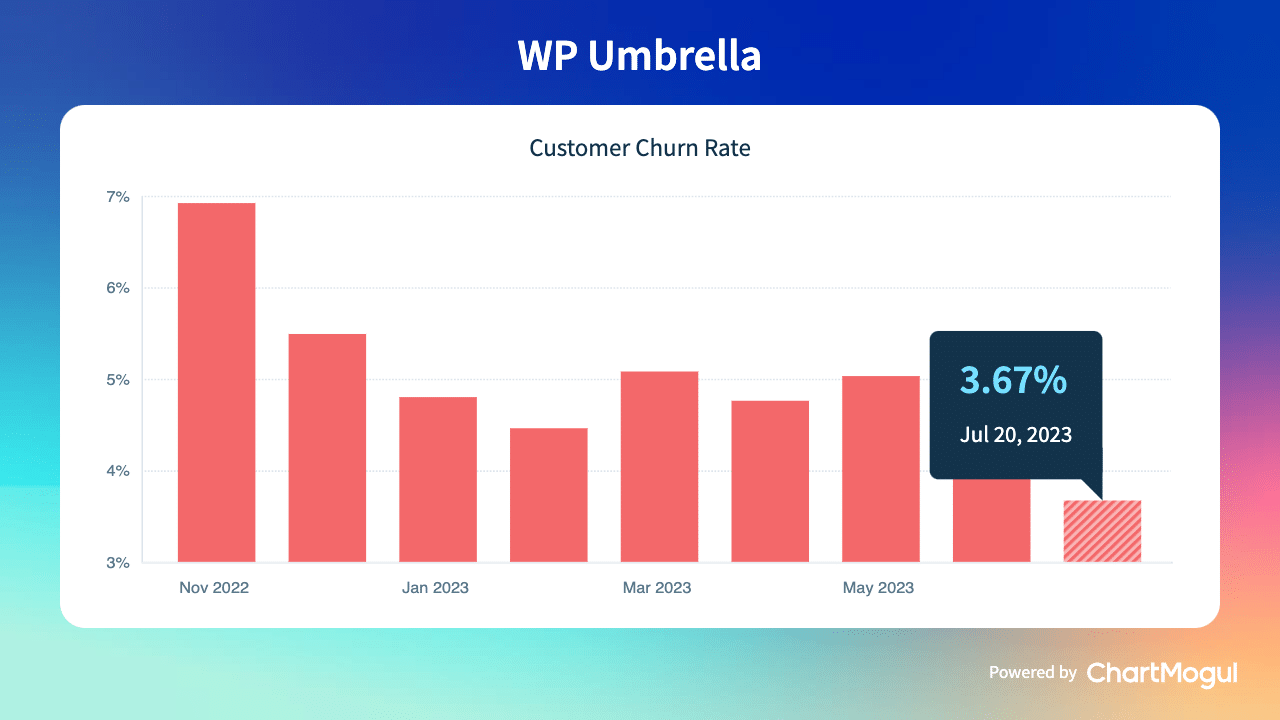 But stabilization extends beyond merely the success rate of our backup or restoration processes. It's also about the loading times of our application, which we've managed to reduce by approximately 600% with the implementation of MeiliSearch.
In an effort to reduce our carbon footprint and uphold our corporate social responsibility (CSR) commitments, we also migrated our database from Heroku to Scaleway, a service recognized for its eco-friendly data centers. This was a major decision with no direct benefits for our users, but it was very important to me.
Ready to boost your productivity, impress your clients and grow your WordPress agency?
Install WP Umbrella on your websites in a minute and discover a new way to manage multiple WordPress sites.
Get Started for free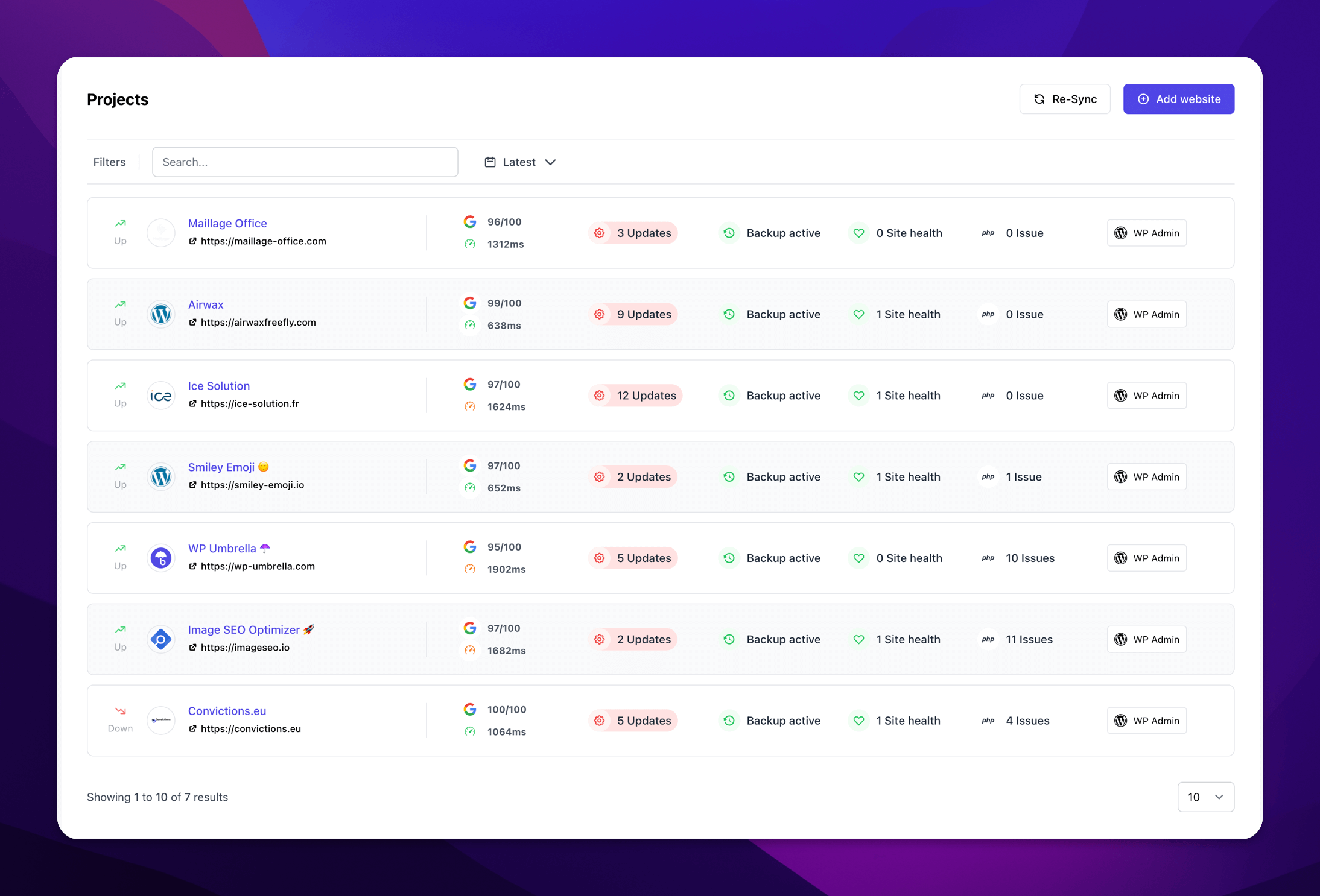 Adding More Value to WP Umbrella For People Managing Hundreds of Websites
Our key focus on stabilization didn't prevent us from implementing many exciting features in our application, all dedicated to assisting agencies in managing hundreds or even thousands of websites with WP Umbrella.
In the last six months, we've released:
A template system for the maintenance report feature, so you can automate everything and easily demonstrate the value of your work to your existing clients.
The client management feature, allowing you to use variables in the report and make them appear tailor-made for your clients.
The tags and filters feature, designed to help those managing hundreds of websites better prioritize their actions and save significant time.
We have also revamped many interfaces.
Our user base has grown from 3 users with more than 100 websites to 19, and this is just the beginning. Our largest user now manages 286 websites, and I'm really curious to see what this figure will be in six months.
By then, we will have implemented our new security monitoring features and deployed our one-click migration system from our competitors.
By the way, we've just reached 900 paying users…! 🥳🥳🥳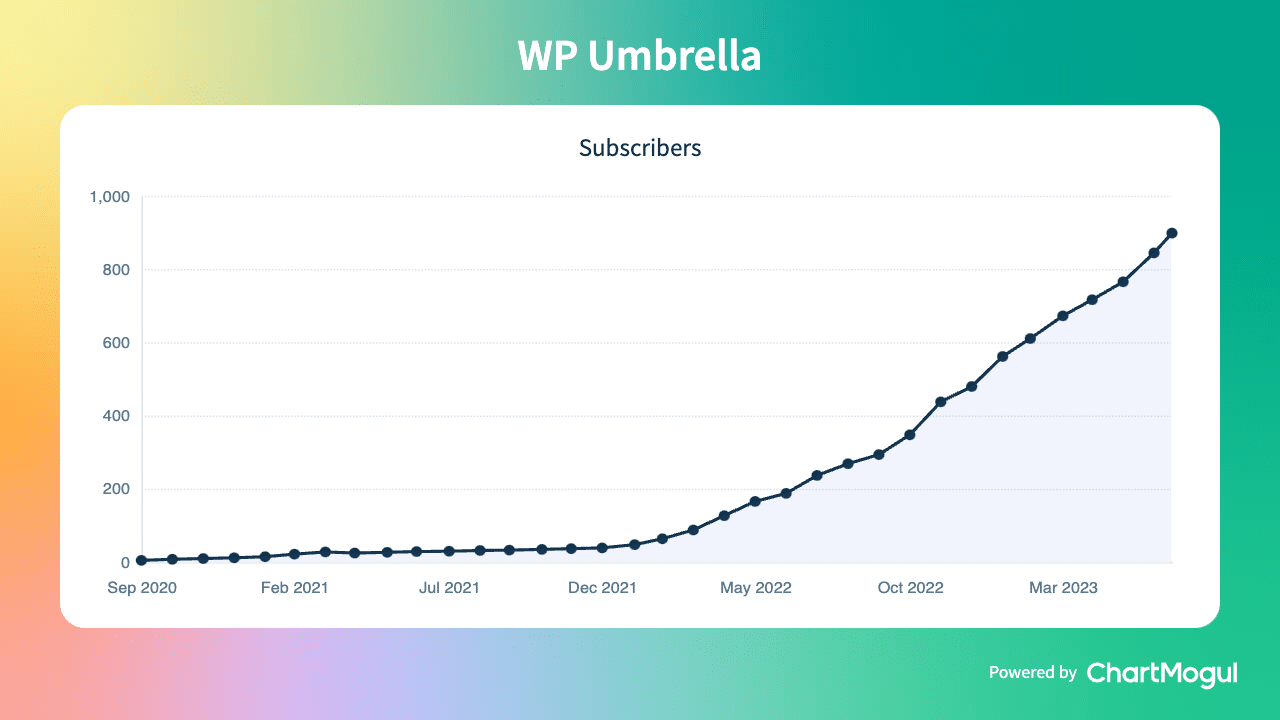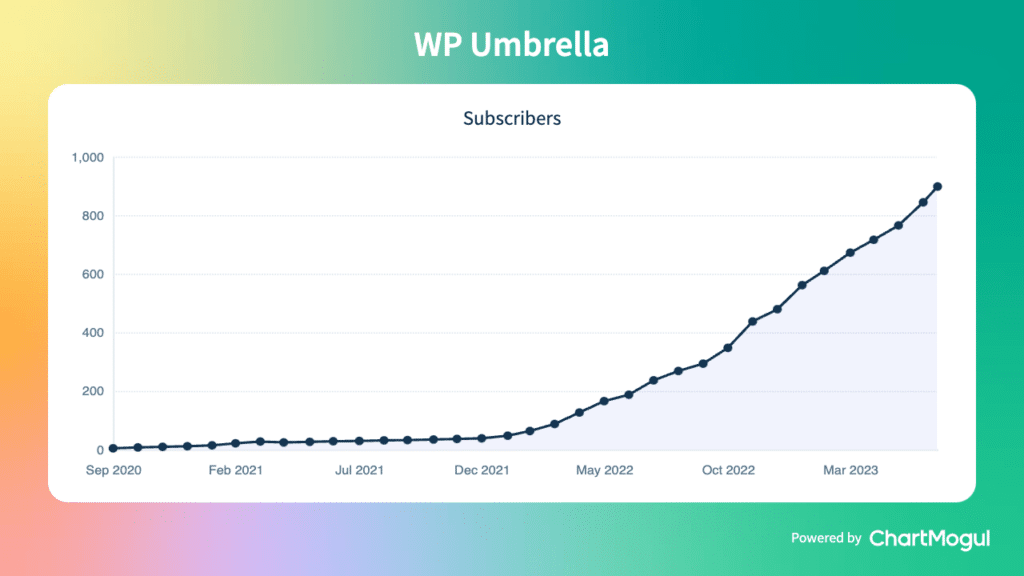 Building a Stronger Team
Growth in revenue and product development isn't the only area where we've seen significant progress. Our team has also expanded, and hiring the right individuals, has been the most challenging task I've ever undertaken.
Our first employee was let go after 28 days, despite being an outstanding person that I would recommend to anyone at any time. So what happened?
We didn't adequately define what we were looking for. We were in search of an opportunity: a junior team member with high potential. This, we realized, was an error.
The backend of WP Umbrella is remarkably complex to grasp and is surprisingly low level. Our challenge lies in creating code that can scale across thousands of websites – a facet of development that a junior developer can't be familiar with.
The bottom line is that you need to know exactly what you're searching for. We have made significant strides in this area. We've also beginning to establish a company culture based on honesty, fairness and transparency, where individuals are challenged but also rewarded.
Fortunately, we didn't only make mistakes. We've hired a talented front-end developer who has been instrumental in driving our recent feature releases.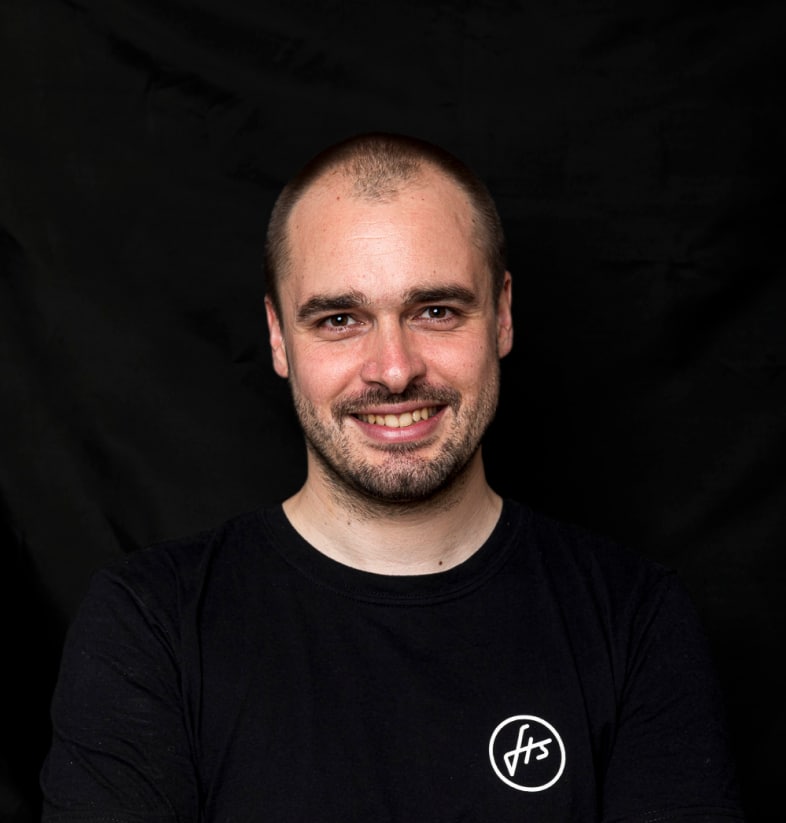 We are now actively seeking to fill the roles of a Customer Support Specialist and a Senior Backend Developer with expertise in NodeJS. Our team is projected to expand to five or six individuals by the close of the year.
This is so exciting, and I believe that WP Umbrella is a very nice place to work at right now.
Sponsoring WordCamps
Part of our mission at WP Umbrella is to actively engage with the global WordPress community. It is in this spirit that we proudly sponsored WordCamp Paris and WordCamp Asia earlier this year. It was a privilege to support these events, meet passionate WordPress users, and contribute from our small place, to the dialogues about the future of WordPress.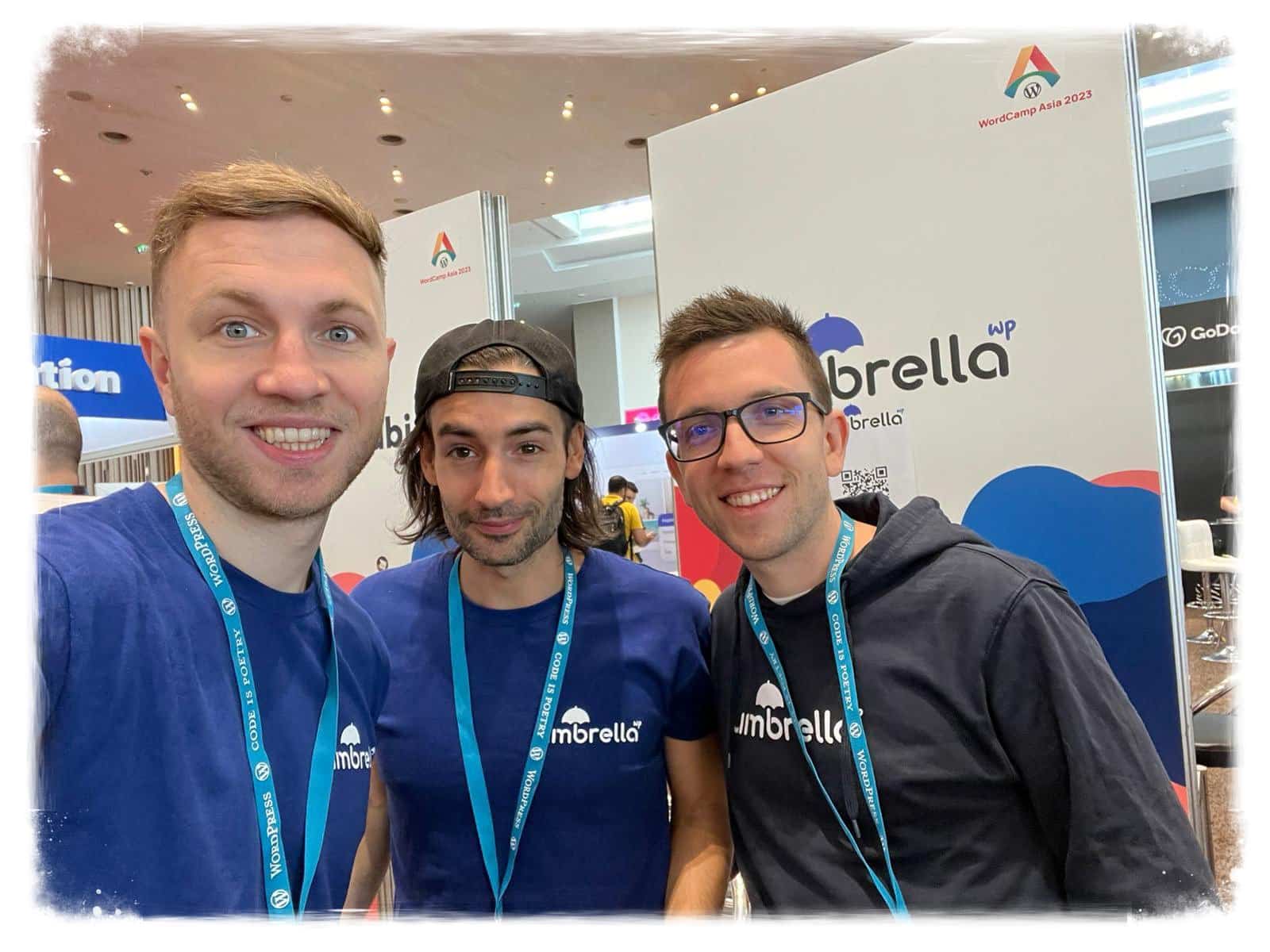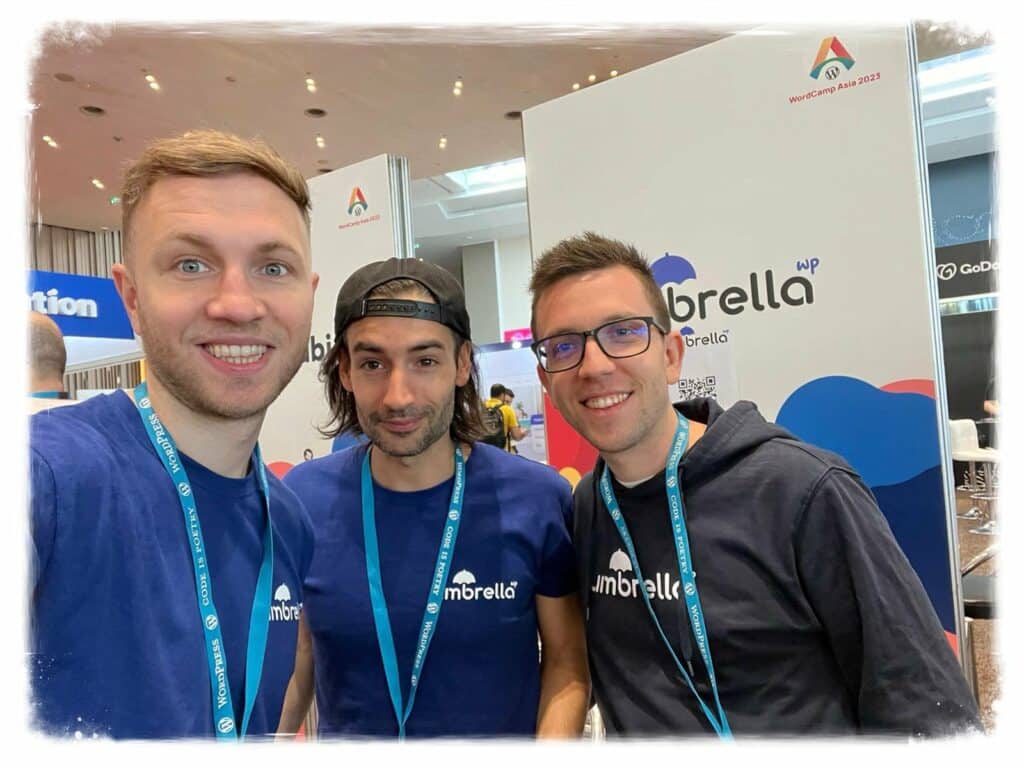 In addition, we were thrilled to participate in WordCamp Europe in Athens, where we had the chance to engage with and learn from other contributors, developers, and enthusiasts. The insights gained and connections made at this event continue to shape our outlook and strategy at WP Umbrella. This is also where we laid the foundation for our strategic partnership with Patchstack, paving the way for the implementation of our soon-to-be-released vulnerability monitoring feature.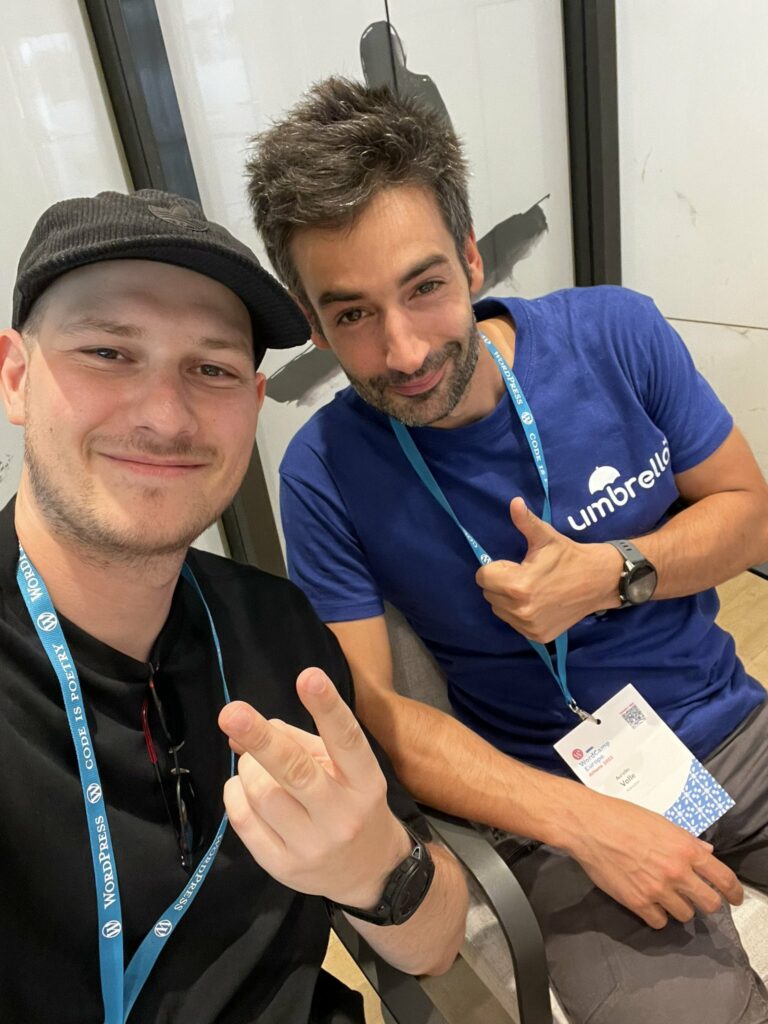 Looking forward, we are thrilled to announce that we will also be attending WordCamp Netherlands and WordCamp Biarritz later this year. We can't wait to immerse ourselves in these gatherings, learn from the shared experiences, and further contribute to the global WordPress community.
Looking Ahead
The journey from a compact team of two to a more structured group of five or six members will undoubtedly present challenges. Yet, we view this as a necessary step in our growth strategy, and are eager to meet it head-on.
As we look forward, I am genuinely excited about what lies ahead. With our rapidly expanding user base and soon-to-be larger team, we are positioned to make significant strides. The remaining months of 2023 promise an array of product enhancements, increased community interaction, and a hopeful surge in both our user base and revenue.
Speaking of product enhancement, the two next items in our public roadmap are:
Bulk adding plugins on all your websites from WP Umbrella's dashboard.
Security vulnerability monitoring.
We are building the best tool to manage multiple WordPress sites in the world. A tool that every agency working with WordPress needs, and we thank you for being a part of this remarkable adventure!