NitroPack Review: Is It the Best Plugin to Speed Up WordPress Websites?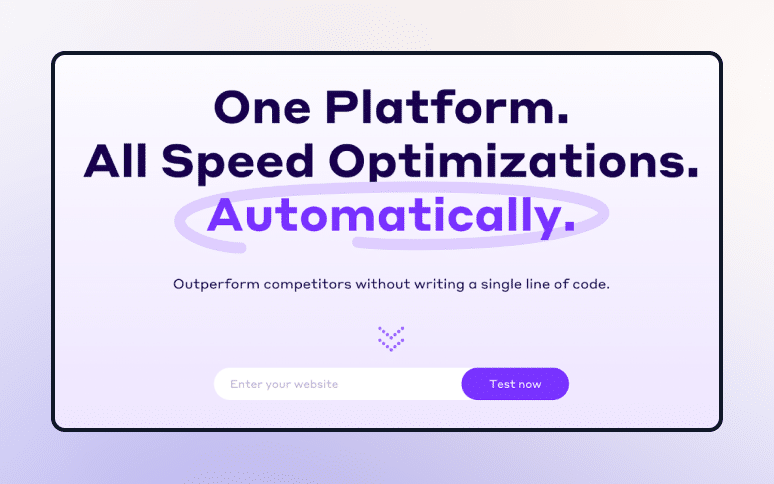 Are you considering a switch to NitroPack but aren't sure if it's the best performance optimization plugin for your WordPress site?
Right off the bat, we want to highlight that, unlike traditional caching plugins, NitroPack aims to enhance site speed and performance in a holistic way. That said, this comprehensive solution needs to be tested beyond simple caching capabilities to truly grasp its potential.
What makes it stand out from the crowd? How does NitroPack stack up against other optimization plugins like WP Rocket? And crucially, is it worth making the switch?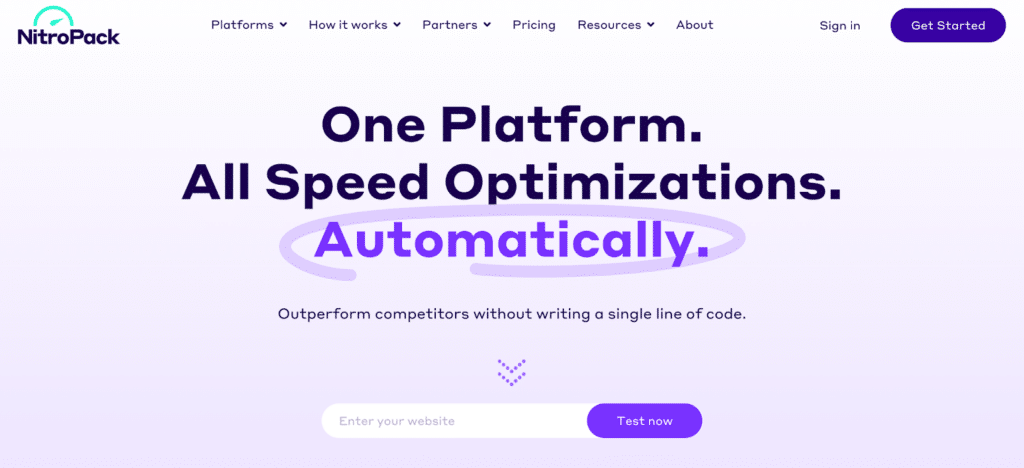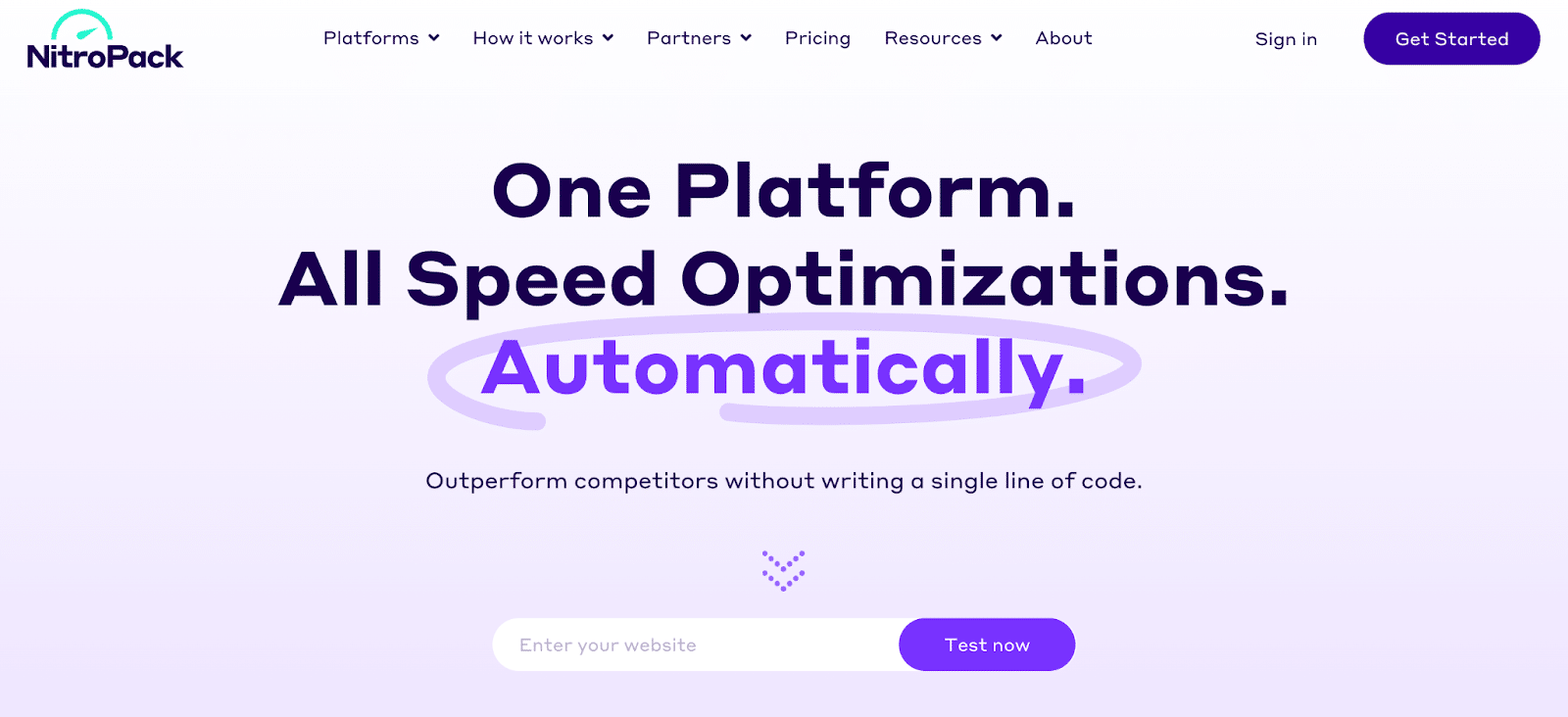 TL;DR
In my current estimation, NitroPack is one of the most effective performance optimization plugin for WordPress. NitroPack is a robust fully-automated service that can improve your site's load time and Core Web Vitals, optimize CSS, HTML, and JavaScript, manage lazy loading, provides built-in CDN, and much more. Given its plethora of features and customization options, NitroPack's premium version provides excellent value for money.
Prices
From free to various premium tiers based on website traffic starting at $21/month.
Support
Highly responsive; rated 4.9 on Trustpilot.
Ease of Use
– Easy setup for WordPress, WooCommerce, OpenCart, and Adobe Commerce (formerly Magento)
– Intuitive web app with usability improvements introduced monthly
Reliability
Never experienced a letdown.
Pros about Nitropack
User-friendly interface.
The most powerful optimization stack on the market (including CSS, HTML, and JavaScript Minification, Image Lazy Loading, built-in CDN, Advanced Caching, GZIP Compression, Font Subsetting, and much more).
Pricing tiers for different needs.
Whitelabel option.
Cons about Nitropack
Some users report issues with compatibility with other plugins.
Why do you need a Performance Optimization Plugin?
A high-performing website significantly contributes to a better user experience, higher SEO rankings, and improved conversion rates.
Performance optimization plugins like NitroPack help you improve the speed of your website, pass Core Web Vitals, and remain competitive in a rapidly-evolving web space.
While numerous performance optimization plugins are available, a select few consistently stand out. Don't be fooled by the packaging, though. NitroPack might be part of the WordPress plugin directory but after installation, it comes apparent it's a full-blown SaaS that operates entirely on the cloud.
Let's explore the distinctive features that made NitroPack an outstanding solution on the optimization market.
NitroPack Features
Core Web Vitals Optimization
NitroPack effectively addresses performance and speed. In the past, the plugin has been criticized for a one-sided approach to optimization, written off as a tool that improves speed but does little for real-world performance.
However, data speaks volumes and we went straight to the source to check where NitroPack stands in terms of passed Core Web Vitals.
The global Core Web Vitals Technology Report (CrUX) shows the clear leader of % of users passing Core Web Vitals – NitroPack with 40.74%.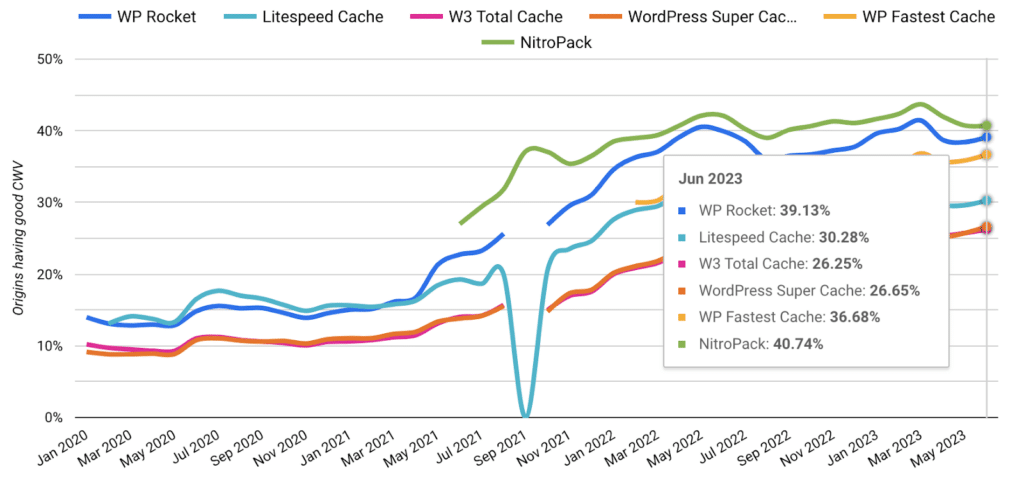 Along with an advanced resource loader, it uses 35+ powerful optimization features that work on autopilot to properly prepare your website for interactions with real users. NitroPack runs on an enterprise-level cloud infrastructure to take the load off your servers and provide a lightweight solution WordPress websites are dependent on.
HTML, CSS, and JavaScript Optimization
Excessive code can often slow down your website. NitroPack tackles this issue through minification, compression, deferring, and smart combining of code that effectively reduces the size of your HTML, CSS, and JavaScript files by removing unnecessary characters like line breaks, whitespace characters, and comments, without changing their functionality.
Image Optimization
What other plugins provide as a separate service, NitroPack offers out-of-the-box.

The plugin's image optimization stack is nothing short of impressive with Preemptive Image Sizing, WebP Support, Adaptive Image Sizing, Lazy Loading, Lossy and Lossless Compression, and more.

It's a powerful toolbox that ensures images above and below the fold are loaded with the correct priority, significantly improving page load times and the overall responsiveness of your web pages.
CDN & Caching
NitroPack offers a built-in Content Delivery Network (CDN) by Cloudflare with GZIP and Brotli compression to serve your content from servers close to your site's visitors, enhancing the delivery speed.
Moreover, its intelligent caching system ensures that your website's static content is served instantly, further boosting performance and your visitors' browsing experience.
Font Optimization
NitroPack's font optimization specifically targets web fonts, which can impact your website's load time due to their file size or if the browser needs to make an extra trip to a third-party server to fetch them.
Here are some key aspects of NitroPack's font optimization:
Font Preloading: NitroPack automatically identifies and preloads critical fonts. This way, the browser knows which font files are important for rendering the page and it can start fetching these files as soon as possible. Preloading helps minimize the Flash of Unstyled Text (FOUT) or Flash of Invisible Text (FOIT) effect.
Font Subsetting: An innovative feature available for the Scale subscription only, this technique reduces the size of the font files that your website needs to load. Essentially, font subsetting involves removing unnecessary characters from a font file, thus reducing its size and making it quicker to download and render.
ECommerce Cart Cache
ECommerce Cart Cache is a caching feature that enables fast browsing in a WooCommerce store with items in the cart. In other words, all online shoppers can add items to their cart without affecting the load times of a web page. As a result, all eCommerce owners can expect an increase in purchase value.
NitroPack Pricing: Is it Worth the Investment?
NitroPack differentiates between monthly and yearly subscriptions.
Their paid plans start from $21/month and go up to $176/month based on the number of resources your website might need. A free plan is available with limited resources for testing purposes.
Upon request, NitroPack assembles a highly-flexible custom plan to answer the different needs of agencies, publishing businesses, enterprises, and digital creators with multiple websites.
All NitroPack tiers are based on:
The number of monthly visitors your website receives
The monthly CDN resources your website needs
Plan-specific advanced features

Each tier brings additional benefits as your site grows.
Why NitroPack subscriptions cost more than what you'd expect?
The way I see it, NitroPack invests heavily in offering a full-fledged service that goes beyond the quality you would get with a one-time purchase. By becoming a NitroPack subscriber you get ongoing treatment that includes support, access to new features, the latest in Google's Core Web Vitals, and more.

Another upside is the elimination of manual updates after new releases and decreased costs due to outsourcing the heavy lifting to NitroPack's infrastructure.
NitroPack Support and Reviews
Before purchasing a premium plugin, checking out customer reviews is always advisable.
The record shows NitroPack dedicated significant resources to build a robust technical support team with trained performance optimization experts. Today, NitroPack offers 24/7 support to its users and it's not an exaggeration to say 9/10 people recommend the plugin for its fast, reliable support.

With 235 5-star reviews in WordPress and a 4.9 rating in Trustpilot, NitroPack is a clear favorite for users who appreciate a good solution when they see one.

Final Thoughts on NitroPack
NitroPack provides an all-in-one solution to WordPress performance optimization, with a version with limited resources available free of charge. This plugin is entirely white-labeled (no footprints) and works on copies of your files only.
It comes packed with a host of features such as HTML, CSS, and JavaScript minification, advanced caching, built-in CDN, complete image optimization, and font optimization. These features help improve site speed and Core Web Vitals, making your website more appealing to both users and search engines.

This plugin is compatible with a variety of other WordPress plugins and will not bloat your website. It's also extremely user-friendly, making it a great choice for beginners and WordPress experts alike.
All things considered, NitroPack has proven itself to be a formidable player in the WordPress performance optimization space. So, whether you're just starting out or a seasoned WordPress pro, NitroPack could be the perfect choice for your site's performance needs.