If you want to learn how to monitor your WordPress uptime, downtime, and performance, you are in the right place. This article has been updated in 2021 and will cover the most important aspect of uptime, downtime, and performance monitoring for WordPress.
You are also going to discover the best free uptime monitoring plugin for WordPress (aka WP Umbrella) and learn how to use it.
So if you are looking to mitigate the damage and loss caused by downtimes, you are in the right place. Let's get started!
What is Uptime Monitoring?

Uptime monitoring checks that your website stays permanently online and available. It provides an overview and history of the availability of your website and domain.
Uptime monitoring tools almost always include an alert system so you can instantly know whenever your website goes down.

Uptime monitoring services often include the possibility to monitor website performance, mainly loading time, from all over the world.
For your information, all the graphics provided in this guide are coming from image SEO, a WordPress website hosted by Kinsta.
How does uptime monitoring work?
Uptime monitoring is easy to understand. To check uptime, Monitoring services use external servers from all over the world to send requests to your site.
This request gets back with many information:
HTTPS status code (Server Error or Success)
Time to first byte (TTFB): Amount of time it takes to receive the first info from your Website. TTFB provides the latency of a round trip to the server in addition to the time spent waiting for the server to deliver the response.
Time to establish Transmission Control Protocol (TCP): For data to be shared between two servers, TCP must establish a connection between them and determines how to break down the data that needs to be sent over the network.
Time spent performing the Domain Name System (DNS) lookup. Every new domain on a page requires a full roundtrip to do the DNS lookup.
Time spent checking the Secure Sockets Layer (SSL) availability.

We use this information to provide you with uptime and performance charts.
How do monitors interact with WordPress?
It is exactly the same. Monitoring plugins provide you with data from a self-hosted server. This means that you will be alerted even if your WordPress goes down.
Why is it important to monitor WordPress?
Downtime hurts the professional image of your brand or blog and can ruin any web-related investments.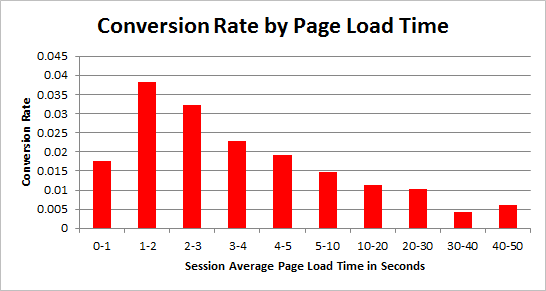 Here are some terrific figures and facts about the negative impact of downtimes:
The average cost of one minute of system downtime is about $5,600 (Gartner). This study was made in 2014, figures are even stronger in 2020.
47% of online customers expect a website to load in less than 2s, and 40% of them claim to leave after 3 seconds (WebsiteMagazine).
Losing just one customer because of downtime can set a SaaS company back by approximately $650 in an hour (Pagely).
97% uptime, that actually looks not so bad, equates to a yearly downtime of 11 days.
Downtime is also extremely bad for SEO.
"If a site takes so long to load that we can't even fetch it, then that will affect your rankings because your site is timing out"

Matt Cutts, former SEO guru working for Google
If your Website uptime is under 99,99% you should definitely look at my step-by-step for WordPress Hosting.
How does downtime happen on WordPress?
WordPress is an amazing CMS, but you might be surprised about how often downtimes happen. Indeed, WordPress websites can go down for so many reasons.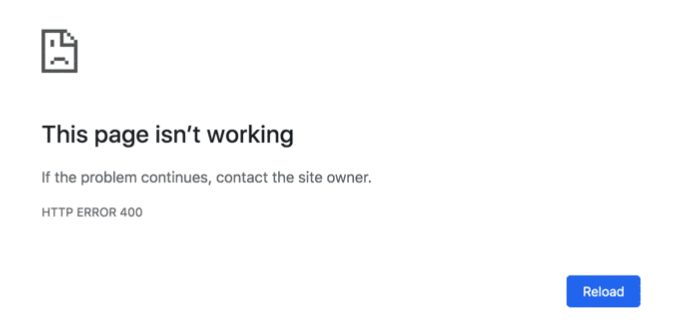 1. Unreliable Web Host
Cheap web hosting services often suffer an average downtime of up to 30% caused by traffic spikes or data center problems.
Because servers are shared with many other websites, they are more likely to crash or being very slow. Yet, if the connection between the server and the DNS is too long, your WordPress Website can crash.
If you can afford it, you should always choose a fully Managed WordPress Hosting.
2. Plugins and theme errors
It can also crash because you, or someone who has access to your admin dashboard, broke a line of code.
Error can happen every time you try to edit a theme, a PHP function, or a plugin. A bad piece of code can take down an entire website. If you want to know more about it, you can read my guide about WordPress HTTP errors.
This is why it's important to select a web host with a staging space and reactive support if you want to troubleshoot downtime quickly or prevent it to happen.
Keep in mind that just because a plugin is in the WordPress directory doesn't mean it's safe.
5. DDoS Attack and hackers
Attacks from hackers can also cause severe downtimes to your website. There are so many kinds of hacker attacks but the easiest is called a DDoS attack.
DDoS attacks overwhelms your serveur with traffic spikes generated by bots. A good web hoster should protect your website from DDoS attacks.
Best WordPress plugins for uptime monitoring
1. WP Umbrella – Your WordPress Monitor
One of the best plugin for uptime monitoring is WP Umbrella.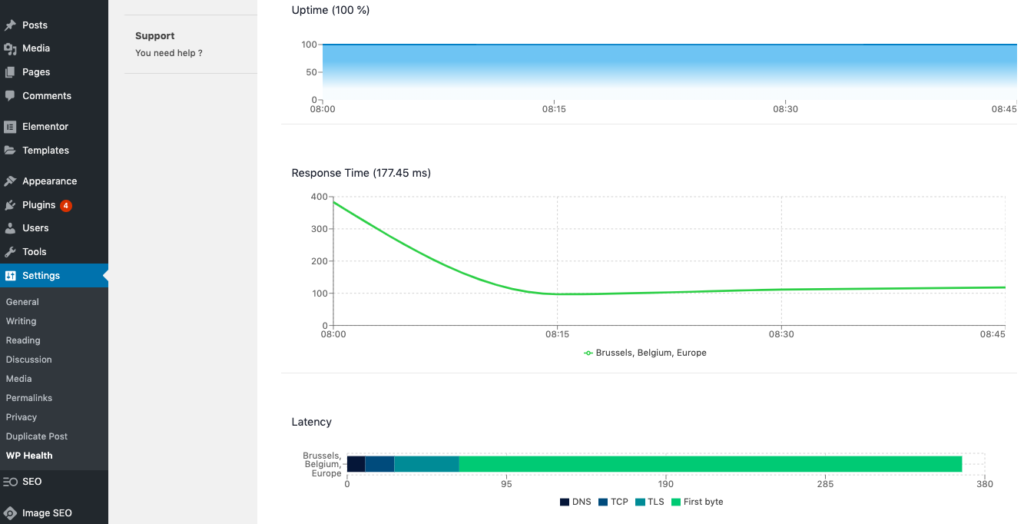 This plugin allows you to:
Monitor uptime and be alerted if downtime happens.
Measure & analyze the performance of your WordPress.
Code Scanning and health checks to prevent PHP errors generated by theme and plugins.
And guess what's best, this plugin is free.
Deep dive into WP Umbrella
WP Umbrella allows you to set up monitors from all over the world.
The monitor will check your WordPress website every 1-10 minutes and send you an email notification if downtime happens.
It also provides you with performance information such as TTFB, DNS loading time, TCP, TLS, and server ping.
How to set up WP Umbrella?
Step 1: Download WP Umbrella
To download the plugin you can go there or find it in the WordPress Plugin Directory. Enter WP Umbrella and Look for the umbrella 🙂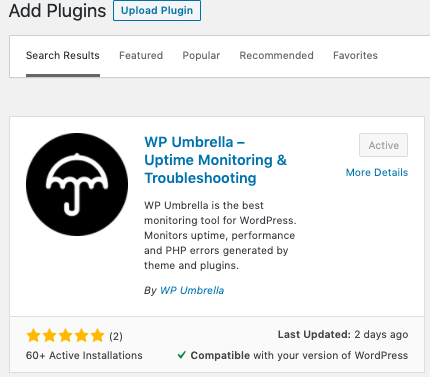 Step 2: Register and get your API Key
You can register directly in the plugin WordPress or use the web application. Once installed and activated, the plugin is available in "Settings".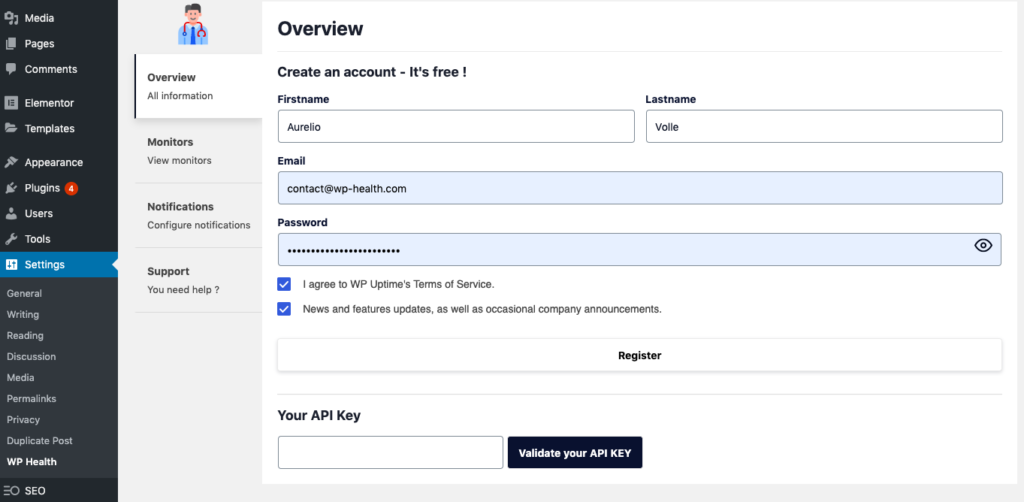 Enter your email, password and accept the terms of service to connect the API to your Website.

The monitor is in place and you will be alerted if something wrong happens: availability, bad performance, critical PHP errors, etc. Easy-peasy.
Step 3: Go to settings

By default, the plugin monitors the homepage from Belgium. To select another region go on Monitors > View details > Settings and select the region of your choice.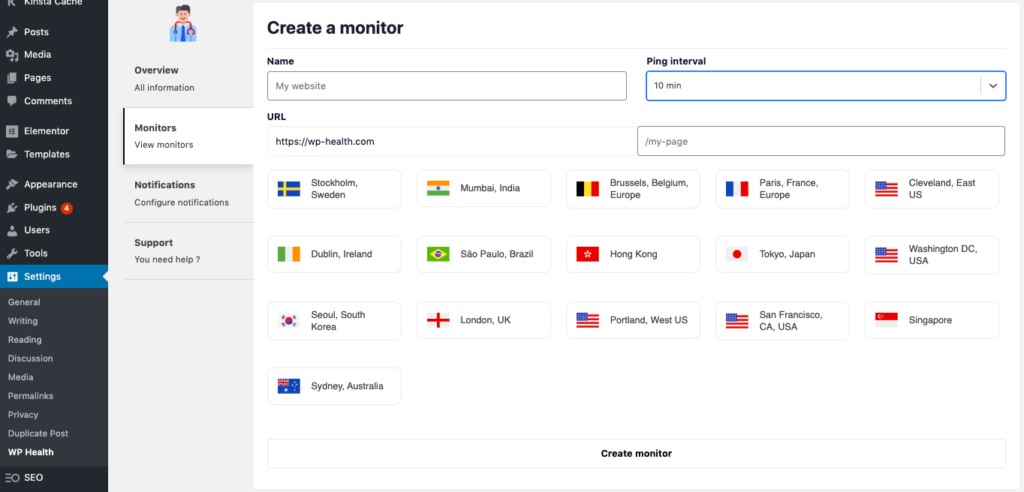 Step 4: make sure your email adresse is correct so you get notified
Last but not least, click on Notification and check that the email address is correct to receive email alerts if downtimes happen.

2. JetPack – Essential Security & Performance for WordPress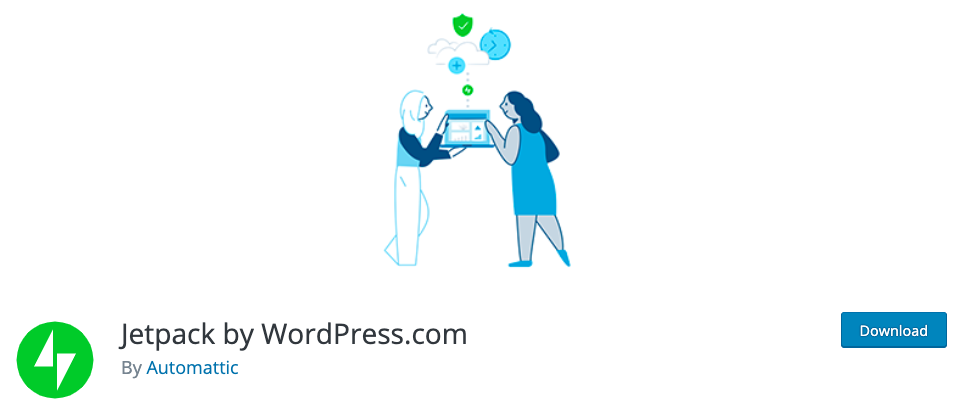 Jetpack improves the functionality and management of your WordPress Website. The main features of Jetpack are:
Brute-force attack protection, spam filtering, and downtime monitoring.
Backups of your WordPress.
Secure login, with two-factor authentication.
Jetpack has +5millions of active installations and is the most popular security plugin for WordPress.
You have to pay to get the most part of the features available on Jetpack: backup, scan, anti-spam, search, video hosting, SEO features, and analytics integration.
3. Uptime Robot – Uptime monitoring service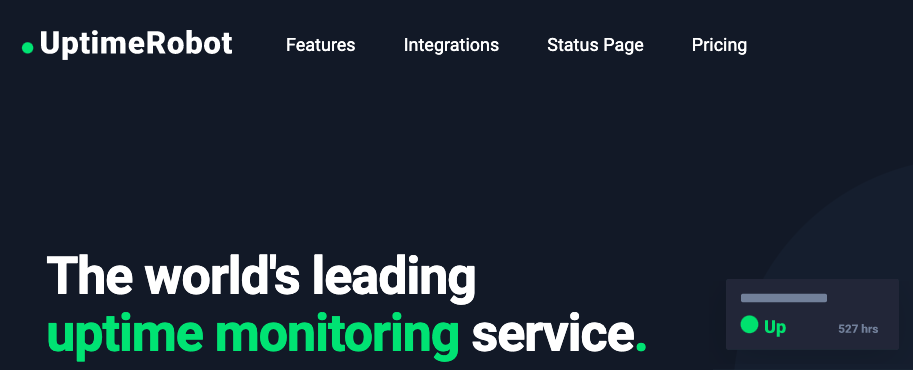 Uptime Robot is a free tool used to monitor websites. It monitors websites every 5 minutes and alerts you through various channels if your sites are down.
UptimeRobot also provides you with SSL certificate monitoring and Cron job monitoring.
To access response times and monitor performance you need to pay.
4. ManageWP – Manage WordPress Sites from One Dashboard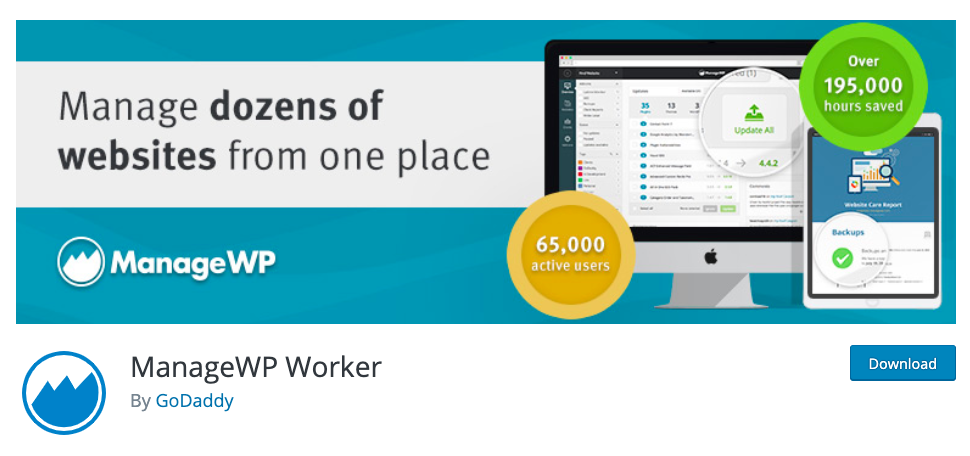 ManageWP helps you to manage several WordPress Websites from a single dashboard. The plugin is free, but you have to pay to include the uptime monitoring add-on. Here are the free features of ManageWP:
Manage updates plugins and themes
Monthly backup
Performance Checks
Security Check
Vulnerability updates
Note that you have to pay for the premium business plugin in order to receive alerts through email or SMS.
5. Pingdom – Website Performance Monitoring Made Easy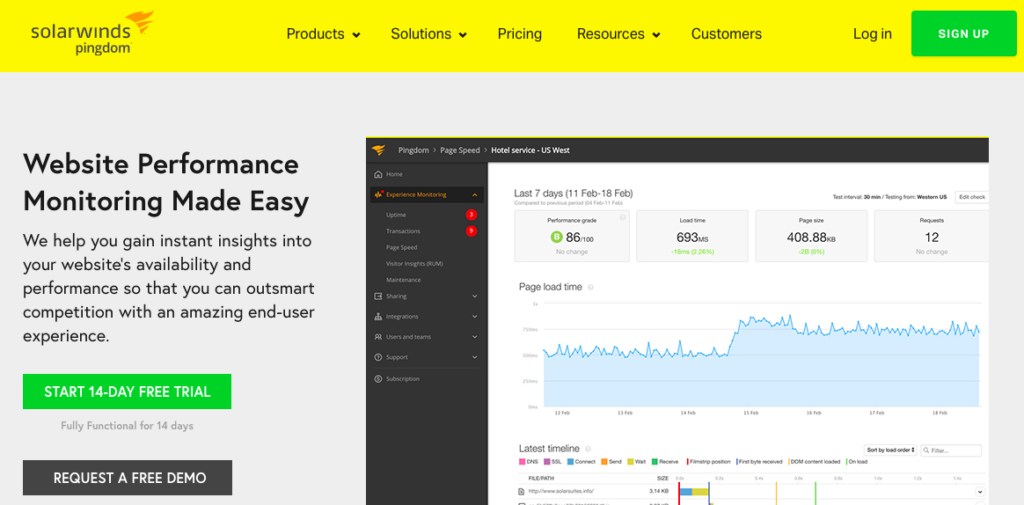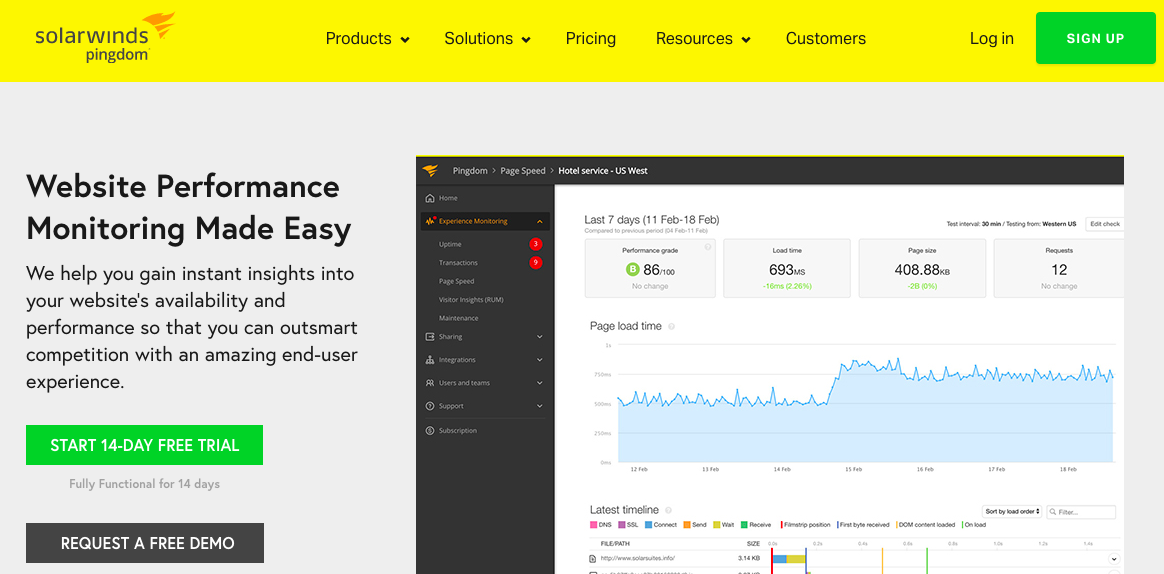 Pingdom is probably the most advanced monitoring solution available on the market. It's also the most expensive (13$/months by website). It offers a free trial version for 14 days.
This monitoring service provides synthetic monitoring and real user monitoring. You can thus simulate and understand visitor interaction with your website. The features of Pingdom are:
Monitor site availability worldwide
Page speed analysis
Transaction monitoring
Get user insights in real-time based on browser, device, etc.
Pingdom doesn't have a WordPress integration.
6. StatusCake – Website Uptime & Performance Monitoring


StatusCake is external uptime & performance monitoring application. It offers the classic features of this kind of service:
Uptime Monitoring using the following protocols: HTTP, HEAD, TCP, DNS, SMTP, SSH, PING, and PUSH
Server and domain monitoring
Page Speed Monitoring
StatusCake doesn't have a WordPress integration.