If you are looking to monitor WordPress your WordPress site you are in the right place.
No matter how careful you are about maintaining and protecting your WordPress site, accidents can still occur.
When this happens, you must have a plan in place to get things back on track as quickly as possible, otherwise you may lose a great deal of money.
It's not necessary for you to check WordPress uptime and downtime manually, because there are several nice monitoring services for WordPress, like WP Umbrella, that'll do it for you.
The purpose of this guide is to provide you with a list of the best tools and plugins that will help you keep track of your website's status without you having to do it yourself. But not only.
Indeed, if monitoring uptime is critical for any business, there are a few other things that also need to be monitored because they can cause downtime and hurt both your user experience and traffic.
So let's dive into this guide about WordPress monitoring!
Monitoring WordPress – What's the Point?
Maintaining a WordPress site requires constant monitoring, as you want to know how many visitors it has, how quickly it loads, how safe it is, whether it's always available, etc.
This information allows you to make decisions leading to better performance, happier visitors, and better conversion rates.
Often users let their guards down because they trust their webhosts. When a website goes down, especially during the middle of the night, you may not even know that it occurred.
Your business, website reputation, and users can be negatively affected by website downtime, so it's best to discover them before your customers do.
That's why monitoring WordPress is important.
But website monitoring isn't just about getting alerted as soon as your server is down. It's about learning exactly what's happening on your website in real-time to prevent it from happening the future.
Monitoring WordPress: the checklist
The process of monitoring your website may seem overwhelming if you're not sure what to monitor. A WordPress website monitoring strategy should take into account some of the following principles:
Uptime And Downtime
Does your website function properly? Is it down? When it comes to website monitoring, measuring uptime is one of the most important things to do since mere minutes of downtime can cause major problems for your business.
Performance And Load Times
How fast does your website load? How fast do all pages load? Knowing everything about your site speed will allow you to step in if necessary.
The speed of your site affects your whole brand. Speed affects the behavior of your customers. The choice is whether or not a potential customer jumps to another site and converts or sticks with you. So, it's critical to monitor load times and constantly improve them.
PHP Error And WordPress Error Logs
Plugins and themes can generate many PHP errors. Some of them are not dangerous, while others can jeopardize your website uptime and performance.
Most of the people are not really aware of this, but it's critical to monitor WordPress Error logs and update your plugins and theme to diminish the amount of them.
Broken Links
These are links to other web pages that are no longer active. SEO is negatively affected by broken links. When your site has dead links, search engine spiders can't crawl it and can deindex it. Monitoring links for issues will help you catch problems before they blow out of proportion.
Traffic and Visitors
If you monitor your website visitors, you can learn how many are visiting, where they come from to get to your website, what pages they view, etc. By monitoring visitors, you will be able to monitor the success of your goals-at least when you cross-reference them with other metrics.
SEO and Rankings
For your website to generate revenue and keep traffic flowing, you need to monitor SEO continuously. In order to judge the performance of your SEO, you need to analyze real data delivered by powerful alerts and tools.
How To Implement A Comprehensive Monitoring Strategy On WordPress (Essential Tools and Plugins)
You can easily implement a 360° monitoring strategy on WordPress with a combination of three tools:
Let's deep dive into these three awesome monitoring tools and plugins.
1. WP Umbrella: Uptime, Performance and Error Monitoring For WordPress
WP Umbrella is the most comprehensive monitoring solution for WordPress. Besides a reliable alerting systems in case of downtime, WP Umbrella also monitors WordPress error logs. This will help you to troubleshoot WordPress issues before downtime happens.
WP Umbrella gives you the opportunity to monitor several websites from a single dashboard, where all the essential information (uptime, performance, error, outdated plugins, etc) about your websites are displayed.
This monitoring tool also gives you access to charters, latency information and downtime history.
WP Umbrella has been designed to monitor and manage WordPress websites: you can access your performance data directly within your WordPress admin panel.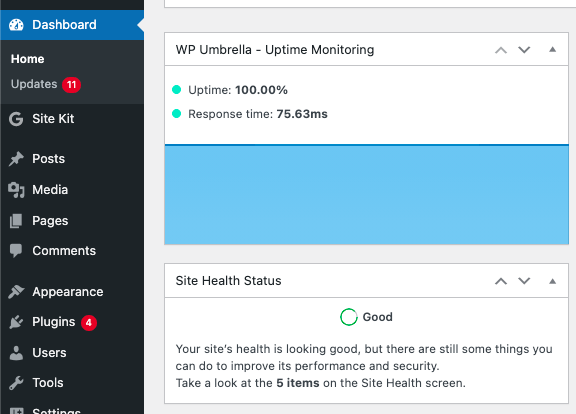 Main features
Uptime monitoring;
Response time monitoring;
PHP error monitoring;
Security monitoring;
Plugin update monitoring
Slack integration.
2. Google Analytics: tracks and reports website traffic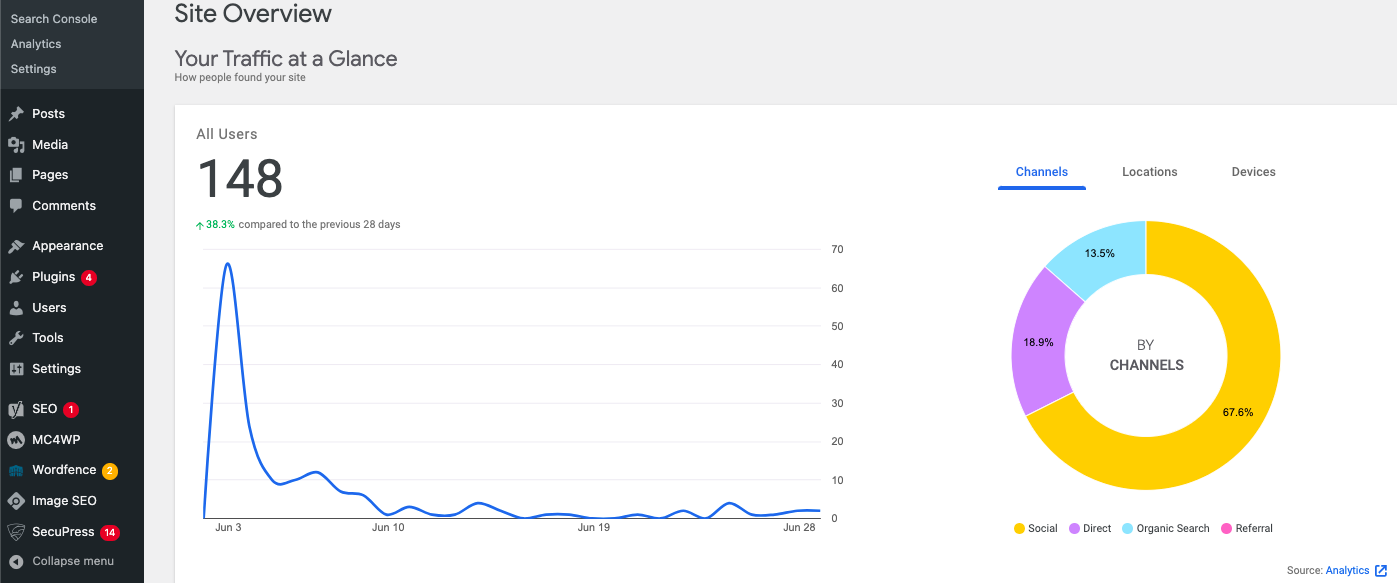 You can make better decisions about your website if you know more about your visitors. Statistics regarding the number of page views, total visitors, time spent on the page, visitor locations, and so forth can help you make better decisions regarding your content, and will also show whether these decisions are paying off or not.
Statistical information about visitors is very important for any WordPress site. The best tool to track visitors is by far Google Analytics. Besides being free, it gives you plenty of information about visitors, including: traffic, top pages visited, visitors' locations, real-time visitor information, acquisition, and much more.
Google Analytics is incredibly versatile; this feature makes it suitable for both casual users and big businesses.
The easiest way to install Google Analytics on WordPress is to install the plugin Site Kite by Google.
You get extremely detailed information from Google Analytics about who's using your site, what they're doing-and why. Analyzing Analytics on a weekly basis and in detail at least once a month is recommended. 
A number of resources can help you learn more about advanced features. My favorite is this guide, edited by Moz.
3. Ahrefs: monitoring your SEO and rankings in Google
With Ahrefs, you can analyze backlinks, research keywords, and perform technical SEO audits. Ahrefs has emerged as a leader in SEO software due to it's excellent UI and world-class data. Ahrefs is a service I use daily.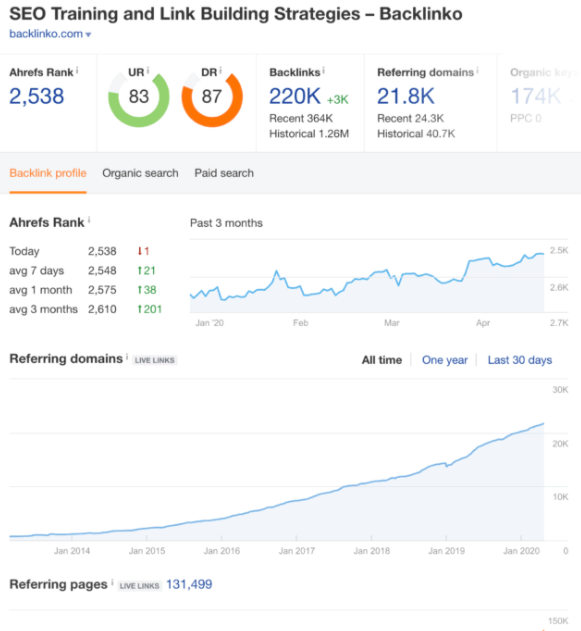 Ahrefs is the place I turn to when I want to monitor backlinks for a site, track rankings, or find new keywords. I believe this is the best SEO tool available today.
This monitoring tool for SEO doesn't require much explanations: its dashboard is very intuitive and will provide you with a ton of insights about your rankings in Google.
4. Broken Links Checker: monitors and tests all internal links & external links
Using Broken Link Checker, you can test all internal links and external links on your site for broken links. The tool helps you fix bad links to improve SEO and user experience.
Monitoring broken links is essential since it can be so frustrating for your customers and makes your brand looking bad.
When the plugin is installed, it begins parsing your posts, bookmarks (AKA blogroll) and other content to look for links. Your site's size determines how long the process takes. When the plugin has finished parsing, it starts checking each link for validity. 
If any broken links are found, they will appear in a new tab of the WP admin panel – Tools -> Broken Links. An alert will also appear on the dashboard's "Broken Link Checker" widget. 
Then you just have to fix the broken links. Easy peasy!
WordPress Monitoring: Final Thoughts
Various website monitoring services are available online, both free and paid. Depending on your needs and budget, you will choose which tools and services to implement on your website: there are options for everyone.
Conclusion? Monitoring website performance is crucial-especially for WordPress sites where plugins, themes, and core versions are regularly updated and can cause conflicts. However, besides monitoring uptime and performance, you should also monitor your users' experiences and SEO to improve overall performance and make the right decisions.
The three monitoring tools I provided you with in this article will help you to do just that!
You may also want to check out our Beginner Guide to WordPress HTTP Error codes and our list of the Best Dev Tools for WordPress!