Web hosting is often the first expense incurred for the creation of a WordPress site. The choice of a host is therefore important. Beyond the price, hosting will have an impact on the performance of your website and therefore on the user experience.
However, there are a multitude of WordPress hosting providers. Identifying the hosting solution that best suits your needs can quickly become a challenge, especially for a beginner.
This guide is designed to help you find the best host for your WordPress website.
The guide was last updated in August 2022. It is mainly intended for beginners.
How do I choose the best WordPress hosting?
There is not one WordPress host better than all the others. However, it is possible to determine the best hosting package based on your needs.
That's what this guide is all about: helping you to understand your needs, so you can make the best choice! Let's start by going through all the criteria you need to keep in mind before choosing.
Hosting compatibility with WordPress
Not all hosting providers are compatible with WordPress. The first thing to do is therefore to check that the host offers the following features:
The server must have at least version 7.3 of PHP.
The server must have, as a minimum, a MySQL database in version 5.6 or a MariaDB database in version 10.1.
The server must support HTTPS URLs and provide an SSL certificate.
This is not mandatory, but also make sure that your hosting provider offers you the possibility to manage your domain name.
Storage and available bandwidth
You will find these two elements (bandwidth and storage) in the offers of all hosting providers.
The storage capacity is the total weight of the files you can upload to the server (photo, HTML pages, style sheets, etc).
You should do your best to limit the size of the files you will upload, especially photos, in order to speed up the loading times of your pages.
Bandwidth refers to the amount of information that can be transmitted simultaneously over a transmission channel and is expressed in bits/second.
The heavier your files are, the more visitors you have, the greater the bandwidth consumption.
How do you calculate the bandwidth you need?
The formula for estimating the bandwidth you need is easy to calculate:
Calculate the average weight of the pages of your site in kilobytes (a ladle estimate is sufficient).
Multiply the result by the number of page views.
You will then get a relatively reliable estimate of the bandwidth you will need on a monthly basis.
Too little storage space and too limited bandwidth will penalize your site. Unused storage space and unused bandwidth will penalize your wallet.
It's up to you to find the balance!
Now let's get back to the heart of the matter with the question of hosting performance!
Web Hosting Performance: loading time, downtime, uptime.
The things we've talked about so far are relatively tangible and accessible to the novice. The question of performance is a little more complex to grasp.
What is high-performance web hosting?
Two criteria must be taken into account when determining the performance of a web host: the frequency of downtimes and the time it takes for a page to load (average ping).
The best web hosts for WordPress must therefore allow your site to always be accessible and to load quickly.
The importance of uptime
The uptime corresponds to the time during which your website is accessible. It should be as close as possible to 100%. Each time a downtime occurs, you risk losing a visitor and therefore a sale.
If you want to become an expert on the subject, I invite you to read my ultimate guide on uptime monitoring for WordPress.
Why Page Speed Matters?
Uptime and loading time are two sides of the same coin.
A slow loading site will be penalized by your visitors and by search engines. Some studies and surveys have shown that every second of extra loading time translates into 7% less conversion. That's crazy!
It is therefore extremely important to opt for a good WordPress hosting that will allow your site to be accessible and load quickly.
How do you know if your hosting is performing well?
The answer is simple! You just have to create an account on WP Umbrella.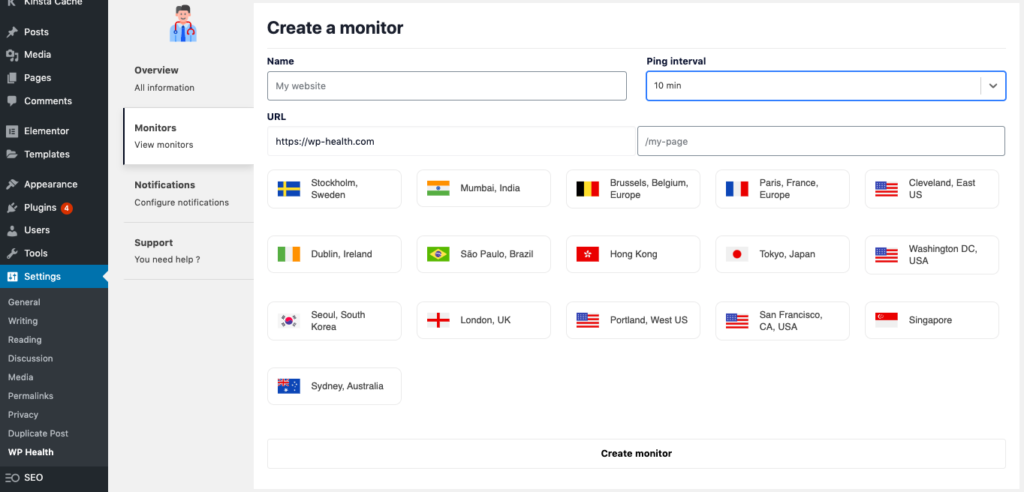 You can also download our plugin for uptime monitoring, which will allow you to get all the data related to your WordPress website directly in your dashboard WordPress.


The service is completely free. It will allow you to measure the performance of your web host.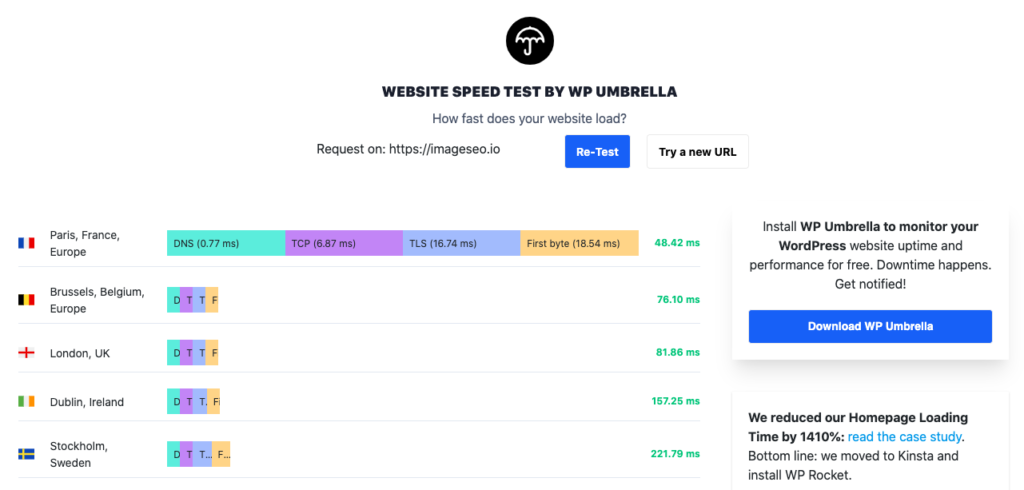 If you don't want to install the plugin, we have also made a free tool to check latency
Almost all hosting providers offer additional features in addition to storage and bandwidth. These features are not always useful and they should not distract you from the most important thing, which is the uptime and performance.
I qualify some features as ostentatious because similar and more powerful free tools are available on the market. These features are not useless. However, they should not determine the choice of your hosting provider.
Keep in mind that hundreds of WordPress plugins usually offer everything you might need for free (or not).
Support is everything
Migration, downtime, cyber attack, non-renewal, etc. Believe my experience, when glitches occur, it's better to be able to count on knowledgeable and reactive support.
Before choosing a hosting provider, don't hesitate to read user reviews on sites like trustpilot or in the comments of our articles.
Finally, if you don't speak English well, make sure that the support is available in your language…!
Shared Hosting vs Dedicated Server vs Virtual Server
Hosting providers' price pages often offer three types of products: shared hosting, dedicated servers and virtual servers.
Shared hosting
If you opt for shared hosting, be aware that several sites are hosted on the same machine. This allows the host to reduce its costs and therefore its prices.
In my opinion, shared hosting are okay for WordPress blog with a daily traffic of less than 150 visits. Then, you have to take it to the next level!
Dedicated Server
A dedicated server will allow you to have your own machine. This will result in gains in performance and autonomy
Warning! The configuration of a dedicated server is the responsibility of its owner. In other words, it is up to you to configure the server. Don't hesitate to ask a professional to accompany you.
The consequences of a bad serveur configuration can be extremely heavy, especially from a security point of view!
Virtual serveur
Virtual servers are hosted in the cloud. All its resources are distributed among several servers. The whole is managed by a hypervisor that adapts the resources to the needs.
It is the ideal solution to host a site or a service that has vocation to grow.
Managed WordPress Hosting vs. Web Hosting
There are two way to host a WordPress website. You can choose a managed WordPress hosting provider or opt for a do it yourself approach with a shared host or a dedicated serveur.
WordPress hosting: do it yourself!
The DIY approach is to upload WordPress, send the files online with your FTP client and allow our preferred CMS to connect to your database. This way of installing WordPress requires small development skills.
Managed WordPress hosting
That's why, to allow as many people as possible to install WordPress, many hosting providers offer hosting packages with a version of WordPress already installed.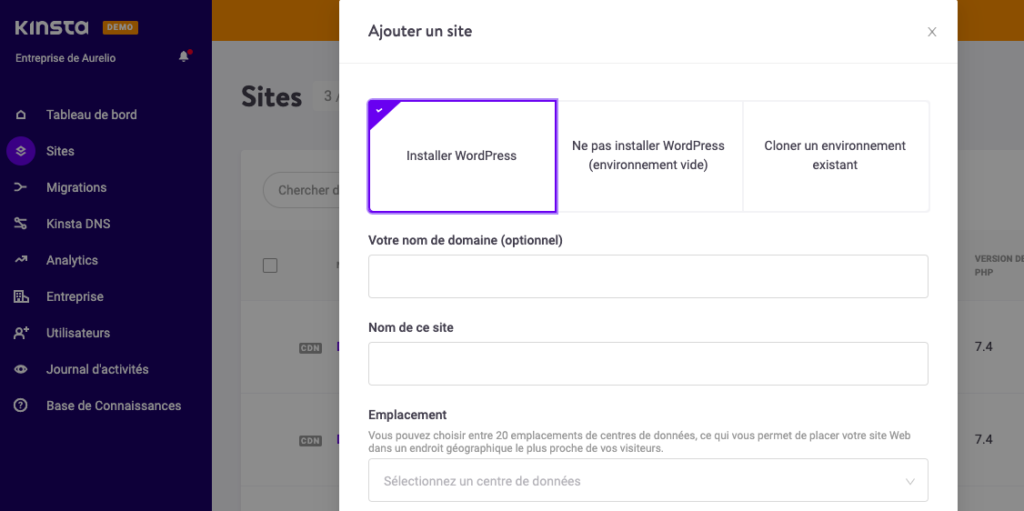 This is the managed WordPress hosting approach. Managed hosting offers are a little more expensive than those of DIY hosting providers, but they have many advantages.
Why choose Managed WordPress Hosting?
If you were going to have heart surgery, you'd probably rather go to a cardiologist than a general practitioner, wouldn't you? The same goes for web hosts.
Managed WordPress hosts only work with the WordPress platform. The teams providing support are therefore experts in this field and often composed of WordPress developers. This will save your time in case of glitches.
Another advantage is that Managed WordPress hosting is optimized to work with WordPress. The architecture of the servers and the technologies used will have a positive impact on the performance of your site.
WordPress hosting for beginners: the summary
In summary, after checking that your web host is compatible with WordPress you should:
Estimate your storage and bandwidth needs;
Take a look at our WordPress hosts performance test and comparison;
Decide how much you really want to invest in your website.
List of the best WordPress hosting in 2020
Now that you have all the information you need to choose the best hosting provider for your needs, here is a list of the best WordPress hosting solutions available on the internet.
The list has been updated in septembre 2020.
1. Kinsta – Premium WordPress hosting for everyone, small or large
I tested several Managed WordPress hosting providers and I chose Kinsta to host WP Umbrella and Image SEO (my other website). This is so far my favorite Managed WordPress Hosting.
The support is highly-qualified and available. The up-time is really 100% and the performance is excellent.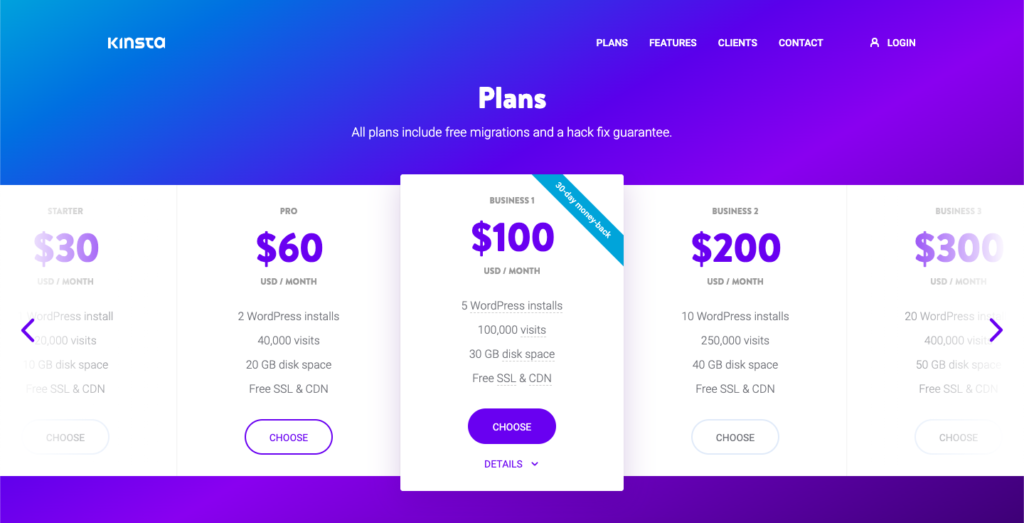 Kinsta is a little more expensive than other hosts, but the quality is really there. At the end, you get what you pay for!
Or, like my father used to tell me, the cheapest thing is always too expensive for what it is!
Discover Kinsta (you won't regret it)!
2. GreenGeeks – Your website belongs on Web Hosting That's Faster, Secure & Eco-friendly.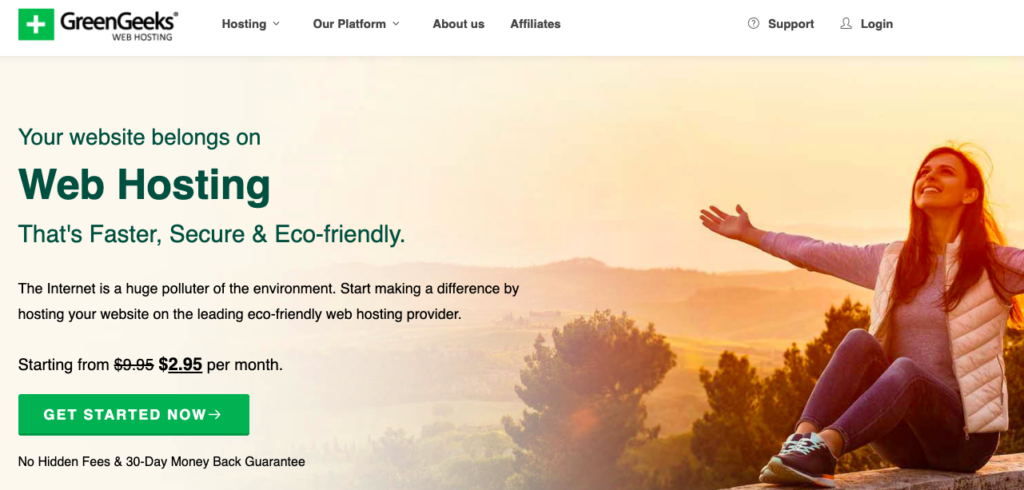 GreenGeeks hosting platform offers shared and managed WordPress hosting that is designed for the fastest, most secure and scalable hosting available with data centers located in the USA, Canada and Netherland.
This hosting company was launched in 2008, GreenGeeks has been the industry's leading eco-friendly green web hosting provider putting back three times the power they consume into the grid in the form of renewable energy.
Discover GreenGeeks and start seeding trees!
3. Bluehost Web Hosting – Recommended by WordPress®
Bluehost is an American hosting company specialized in WordPress. The company was created in 2003 and now hosts more than 2 million websites.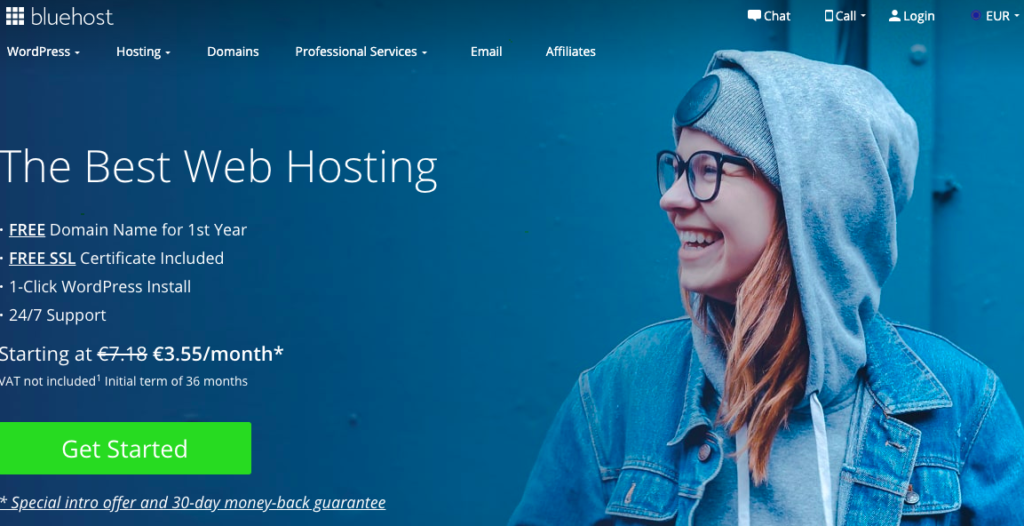 Bluehost has low-cost WordPress shared hosting plans and offers many useful tools for marketing, SEO, social networks, etc.
I used Bluehost in the past and I can tell you that the support is extremely responsive. If you are reluctant about investing more money in a web host, Bluehost is a good compromise.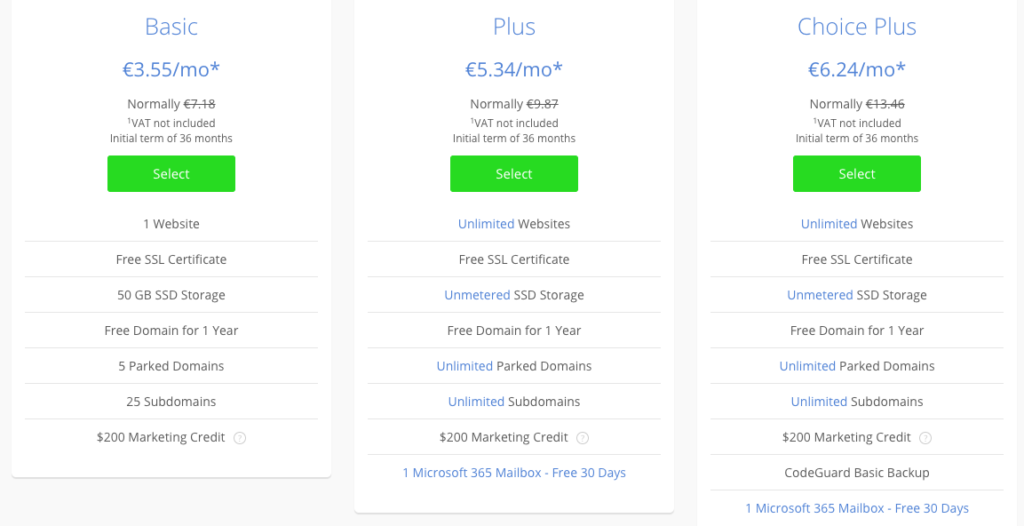 Bluehost is an interesting alternative to the shared offers of do it yourself hosting providers.
Discover Bluehost!
4. SiteGround – Top security and speed managed by experts
Created in 2004, Siteground is a low cost managed WordPress host. It has an excellent quality/price ratio.
The entry fee of 5.99€/month is an ideal solution for bloggers looking for professionalism.
Discover Siteground!
5. WP Engine – The WordPress Digital Experience Platform
WP Engine is a heavyweight in managed WordPress hosting. Victim of its success, WP Engine is today less powerful than other managed hosting providers such as Kinsta or Themecloud. At least in my opinion.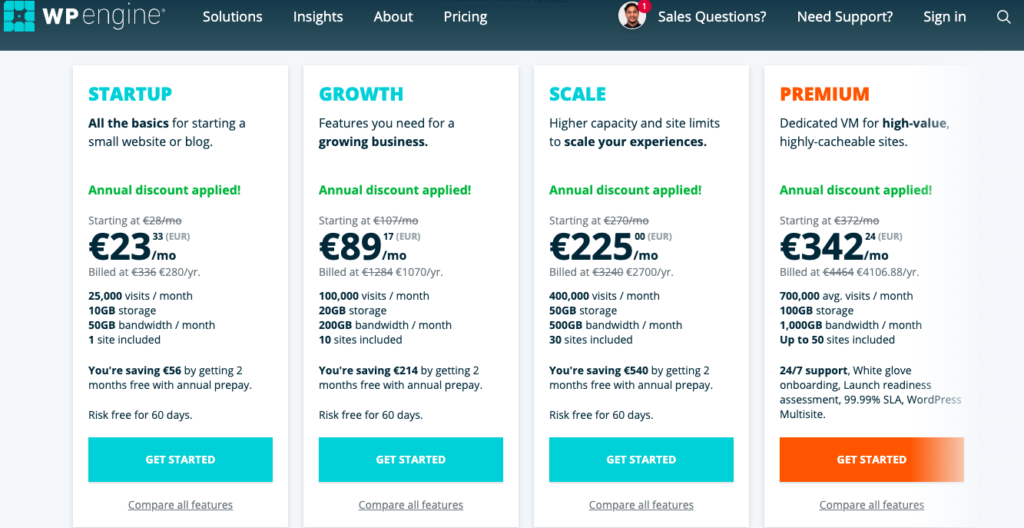 Support is sometimes lacking, which is why it is a little cheaper than the above-mentioned hosting solutions. In spite of this, WP Engine remains a must in the world of WordPress hosting. Give it a look!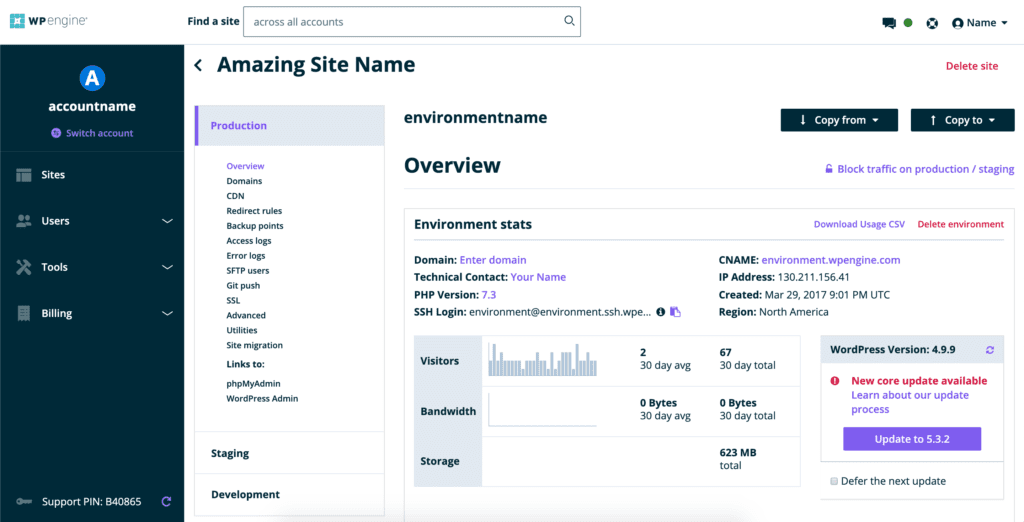 Discover WP Engine!
6. Themecloud – WordPress Hosting and Management
Themecloud is a WordPress managed hosting company recently launched on the market. The service was developed by a Frenchman, Laurent Vergnaud.
I've had the opportunity to exchange with him when I created Image SEO. We even establish a partnership between our two services. The Themecloud team was really reactive.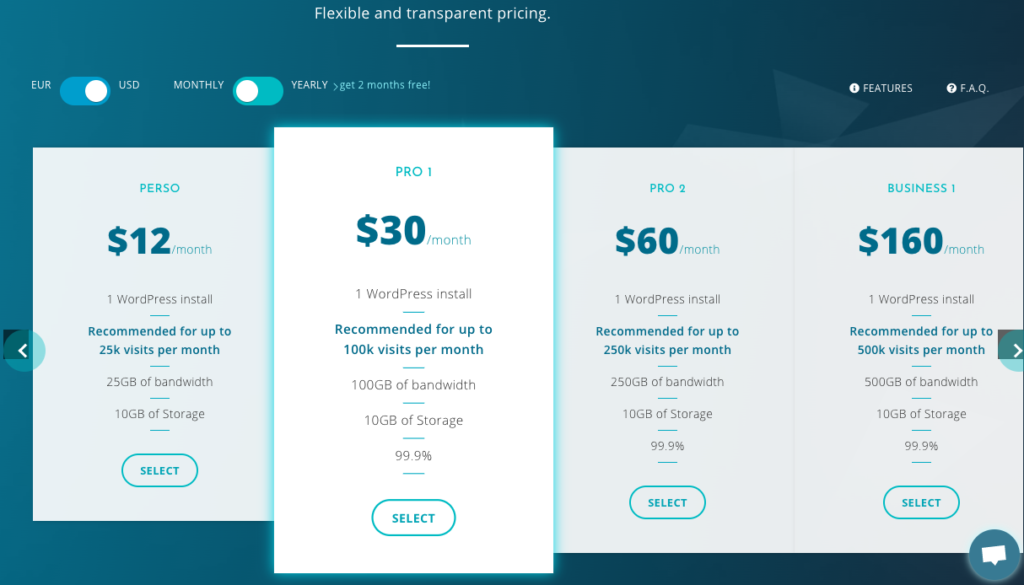 Themecloud has a streamlined admin panel. The prices are also very interesting for a managed hosting provider.
It is possible to test Themecloud free of charge and without a credit card for 3 days. Give it a try!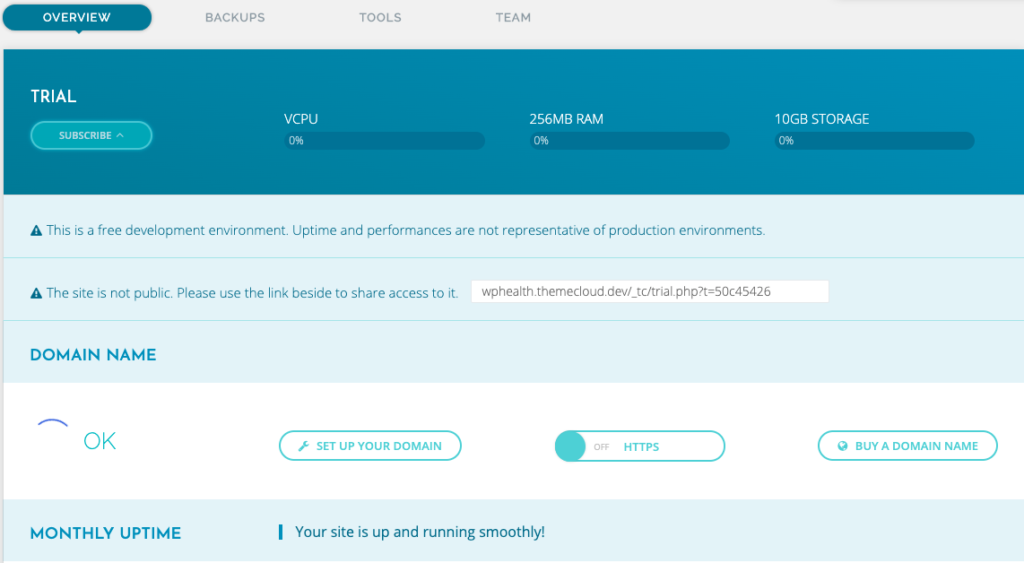 Discover Themecloud!
7. Flywheel – Managed WordPress Hosting for designers and agencies
Flywheel is first made known by launching a tool that allows you to install WordPress locally without having to go through server simulation software. It is a recognized host in the WordPress community.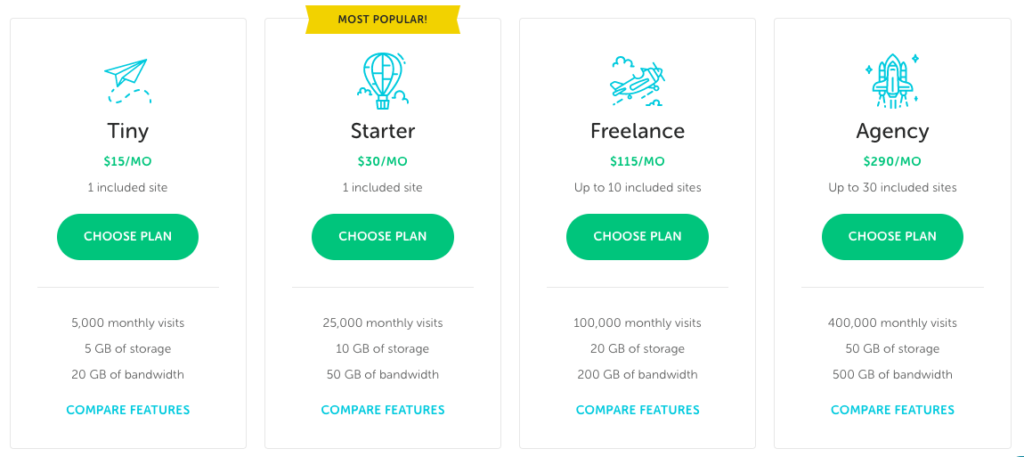 You can also get a demo for free, to see if the administration interface suits your needs.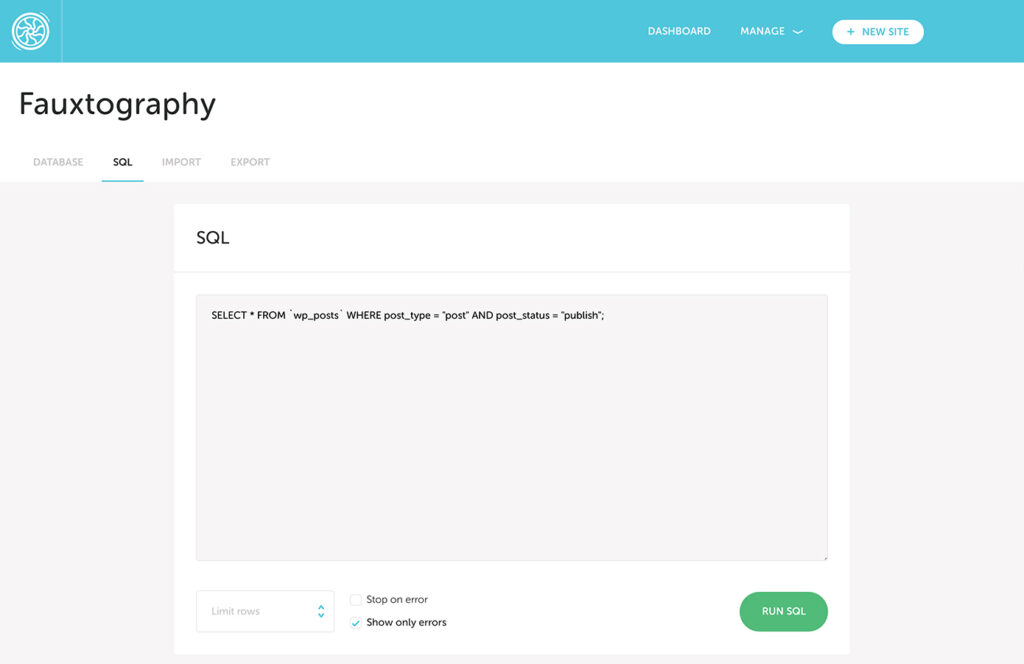 Discover Flywheel
8. WPLounge – Website Hosting & Insurance
WPLounge WordPress hosting is a Dutch WordPress knowledge & service base which offer utmost security performance.
As the # 1 CMS worldwide, with the most users, WordPress is increasingly the target of hackers.
"Millions of WordPress websites targeted by full-scale attack" – WordFence May 13, 2020.
WPLounge insures your website against hack attacks, database errors and more.
Roger Overdevest (Owner of WPLounge): "Our phone regularly rings with questions about what to do if your website is down or hacked. What do you do when your website is hit? We take care of everything for you & you always have access to a perfectly working website."
If you are looking for a safe place for your website, WP Lounge is the place to be!
WP Lounge at glance
Managed WordPress hosting
Monthly price: starting at 4$/month – 3/5
Uptime: close to 100% – 5/5
Performance: very good – 3.5/5
Storage: from 100mb to 5go
Bandwidth: unlimited
Support quality: good and reactive, available in english and in dutch- 4/5
Interface quality: very good 4/5
Average score: 4/5