WordPress website backups are vital, and you should have the ability to do them. If your website is hacked or you need to restore it to an earlier version, you will have a fail-safe in place.
Your hard work could be lost without a backup system. If you are a WordPress Agency, this would be unacceptable for your customers.
Plugins are usually used by site owners, but every new piece of software provides a potential security flaw that hackers can exploit. There might be a way for you to avoid the need to install a third party tool on your site if you choose to perform a manual backup instead.
Since WordPress sites crash for a variety of reasons, such as security breaches, serious system failures, or human error, backups are an essential part of your site's maintenance.
A backup allows you to restore the functionality of a compromised website.
Having a website backup on hand provides you with peace of mind – if anything goes wrong, you'll be able to quickly restore your content.
Here's why you might want to do away with backup plugins. Then we'll show you how to use a File Transfer Protocol (FTP) client and PHPMyAdmin to create a backup manually.
Let's get started!
What is "Backing Up"? And Why It This Important
Simple and plain, backing up means saving a duplicate copy of your website. Your website's theme, file (like plugins) and database (including posts, users, comments, etc.) should all be backed up.
Backups are similar to saving important documents to your Google Drive or Dropbox and to your desktop. In general, it's always a good idea to store important items more than once, and on multiple media (like an external hard drive, a thumb drive, on your computer, etc.).
The same applies to your website.
Manually Backup Your WordPress site
The easiest way to perform a backup on a WordPress site is to use a backup plugin.
Nevertheless, this may not be the best option for every website owner.
Indeed, there are some reasons why you might want to steer clear of WordPress backup plugins and find an alternative solution instead.
In some cases, it might be best to stick with an alternative approach rather than relying on a WordPress backup plugin. Here is why:
Many reasons may lead you to opt for manual backups. Plugins make WordPress more powerful but can also increase the security risk.
Experts and studies found that third-party extensions and themes accounted for the most part of security vulnerabilities.
Some backup plugins favor ease of use over features, which typically limits how customizable they can be. For those with special needs or advanced backup requirements, a DIY method may be necessary.
How to Backup Your Website Without a Plugin
Keeping regular backups of your website is essential. It is possible to perform this procedure manually if you are not interested in installing a dedicated plugin or do not find one that matches your needs.
This is how you back up your entire WordPress website without a plugin.
Step 1: Backup Your WordPress Files
Your WordPress site is composed of many files: WordPress core installation files, plugins, themes, media, custom codes, etc.
You do not really touch much more than WordPress Plugins and Themes when you build WordPress sites. Despite this, it is still wise to regularly backup your whole site.
Don't risk restoring only part of your site (or worse, trying to figure out which part is missing). If something goes wrong, backing up the entire site makes it much easier to restore.
Here are the 5 steps you need to follow to back up your WordPress site files:

Download and install FileZilla FTP client (free and open-source).
Connect to your site using your FTP credentials.
Locate and copy ALL your site's files.
Download them into a folder on your computer and save it.
Check your computer folder to be sure all the files have been correctly transferred.
Typically, you can find your FTP login details within your cPanel account or in your hosting provider dashboard.
To download your website, click right on the root directory folder and click on "download".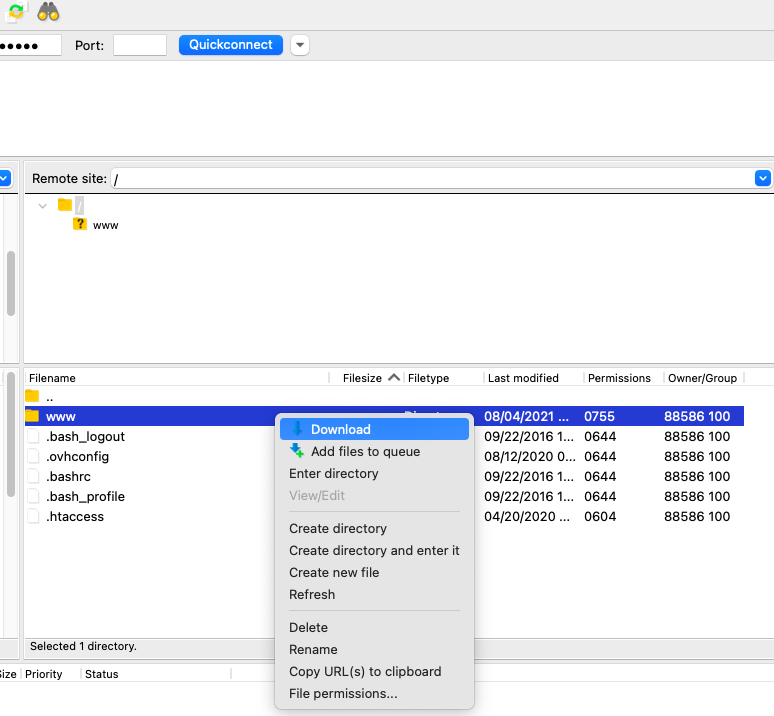 If you are unsure, log into your hosting dashboard and search for FTP settings or get in touch with your host support.
Step 2: Make a copy of WordPress database
It is not enough to simply backup your site files.
Your website files don't contain all of the content you have on your website (such as your blog posts and pages). A full backup of your site requires you to also backup your MySQL database.
WordPress stores all of its data in a MySQL database. This includes for exemple your posts, pages, comments, etc.
Backing up only your files would result in an empty website: no posts, no pages, no image in the media library, etc.
To make a copy of your database go to your hosting panel and look for PHPMyAdmin.

Then, look for the export tab and select SQL format and the quick option, unless you want to select some more advanced settings.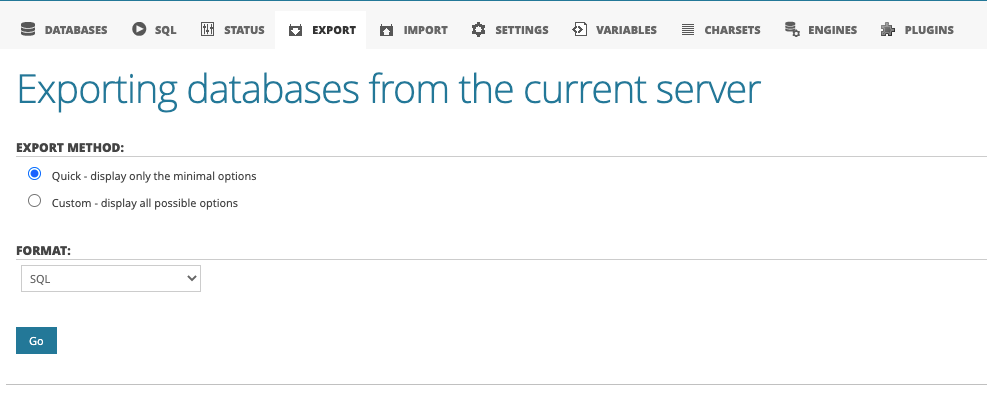 Click on go.
That's it, you have a backup of your database that can easily be restored by uploading this file in the import tab of PHPMyAdmin.
How Often Should You Perform Manual Backups?
The frequency with which you update both the content and design of your site really determines how frequently the site should be backed up.
If you regularly update your website content, plugins and theme, then you should often back it up.
If you website is not updated regularly, then you can diminish the backup frequency.
The more often you are backing up your website, the less likely you are to loose new content if it crashes.
Conclusion: You Should Always Keep Several Backups of your Website
Backup are critical, because they will allow you to quickly restore your website if it crashes.
Because of this, you should back up your website several times.
I'd recommend you to keep at least three backup copies of your contents in different media (like a CD, a hard drive, your desktop, the cloud, etc.).
This way, if one backup is corrupted and if one media breaks, you will still have a valid copy of your website ready to be restored!
I hope this article on how to backup WordPress without plugin was useful! You might also be interested in my ultimate guide about uptime monitoring for WordPress.