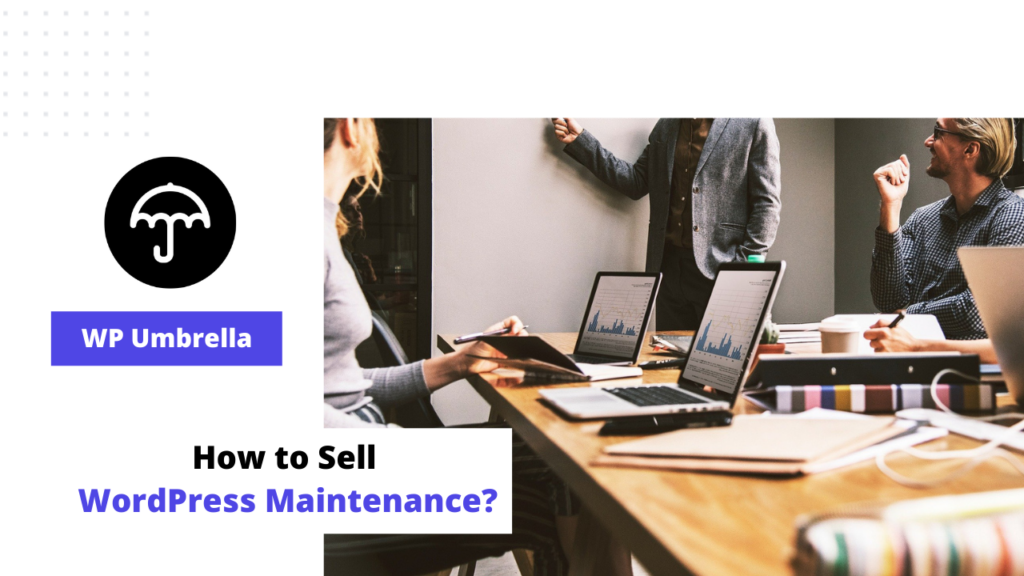 Are you trying to sell WordPress maintenance plans to your clients?
You must sell WordPress maintenance if you want to build a recurrent revenue.
However, you'll need more than just good intentions, as more and more professionals are going this route to boost income.
Many clients have trouble understanding why, after investing in a new website, they now have to pay a monthly fee for maintaining it.
Hopefully, there are several concrete strategies you can use to convince your clients that maintaining their WordPress sites is essential for their success.
If you set up the right systems and processes, use the right software, and present your WordPress maintenance offer in an efficient and strategic manner, you will close many more sales than before.
The purpose of this post is to provide an overview of WordPress maintenance, what it entails, and why you may want to provide it. Then we'll share four proven ways to help increase conversions.
WordPress Maintenance Packages: What it Should Include?
The maintenance of a WordPress site is not an easy task, which is why providing WordPress maintenance services can be a bit tricky for an agency or a freelancer.
Maintenance refers to any process that contributes to keeping a site up and running. The vast majority of professionals who offer this type of service perform updates, backups, and security scans.
Everything you can do with WP Umbrella 🤓.
Your website maintenance packages can also include a wide range of other services such as:
etc, etc, etc.
You can decide what tasks you are willing and able to provide, as well as how you will work with clients. You just need to make that you and your clients are on the same page.
Communication is really key when it comes to WordPress maintenance.
WordPress Maintenance in 1-click
Managing multiple WordPress sites has never been so easy
Try WP Umbrella for free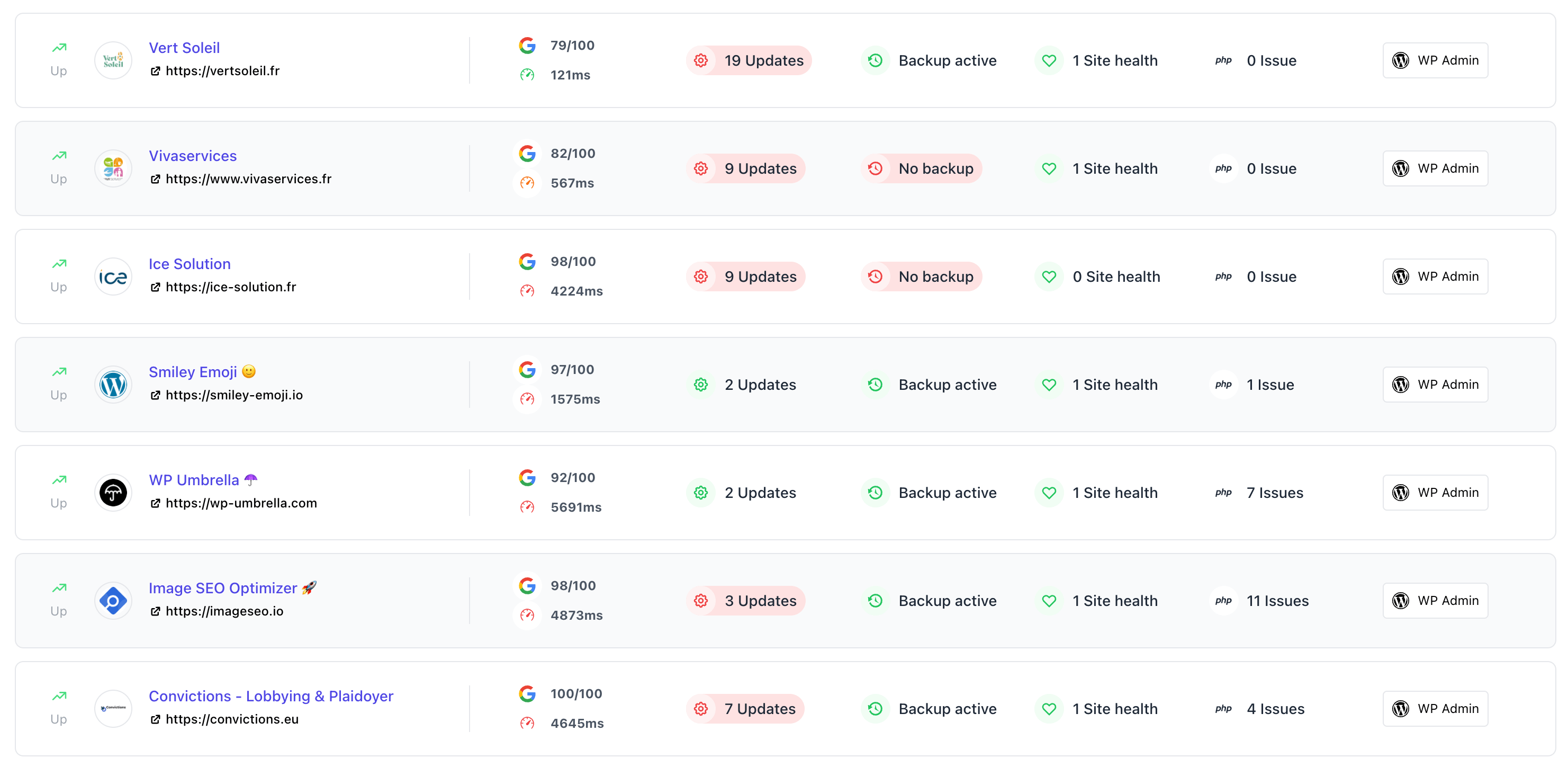 Why You Should Sell WordPress Care Plans
The popularity of WordPress websites does not appear to be declining. You don't have to struggle to find new clients if you offer good design and development services, and market them well.
Eventually, though, you'll find yourself struggling to meet an ever-increasing number of clients' demands on your time and resources. It will likely become increasingly difficult for your agency to acquire new clients and meet all of their requirements.
Maintenance plans for WordPress websites can help alleviate this pressure.
With WP Umbrella it's also easy to automate most of the website care tasks, so you don't have to spend a lot of time or resources on them.
In contrast to project-based work, website maintenance is ongoing. As a result, you will have a recurring source of income instead of always looking for work.
Finally, you can build trust and grow client relationships with WordPress care plans. Working with a client allows you to identify their needs and pain points, so you can develop care plans that will address those needs.
When you invest in your client relationships, they are more likely to refer you to their colleagues or continue to work with you on other projects.
So, offering WordPress maintenance to clients offers many benefits..!
7 Proven Ways to Sell WordPress Maintenance Plans
1. Explain Why WordPress Maintenance is Necessary
That seems obvious, but the first thing to do is to explain to your customers why WordPress maintenance is necessary.
To do so, explain them that a website lives within an environnement that constantly evolve.
WordPress evolve, PHP evolve, web browser evolve, plugins and themes evolve, etc. And their website need to evolve as well, or they will become slow and not functional over the time.
Websites are like flowers or cars. If you don't pay attention, they will slowly die and so will their online business.
Sometimes your clients understand the importance of WordPress maintenance, but it can still be difficult to convince website owners that they require care plans. Considering all the plugins and tutorials available to keep up their sites, some may opt to take a Do It Yourself approach.
You should highlight that there are some benefits to investing in professional WordPress maintenance.
This allows them to pursue other responsibilities while saving them time.
It might be an idea to share some statistics about how much time you save your clients on your Services page. Figures always help you sell maintenance packages for WordPress.
You can demonstrate your value to leads by displaying before and after pictures of sites you've worked on.
Illustrate the benefits of our care plans using real results, so even beginners can see the value.
For example, you could mention improved Google PageSpeed score, traffic levels or search engine rankings.
2. Incorporate WordPress Maintenance Into The Sales Process Early
Leaving the conversation too late in the sale process is one of the most common mistakes you can make when selling WordPress maintenance plans.
Clients usually sign up for maintenance after spending money on a new website.
You shouldn't wait until you've completed the website before addressing ongoing support and maintenance.
Include it as early as possible in the process. Nobody likes bad surprises.
Ask the client for the budget for support when you get their brief.
It is crucial to explain to them early that building the website is only the beginning, and that diligent and effective maintenance is key to the success of the website in the long run.
Explain how your service works, what you will do, and why it is so important as early in the process as possible. 
Consequently, when the project ends, it's just a formality that they move onto one of your maintenance plans, instead of having to go through another sales conversation.
3. Work on Your Pricing Model
Your ability to sell maintenance plans is directly related to the number of maintenance plans you offer.
It's important to strike a balance between making your offering appear solid and not overly complicated.
Consider offering 3 to 5 plans. Essentially, this means segmenting tasks into various levels and charging higher prices for each type of package.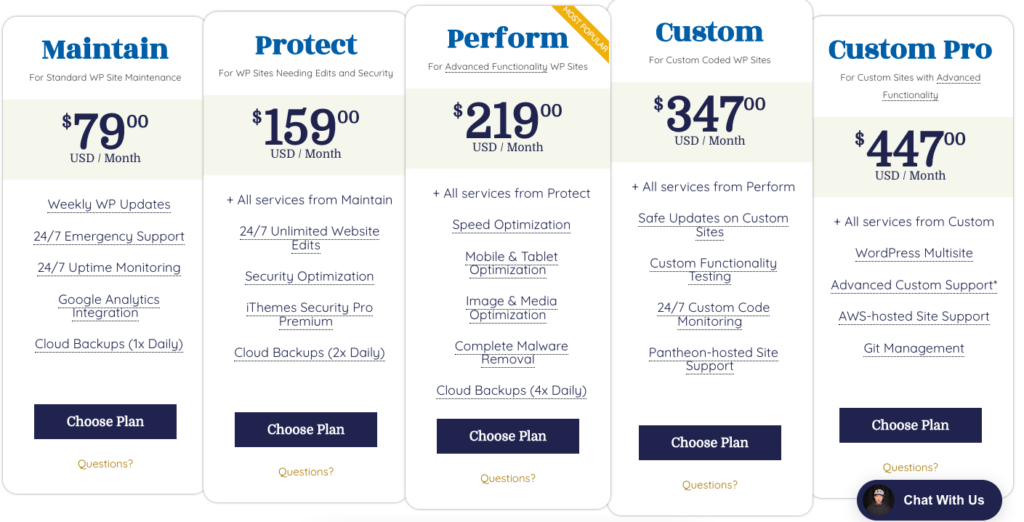 Because of its ability to appeal to the broadest range of potential clients, this kind of model performs well for converting leads.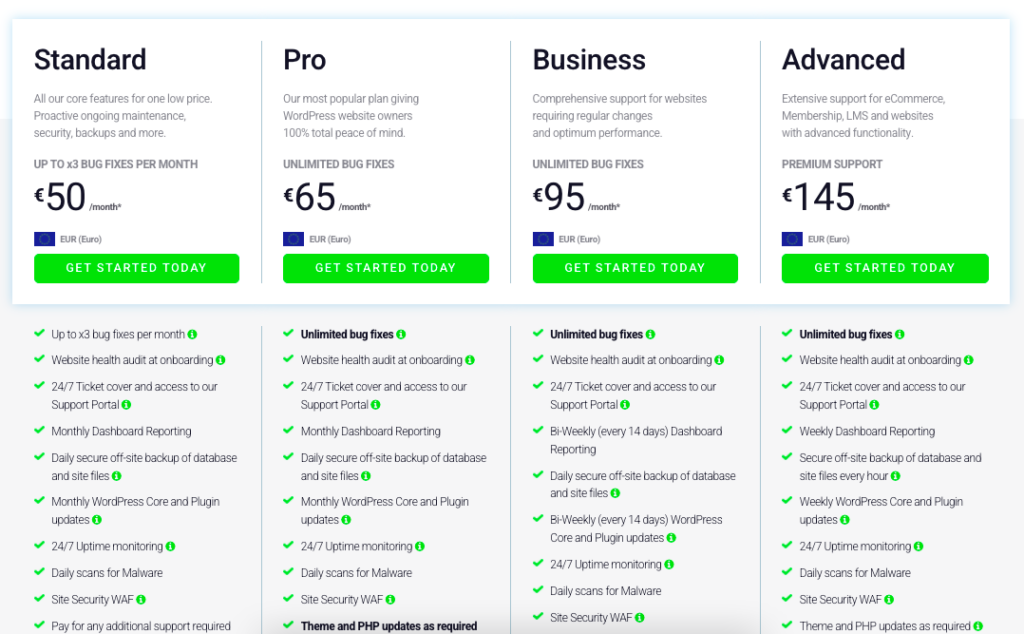 Think about adding a 'Most Popular' notice to whichever plan is the most profitable.
Simple tactics like this work.
To determine how to distribute your services, assign a value based on their time-consuming nature.
Tasks that are easy to automate, such as backups and updates, should be placed in the lowest tier.
More demanding ones – like custom development or malware removal in the higher tier.
4. Set Clear Expectations and Be Transparent
Do not let the client's needs for support overburden you from the start. Clearly define what types of WordPress maintenance plans you offer, what services are included in the plan, and what additional services will be charged.
Also inform them of your availability, turnaround time, and frequency of response to their queries.
In exchange, you need to be fully transparent and cooperative. For example, you can:
Send them a maintenance report to detail all the things that you have performed during the month.
Show them the backend of the website so they can see what website maintenance entails.
Let them know what your maintenance package includes and what it does not.
Clarity builds trust.
5. Make Sure You Understand What The Client Needs
Almost all website firms offer maintenance plans as an easy recurring revenue stream. But you have to make sure it is profitable. It can take a long time to update and fix WordPress sites.
Before estimating monthly fees, it is best to see the backend of the website.
This may take more time than it's worth if the site has too many plugins or a poorly coded theme.
On the other hand, ask the clients if he has other marketing needs and where he sees himself in 3-5 years. This is an excellent way to pave the way to a solid relationship.
6. Make Your WordPress Maintenance Offer Unique
'WordPress maintenance' encompasses a wide range of services. You can take advantage of this.
Competing for tasks like creating backups and running updates is going to be difficult since every maintenance provider offers them. You can stand out from your competitors if your care plans include unique services.
Clients prefer all-in-one packages since they save on hiring multiple specialists. If you're able to adresse Marketing, Social Media, and security/custom development, you will be able to stand out from your competitors.
7. Present Your Maintenance Offert, Don't Email it
You can make this change in your process very easy. Your conversion rate goes up significantly if you present your proposals in person rather than send them via email.
Besides communicating your offering more effectively, you're also able to answer any questions your client may have.
This tip ties in rather nicely with the second one in which we recommend introducing the subject of maintenance at an early stage of the project.
Frequently Asked Questions
Q1: How much can I charge for WordPress maintenance?
It depends on your package content, but you can charge between $50 to $400 per month. You should not start selling WordPress maintenance for less than $50.
Q2: What tools do I need to maintain a WordPress site?
WordPress maintenance only requires a few tools: an all-in-one solution like WP Umbrella to manage all your websites from a single place. A cache plugin like WP Rocket and something to compress your images (imagify) to make sure your clients' websites load fast, and that's it!
Q3: How to make maintenance reports?
You can use WP Umbrella to make beautiful maintenance reports for your clients in less than 5 clicks!
Q4: Do WordPress sites need maintenance?
As with any other software, WordPress requires regular maintenance to remain stable, secure, and in good working order. The more things you plug in, the more maintenance you're going to need.
Q5: Which WordPress maintenance tasks can I automate?
With an all-in-one solution like WP Umbrella, you can easily automate backups, uptime monitoring, plugin updates, and maintenance reports.
Q6: how much does website maintenance services cost in 2022?
You can do all your WordPress maintenance with WP Umbrella which costs $1.49/month by website.
Q7: How often should I have maintenance of my WordPress site?
WordPress should be updated at least twice a month. You will have ample time to address any problems. In addition, plugin developers will get time to fix any updates. Don't forget to update everything, including WordPress itself, its plugins, and themes.
Wrapping Up
Your agency or freelance activity can benefit from selling WordPress maintenance. This is one of the best ways to insure a regular income without having to work too hard.
Take a look at what your clients need and assess your resources to determine what you can provide.
Don't neglect the selling process and soon enough, you should have a flourishing WordPress business!