This article is an in-depth review of Rocket.net, so if you are wondering if this WordPress managed hosting is worth the hype you are in the right place!
Rocket.net Presentation And Key Findings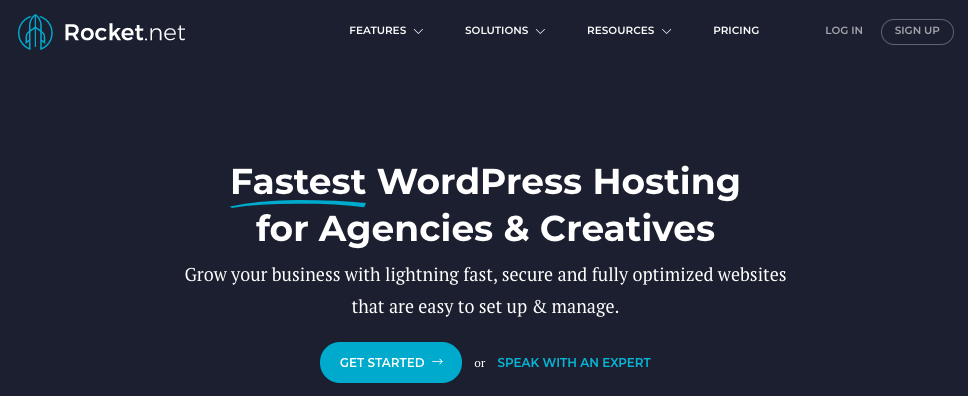 Rocket hosting pitches itself as the easiest and fastest way to host WordPress. The platform promises fast loading times, free SSL, excellent customer service, and many other features.
Do they live up to their promises? I thoroughly tested them and will describe my experience here.
This company was founded in 2020 by Ben Gabler and Aaron Dewell Phillips and has gained great recognition worldwide. The company now hosts thousands of websites, has gained trust, and is slowly carving out a niche for itself.
I had the chance to speak with Ben Gabler recently and frankly, Rocket.net is like WP Umbrella: a product built around users' needs.
Pros & cons About Rocket.net
In-Depth Review of Rocket.net Performance
Rocket.net offers one of the fastest managed wordpress hosting. The company's state-of-the-art servers, enterprise-class CDN, sophisticated caching mechanism, and most importantly their experienced team made this possible.
Rocket.net Uptime Rate Reviews
This is no surprise, but the uptime rate of Rocket.net is excellent. I'll update this screenshot when i've more data about Rocket.net performance.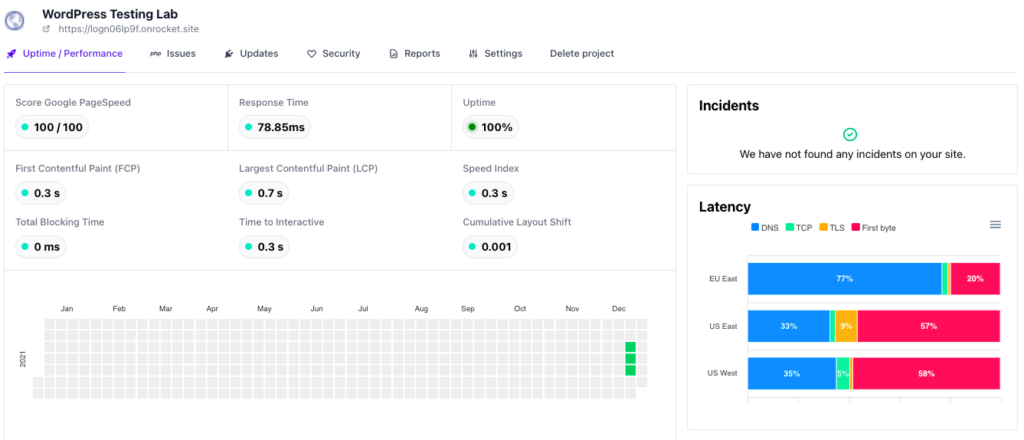 Rocket.net Response Rate Tests
Rocket.net uses CDNs and cloud edge networks, which means users are sent to the nearest server for faster response times.
Time-to-first-byte or response time makes an enormous difference in how fast your website loads.
We used WP Umbrella's application to monitor Rocker.net response rates from the US and from Europe. Here are the test results.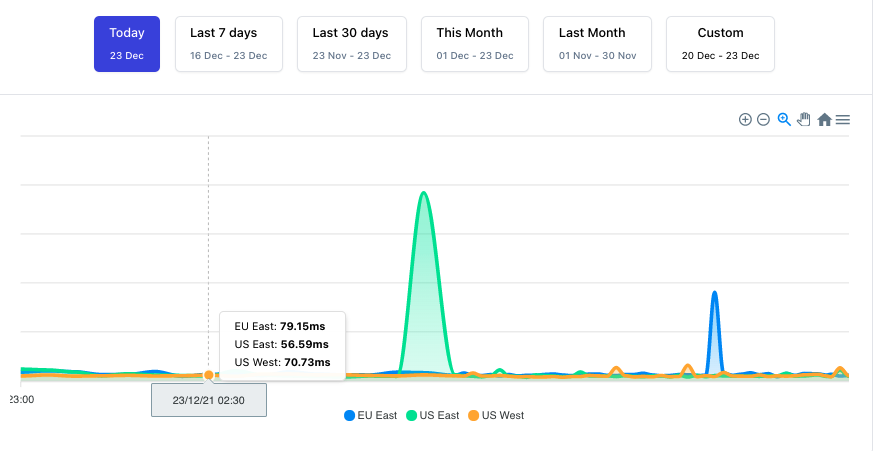 Wow, this is amazing. For all locations, our test site responded within milliseconds and the spikes are very reasonable.

I can say that Rocket.net is, along with Kinsta, the fastest WordPress Managed hosting provider.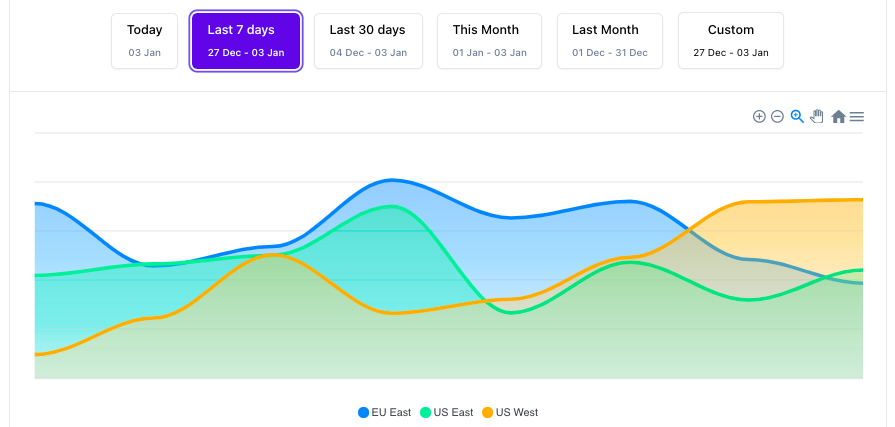 Is Rocket.net Support Great?
Not all WordPress users know the technical stuff behind the scenes. Even advanced users may need help now and then. You would want to choose a hosting company with better customer support in your time of need.
You can contact Rocket.net 24×7 via phone, chat, or email. As a managed WordPress hosting company, they have a team of experienced support representatives who are eager to help.
I've opened a ticket and got a super quick answer.
Rocket.net Reviews From Current Users
After I made my own opinion about a WordPress service, I always go on TrustPilot and G2 to check what the other users are thinking of it.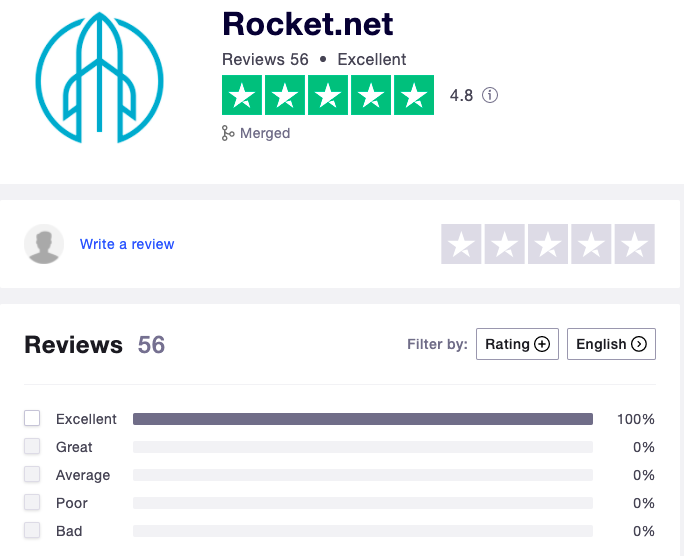 And frankly, the reviews of Rocket.net are just amazing.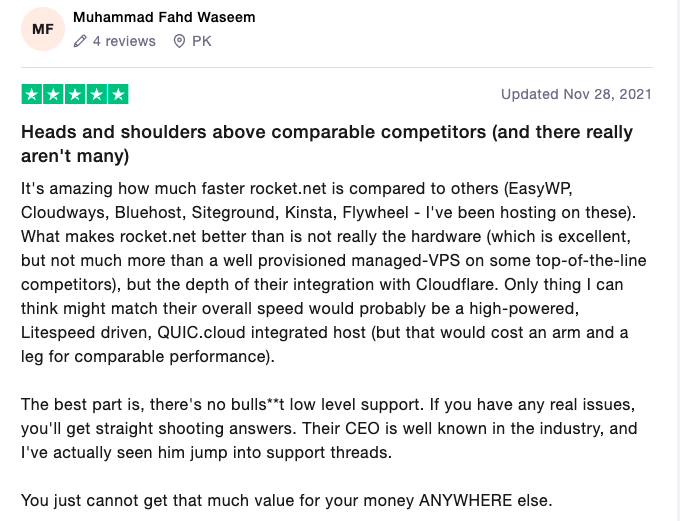 Rocket.net Features
1. Handy dashboard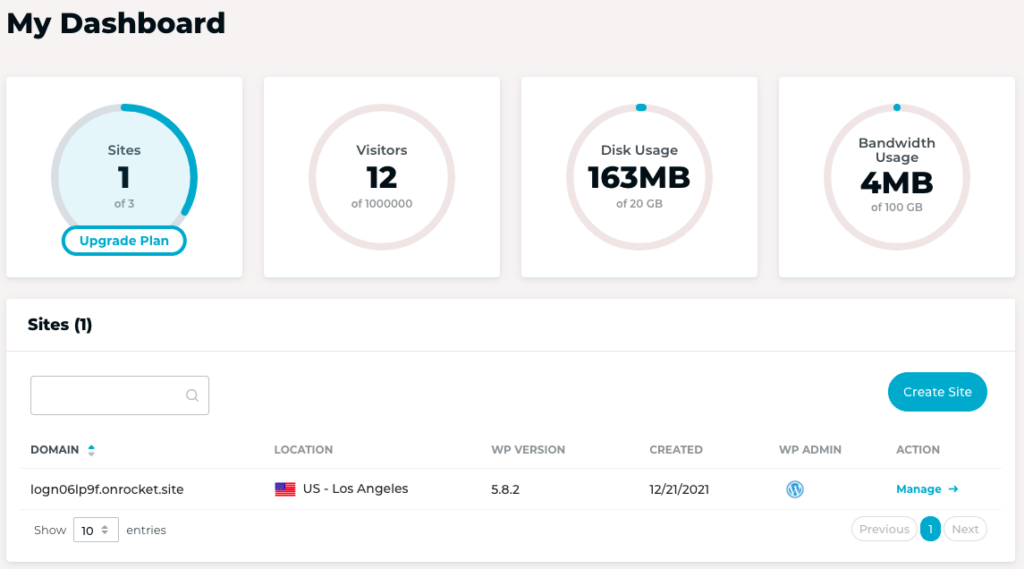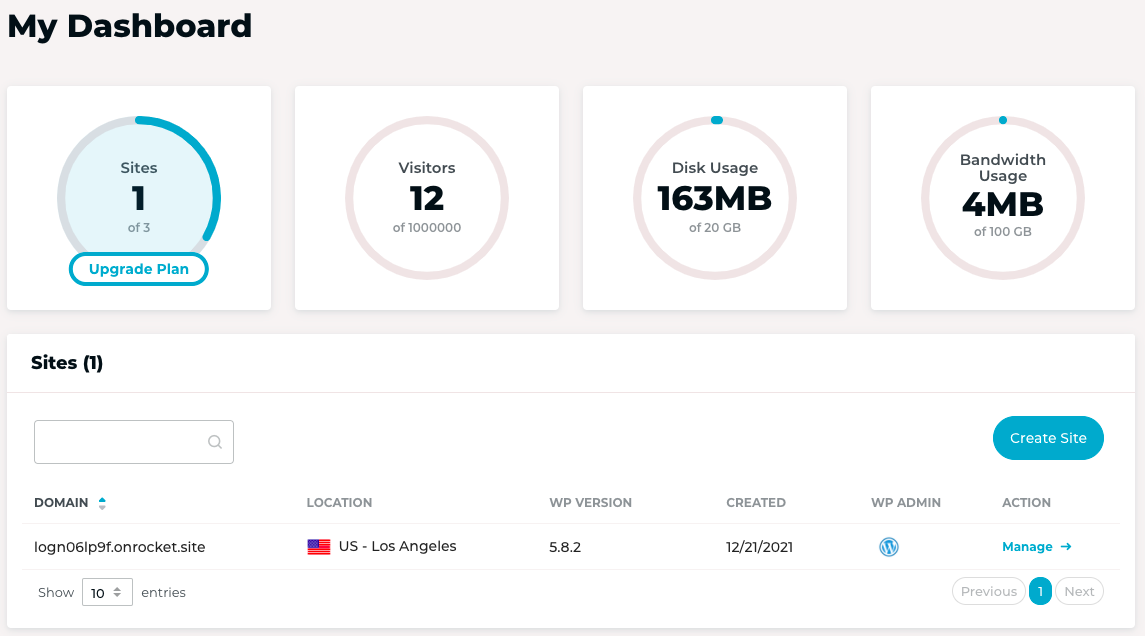 Rocket.Net's dashboard is one of the best features. It's very easy to use, as everything is clearly labeled, and you can access all your WordPress admins in just one click.
With the WordPress control panel, you can manage plugins, deploy a WordPress site, and perform site staging. You can also pre install plugins.
With so many features and an interface for beginners who aren't very tech-savvy, installing a WordPress site has never been that easy.
2. Free and effortless site migration.

Migrations from one server to another can be difficult, but Rocket.net hosting ensures that the process is seamless.
After you create your Rocket.net hosting account, you can speak with their experts and they will do the job for you.
Furthermore, Rocket net ensures that your site remains online throughout the process, and you can preview results using a temporary staging URL that they provide.
3. Plugin Management


Rocket.net make plugin management a breeze. You can update, add, or even delete WordPress plugins straight from the control panel. The UX is nice and the process works well.
4. A Powerful CDN
The Rocket Net website is delivered from 200+ global locations via Cloudflare enterprise-level service. The hosting company also offers a secure and reliable connection to ensure a fast and efficient experience for all visitors of our site, as well as a low bandwidth consumption.
5. Super Strong Security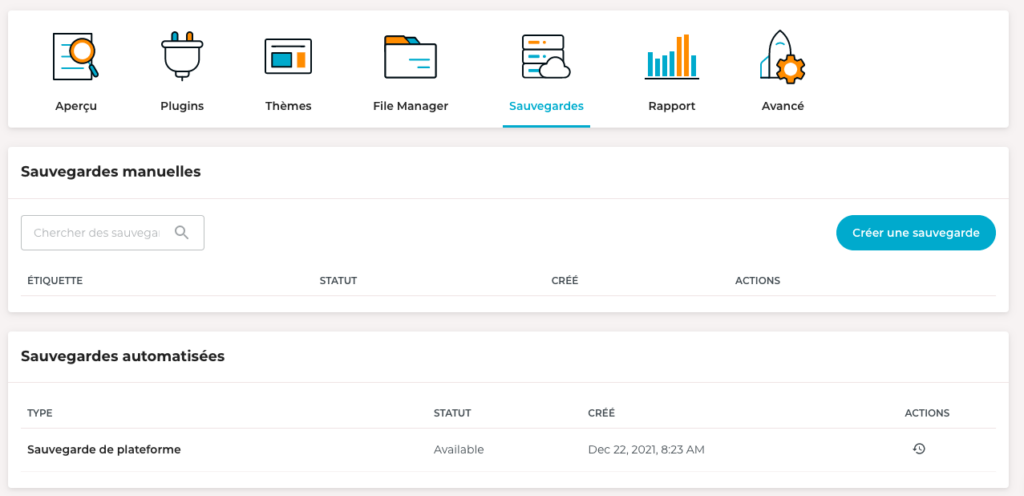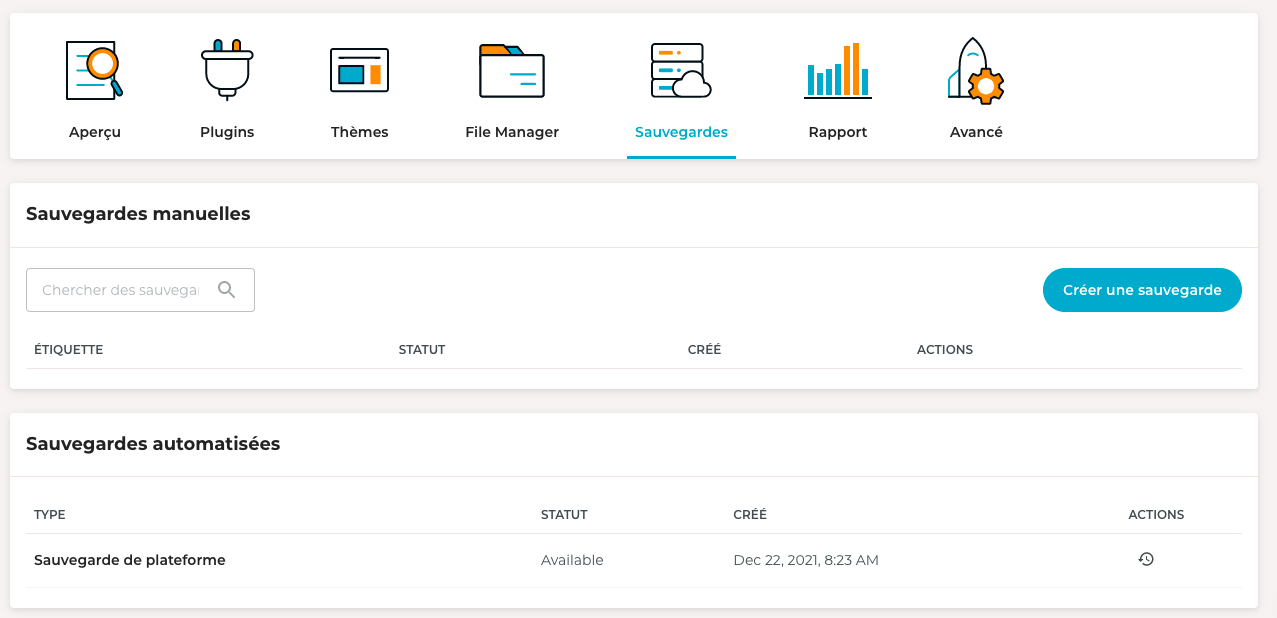 You will benefit from security features provided by Rocket.net Hosting, such as brute force protection, SQL injection prevention, and other security tools that will help keep your WordPress sites protected around the clock.
Furthermore, Rocket.net offers a free hosting site backup in addition to its security features, which means you can recover your website in less than an hour if it gets corrupted by using its version control feature.
Rocket.net Pricing Evaluation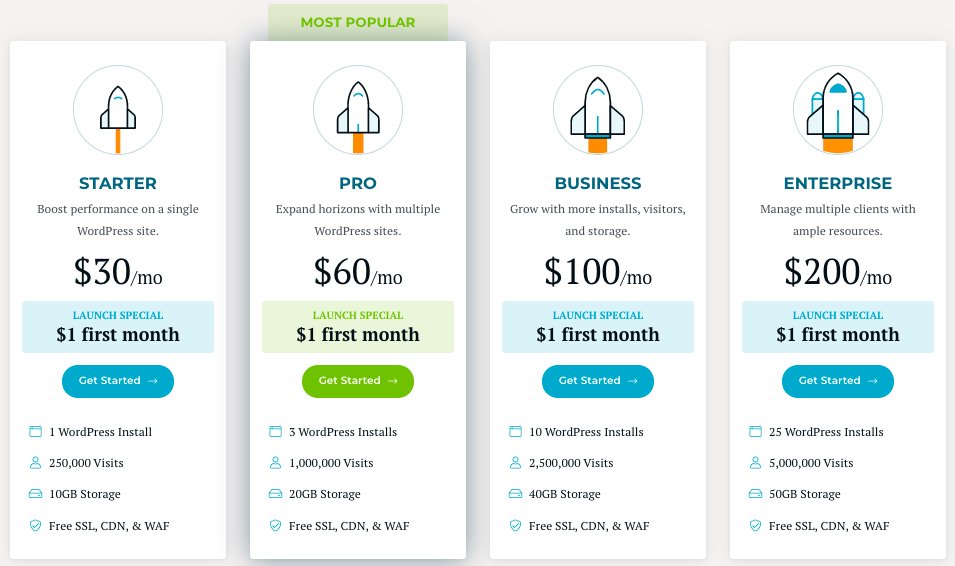 The Rocket team offers four different levels of managed WordPress hosting.
Starter – $30 per month (billed annually) with 1 WordPress install and 25.000 visits
Pro – $60 per month (billed annually) up to 3 WordPress installs and 100,000 visits
Business – $100 per month (billed annually) up to 10 WordPress installs and 250,000 visits
Agency – $200 per month (billed annually) with 25 WordPress installs and 500,000 visits
All plans include a 30-day money-back guarantee, so if you're unhappy with the service or simply don't want to continue, you'll receive a full refund.
If you are looking for a competitive edge, you should give it a try.
Conclusion: Is Rocket.net Managed WordPress Hosting A Good Fit For You?
If you are looking for a faster website with an easy to use control panel, then Rocket.net is a great managed WordPress hosting option for you.
Their servers are fast and highly optimized for WordPress websites. You also get peace of mind with enhanced security, automatic updates, and knowledgable support.
Those serious about WordPress should definitely check out Rocket. Hosting on their platform is one of the best choice for small businesses, agencies, and WooCommerce sites alike.