Your Comprehensive Guide to the Best WordPress Maintenance Services in 2023
The WP Umbrella Team
If you're a WordPress agency owner in search of the best WordPress maintenance services, you've struck gold: I've compiled a list of the best WordPress maintenance and support services to help you find the right one for your needs.
Keeping a WordPress website running smoothly isn't a set-it-and-forget-it job, especially when you're juggling multiple client projects. That's why more and more agency owners are turning to WordPress maintenance and support services.
But why are these services are getting more popular, and which ones should you consider?
The Rising Demand for WordPress Maintenance Services
First off, WordPress maintenance services allow you to focus on high-value tasks, like client acquisition and project management. No one wants to get bogged down with routine website upkeep and plugin updates.
Secondly, top-notch WordPress website maintenance services make sure your site stays online and loads quickly so you can deliver a better online experience than your competitors. They take care of all essential WordPress maintenance tasks so you can focus on growing your business.
That's why, even WordPress development agencies subcontract maintenance and support services to maintain the websites of their clients.
It's not the same job to create amazing websites and to keep them up to date.
What Do WordPress Maintenance Services Do?
Wondering what tasks these services usually cover? Well, most WordPress maintenance agencies are a one-stop-shop for:
WordPress core updates
Plugin and theme updates
Regular backups
They are essentially the Swiss Army knife of WordPress management. With tools like WP Umbrella, you can automate these tasks, but the human touch often provides more custom solutions.
Ready to boost your productivity, impress your clients and grow your WordPress agency?
Install WP Umbrella on your websites in a minute and discover a new way to manage multiple WordPress sites.
Get Started for free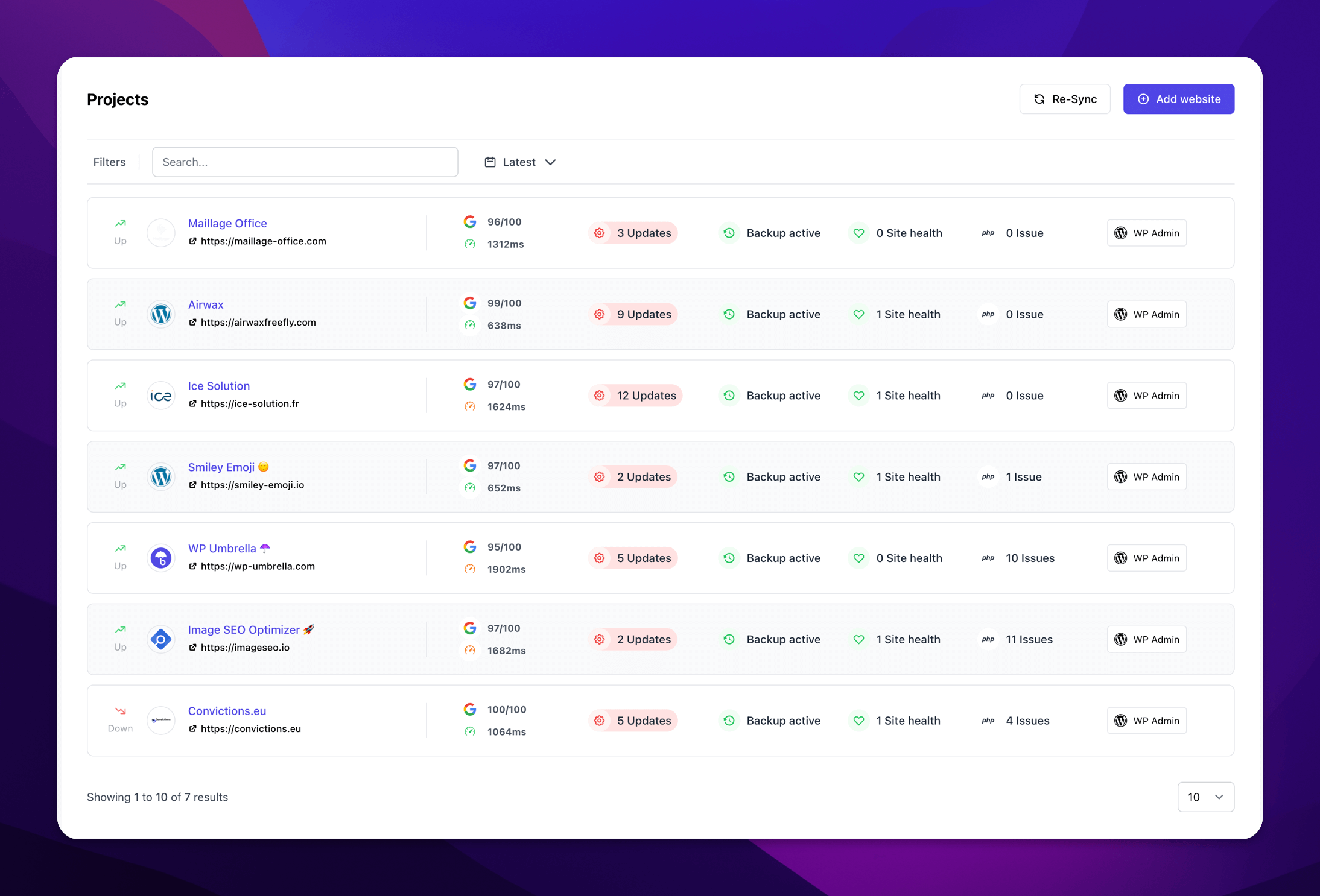 WordPress Monitoring, Updates, and Backups
The core set of maintenance features offered by any decent service includes site and domain monitoring, updates, and backups.
The service should monitor your website uptime and keep daily backups of it. The best WordPress maintenance services keep tabs on your website's uptime and maintain daily backups. So, if things go sideways, you can have your site up and running again in no time.
Keeping your themes and plugins up to date is also a crucial WordPress maintenance task because it improve the site performance and security. Although these tasks can be automated with WP Umbrella, it's generally safer to let WordPress maintenance experts handle it manually. They can address potential issues linked to custom code or server compatibility that automated tools can't.
Improve Your Website Security & Performance
Site security isn't just a nice-to-have; it's a must.
Why back up a site if it's constantly at risk of being hacked? WordPress support and maintenance services are adept at managing WordPress security plugins and troubleshooting PHP errors. They can also optimize your site's performance so it continues to meet high standards.
WordPress Support And Reactivity
Real talk: it's freak-out level stressful when your website goes down. You need a WordPress maintenance service that offers 24/7 support and quick reaction times. Many of these services also offer:
Custom WordPress development work
Content updates or creation
SEO optimization
In essence, they go above and beyond simple maintenance. They can act as your go-to PHP developers, troubleshooters, and even SEO gurus.
Recommended WordPress Maintenance Services
This list is not exhaustive and a lot of excellent WordPress maintenance and support services aren't listed. So how have we selected them?
Everyday we monitor hundreds of WordPress websites for several maintenance services. We know the average uptime rate of the website they maintain and how quick these services react in case of downtime.
We know that for these services, performance and reactivity truly mater.
Without further ado, the list!
The Best WordPress Maintenance services in the USA
1# WPBuffs

WP Buffs is probably the most famous WordPress maintenance service in the world. The company is operated from Washington, DC, but the team works 100% remotely from every corner of the planet.
Skilled WordPress developers work for this agency, which is famous for quality site maintenance services. Once you hire WP Buffs, you can fully focus on your e-business expansion.
WP Buffs is famous for its long list of white-label agency partners. When a service is prized by professionals and experts, it's usually a good sign!
WPBuffs indeed offers its clients all that they can need when it comes to maintaining a wordpress website:
Theme and plugins updates
Emergency support
Uptime monitoring and daily backups
Security optimization
Performance optimization
Country: USA
Language: English
Average uptime rate: 99,99%
Support: 24/7
Pricing: starting at 56$ by month.

The Best WordPress Maintenance services in the UK
1# WP Tech Support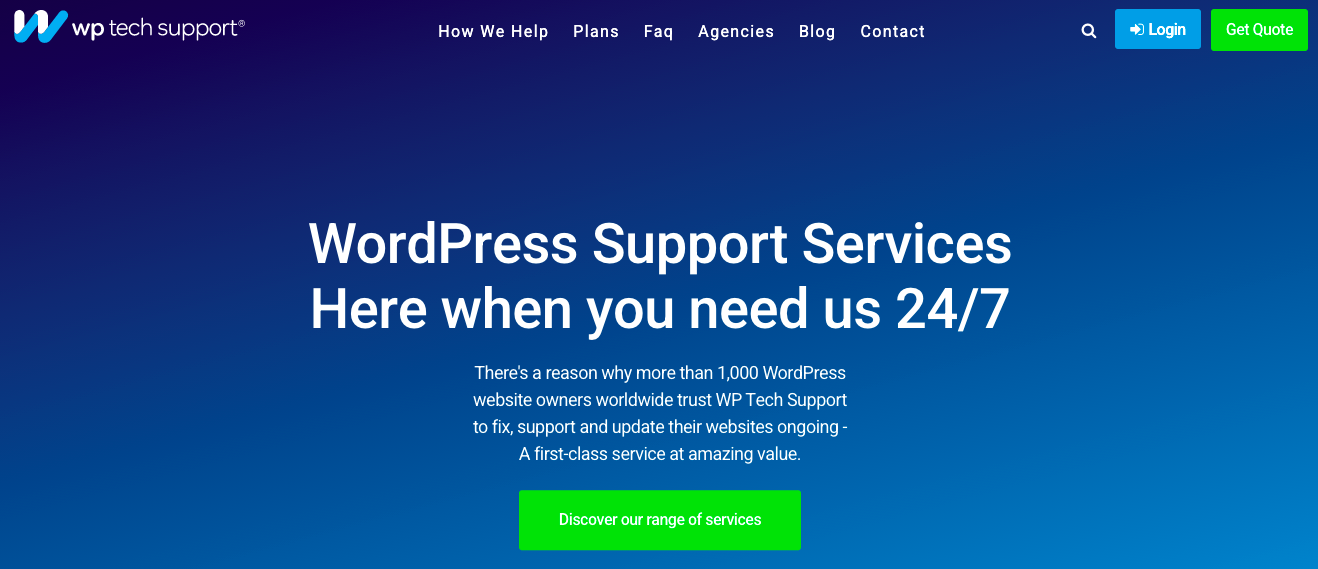 WP Tech Support maintains more than 1000 websites worldwide. They not only protect your WordPress site from attacks, but also make sure your site and plugins are up-to-date. In addition, their website experts will perform a manual health check at the outset, providing recommendations for improving the security of your site.
We have been in touch with WP Tech Support for a while, they are professional and business oriented.
WP Tech Support's maintenance packages include:
WordPress Unlimited Fixes: they commit to fix any emergency WordPress issues on your websites;
WordPress Updates: they provide weekly WordPress Core, Theme & Plugin updates to keep your site in tip top shape;
Backups;
Site Security & 24/7 Monitoring: firewall installation and uptime and performance and malware monitoring;
Performance Tune up: they tune up your site to speed up page loading times
Country : UK, USA and India
Language : English
Average Uptime Rate : 99,99%
Support : 24/7
Pricing: Starting from $45/month.
The Best WordPress Maintenance services in France
1# Akumaw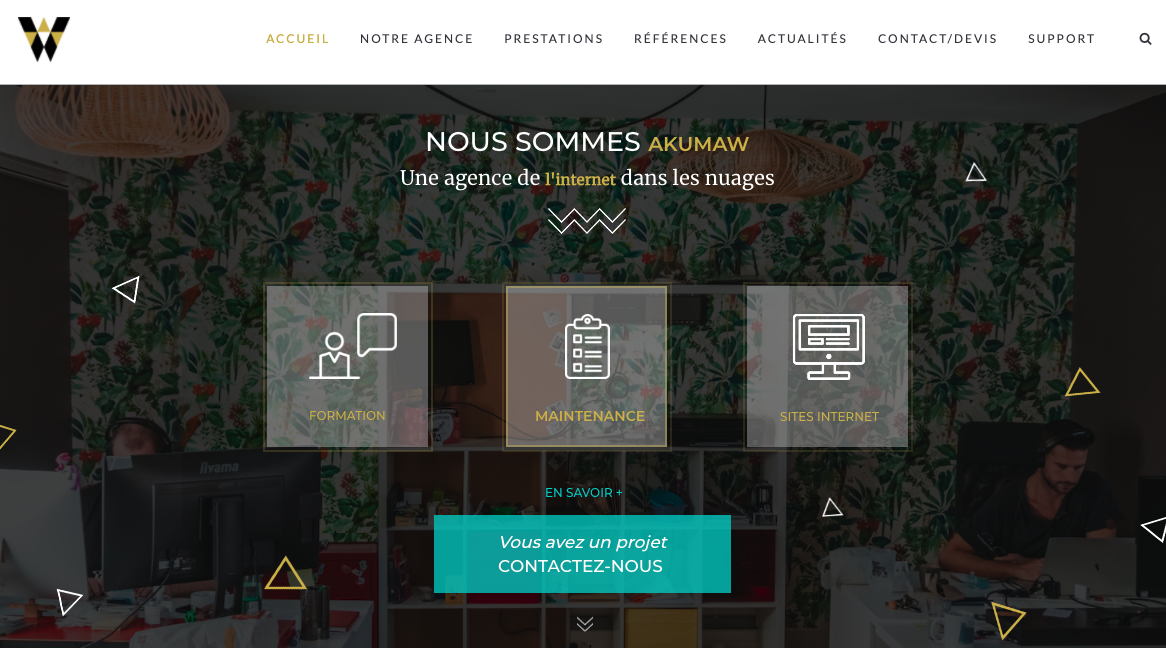 Akumaw is a marketing agency offering a premium maintenance service for WordPress websites. They are based in Lyon and were one of the first WP Umbrella's users. We highly vet for them.
Akumaw's packages always include:
Keeping your CMS and its modules and themes up-to-date;
Security, SEO & Performance optimization;
Backups;
Premium support & issues troubleshooting;
Adding content and functionalities;
Monthly reports;
Country : France
Language : French
Average Uptime Rate : 99,99%
Support : 7/7
Pricing: Starting from 59€/month.
2# Maintenance-WP
Maintenance WP is a service dedicated to the maintenance, support, security and creation of WordPress site launched in 2017 allowing individuals and professionals to focus on their business and delegate all the technical side.
Their team offers various monthly or annual maintenance packages including :
WP, plugins and theme updates;
The security of the site;
Performance optimization;
Backup and restoration;
A time dedicated to interventions on the site every month;
A detailed intervention report
They also work in white label on request.
Country : France / USA
Language : French / English
Average Uptime Rate : 99,99%
Support : 7/7
Pricing: from 49€/month for maintenance packages, 69€/hour for support.