If you are you looking for the best WordPress maintenance services for your WordPress website you are in the right place!
I've compiled a list of the best WordPress maintenance and support services to help you find the right one for your needs.
WordPress maintenance services are on the rise for two reasons:
Firstly, they allow business owners to focus on high value-added activities such as marketing rather than unproductive and unsecured web development operation.
Secondly, they help to ensure that your WordPress site remains fast to load and online all the time.
Hiring a good WordPress maintenance service is the assurance of having a site that works well over time. And let's be honest, maintenance tasks are boring.
Sometimes, even WordPress development agencies subcontract maintenance and support services to maintain the websites of their clients.
Mostly because it's not the same job to create beautiful websites and to keep them up to date.
Why Use a WordPress Website Maintenance Service?
Before jumping to the list, let's talk about what WordPress maintenance services actually do.
If you run a WordPress website by yourself, you need to install WordPress core updates, keep your plugins and theme update, and regularly make backups.
It's basically all what you can do with WP Umbrella.
WordPress Monitoring, Updates, And Backups
These (update/backups) are the core set of maintenance features that every maintenance service provides.
The service should monitor your website uptime and keep daily backups of it.
So if something goes wrong, your site can be restored straight away.
This being said, the best way to keep your website online and secured is to maintain your plugins and theme up to date.
Some plugins like Jetpack or ManageWP can do that automatically, but it's better to do it manually.
Indeed, updating WordPress plugins can also break your website. Why?
When you push an update, you never know how your server will react. This doesn't mean that you shouldn't update your WordPress site.
However, you have to keep in mind that an update can sometimes cause your site to crash. If this happens, you must have a backup and/or the help of experts!
Improve your Website Security & Performance
The best way to prevent a WordPress site from crashing is to protect it.
What is the point of backup a website if it keeps being hacked?
Maintenance and support agencies are used to manage WordPress security plugins and to troubleshoot PHP errors.
A good service should also improve (or keep on high-standards) your website performance.
WordPress Support And Reactivity
Panicking is a completely normal reaction when you realize that your site is offline. In these moments, what you need is reactivity and a 24/7 technical partner.
Maintaining a WordPress website is not only about monitoring and keeping it up to date. It also requires to be a talented PHP developper to troubleshoot what's going wrong.
Many maintenance services also go further with features such as:
Custom WordPress development work ;
Content updates or creations ;
SEO Optimization ;
Etc, etc.
Top WordPress Maintenance & Support Services for 2021
This list is not exhaustive and a lot of excellent WordPress maintenance and support services aren't listed. So how have we selected them?
Everyday we monitor hundreds of WordPress websites for several maintenance services. We know the average uptime rate of the website they maintain and how quick these services react in case of downtime.
We know that for these services, performance and reactivity truly mater.
Without further ado, the list!
The Best WordPress Maintenance services in the USA
1# WPBuffs

WP Buffs is probably the most famous WordPress maintenance service in the world. The company is operated from Washington, DC, but the team works 100% remotely from every corner of the planet.
Skilled WordPress developers work for this agency, which is famous for quality site maintenance services. Once you hire WP Buffs, you can fully focus on your e-business expansion.
WP Buffs is famous for its long list of white-label agency partners. When a service is prized by professionals and experts, it's usually a good sign!
WPBuffs indeed offers its clients all that they can need when it comes to maintaining a wordpress website:
Theme and plugins updates
Emergency support
Uptime monitoring and daily backups
Security optimization
Performance optimization
Country: USA
Language: English
Average uptime rate: 99,99%
Support: 24/7
Pricing: starting at 56$ by month.

The Best WordPress Maintenance services in the UK
1# WP Tech Support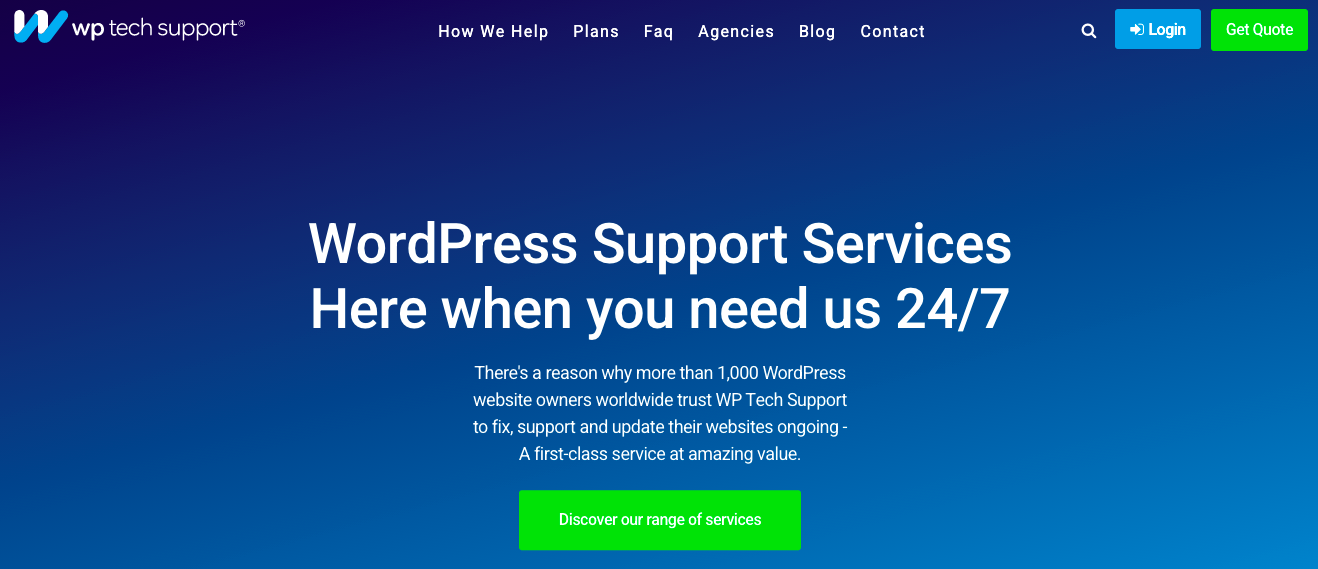 WP Tech Support maintains more than 1000 websites worldwide. They not only protect your WordPress site from attacks, but also make sure your site and plugins are up-to-date. In addition, their website experts will perform a manual health check at the outset, providing recommendations for improving the security of your site.
We have been in touch with WP Tech Support for a while, they are professional and business oriented.
WP Tech Support's maintenance packages include:
WordPress Unlimited Fixes: they commit to fix any emergency WordPress issues on your websites;
WordPress Updates: they provide weekly WordPress Core, Theme & Plugin updates to keep your site in tip top shape;
Backups;
Site Security & 24/7 Monitoring: firewall installation and uptime and performance and malware monitoring;
Performance Tune up: they tune up your site to speed up page loading times
Country : UK, USA and India
Language : English
Average Uptime Rate : 99,99%
Support : 24/7
Pricing: Starting from $45/month.
The Best WordPress Maintenance services in France
1# Akumaw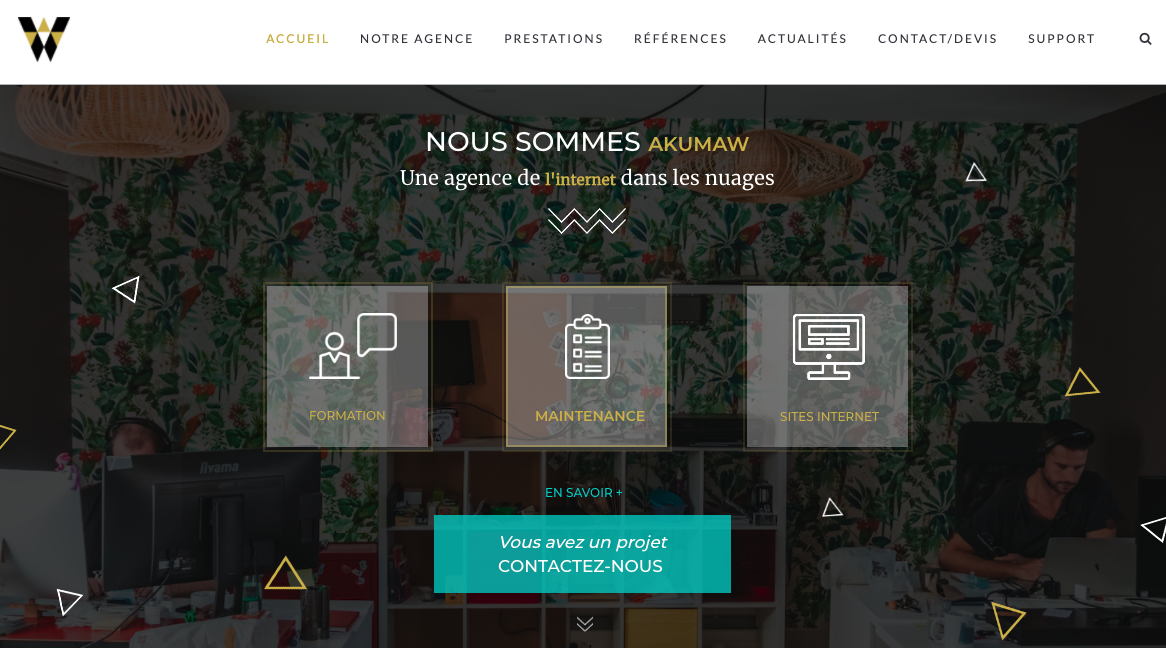 Akumaw is a marketing agency offering a premium maintenance service for WordPress websites. They are based in Lyon and were one of the first WP Umbrella's users. We highly vet for them.
Akumaw's packages always include:
Keeping your CMS and its modules and themes up-to-date;
Security, SEO & Performance optimization;
Backups;
Premium support & issues troubleshooting;
Adding content and functionalities;
Monthly reports;
Country : France
Language : French
Average Uptime Rate : 99,99%
Support : 7/7
Pricing: Starting from 59€/month.
2# Maintenance-WP
Maintenance WP is a service dedicated to the maintenance, support, security and creation of WordPress site launched in 2017 allowing individuals and professionals to focus on their business and delegate all the technical side.
Their team offers various monthly or annual maintenance packages including :
WP, plugins and theme updates;
The security of the site;
Performance optimization;
Backup and restoration;
A time dedicated to interventions on the site every month;
A detailed intervention report
They also work in white label on request.
Country : France / USA
Language : French / English
Average Uptime Rate : 99,99%
Support : 7/7
Pricing: from 49€/month for maintenance packages, 69€/hour for support.