How Working With WP Umbrella Gives Infinity3 The Ability To Provide Outstanding Care Plans To Its Clients
The WP Umbrella Team


Infinity3 was founded in 2009 and is a multi-award-winning WordPress web design agency. The Inifinity3 team combines the skills of their talented in-house web designers, developers, search engine experts and social strategists to deliver a unified service for hundreds of clients throughout the UK.
With extensive experience, award-winning website portfolio, consistent five-star reviews and transparent pricing Infinity3 is an outstanding WordPress web design partner.
Infinity3 offers a range of Care Plans for a large number of clients with WordPress websites. With options available for all budgets, their Care Plans include excellent web hosting, regular backups, plugin & theme updates as well as same-day customer support.
Infinity3 is a dynamic and innovative website design agency. They take pride in absolutely everything they do and specialise in helping businesses build and develop an online presence that really works for them by providing beautifully designed websites, results-driven marketing solutions and first-class support.
Company Snapshot
Number of employees: 5
Number of websites managed for clients: 41
Language and location: English, United Kingdom
Services offered to clients: Website Design, Web Hosting, Search Engine Optimisation (SEO) and Digital Marketing
Website: https://www.infinity3.co.uk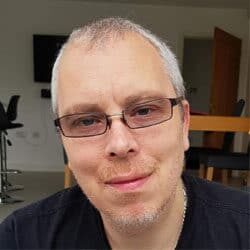 Working with WP Umbrella gives us the ability to provide outstanding Care Plans to our clients. We are so confident in WP Umbrella that we have migrated all our clients from ManageWP to WP Umbrella. If anything, we should have done this sooner!

Tristan Whittaker

Director @ Infinity3
The Problem
We have used ManageWP for 7+ years and although it is feature-rich, the pricing model didn't suit our needs. Regularly adding clients' websites to ManageWP, we were never quite sure what our monthly bill would be. With adding different features (e.g. daily backups, performance monitoring & uptime monitoring etc. our bill was always different.
We also felt that development of the platform was stagnant. The platform does have many features, but there didn't seem to be any development and the UI looks somewhat dated. When ManageWP was bought by GoDaddy, we started to look for alternatives. We explored several alternatives before we discovered WP Umbrella.
The Solution
We tested WP Umbrella by singing up for their free trial. The whole onboarding process was slick and smooth and we added our first website (our own website!) to test drive the platform.
Immediately we felt comfortable with getting setup on WP Umbrella, the UI was fresh, clean and clutter free. Digging deeper, WP Umbrella has all the essentials required for managing several WordPress website from a central dashboard. 
The feature set has everything a web design agency would need for overseeing, updating, monitoring and backing up any number of WordPress websites. Their pricing model is fantastic, you pay a set amount for each website regardless of the features you use. This is a breath of fresh air in the WordPress website management field. Using WP Umbrella allows us to manage, monitor & maintain our clients website with ease, knowing exactly what our monthly bill will be.
The ability to white label the plugin that is installed on our clients website is a massive benefit. It allows us to brand the plugin that clients see on their website, adding re-assurance that we are looking after their website. WP Umbrella also lets us brand the reports that are automatically sent to our clients which is a fantastic feature. The reports are clean, informative and of benefit to both us as a web design agency, but also to our clients so they can see what has been updated on their website, their websites performance, security and backups.
We reached out to WP Umbrella for some assistance with a backup issue and were stunned by the amazing support we received. Communication with the team behind WP Umbrella was super-fast, effective and overall brilliant. The team went above and beyond to resolve our little issue and even pushed out a patch for their plugin in no time at all so that other users wouldn't encounter the same problem. Their support is simply first class.
As a web design agency that has been in the business for over a decade, we can wholeheartedly recommend WP Umbrella. We trust WP Umbrella with the crucial task of backing up our clients' websites whilst providing us with an all-in-one solution for keeping a watchful eye on all the websites we manage and maintain and sending a monthly report to our clients.
Working with WP Umbrella gives us the ability to provide outstanding Care Plans to our clients. We are so confident in WP Umbrella that we have migrated all our clients from ManageWP to WP Umbrella. If anything, we should have done this sooner!
If any web design agency is struggling to decide on an all-in-one solution to managing their clients websites, we can highly recommend WP Umbrella. Amazing customer support, great feature set (that is continually developing) and reasonable pricing.