Weglot Review: Is It the Easiest Translation Plugin? PROS & CONS (2022)
The WP Umbrella Team
Would you like to translate your website? Weglot, one of WordPress' most straightforward translation plugins, might be something you'd like to consider.
The purpose of this Weglot review is to give you a glimpse at its features, pros, and cons, so you can decide if it's really worth it.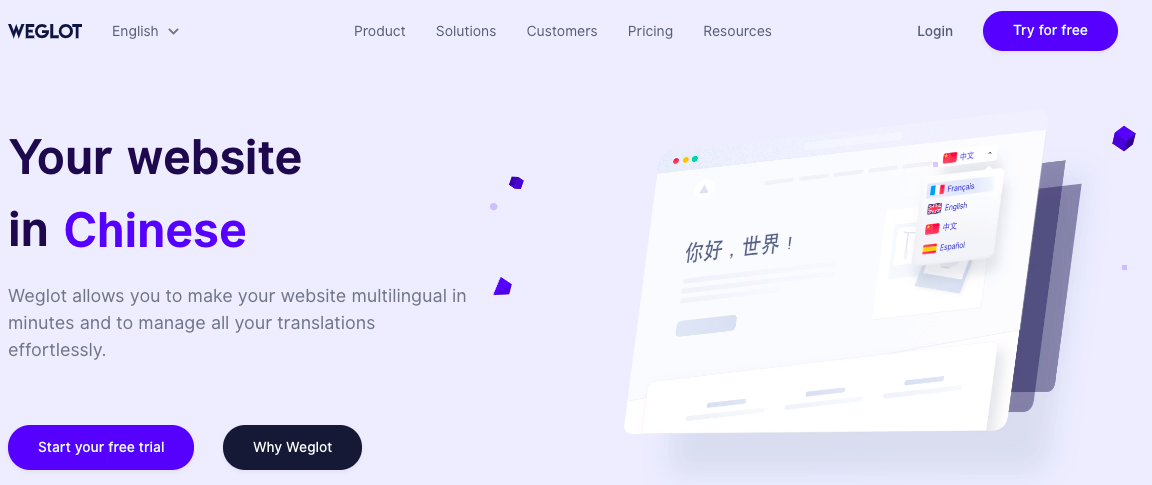 Nota bene: We have been using Weglot over the last 3 years and we are SO happy about it. Weglot helped us to get the first position in the SERPs on several keywords (in French and German) only a few clicks. This is a real review based on our experience of this excellent plugin for WordPress.
What is Weglot And Why is it Important to Translate Your Website
Weglot lets you translate any website, including WordPress, Shopify, and many other CMS in just one click. The company began as a small project in France back in 2016: our CTO, Thomas Deneulin, was lead developer for them at that time.
Translating your website into other languages will allow you to reach more people in other countries. You can accomplish these goals with the Weglot multilingual WordPress plugin.
The simplicity of this plugin, its compatibility with other plugins and themes, and it's SEO-friendly features make it stand out from its competitors.
Translation is just part of what Weglot does, but there's more. Your site will have a language switcher that lets users select the preferred language. The only thing they need to do is click on the flag icon.
Having your website translated into more than one language will improve the user experience for international visitors and significantly boost traffic and search engine ranking, so let's get started with this review!
Weglot's features
Weglot has all the features you'll need from a WordPress translation plugin, including automatic translation, manual professional translation, multilingual SEO optimization, etc.
Now let's examine a the features that make Weglot amazing!
Easy, Lightweight and Highly Performance Translating Plugin
Weglot is by far the easiest translation solution available for WordPress.
After installing and activating the plugin you are almost done. The only step necessary to enable automatic translation is to copy your Weglot API key and select the original and target languages.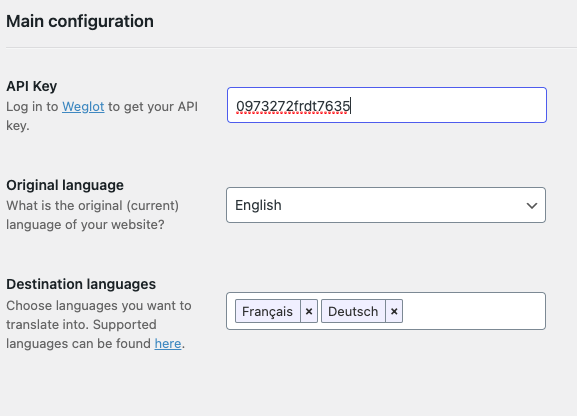 Your website will immediately display a menu where users can choose the language they wish to use.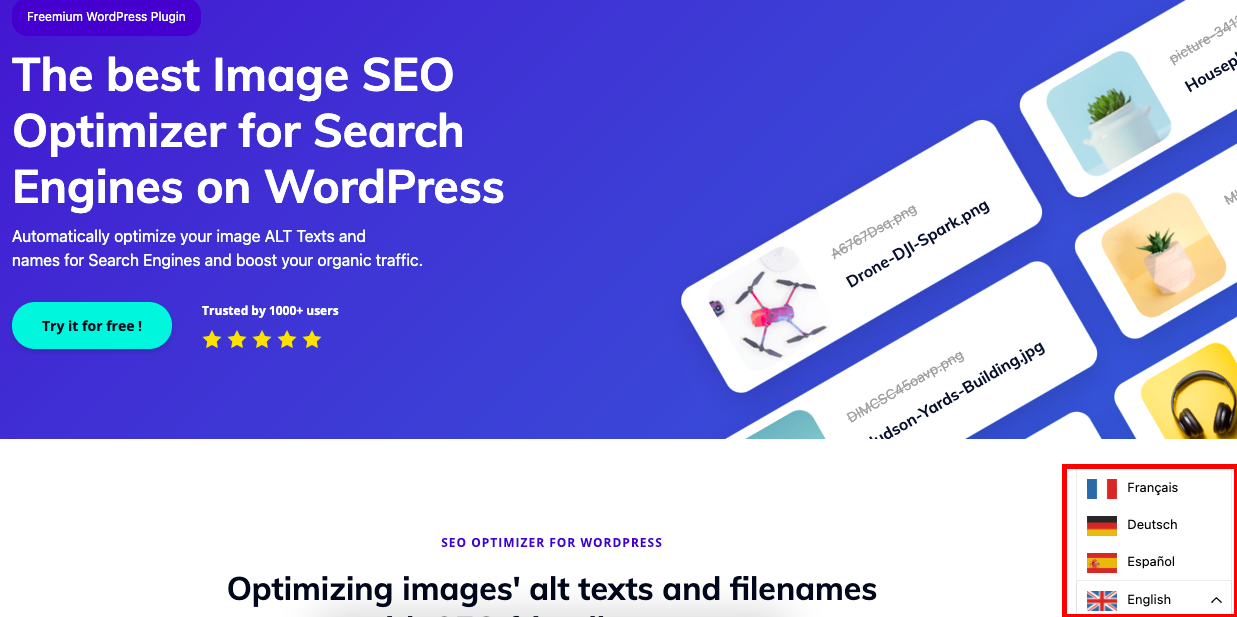 In contrast to other popular translation plugins, this plugin does not require you to install additional language packs.
You can also be confident that your translated content will automatically be indexed by Google following the best practices in multilingual SEO. This bring us to our second point: is Weglot SEO friendly?
The Most SEO Friendly Translation Plugin for WordPress
Is Weglot SEO friendly? YES, Weglot is 100% optimized for SEO.
Just look at this screenshot.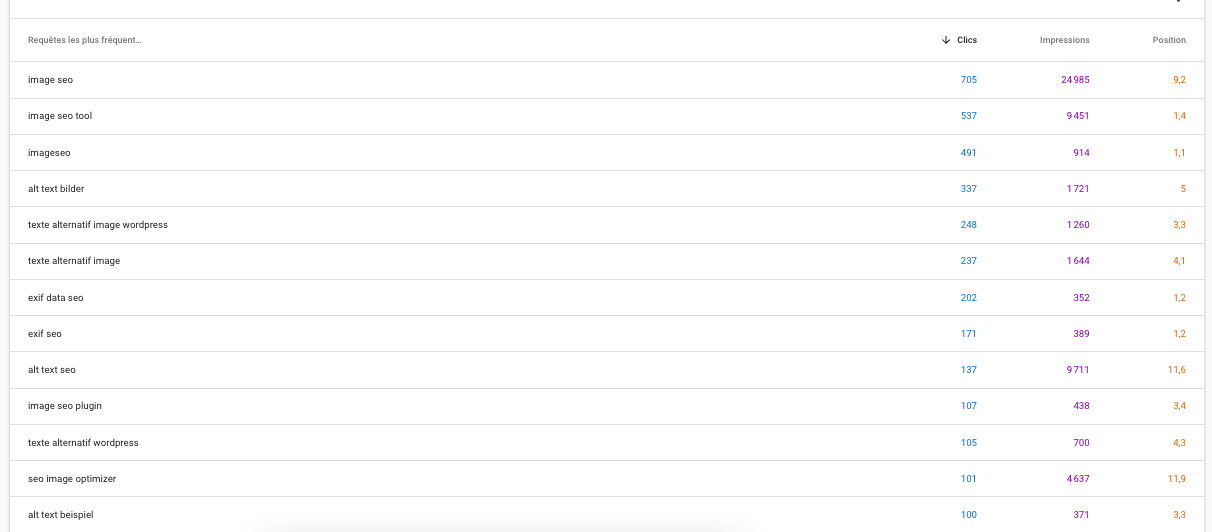 As you can see, some of our top keywords are in English, in French and in German and this only because of Weglot.
If your native content is already optimized for SEO, then Weglot will just skyrocket your page in the SERPs top results in other languages.
This is possible because Weglot has been built for SEO. Here are the four main SEO assets of Weglot:
A unique URL is created for each version of your web page. The plugin automatically creates "/[2-letter code]" sub-directory for each translated version of your pages.
hreflang tags are automatically added to your source code by Weglot. In this way, Google knows you have different versions of the same page, and will index these pages more often. Hreflang tags can be found in the <head> tag of your website source code.
The Weglot translation process takes place server-side, meaning your content is translated into your source code (and not just dynamically with a JavaScript solution, which is bad for SEO)
Weglot automatically detects and translates SEO tags, like meta description tags.
Weglot is compatible with SEOPress and Yoast.
3. A Powerful Visual Editor for Manual Translation
If you want to translate your content quickly and easily without having to hire a translator, automated translation is the perfect choice for you. Weglot supports instant translation, as well as visual editing to make editing translations super easy. This is a total no-brainer.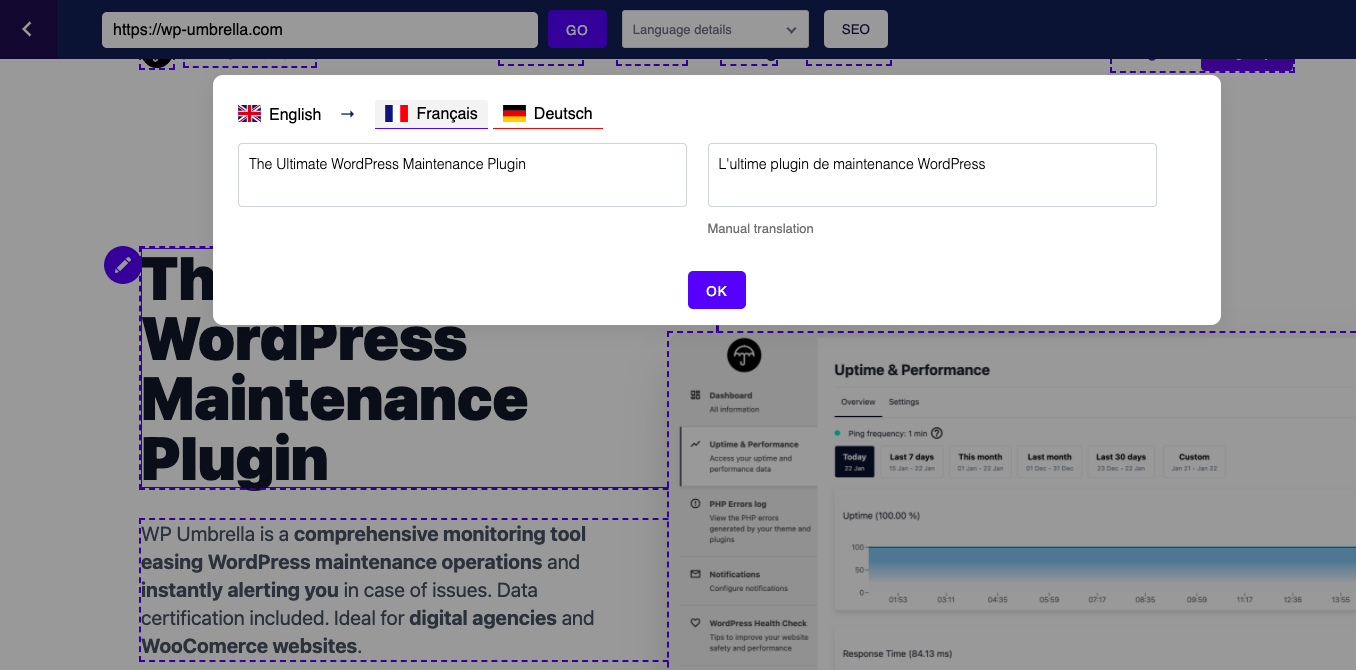 Indeed, your translated content can be edited right from the front end of your website through its visual editor. It only takes a click on the Visual Editor tab to start editing.
Weglot do 98% of the job, then you just have to get through your website with Weglot's visual editor to fix the wrong translations.
4. Translation Statistics
The statistics page depicts the translated page views by any time period, and presents a line chart illustrating how viewing habits have changed over the past few weeks, months, etc. In addition, the top five translated pages are displayed.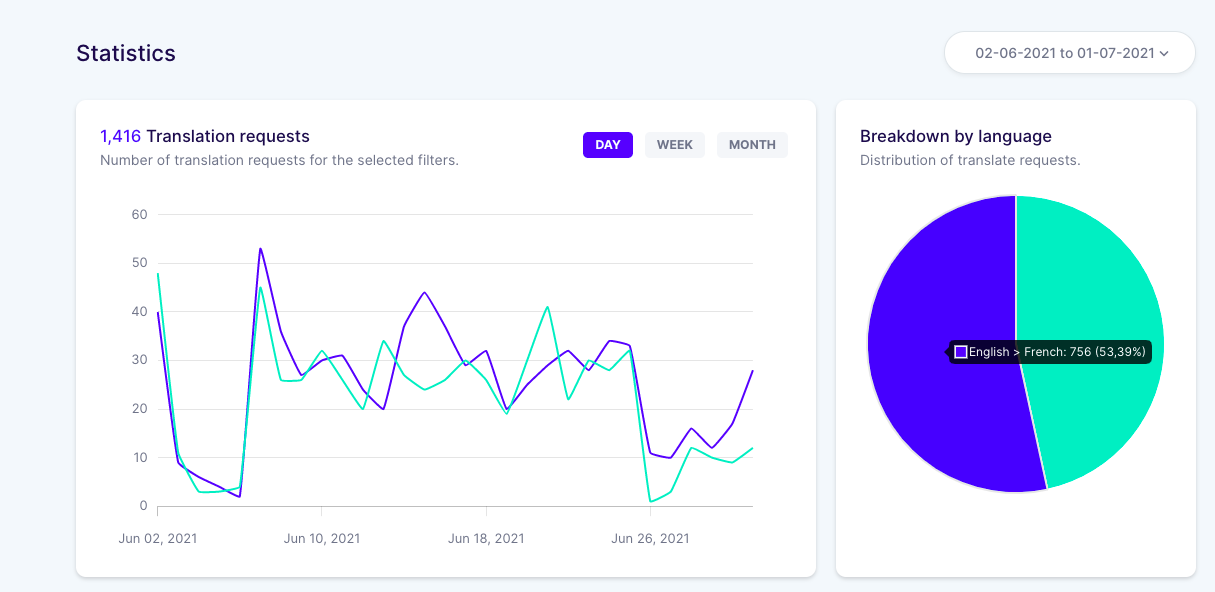 Weglot's translated page views are key to understanding how Weglot helps your business and what languages visitors are reading your website in.
5. An Outstanding Support
When I write a plugin review, I always check support reviews. This is not a surprise at all, but Weglot has amazing reviews on both Trustpilot and WordPress plugins directory.
Weglot reviews on TrustPilot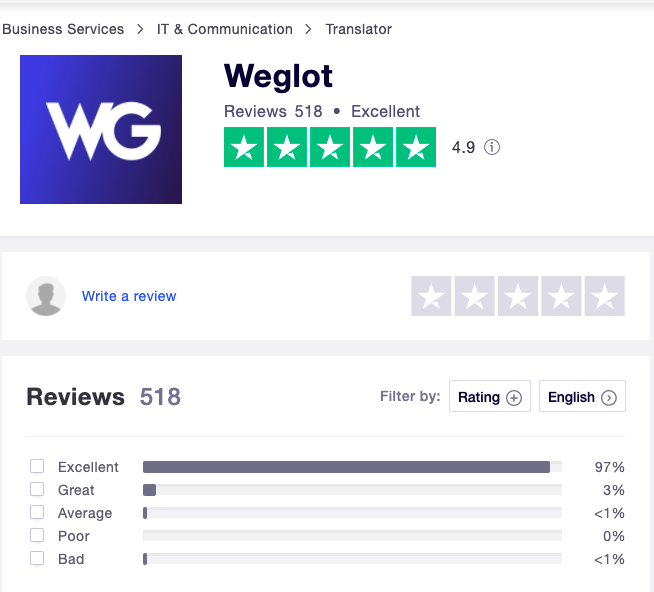 What really amazed me is how people are saying that the support is perfect/excellent/awesome.
Translating a WordPress website is something serious, and it's important to know that you will enjoy a good support if you encounter an issue with it.
Weglot reviews on WordPress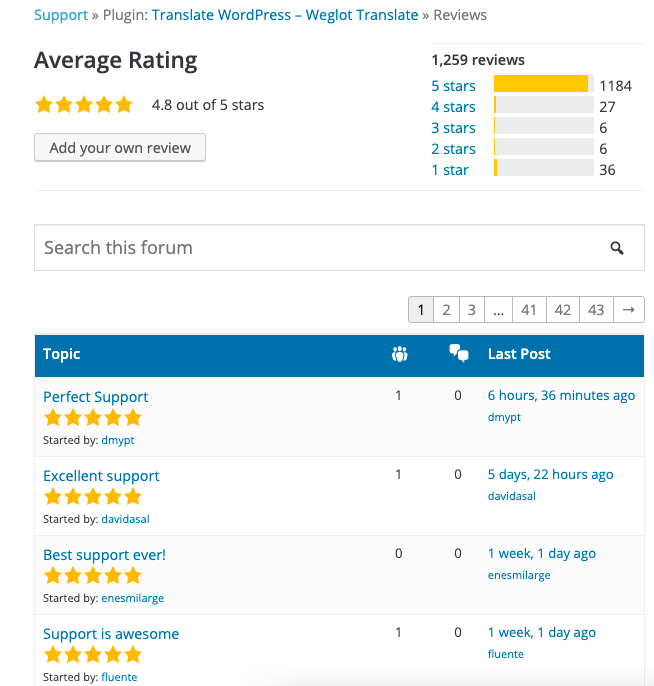 Pros and cons about Weglot
| Pros | Cons |
| --- | --- |
| So easy to use | Once you use Weglot, it's really hard to opt for another translation tool: you will no longer be able to see the translation on your website after cancelling your subscription. |
| Crazy time saver (automatic translations) | Weglot is not cheap, but you pay for what you get |
| SEO friendly | |
| Does not slow down your website | |
| Visual editor | |
| Awesome support | |
| Supports 100+ languages | |
| Automatic language redirections feature | |
| Translated content statistics | |
| Option to order professional translation | |
Translation with Weglot: Our Verdict
Weglot is an incredible translation solution that translates content from WordPress sites into many languages. The entire process can be accomplished within a few minutes without the need for any coding. There is no doubt that Weglot delivers what it promises, in over 100 languages.
In my opinion, there is no other translation solution as simple as Weglot for WordPress. If you have a reasonable budget and need the most intuitive translation plugin available, this is the plugin that you need.
However, there are other translation plugins on the market that are a bit cheaper. Alternatives to Weglot may be considered if you have a limited budget (Polylang or WPML)
I hope this article helped you to make your opinion about Weglot. You may also want to see our full review of WP Rocket aka the most powerful caching plugin for WordPress.