Inside WP Umbrella: Our First Year In Review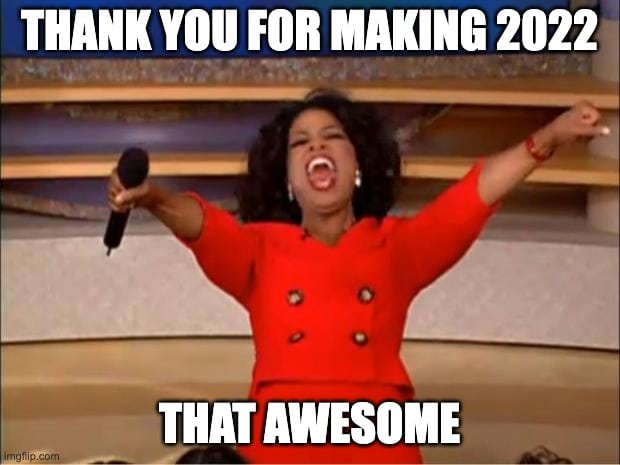 This past year has been a unique one for us.
The company behind WP Umbrella was officially founded in July 2021, but it wasn't until 2022 that our CTO, Thomas, and I left our jobs to fully dedicate ourselves to WP Umbrella.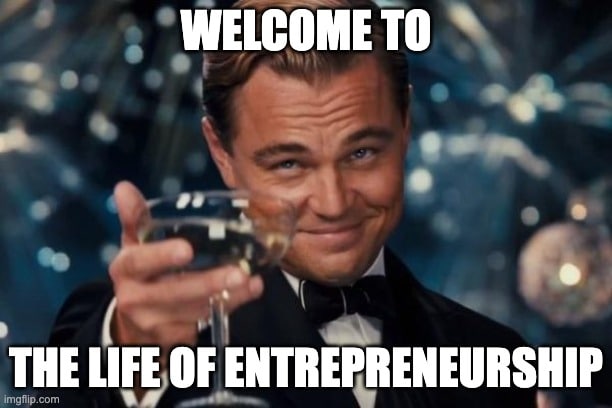 It might seem crazy to give up stable, well-paying jobs to put all of our time and energy into a project that only generated $647 in monthly revenue (our MMR as of January 1, 2022).
But that's exactly what we did.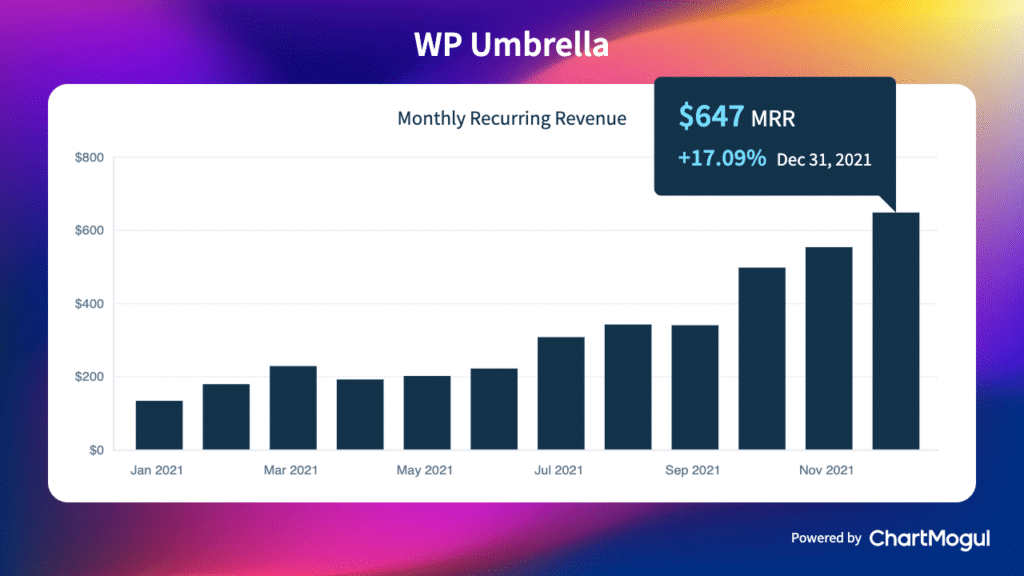 12 months later, I can tell you that it was the best decision ever. I feel like I'm in the right place at the right time, doing the right thing with the right people.
And speaking of the right people, Thomas and I are no longer working on this project alone. The founders of WP Media (the company behind WP Rocket) also invested in WP Umbrella this year.
We decided to work with them to take advantage of their expertise. They're helping us make better decisions more quickly and build a better product. They're not just any investors – they're also our mentors and advisors.
As CEO, I feel it's important for WP Umbrella's users to know the full story behind our company, which is why I wanted to share this retrospective with you.
Without further ado, let's start this review of the past year with a brief overview of what happened before 2022.
How We Came Up With The Idea of Making WP Umbrella
Thomas and I have been working together on various side projects for the past four years, building various plugins and applications for fun. Both of us are very energetic and always looking for new challenges.
The Covid-19 lockdowns in France were long and difficult, and to top it off, we were both dumped by our girlfriends just before it all began. We were two lonely guys stuck at home with nothing to do.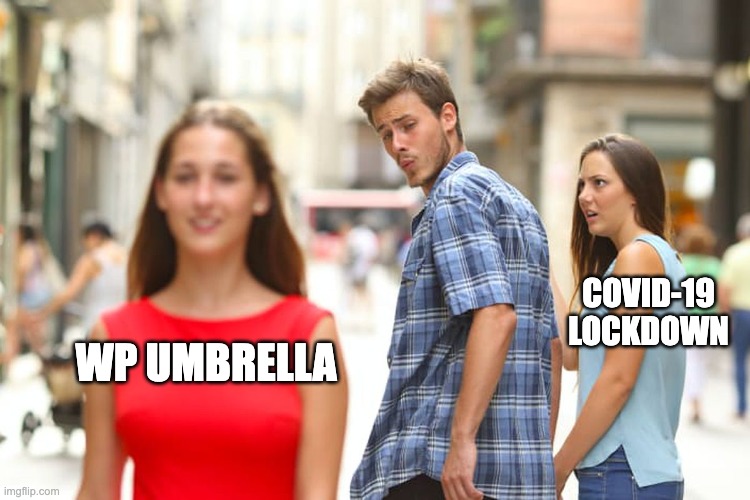 But the good thing about being stuck at home alone is that you have plenty of time on your hands. We decided to turn this situation into an opportunity and create a new product: WP Umbrella
Without WP Umbrella, we probably would have just gotten depressed.
In March 2021, we launched our first two features (uptime and PHP error monitoring) and immediately went to AppSumo.
About AppSumo
For those who don't know, AppSumo is a marketplace for early-stage products where companies sell lifetime deals at a discounted price to validate their proof of concept.
Even though WP Umbrella was still rough around the edges, people saw potential in it. They were so excited about the setup and product that we had to limit the deal after just three days.
We received so many feature requests that we came to the realization that there was something wrong with WordPress management tools and we needed to do something about it.
It was October 2021, when we decided to pivot WP Umbrella into an all-in-one solution for agencies and freelancers. We knew we had to go big or go home.
Finding A Direction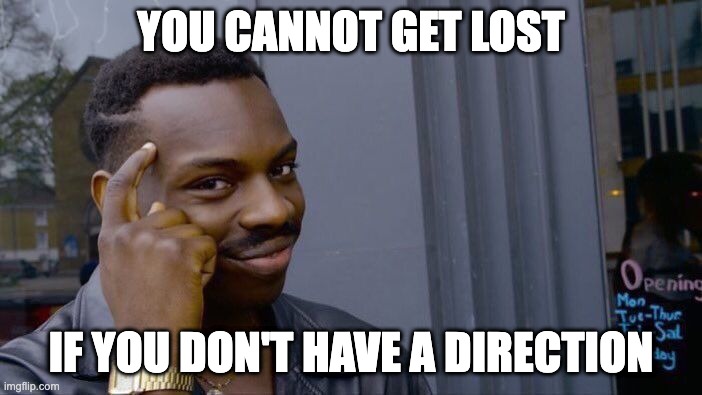 So our mission had become to help agencies and freelancers with their WordPress maintenance business, and that's what our all-in-one solution would do.
To ensure that our efforts are aligned with our mission, we always consider the following questions before starting any new development:
Will this increase the productivity of freelancers and agencies?
Will this help them demonstrate the value of their work to their clients?
Will this bring peace of mind ?
By regularly asking ourselves these questions, we aim to avoid any mistakes and ensure that our efforts are always focused on supporting the success of freelancers and agencies in the WordPress maintenance industry.
These guiding questions have been at the center of our efforts from the beginning.
Building An All-In-One Solution
In November 2021, we met with Thomas, Jean-Baptiste, and Jonathan (the founders of WP Rocket who invested in WP Umbrella February 2022) to discuss our roadmap for the year. One of the key points that emerged from our discussion was the need for an automatic backup feature.
We recognized that this was a critical necessity for our users because it provides a safe and secure place to store their data.
In January, we released this feature and have continued to work on it ever since. Despite the challenges of providing a reliable backup solution on shared servers, we have made good progress and our backup solution is now a reliable one. This is a continuous improvement process and we will keep improving our backup feature in the months to come.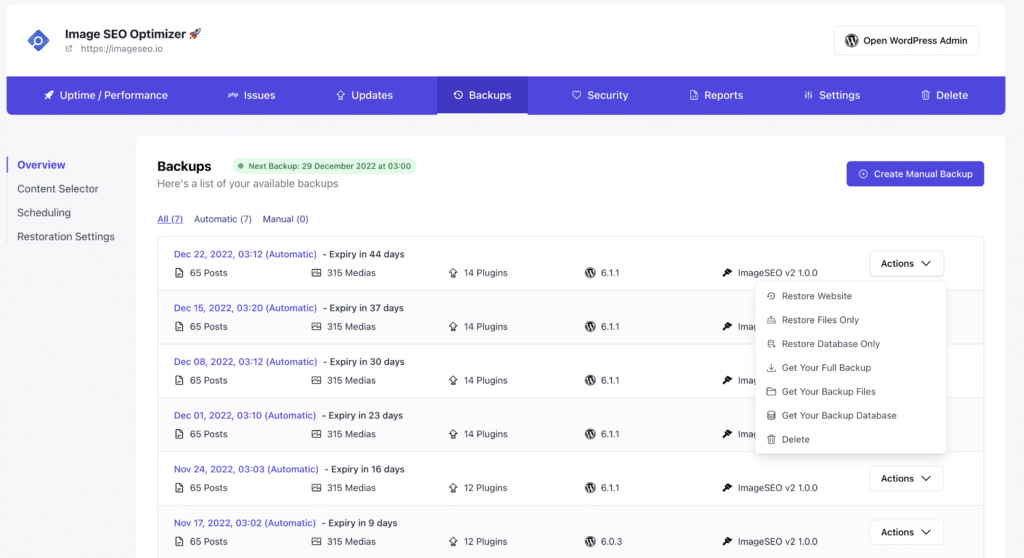 In February, we released a new dashboard and introduced the ability for users to bulk update plugins across multiple websites from within WP Umbrella. This was a high priority for us because it was the most effective way to help our users save time.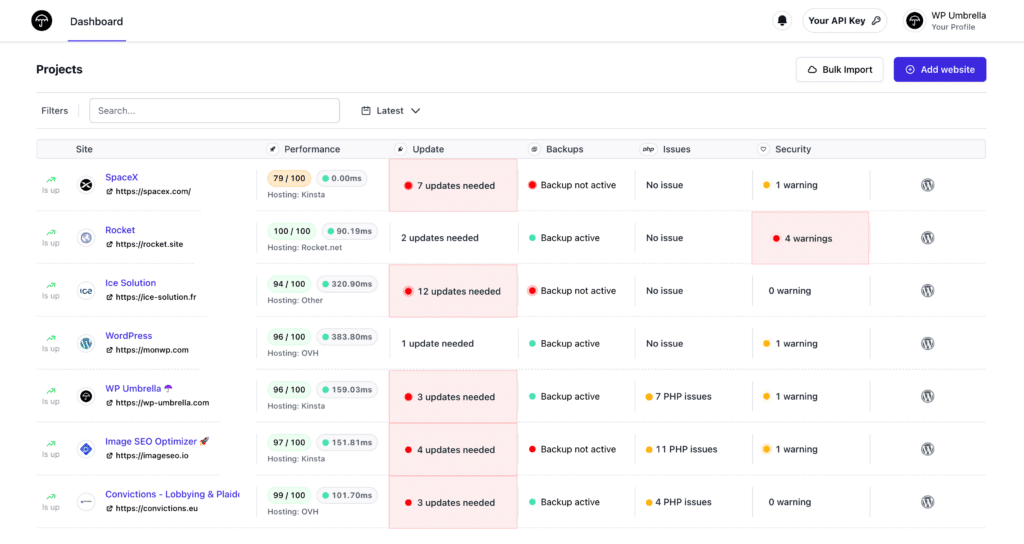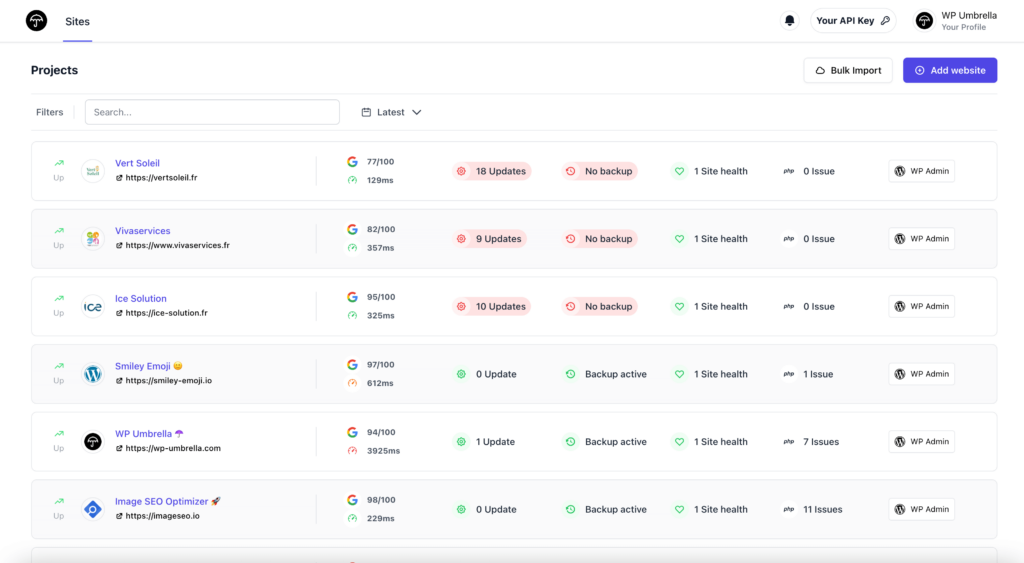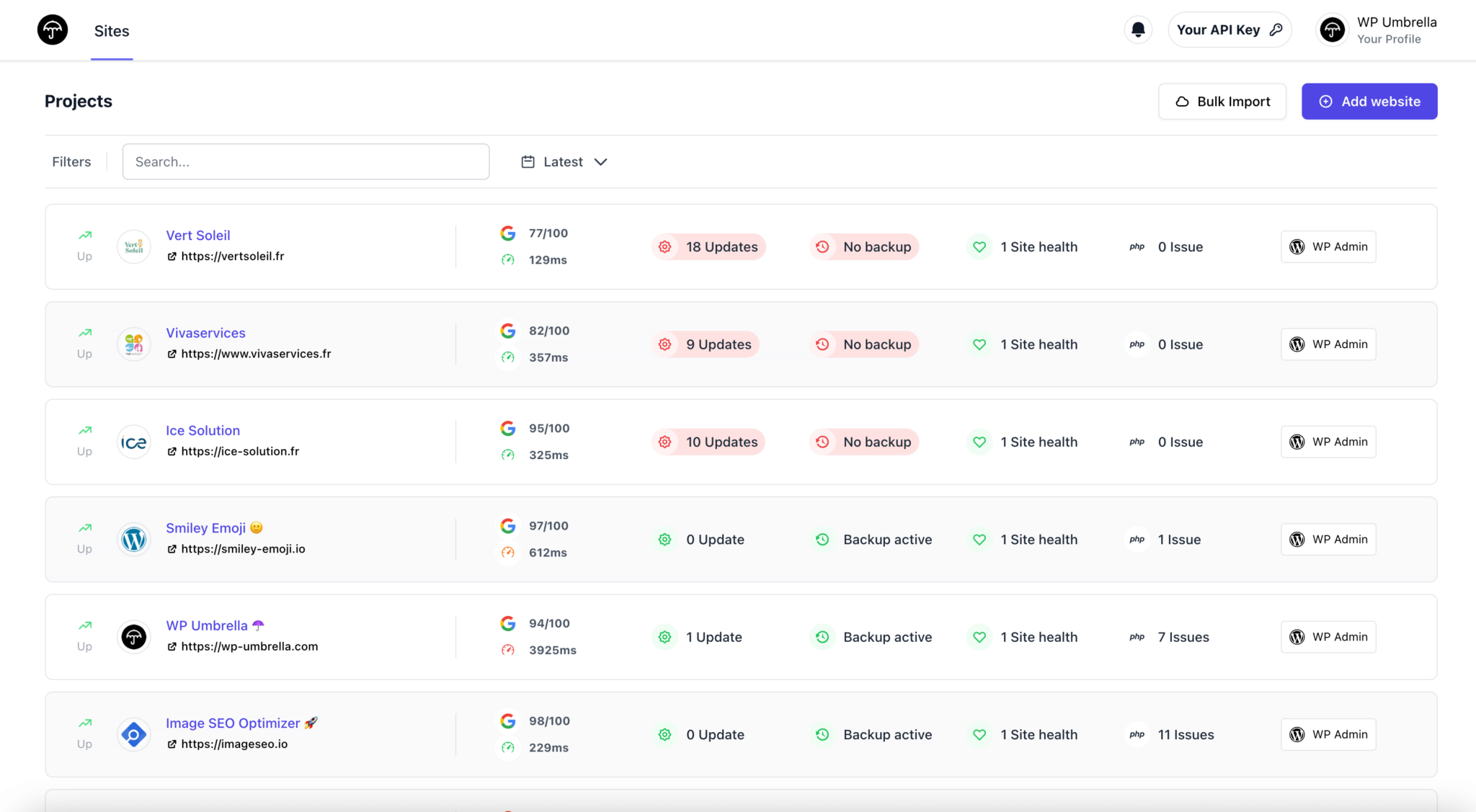 In March, we released version 2.0 of WP Umbrella, which included the ability to bulk update themes and the WordPress core, as well as the introduction of a security tab.
One of the key features of this release was the ability for users to white label WP Umbrella, which we used as an opportunity to turn the plugin into a connector only, reducing the amount of code in the process. This feature was in high demand among our users.
In April, we introduced the scheduled maintenance feature, which was important to me because I believe many of our users struggle with communication issues with their clients due to the fact that they don't speak the same language.
As someone who is not a tech expert (although I do know my way around coding), I understand the importance of education in this field. The scheduled maintenance feature allows users to send monthly reports to their clients, creating a regular touchpoint for questions and updates.
In June, we enhanced the maintenance report by allowing users to use a custom sending domain and adding a Google Analytics integration.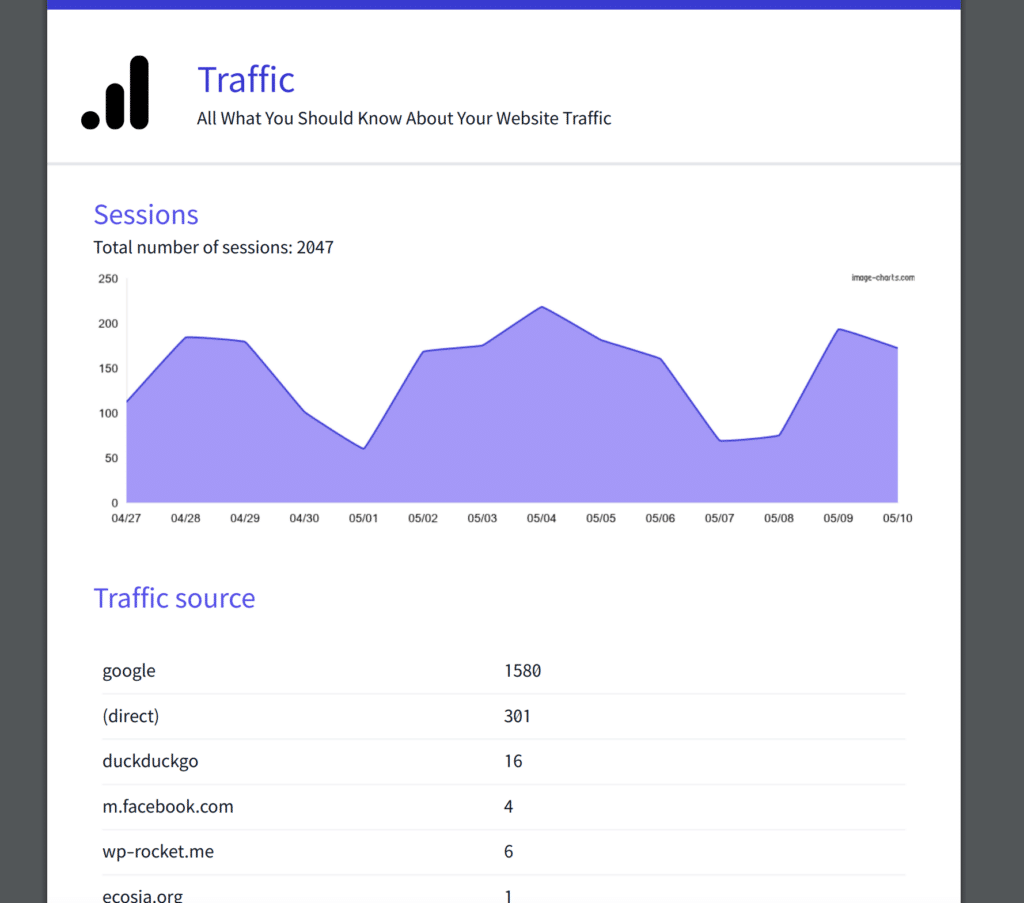 In September, after three months of hard work, we released a 1-click restoration feature for backups, making it easier for users to restore their websites in the event of a problem.
In November, we further enhanced the maintenance report by allowing users to customize it extensively, adding a WYSIWYG editor and more data from Google Analytics.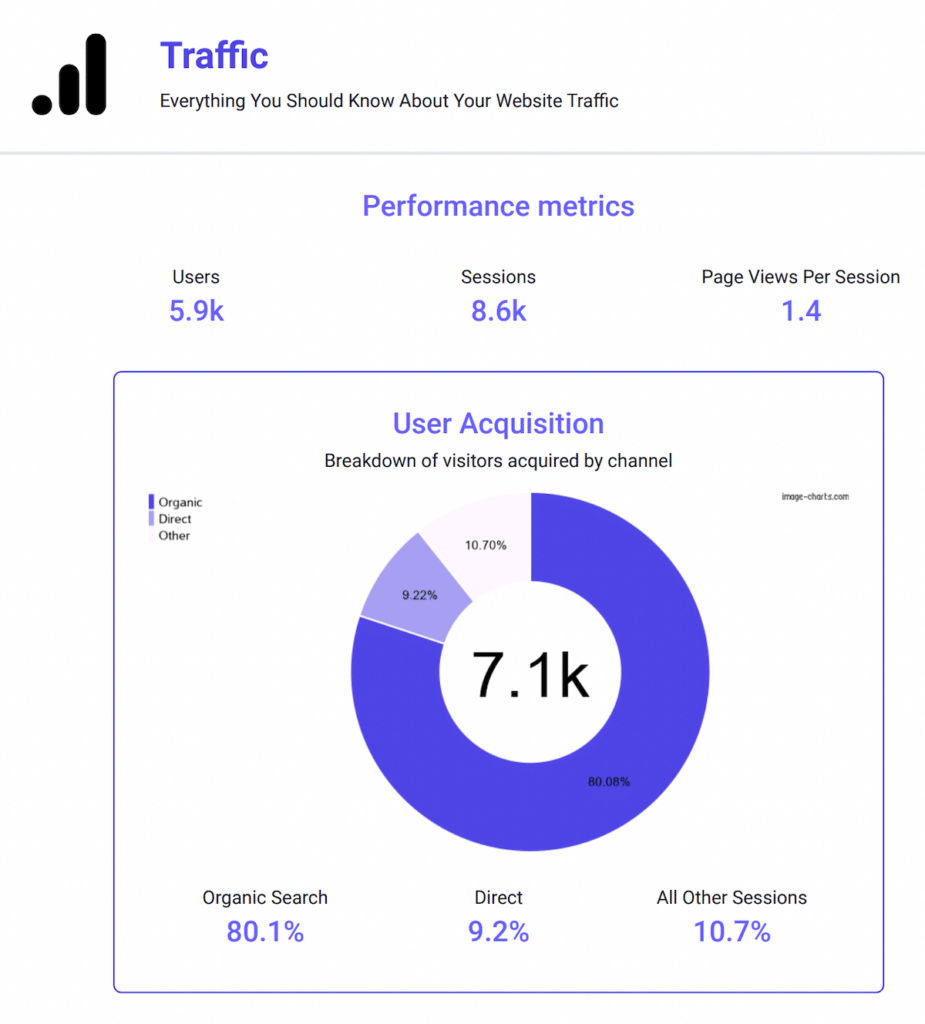 In December, we took a short break and did not release any updates. However, we have big plans for 2023, including the release of a new system for templates for the maintenance report, which will allow users to create and assign templates to multiple websites with just one click.
We'll provide more information on our roadmap for 2023 in the coming weeks, and we think you'll be excited about what we have in store.
Being Part Of The WordPress Community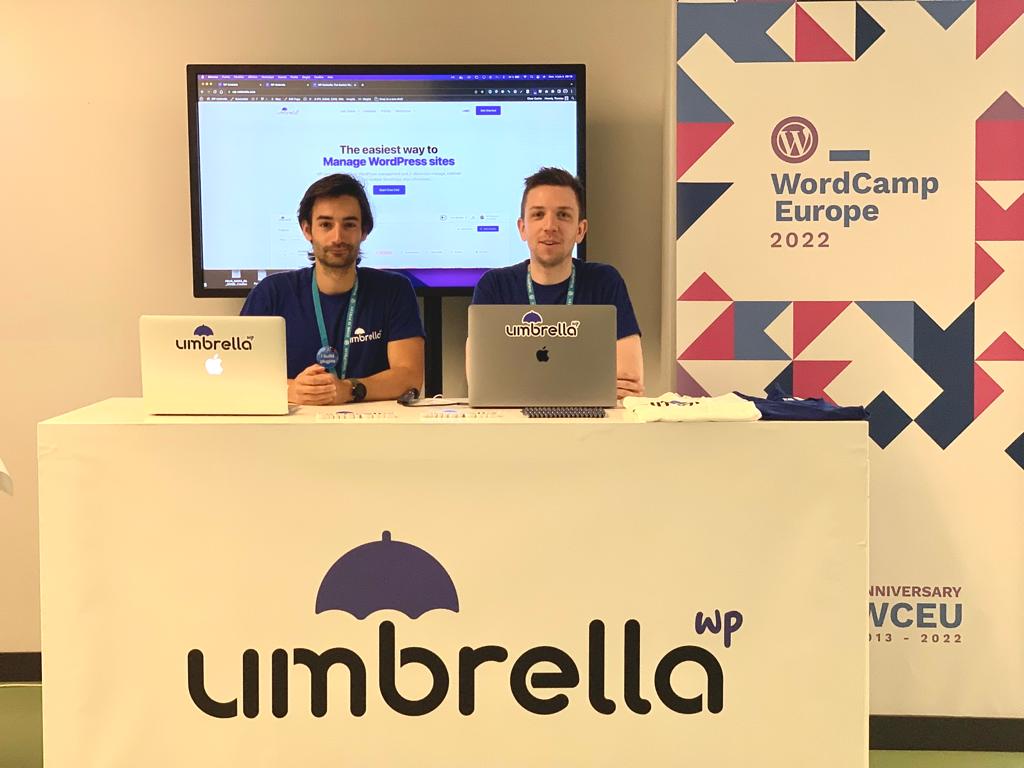 In 2022, we sponsored the WordCamp Europe for the first time. We had the most fantastic time coming together with the WordPress community and talking about WordPress maintenance with so many agency owners and freelancers.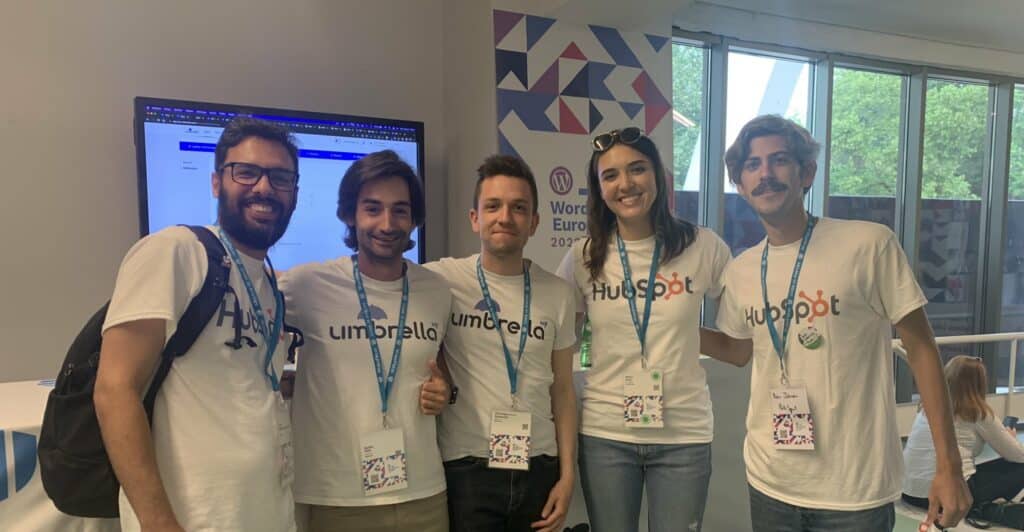 It has been amazing to see the interest and the positive feedback for WP Umbrella!
We also sponsored the WordCamp Geneva and the WordCamp Lyon, which took place in our hometown.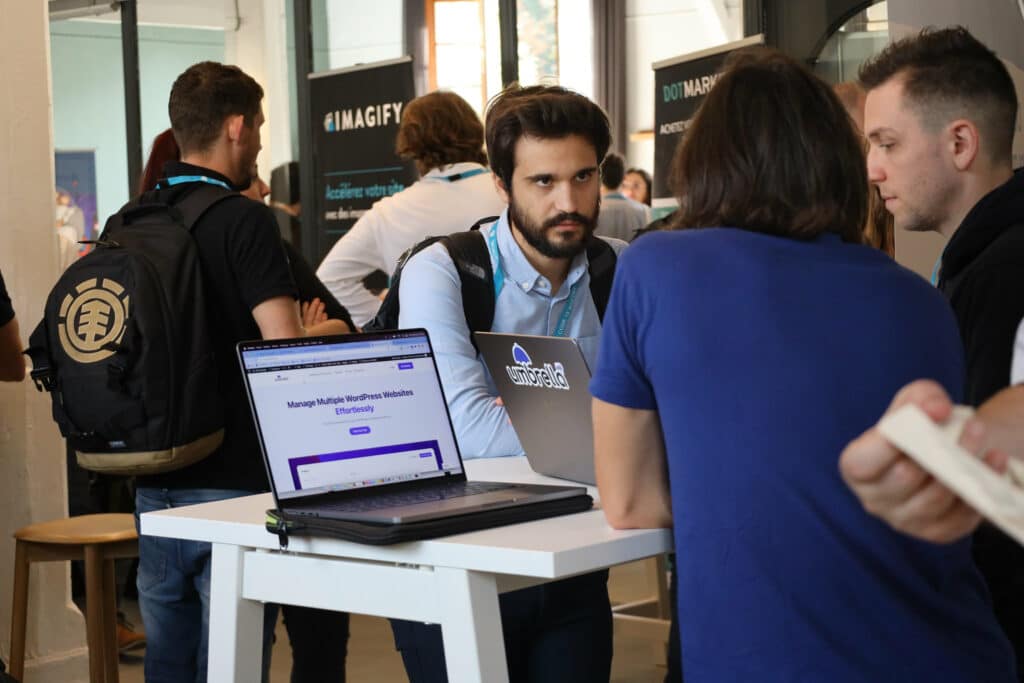 It's always great to meet users in person, and we hope to sponsor as many WordCamps as possible in 2023.
In February, we'll be in Bangkok for WordCamp Asia and we're really looking forward to it.
Make sure to come say hi if you're around!
Going Pay-As-You-Go
Why offer a discount for a package of larger number of websites if they are not being used?
We changed our pricing in January to a pay-as-you-go model because we believe it is easier for our users.
Our pricing is now fully transparent and easy to understand. With this pricing model, users can start small and grow as needed, or cancel their subscription at any time without having to commit to a yearly payment. The subscription will automatically adjust based on their needs.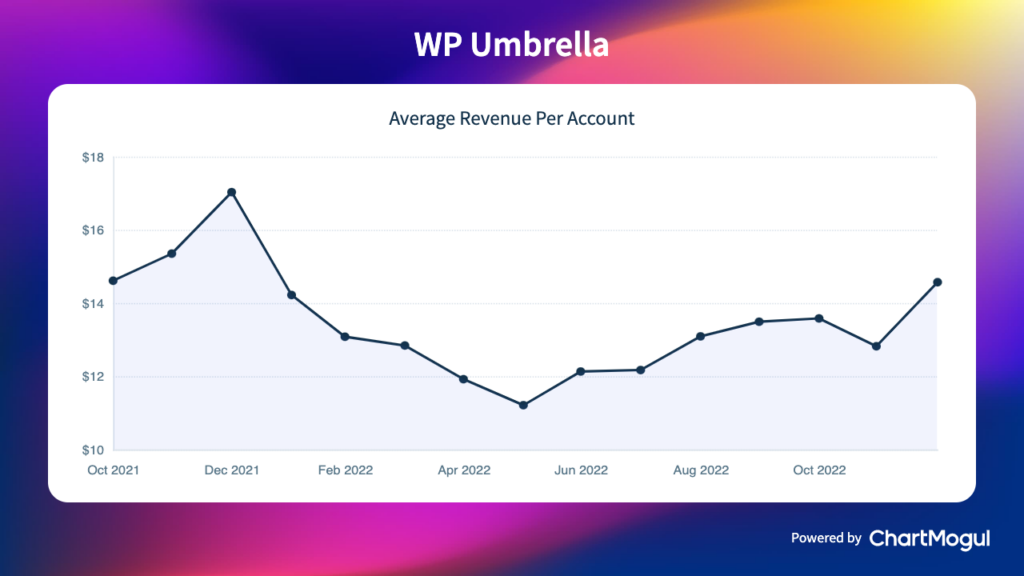 While this change may have negatively impacted our average basket value at first, our average revenue per account is almost backed to where it was with the bundle offers and we have multiplied our number of users by 12.
Simplicity and transparency are paying off ! 😊
We have done everything we can to keep things as simple as possible and we will continue to do so in the future.
We are committed to our philosophy of building a fair business that truly addresses the needs of our users with simplicity.
Going From $649 to $7000/Monthly
In 2022, we saw a tenfold increase in our monthly revenue. This growth was driven largely by product development, as we didn't spend any money on acquisition outside of WordCamp sponsorships.
Most of our users come from word of mouth, with a special shoutout to the Admin Bar Community.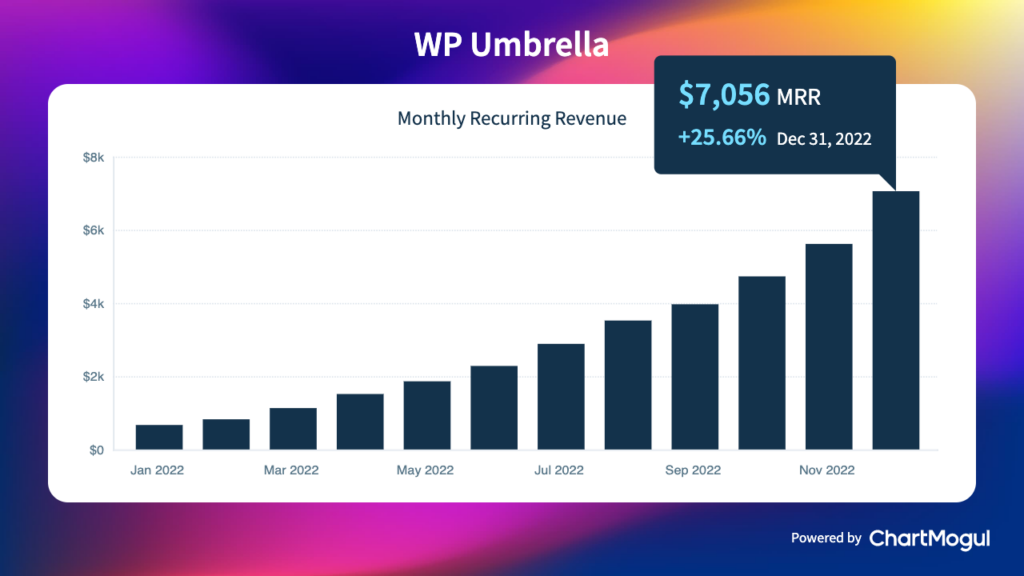 We expect to reach 100K in annual recurring revenue (ARR) in February 2023. Both Thomas and I are not currently paying ourselves and do not plan to in 2023. This allows us to hire new team members and accelerate the release of new features.
We are really excited about this.
Growing & Keeping Users Happy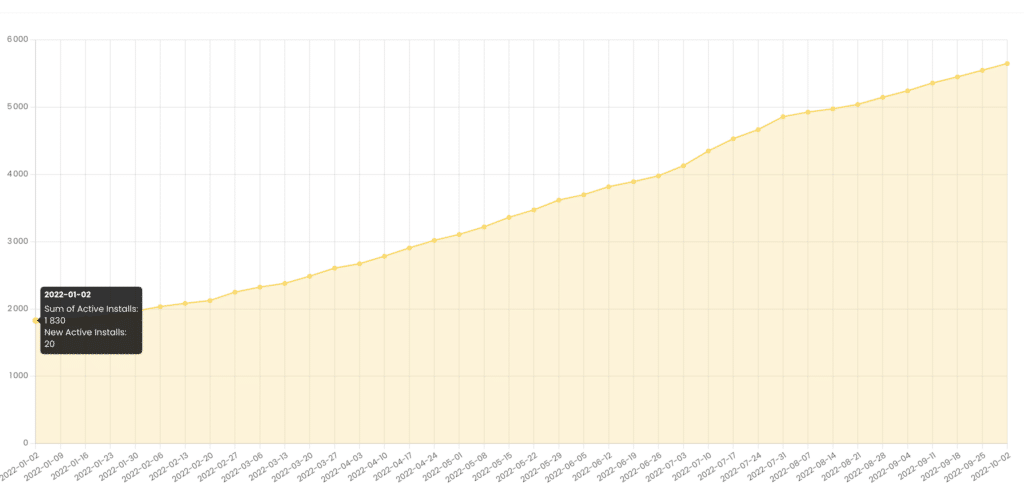 A year ago, WP Umbrella was installed on 1830 websites, and now we have more than 7500 active installs on WordPress.org, where we have a rating of 4.8/5.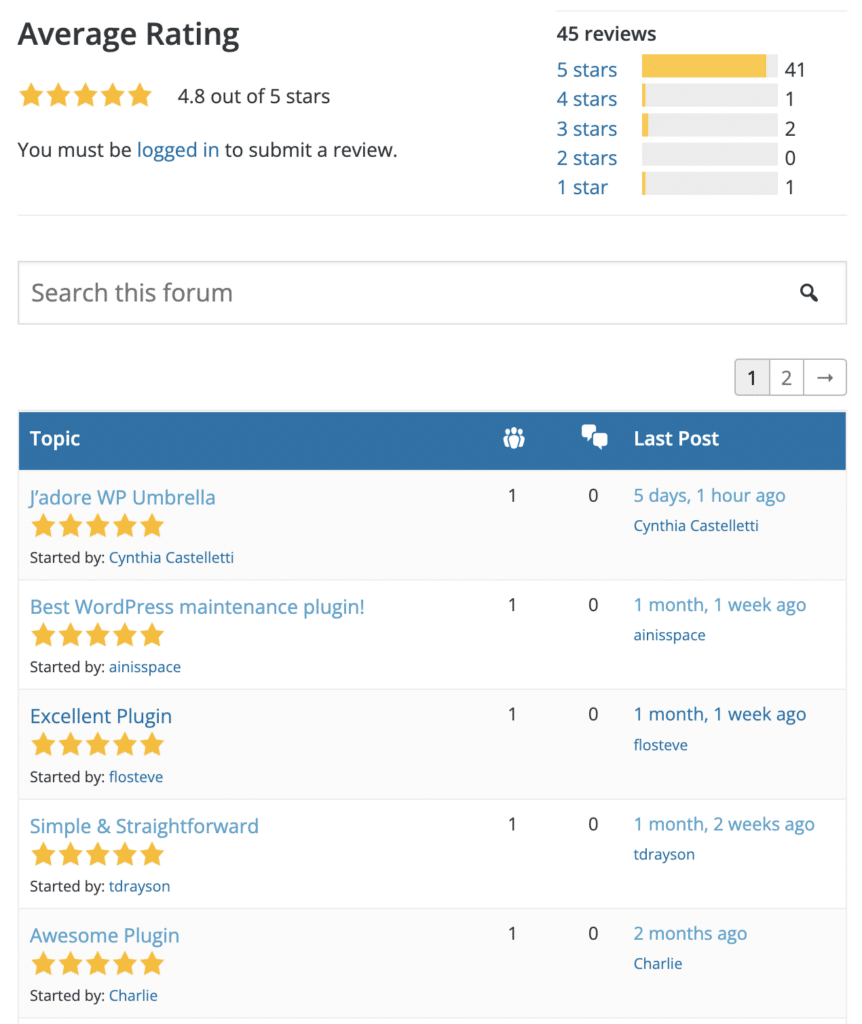 The positive reviews we've received have been a huge source of motivation for us, and we'd like to thank everyone who has left a review on our G2 profile. The road to becoming a category leader is a long one, but we're well on our way.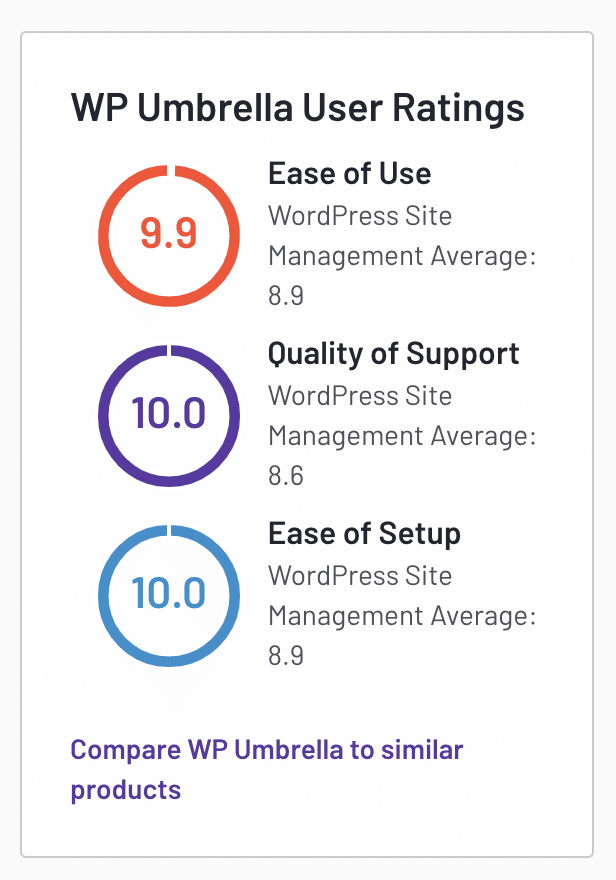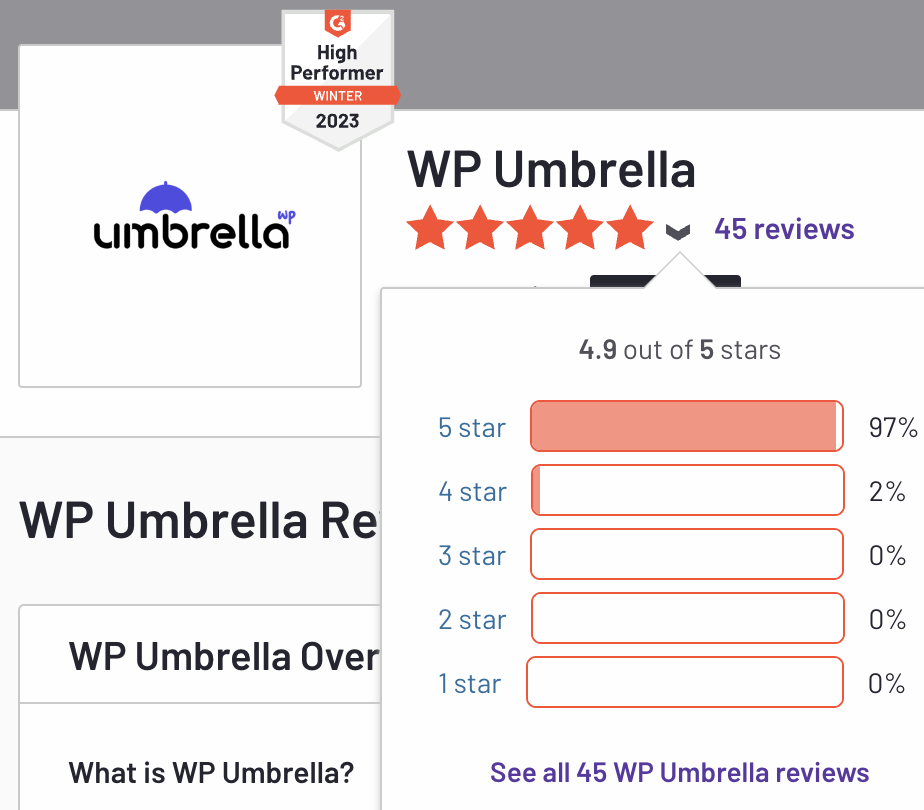 So What's Happening In 2023?
Our product roadmap for the next 12 months is already full.
Our main goal will be to make the WP Umbrella platform more user-friendly and scalable to meet the needs of even the largest agencies.
We'll be adding new features, such as the ability to bulk add and remove plugins and security monitoring. We'll also improve the overall user experience with tags, filters, and team member functionality.
In the coming weeks, we'll be sharing our roadmap for the year in full transparency.
But product development isn't all we have planned for 2023. We'll also be hiring our first employees, starting with a full-stack developer and a marketing intern. Job listings will be available soon.
This marks a new phase of growth for WP Umbrella, and we're really excited about it.
And, as always – please reach out to us at support@wp-umbrella.com if you have any feedback, ideas or need any help with WP Umbrella. We're here to help.
P.S. You may have noticed how many times I used the word "excited" in this post. The truth is that working on WP Umbrella is like a permanent Christmas morning, so thank you for your support. Sincerely.
Aurelio Volle @ CEO